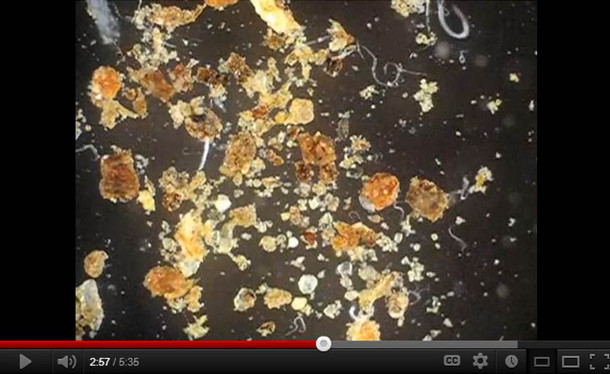 Remember how exciting it was to use a microscope for the first time? I remember looking at our own hair in fifth grade (I went to a hippy dippy school where we could design many of our own experiments, and we were obsessed with the idea of conditioner causing "buildup," which, is that even really a thing?). Many years later, I still love the idea of all the hidden parts of the world that are undetectable to the human eye. I think that's part of why I really love this video of  Terry Tollefson, Associate Professor at the University of Saskatchewan, examining soil microfauna.
Does this remind anyone else a little bit of Powers of 10 (another beloved memory of childhood)?
Today's Friday Follies recipe is pearl couscous with olives and roasted tomatoes. I wanted to avoid pearl couscous (though I love it) and decided to use farro instead, which was great. I think any larger whole grain – it should be something that can carry the dressing nicely without becoming soupy – will work great. This recipe is a teeny bit fussy, only because you have to roast the tomatoes first, though. Otherwise, it's real easy. Enjoy.