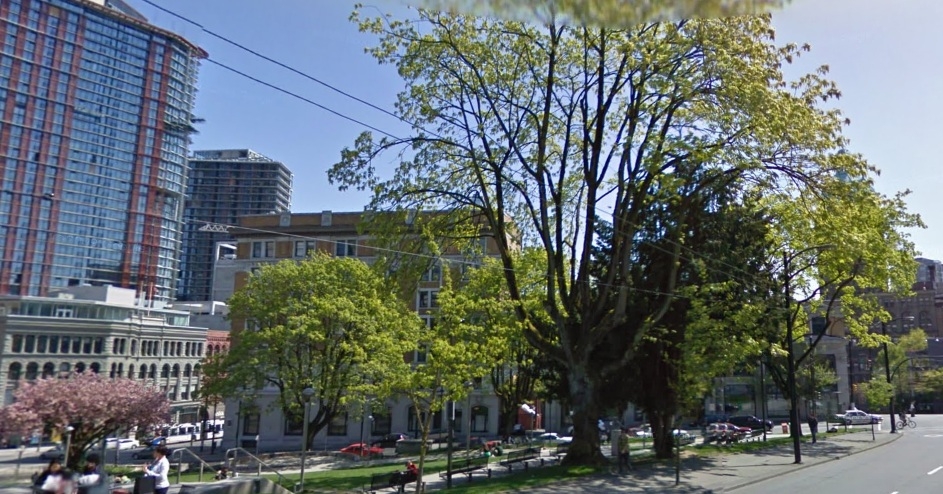 According to the Vancouver, BC Board of Parks & Recreation, the oldest street trees in the city are these broadleaf maples on Pender Street (next to Victory Square). They were planted in 1897!
Vancouver has many areas with old, mature street trees. Large plane trees in Point Grey, for example, were planted on West Broadway after World War. Point Grey is now a neighborhood of Vancouver, but they used to be a separate town, and were one of the first in the area to formally plant street trees.
A handful of big leaf maples in Vancouver's West End are rumored to have been planted from seedlings from nearby in Stanley Park around a hundred years ago, and the Central Shaughnessy area has many 80 and 90 year old trees from when it was first developed around early 1900s. Dunbar and Kerrisdale neighborhoods are also noted for the longevity of many of their street trees.
According to Bill Stephen, an arborist with the City of Vancouver, they took a formal inventory of all of their street trees in 1990. This inventory is also what the City uses to track their service requests, additional/replaced/removed trees, and projects. It is a living database that currently lists about 138,000 trees. They have planted about 60,000 trees and removed about 25,000 in the last 60 years, and their goal is to have 70% of all streets stocked with trees. (Logistical complications and conflicts account for why the remaining 30% isn't feasible for planting). The City of Vancouver is currently in the process of building new urban forest management plan.
Thanks, Bill!