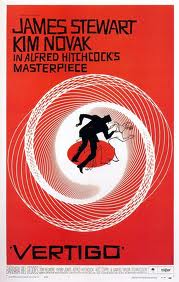 As someone who grew up in New York City but now lives in the city by the bay, the scarcity of movies that take place in San Francisco has always surprised me. I can't explain it, though I'm sure someone can (anyone? anyone?). Of course, there are a few very, very famous films that take place in and around San Francisco, and Alfred Hitchcock's "Vertigo" is one of them. Looking at old photos has always been something that I like to do, so when I found Basic Hip's Then & Now screen shots contrasting scenes filmed in 1958 with photographs taken from 2003, I was excited to see how things have changed.
You'll see that Basic Hip organizes the scenes by their geographical location around the city. Lots of the differences are really clear — fashions have changed dramatically, of course, as have cars. If you're familiar with San Francisco, you'll notice that few of the old businesses remain (although the flower kiosk at Post and Stockton is miraculously still there).
Being someone interested in trees, I naturally paid extra attention to the amount of green in the picture. In most cases, it seems like there are more trees in the 2003 photos than in the 1958 screen shots. This is particularly clear in the example of 16th St. & Dolores (which happens to be around the corner from my apartment). You can also see the differences at Castro & Market, Eddy & Gough and Buena Vista East, even though many of the 2003 trees don't look so hot.
But in many cases, that extra bit of green is coming from trees planted in boxes that are practically the size of planters you'd put in your window. The trees are spindly, struggling, and destined for a quick decline. Check out Claude Lane and Grant & Sutter. These aren't trees. They're string beans.
Then & Now shots are always a lot of fun to look through, regardless of whether you're looking for anything in particular. Now, does anyone know of something similar for the Maltese Falcon?