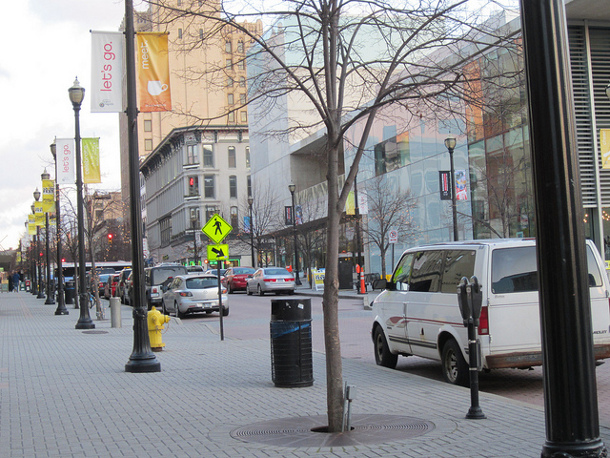 Last month's Landscape Architecture Magazine had an interesting feature by Mike Singer. The article, titled "Are We Done Yet? Measuring for a project's success is keeping clients and designers engaged well after installation," explores an emerging trend in the field: extended contract periods to address the long-term success and performance of the site's landscape.
It seems so obvious in some ways: the landscape should perform the way it's designed to, not just look like the drawings on the day of the ribbon cutting ceremony. Yet, the designer's job is usually over by the time a site is open for general use. Longer contracts that have specific, measurable goals should help keep designs thoughtful, holistic, and guided by long-term performance. Ongoing testing over a period of years could monitor onsite stormwater management capacity, soil infiltration rates, heating and cooling benefits, and more. Green infrastructure solutions are whole-system tools – they don't function like a single pump, street lamp, or bench. Contracts that encompass the measurement of system performance would support a much more honest lifecycle strategy.
Rather than landscape architects, engineers, and contractors operating completely separately, a system like this would necessitate collaboration. Maintenance manuals, for example, would be authored by multiple specialists and shared between all of them. The site's many overlapping systems infrastructure and site systems would have to complement each other (or at least coexist peaceably).
Longer contracts that use performance metrics are appealing for a number of reasons. Planned and executed properly, great designs should lower maintenance costs, minimize plant replacements, and overall support a more mature and more highly functioning landscape. As Kelby Fite, a researcher with Bartlett Tree Laboratories put it, "With performance-based criteria as your obligation, the client has a sense that plants are not just alive but are thriving." Merely keeping a tree alive for a few years, for example, doesn't truly satisfy the designer's responsibility to their client.
Why should the designer's job end the day the landscape is completed, and before it has really had a chance to succeed or fail? It's a lopsided approach, heavily weighted to the much shorter design portion of the site's life, rather than its functional, final role. In theory, a collaborative system like this would help ensure that all participants in site design and construction are better educated about plants and soils, leading to better outcomes for trees as well as a more highly functioning landscape.
Of course, there are several potential complications. Simply determining appropriate performance metrics is a big one. Singer points out that "for many species, ascertaining what the ideal growth metrics should be is a challenge. Research data on agricultural crops and even turfgrass is more robust than it is for most tree species." And furthermore, while performance testing is a common element for engineering and construction materials, it is a bit more complicated in the context of dynamic plant systems, that grow and change by season, species, age, and more.
The article says that clients are "increasingly" requesting the ongoing monitoring and testing similar to what I've described here to ensure that complex installations are a success. I can't tell if this is truly a trend or not. We personally haven't seen this in our projects. As people in the second marshmallow business, we think it has a lot of potential, and we'd be excited to see things move more in this direction. Would you?
Image: amlusch