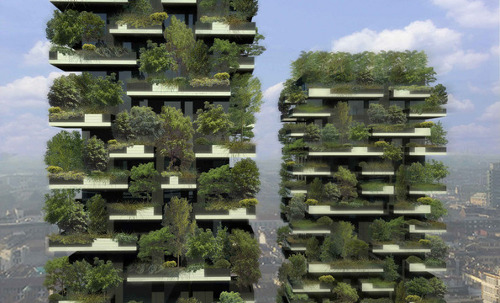 My colleague Peter directed me to this The Creators Project post about a pair of unusual apartment buildings by Italian architect Stefano Boeri called the bosco verticale ("vertical forest") currently underway in Milan. Boeri's project is exactly what it sounds like, and based on the renderings almost appears to be more forest than building. 
To achieve this vision, each apartment unit has been designed with an attached balcony, creating a structure that is appears clad in greenery. Boeri's design includes 900 total trees between the two towers, as well as other types of shrubs and plantings. The overall footprint of the green space is estimated to be around 10,000 square meters (107,639 square feet) of forest.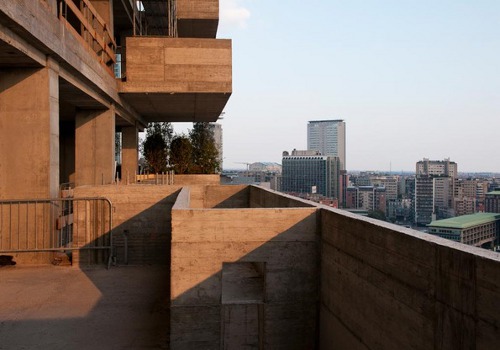 I couldn't get Boeri's website to work, but according to another article about the project in the Daily Mail, Director of Boeri Studios Michele Brunello says the idea for Bosco Verticale came after the design firm was involved in a local tree planting project. "We imagined a building that allowed the landscape to enter it… By creating a tower that truly becomes a home for the landscape we have a powerful tool."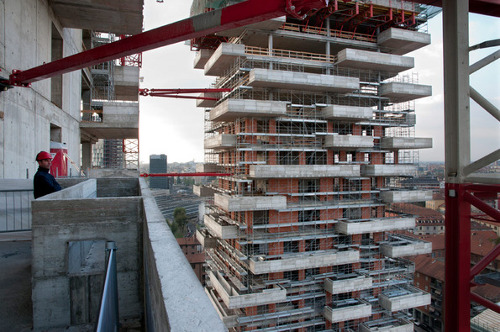 I love the idea of the bosco verticale and just how literally green the whole thing is. It stands in sharp visual contrast to the glass or steel that we usually associate with tall structures, with modernity, and with the future. And, if it works the way Boeri envisions, it will be a great showcase for aggressively integrating the built environment with the natural one. Obviously I have tons of questions. What kinds of trees are they planting? How are they providing them with adequate soil? How long do they want those trees to live before being replaced — will they get to an ecologically viable age? Will residents of the building have to sign some kind of agreement or contract to maintain their ledge of greenery?
The other thing this project has me thinking about is how easy it is to get excited about projects such as this one. Beautiful and lush, these images inspire us to think about our environment in news ways. However, given that these structures are not the norm — and may never be — how do we muster similar excitement and innovation for regular streetscapes, parking lots, and plazas, the vanilla of the landscape architecture and political worlds? How do we get excited about the ordinary?
There are lots of motivated, talented people working to do the same thing that Boeri is doing, just in less high-profile ways that are no less important. These "ordinary" projects are the backdrop of our lives. They powerfully influence the culture and function of the places we live.
The current workings of the world we live in dictate that parking lots and roads be built. So, as with more high profile construction buildings, we need to keep asking ourselves how we can make them better. How can we make our sketches or yet-to-be-built places even more innovative and sustainable? And then, how can the realities of our built environment better match our imaginative sketches of it?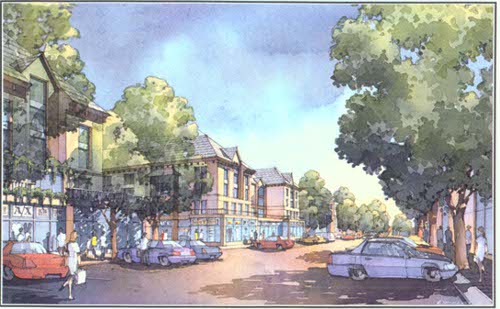 Back to the bosco verticale for a second, because I'm sure a lot of people out there are thinking something like, "that's a one-off project; no one has the money to build more than a handful of structures that way." According to The Creators Project post, however, the construction costs are only five percent higher "than that of a typical skyscraper." Without knowing more details about that cost comparison, it's hard to know for sure what that means — but it sure sounds promising.
How do you stay excited about the ordinary?
Images of the Bosco Verticale via The Creators Project.
Streetscape images via PRWeb and Montgomery Doylestown.