Ever wonder what kind of questions are asked at the "Ask An Arborist" booth at the local street fair? I spent a lovely afternoon recently with two colleagues at the Castro Street Fair in San Francisco. We handed out literature, shared reference books, and fielded questions like these.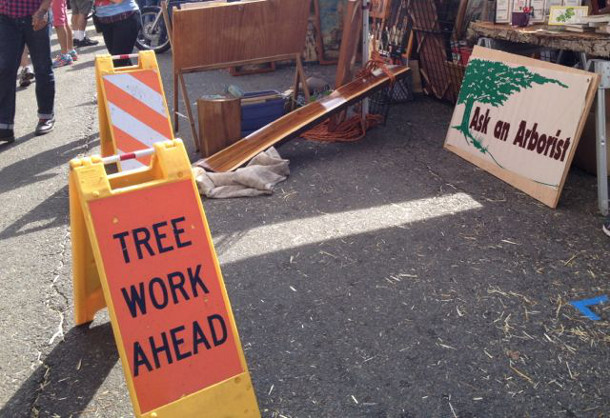 What is an arborist?
Not to be confused with "arsonists," arborists are tree specialists. We prune, plant, assess, protect and remove trees. A Certified Arborist has at least 3 years of experience in the field, has passed a certification exam, and keeps up with at least 10 hours of continuing education per year (though the best people have many more hours than required). Visit www.treesaregood.org to find a Certified Arborist in your area.
I have a leaning tree. Is it safe?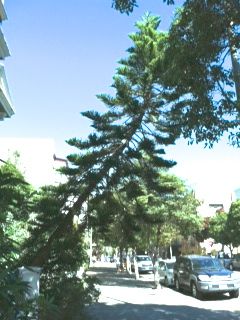 You are wise to be concerned about this, but no matter how much you describe the tree, even if you bring pictures, we cannot really reassure you. It's best to have a Certified Tree Risk Assessor visit the tree and look at it and the surrounding site. Not all Certified Arborists are also Tree Risk Assessors. Visit the American Society for Consulting Arborists directory to find one.
Do I need a permit to remove and replace a tree on my property?
Depending on where you live, you may. For example, in San Francisco, a tree growing within 10 feet of the public right of way that meets certain size requirements is protected and cannot be removed without a permit. In other municipalities, search for "tree ordinances" plus the name of your town, city or county.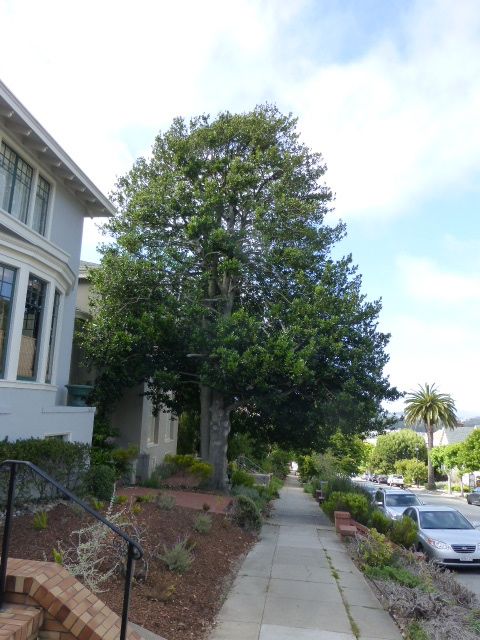 My neighbor's tree branches are growing over my yard, can I prune them?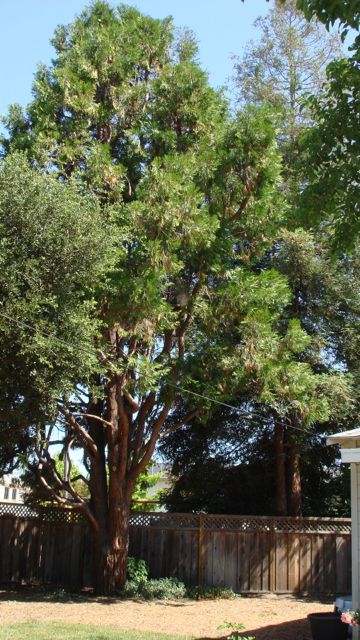 Generally, in California, you can prune branches of your neighbor's tree that are over your property. You cannot destroy the health of the tree or make the tree hazardous, and pruning indiscriminately back to the property line may do this. If it's more than just a few small branches, talk to your neighbor and together, engage a Certified Tree Risk Assessor to give you pruning guidelines that will benefit you both.
I have a young street tree. When can the lower branches come off?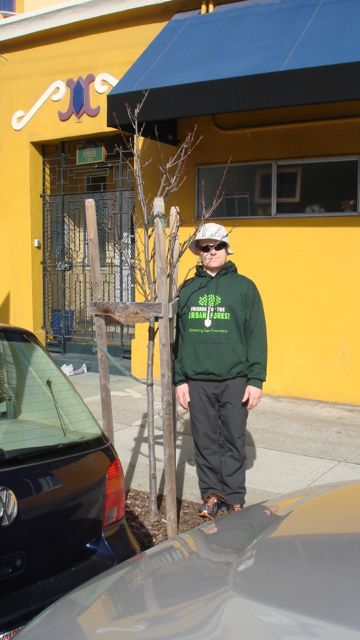 The best time to prune a tree is when it's young. You'll make smaller cuts, and the tree has more energy to recover. But the lower branches are important if the tree still has a skinny trunk and a heavy canopy. You may want to leave these temporary branches on a little longer, or reduce them. See this video for more information on young tree pruning. Your local urban forestry nonprofit may have classes or volunteer opportunities for hands-on experience.
My citrus looks different and produces different fruit than before. What's going on?
Many fruit trees are grafted; the top part produces the desired fruit, and the bottom part, or rootstock, is chosen for strong rooting and disease resistance. If the rootstock sprouts, these sprouts may take over and "steal" resources from the top, especially if the top is weakened in some way by damage, frost or disease. The rootstock is a related species, so it may produce citrus fruit that looks different. Look on the trunk for where the bark changes or the trunk suddenly thickens. This should be the graft union. Cut off sprouts coming from below the union.
Thanks to Christopher Altman of Trees Company for renting the booth space and inviting me along! Arborists, contact the International Society of Arboriculture for educational materials you can share in your own community.
Ellyn Shea is a consultant and garden educator in San Francisco.