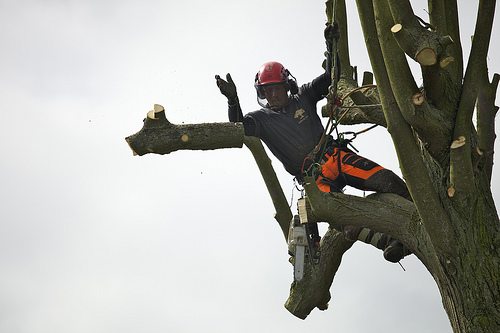 I get several calls a week from the weekend warriors working on various home improvements. Often these improvements relate to cutting tree roots and some type of hardscape (such as sidewalks, driveways, foundations, and retaining walls).  The first thing I suggest is that the homeowner talk to an ISA Certified Arborist before doing any sort of project that involves root pruning.  (I'll be discussing root pruning in another blog.)
What is ISA? Who is an ISA Certified Arborist? Good questions! Some of you may already know this, but for those of you who don't, ISA stands for International Society of Arboriculture; they are a voluntary, non-profit, professional association. There are six types of ISA credentials. An ISA Arborist has been trained and is knowledgeable in all aspects of arboriculture. This voluntarily credential demonstrates a proper knowledge of trees and skills, as well as a high level of dedication to the profession and community.
Basically when you contact an ISA Arborist, you can be confident that they know a little bit about trees. They can assist with general tree questions as well as questions about about root pruning, canopy cover, and things of that nature.
The next question is usually about how to find one of these arborists.  Easy!  You can go to the ISA website or click directly on this link. Some of us at DeepRoot are certified as well, but since we no longer work in a consulting capacity, we usually send people to professionals in their area.
Consulting with an ISA Arborist before engaging in a project involving trees around your home will prove to be beneficial. It is an important step in the care of your trees, and great way to make sure you preserve their long terms health — which is not only an aesthetic asset, but also a environmental and economic one to your and your community.
Image: Peter1972