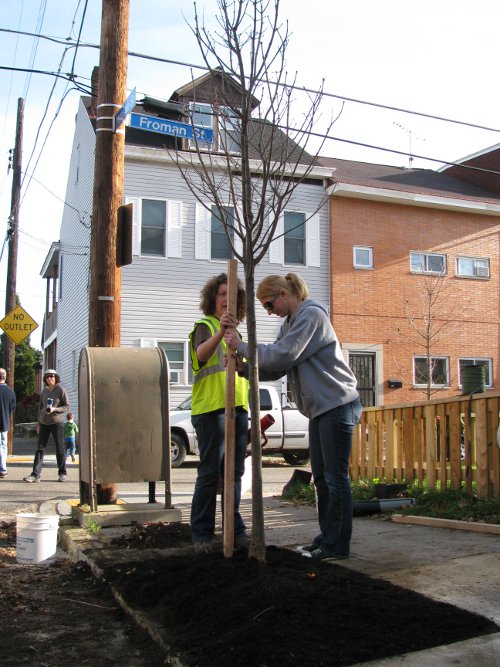 Community-based tree care organizations are a critical component of tree longevity in many cities and towns. These organizations provide training for volunteers to become advocates and stewards of trees in their neighborhoods. At Tree Pittsburgh, a non-profit in Pittsburgh, PA, this program is called Tree Tenders.
There are nearly 1,000 Tree Tenders volunteers in the Tree Pittsburgh program. Each of them has earned their qualification with a 9-hour training class and committed to eight hours of service per year. Most care for trees in their own neighborhoods, but some care for trees in other parts of the city as well. Tree Tenders carry out a variety of duties such mulching, pruning, and planting. So far, trees in the care of Tenders have a 97% survival rate.
Nicole Moga is a graphic designer who has been a Tree Tender for several years, coordinating planting and tree care events in her neighborhood of Troy Hill. She's found that the satisfaction of volunteering went far beyond the trees right outside her front door.  I talked to Nicole recently about how she got involved in the program, and what being a Tree Tender means to her.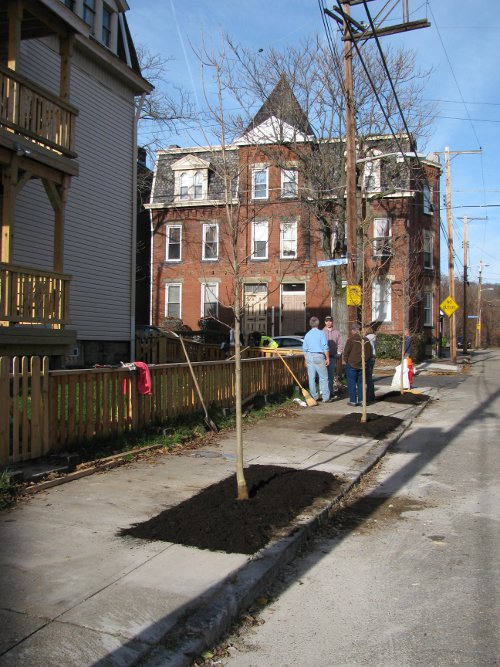 How did you learn about Tree Pittsburgh's Tree Tenders program?
Nicole Moga [NM]: My story is a little different from most people, because I happen to live across the street from Jeff Bergman, who works for Treevitalize. But before he worked there, he was the coordinator for our neighborhood's Treevitalize program, and he had come by and asked me to sign a tree request form. After that, we got our first tree, and I started to learn more from Jeff about the Tree Tender class and how I could use it to get even more trees!
What was your first project? How did you get started?
NM: Getting started was easy. I'm a bit of a treehugger myself, so that automatically made me interested in the program. Plus, I wanted to be able to identify trees and widen my knowledge base of tree care and to help my neighborhood. There weren't too many trees in public areas in Troy Hill three years ago, and our projects mostly focus around those. Since then, we've planted 130 trees!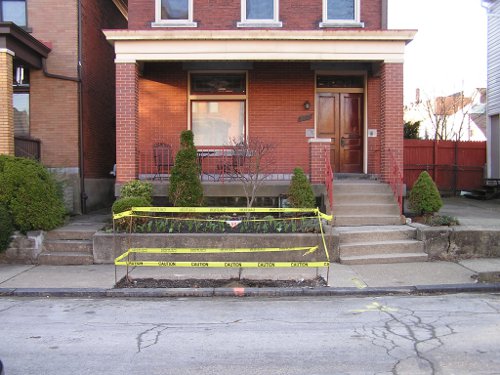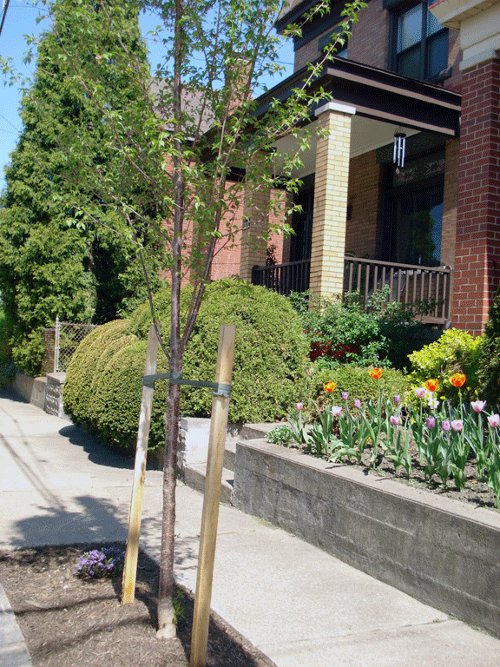 How much previous experience with tree care did you have?
NM: I did not know much about tree care at all! Really, I just had general knowledge – I could pick out a couple trees, and I knew that you had to water them (laughing).
How did you get people in your neighborhood to support this cause?
NM: Hah, well, I was lucky because Jeff – who was the one who got me involved – had already spread the word to a lot of the neighborhood, so I didn't have to do too much additional work getting people on board.

Has being a Tree Tender had an impact on your role in the neighborhood?
NM: Definitely, being a Tree Tender does change your role in your own neighborhood. It gives it more of a feeling of organization and togetherness. You get to know a lot of other people who are doing what you're doing, and – because of great support from Tree Pittsburgh — it also makes you feel like resources are out there, whatever your needs are. Another great aspect of the TT program is that it makes it easy to get involved with communities other than your own.
What would you tell someone considering getting more involved in tree care in their neighborhood?
NM: Community tree care is a great way to meet neighbors and get involved with people in your neighborhood. That's awesome for everyone to do, but particularly if you're new to the area, single, or just looking for new activities — it's an amazing resource. We do a lot of tree planting, of course, but afterward we usually go out for drinks or throw a party. It's just a fun social experience.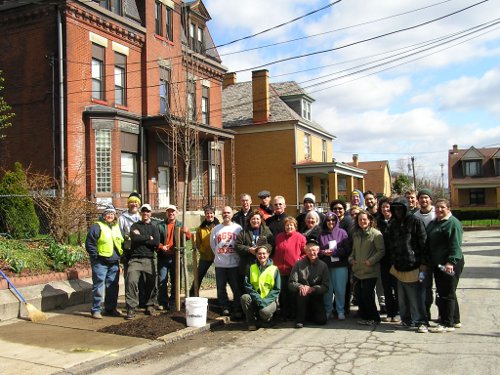 All Images: Nicole Moga