Museum curators and directors spend endless hours perfecting every aspect of an exhibition to best highlight the artwork on display and provide the most enjoyable and educational experience for patrons. So it comes as no surprise that landscape architects and contractors expend equal effort to design the outdoor space and gardens surrounding museums.
Trees, like museums, are integral to communities and are living pieces of art in their own right. In addition to the beauty and color they offer, trees provide shade, contribute to clean air and biodiversity, and even reduce noise pollution. They are a key component of the tranquil atmosphere often found in museum plazas and gardens.
Incorporating trees into outdoor design or renovation plans around museums can be challenging. Adequate space for soil can be limited, which is where Silva Cells come into play.
Silva Cells are installed outside more than a dozen museums in the United States, Canada, and the United Kingdom, supporting the health and development of over 150 trees. Silva Cells' flexibility accommodates the unique utility cables and pipes that are often found underground in centuries-old museums. Maintaining the structural integrity of the soil to nurture tree roots is what distinguishes Silva Cells, along with their ability to support stormwater drainage and uphold green infrastructure. Silva Cells provide the key link to enable trees in sometimes limited spaces to reach their growth potential.
Below are a handful of projects that highlight the unique role Silva Cells play in enhancing museum green spaces.
Metropolitan Museum of Art Plaza | New York | US



In total, 2,250 2X Silva Cells were installed beneath the plaza at the Metropolitan Museum of Art in NYC to deliver soil to the trees and allow the soil to collect and manage stormwater. The depth of the cells varies between one, two, and three layers throughout the site due to large pipes belowground in certain areas. For example, New York City's main potable water line, dating back to the 1880s, could accommodate only a single-layer system on top of it, while other areas, where no utilities were present, could go deeper. Two allées of large Littleleaf Linden trees were planted along the Museum's Fifth Avenue façade, continuing the route of shade along the Central Park wall. Inside the central plaza, pairs of London Planetrees were planted adjacent to the 81st Street and 83rd Street entrances in a square grid at a 45-degree angle to the street, their trunks forming lines that guide pedestrians toward the building entrances. For more, see the project's fully detailed case study.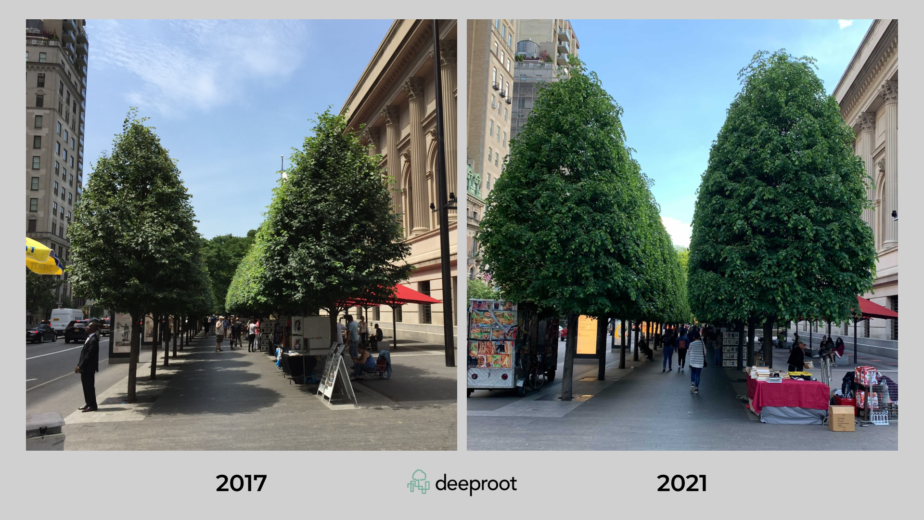 Quick Facts:
2,250 2X Silva Cells
454 ft3 (12 m3) of shared soil volume per tree
92 trees
Installed in June 2013
Project designer: Olin Partnership
📽: Video 
Ingenium Canada Museum of Science and Technology | Ontario | CA
The Landscape Architect DTAH knew the highly flexible Silva Cell could be configured by the contractor UCC Group to support large circular tree pit collars and could withstand heavy vehicle loading alongside the established railway tracks. The plaza area was initially a courtyard space bordered by two warehouses and mechanical shops for the heritage Canadian railway. The new plaza, adjoining promenades, and walkways are home to the historical railway stock as well as a flexible space for changing displays of all types of mechanical technology. For more, see the project's fully detailed case study.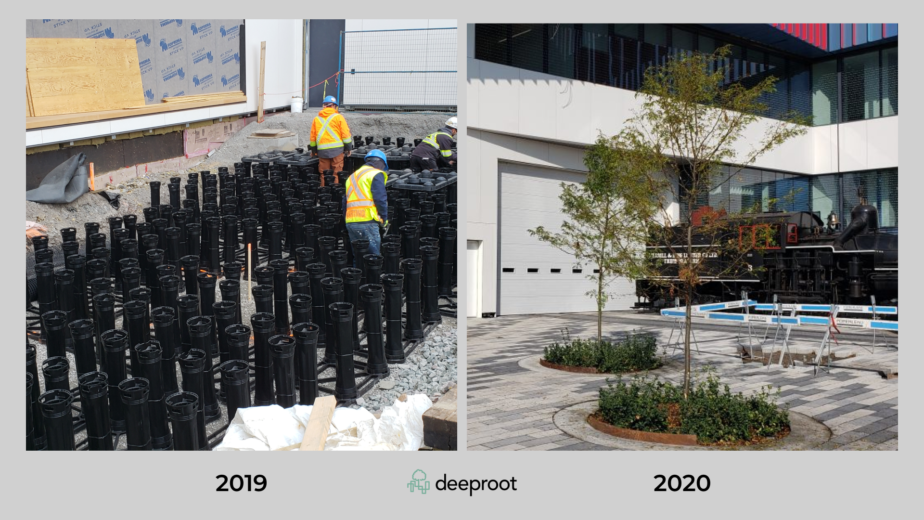 Quick Facts:
120 3X Silva Cells
706 ft3 (20 m3) of total soil volume
9 Honey Locust trees
Installed in 2019
Project designer: DTAH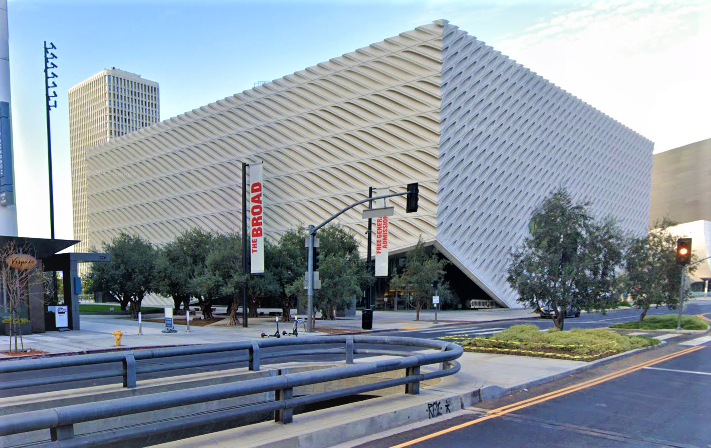 Outside the Broad museum in downtown Los Angeles is a beautiful 2-acre outdoor space with 13 100-year-old Barouni olive trees. Silva Cells give ample support (316 ft3 to be exact) of soil volume to each tree. The on-structure plaza supports the structural slab with upturned beams. The trees are above the freeway and parking garage. The Silva Cells fill in the depth where thousands of cubic feet of soil will support the plaza's olive trees, allowing them to thrive for another century.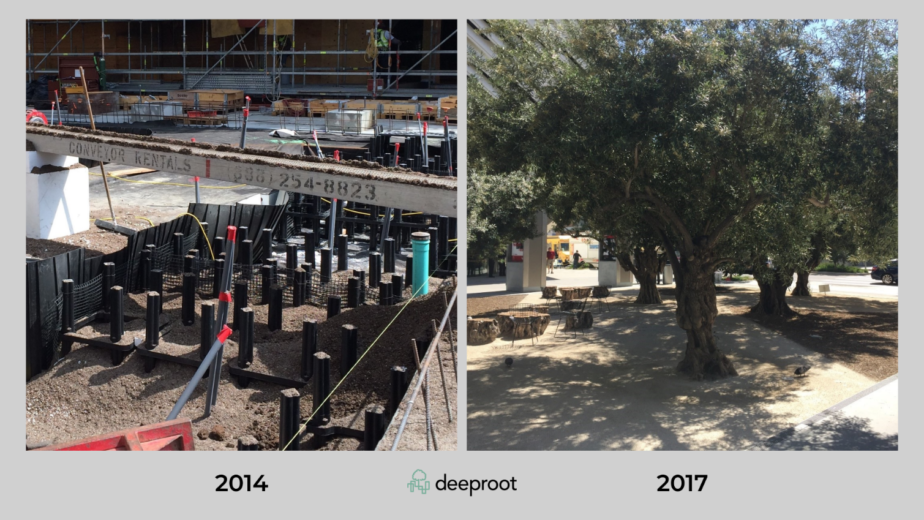 Quick Facts:
120 3X Silva Cells
4,111ft3 (116 m3) of total soil volume
13 trees (100-year-old Barouni olive trees transplanted from a defunct orchard in the Shasta Cascade region)
Installed in 2016
Project designer: Hood Design
Missoula Art Museum | Montana | US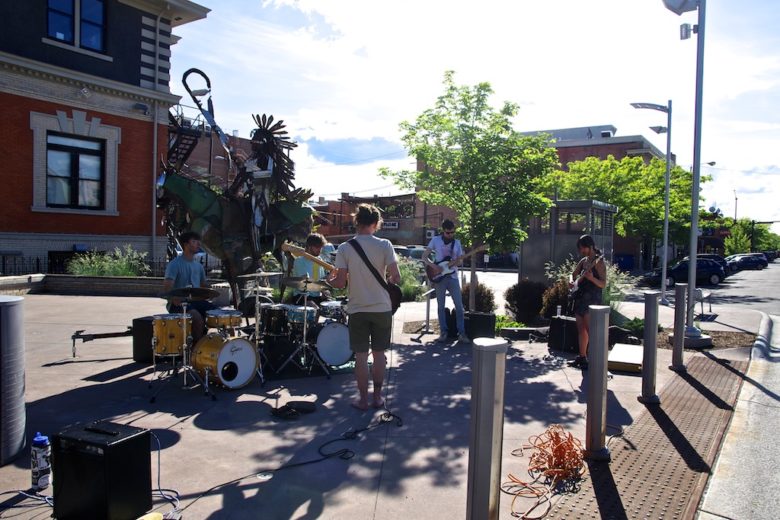 The Missoula Art Museum is now home to an urban "art park." What was once a lawn is now an urban multi-use spot complete with trees and artwork. The visitor entry and exit experience is enhanced with newly planted vegetation and street trees, creating a buffer between people and vehicles. Bicyclists also enjoy the benefit of dedicated bike lanes on both Pine and Pattee Streets. An additional feature of the Art Park is the ability to temporarily close Pine Street to host events such as the People's Market, Missoula Art Museum socials, and other community-based events in a dynamic, vibrant, and culturally rich environment. The trees here will do very well.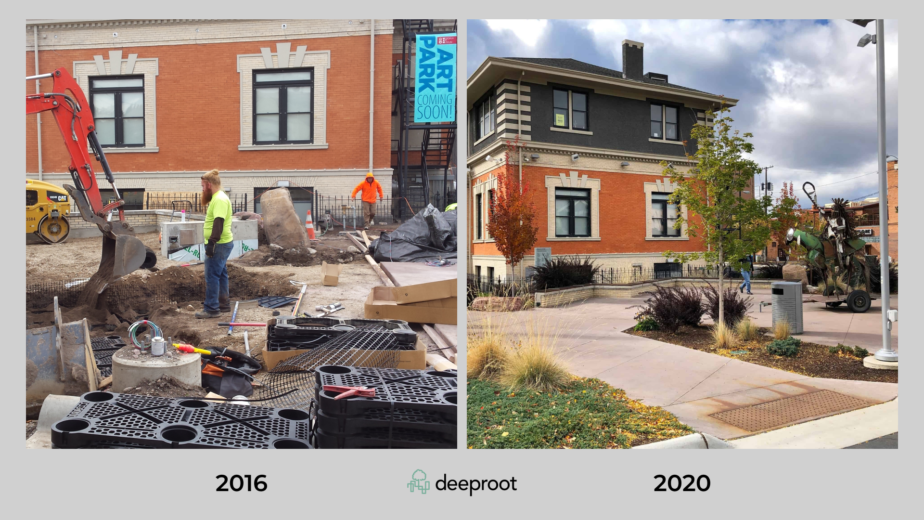 Quick Facts:
12 2X Silva Cells,
148 ft3 (4.1m3) of soil volume per tree
2 trees
Installed in 2016
Project designer: Sherry Pratt Van Voorhis (SPVV)
Cooper Hewitt, Smithsonian Museum of Design | New York | US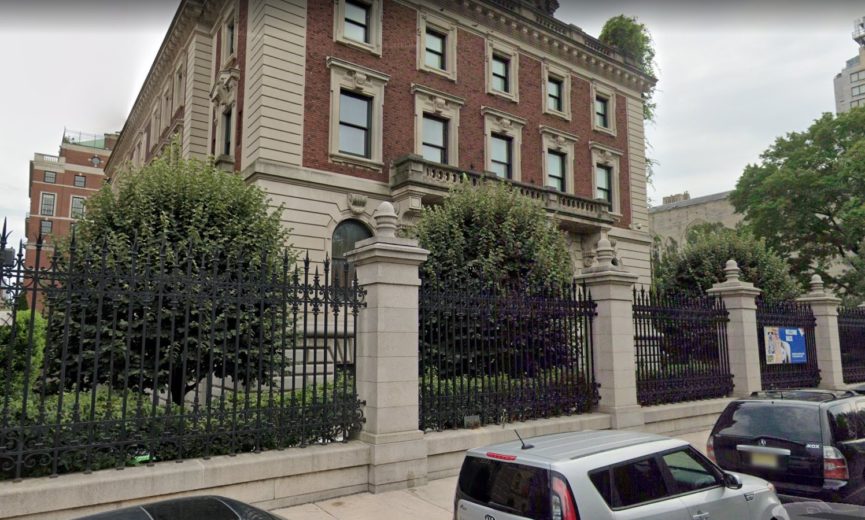 Facing the Jacqueline Kennedy Onassis Reservoir, three trees act as green infrastructure partitions to the Cooper Hewitt, Smithsonian Museum of Design. The designer, Hood Design, wanted to incorporate planning and schemes in the garden and park that complemented the nearby reservoir. The trees each have tables and chairs nearby for seating and provide shade on hot New York summer days.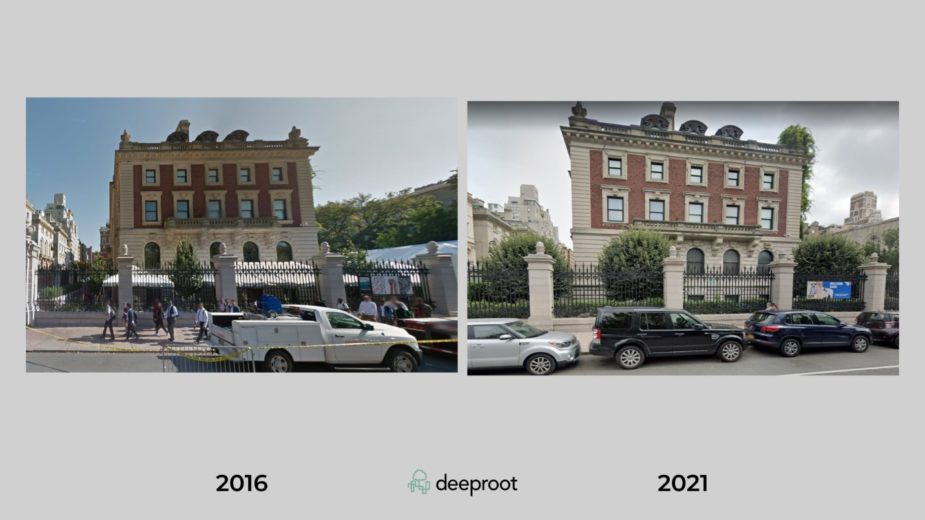 Quick Facts:
100 2X Silva Cells,
820 ft3 (23.2 m3) of soil volume per tree
3 trees
Installed in 2015
Project designer: Hood Design
Royal Ontario Museum | Ontario | CA
The Royal Ontario Museum is one of the largest museums in North America and is the largest in Canada. Over 1 million people visit this museum every year, it is the most visited museum in Canada. In 2018–2019, Canada's WSP office wanted to give the seven trees outside of the new modern addition to the museum longevity and nurturing. One tree is in the raised plaza. Along Bloor Street, four trees are in tree pits, and two are in a large planter. Silva Cells are installed around the perimeter of the planter.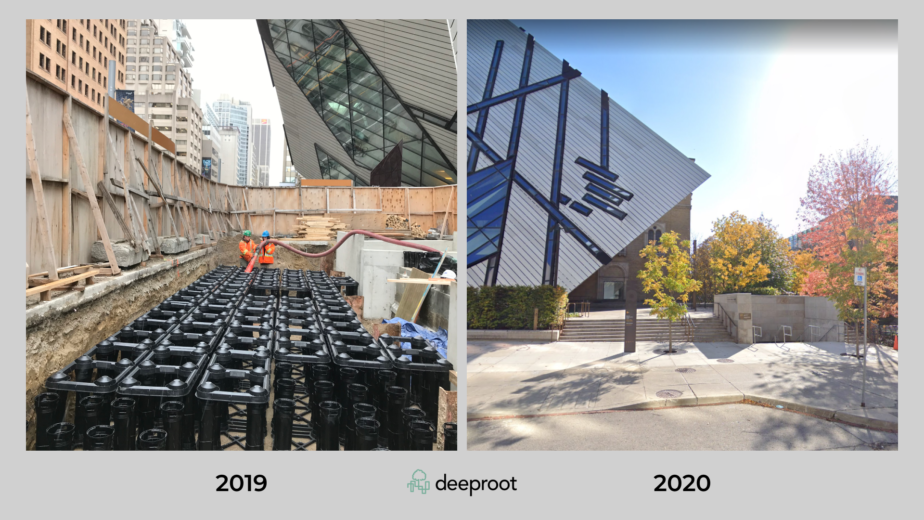 Quick Facts:
36 1X 132 2X 150 3X Silva Cells,
1,265 ft3 (35.8 m3) of soil volume per tree
7 trees
Installed in 2019
Project designer: WSP Design Group Toronto