Over 580 trees and 15,578 Silva Cells (and counting) surround mass transit projects throughout the United States, Canada, and the United Kingdom. Mass transit projects include light rail trains (LRT), bus stops and their streetscapes along routes, interchange restructuring, major city center traffic hubs, and accompanying pedestrian and cycling-friendly pathways.
Whether by foot, bicycle, electric skateboard, or car, passengers have to commute to a transit station just to continue their journey by mass transit. Transit stations can be hot and loud. In addition to cooling down the ambient air temperature with the shade they provide, trees also reduce noise pollution. Large urban forests provide much-needed peace and tranquility for stressed-out commuters.
Silva Cells at the root of all 580 plantings means small trees will grow more quickly to bigger trees. Silva Cells will manage any influx of stormwater, removing pollutants. Silva Cells create a strong foundation of deep roots, making trees more resilient to severe storms.
Below is a handful of Silva Cell mass transit projects that comprise three countries, and hundreds of Silva Cells and trees.
Six Points Interchange | Etobicoke | Canada
The Etobicoke Six Points Interchange, locally known as the "Spaghetti Junction," completed a long-awaited mass transit extreme makeover in 2020. A key feature of the makeover in the Toronto suburb is the addition of over 300 street trees, each one planted with an average of 30m3 of soil. Over 10,000 (combined 2X and 3X) DeepRoot Silva Cells belowground provide 80% of the soil volume under the sidewalks and plaza areas, with loosely compacted soil to help grow great urban trees while managing over 55% of the stormwater catchment area throughout the site. Other features of the makeover include the removal of three bridges, and the addition of new roads that are friendly to pedestrians and cyclists with separated bike lanes. See more of the project's features, highlights, and the pollutant removal power of Silva Cells in the Six Points Case Study.
Quick Facts:
4,994 2x and 5,718 3x Silva Cells
30³ of soil volume per tree, totaling 9, 190 m³ soil.
2,756 m³ of available stormwater storage volume
300 trees
Project Designer: HDR, SvN, and WSP
Installation Date: 2018–2020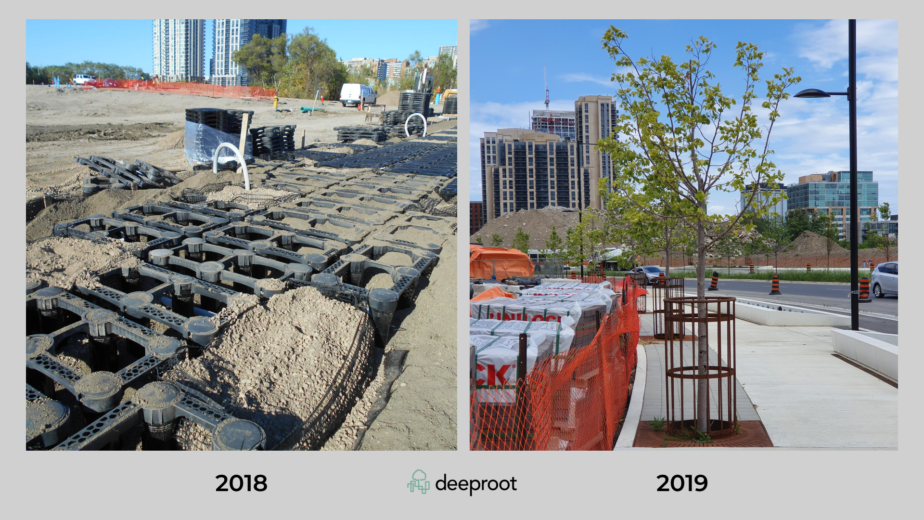 Strand | Liverpool | UK
The Strand is at the epicenter of Liverpool, in northwest England. The 2-kilometer street is a major artery connecting locals and tourists to the historic Waterfront, the Queensway Tunnel, James Street railway station, Mersey Ferries, public spaces, retail, and restaurants. It is a busy area, with traffic converging from many directions, via multiple modes of transport. Liverpool's regeneration is one of three projects taking place in major cities around the world, including Valladolid in Spain and Izmir in Turkey, and is managed by Urban GreenUP, a project funded by the European Union's Horizon Europe 2020 programme. Urban GreenUP strives to mitigate climate change and improve air and water quality with nature-based solutions. There are four categories that Urban GreenUp are using to achieve this: re-naturizing urbanization; singular green infrastructure; water interventions; and non-technical interventions. Silva Cells were chosen to achieve at least three of these priorities. Silva Cells were chosen to achieve at least three of these priorities.
The regeneration of The Strand exemplifies the very best of green infrastructure projects, providing data and analysis for stormwater and air quality, keeping us connected via safer walkways, cycle lanes and improved traffic flows, and introducing large canopies of trees while preserving the city's heritage. For more, check out the project's case study.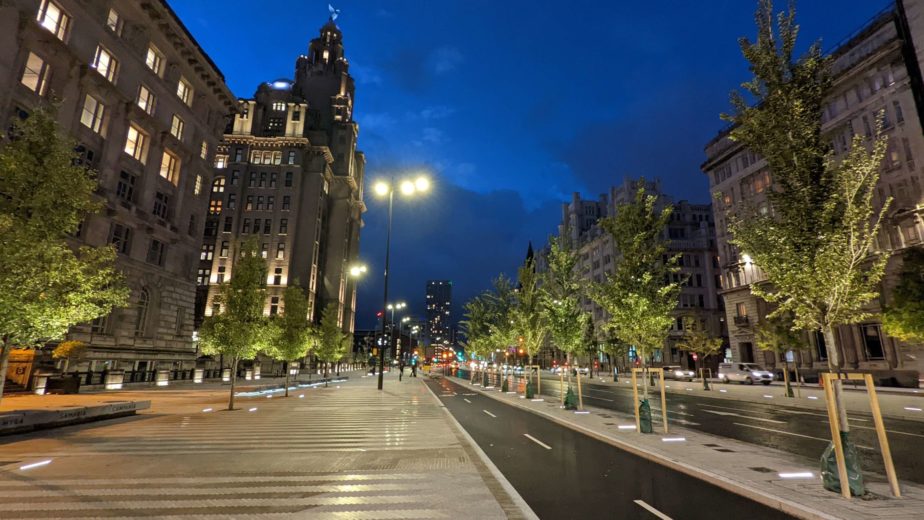 Quick Facts:
1,950 2X Silva Cells
1,536 ft3 of soil volume
128 trees
Project designer: BCA Landscape, Amey, and Liverpool City Council
Installed in 2018 and 2022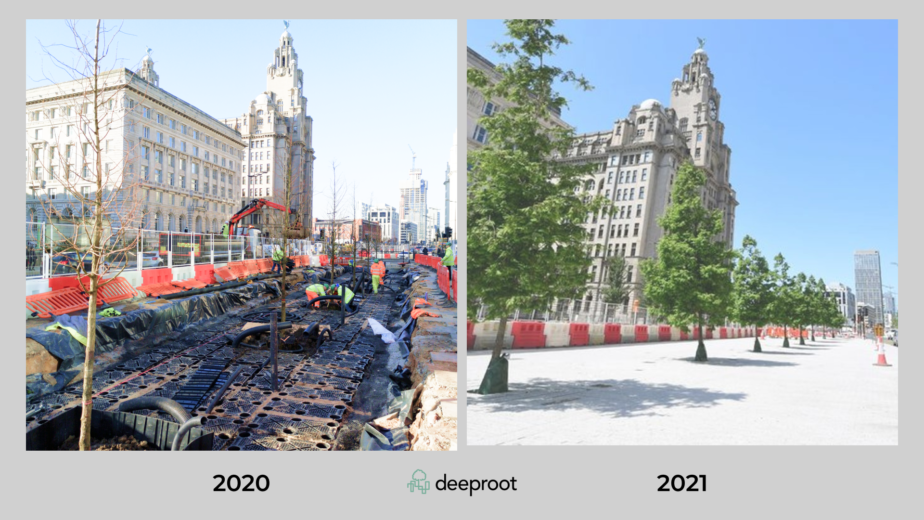 Headrow Gateway | Leeds | UK
The Headrow is one of the major crossroads in the West Yorkshire, England, area. There are reportedly more than 100 buses that pass through the area every hour. The 2018 Headrow Gateway project was big: a £20 million budget and a two-year timeline from start to finish. The Leeds City Council, which has put forth several other projects that prioritize green infrastructure (Sovereign Square, Dortmund Square, and Leeds Arena) wanted to create Green corridors at the Headrow. The concept was to install tree-lined streets that will grow to a large tree canopy. Completed in May 2021, the project appeals to those who have an interest in greening the environment and favor car alternatives such as buses, biking, and walking. Over 120 new trees are part of this renovation—all of which are planted in Silva Cells. See more project details, including photos, maps, and trees planted in the project case study.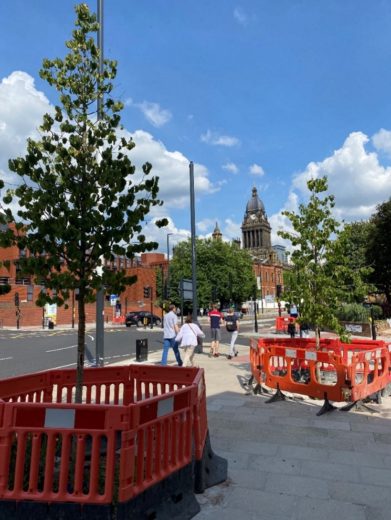 Quick Facts:
246 1X 378 2X Silva Cells
354 m3 (12,527 ft3) of soil volume
120 trees
Project designer: Leeds City Council
Project contractor: John Sisk & Son
Installed in 2020
Sunnyside Light Rail Transit Plaza | Calgary | Canada
Thanks to The Light Rail Transit (LRT) station outfitted four car trains, removing the need for substantial electric capacity. The 2012 renovation included the addition of a substation within the Sunnyside Park stop. Within this area included the planting of six trees. The park's goal was to bridge residential community members and the nearby commercial districts of Louise Crossing and Kensington.
These changes would be accomplished, in large measure, by raising the original and largely unpaved "floor" of the park to the same level as the outbound platform deck of the adjoining LRT station and by replacing the original dense perimeter of Colorado Spruce with a new bosque or gallery of six regularly spaced Brandon Elms. Silva Cells were the answer to meeting the structural requirements of the new paving and the pedestrian amenities set on it, to manage stormwater issues on and below it, and to provide optimal growing conditions for the trees planted within this newly formed hardscape. Silva Cells provided the right combination of physical attributes needed to address this spatially, structurally, and functionally complex design challenge.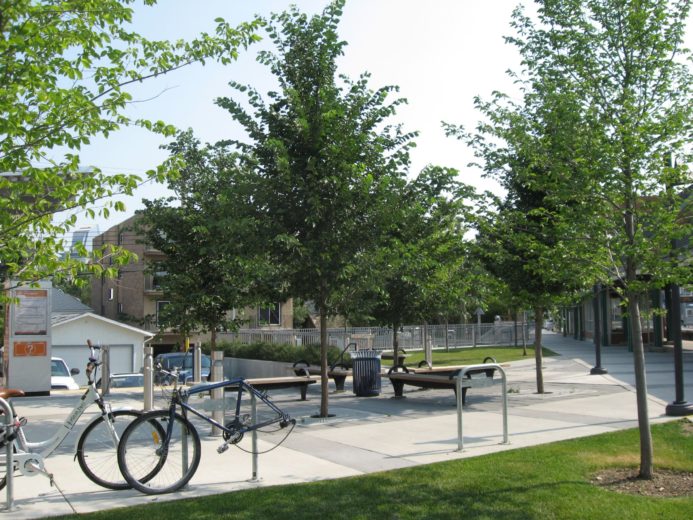 Quick Facts:
140 3X Silva Cells
19 m3 (683ft3) of soil volume
6 trees
Project designer: GEC Architecture
Project contractor: PCL Constructors Canada Inc.
Installed in 2012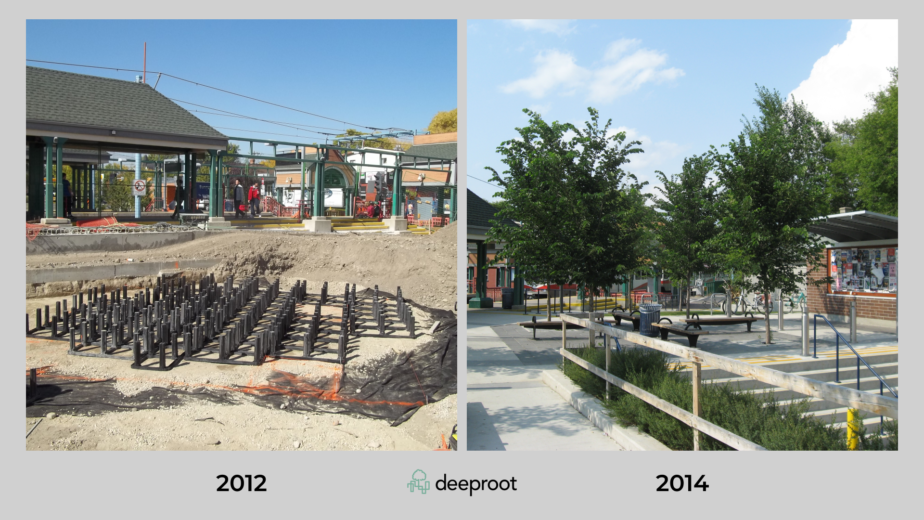 Sound Transit East Link | Bellevue | Washington
Seattle's Sound Link Light Rail Train (LRT) is the mass transit train of the greater Seattle area. It's been running throughout parts of Seattle for two decades. However, in 2010 it decided to expand its route to the East, passing over Mercer Island and north up to Bellevue. When East Link opens in 2023, passengers will be able to ride almost 40 miles of fast, reliable light rail, from the Eastside to downtown Seattle and Northgate and to Sea-Tac airport and Angle Lake. At this point the Bellevue stop will have 21 very healthy and mature trees. In 2020 the design team HBB specified 264 2X Silva Cells to give each tree 309 ft3 of soil volume. The trees surround the stop in downtown Bellevue, providing shade and comfort for passengers entering or exiting the train. The Sound Link Light Rail (including this new extension) is projected to have a daily ridership of 43,000–52,000 by 2026.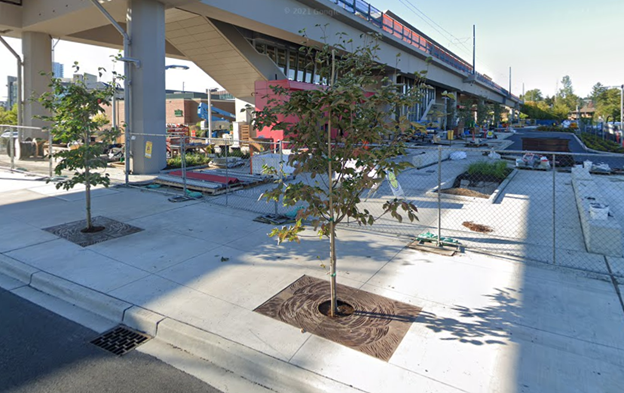 Quick Facts:
264 2X Silva Cells
309ft3 (8.7 m3) of soil volume per tree
21 trees
Installed in 2020
Project designer: HBB
SkyTrain Joyce- Collingwood Station | Vancouver | British Columbia
Forty years after the initial construction of the SkyTrain in Vancouver, landscape designer Hapa Collaborative wanted to add urban tree canopy to the Joyce-Collingwood station. Along Van Ness Street are eight trees. The trees were added along the streetscape where the transit station meets the street. Seating units are interspersed along the wide sidewalk with the trees. The five trees are located on the east side of Vanness Street at Joyce. An additional three trees are under and between the SkyTrain rails on the west side of Vanness at Joyce. Near the trains are seats and a gathering space for sitting and resting. The three west side trees were planted with 60 2X Silva Cells in 2017. The eight trees on the east side were planted with 72 2X Silva Cells in 2019.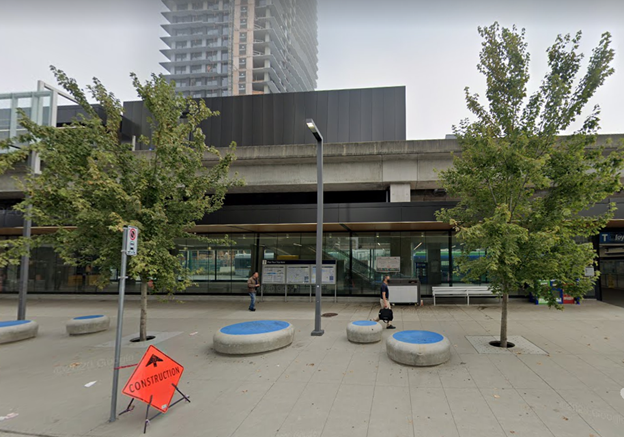 Quick Facts: Joyce Station West
492ft3 (14m3) of soil volume per tree
60 2X Silva Cells
3 trees
Landscape Designer: Hapa Collaborative
Installed in 2017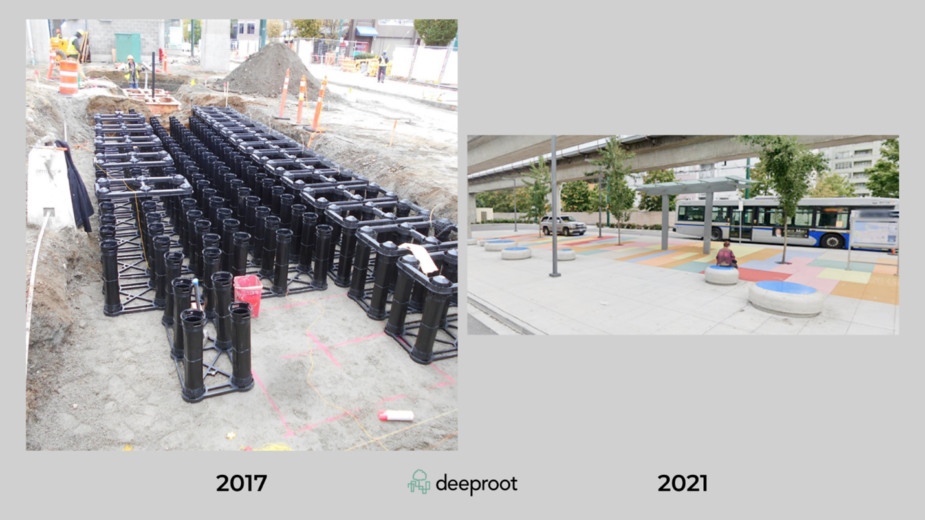 Quick Facts: Joyce Station East
5 trees
72 2X Silva Cells
354ft3 (10m3) of soil volume per tree
Landscape Designer: Hapa Collaborative
Installed in 2016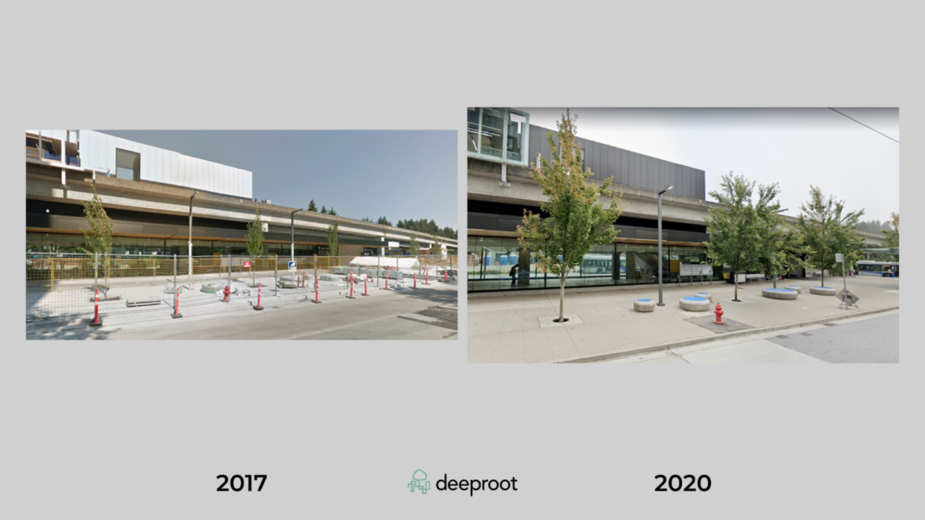 The Underline Meditation Garden | South Miami | Florida
Friends of The Underline is the nonprofit that manages the area surrounding the new Miami Metrorail, The Underline. It advocated for the transformation of underutilized land below Miami's Metrorail into a safer, healthier, more connected and sustainable community.
"The Meditation Garden designed by Baptist Health is an urban masterpiece and evidence of the possibilities when we shift our transportation philosophy to include alternatives such as walking and bicycling in a safe and beautiful environment. Here is a lush park with seating near a high-occupancy highway and under local transit where people can find a place to seek rest and calm," said Meg Daly, founder of The Underline. Five trees and an abundance of plants in the green space allow commuters, locals, and hospital guests to enjoy the mediation garden. Our friends at James Corner Field Operations chose Silva Cells to support healthy soil volume for the five palms in the meditation garden to ensure that they thrive for decades.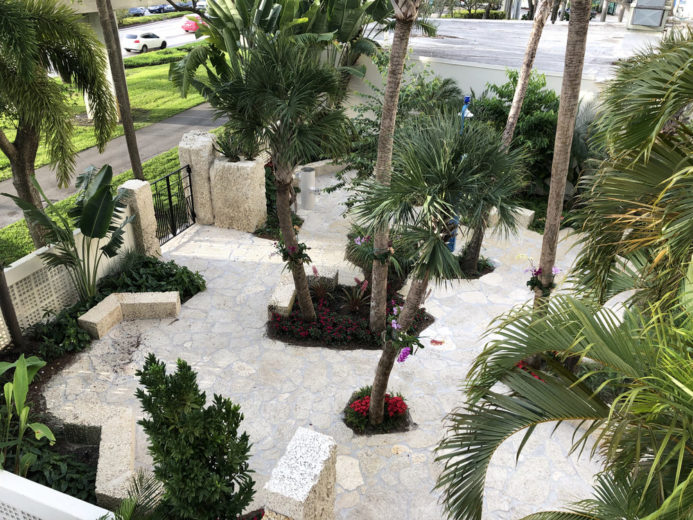 Quick Facts:
5 trees
42 2X Silva Cells
Landscape Designer: James Corner Field Operations
207 ft3 soil volume per tree
Installed in 2020
Header Photo by Maggie Zhan from Pexels