Introduction
The first licensed airfield in Canada, City Centre Airport opened in 1927 on 144 acres of land just north of Downtown Edmonton. Serving as a military airbase during the Second World War, it became a stop on international passenger flights between North America and Asia in the 1950s.
As jet technology progressed during the Cold War years, however, the limited runway space at City Centre Airport became an increasingly unignorable obstacle — and, finally, after decades of debate, the airport officially closed its doors in 2013.
In its place sprung a newly planned community: Blatchford, a carbon neutral neighbourhood being built on renewable energy and green infrastructure. Part of its twenty-year development plan includes planting urban trees, a process already begun on Airport Road where DeepRoot Silva Cells are being utilized to help ensure healthy tree growth.
City Centre Airport
An influential hub in the history of Canadian aviation, City Centre Airport was the interwar home to such pilots as Wop May: a fighter pilot ace and the final (unsuccessful) dogfight target of the infamous Red Baron in the Great War. During World War II, the airport served as a training school for Royal Canadian Air Force (RCAF) flyers — including Howard Peter Blatchford, son of Edmonton mayor Kenny Blatchford and the first Canadian pilot to register an air victory in the Second World War.
City Centre Airport continued to flourish during the first postwar decade, serving as a stop on an international route operated by Northwest Airlines, providing service to Okinawa, Manila, and Taipei. Beginning in the late 1950s, however, the airport's continued relevance became a progressively controversial topic in Edmonton: the larger, heavier jets entering service were unable to use the shorter runways designed for prop aircraft.
By the mid-1990s, Edmonton International Airport — opened on the south side of the city in 1960 — was the preeminent regional destination for air traffic. Primarily relegated to air charter and medevac flights, City Centre Airport officially closed in 2013.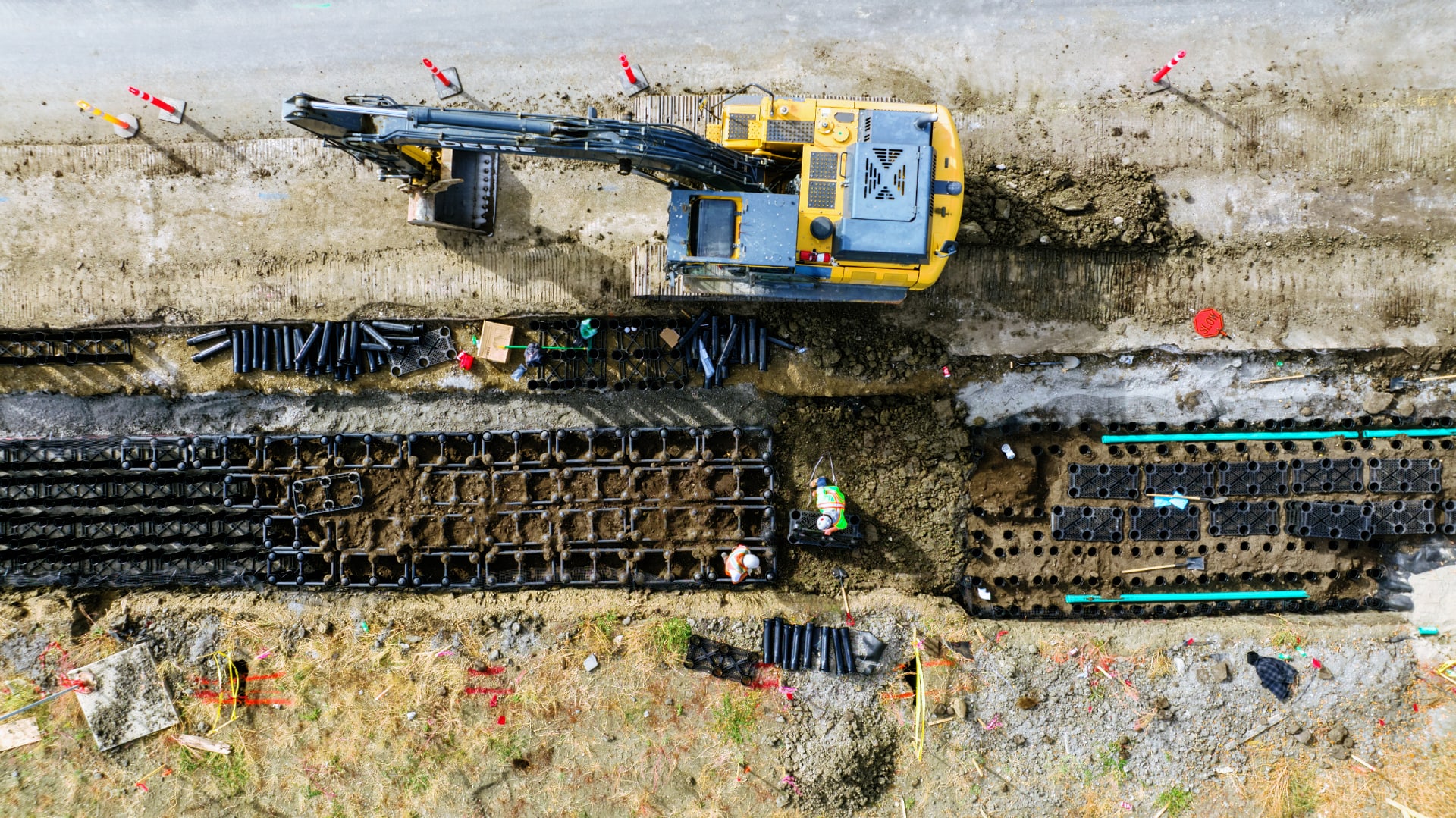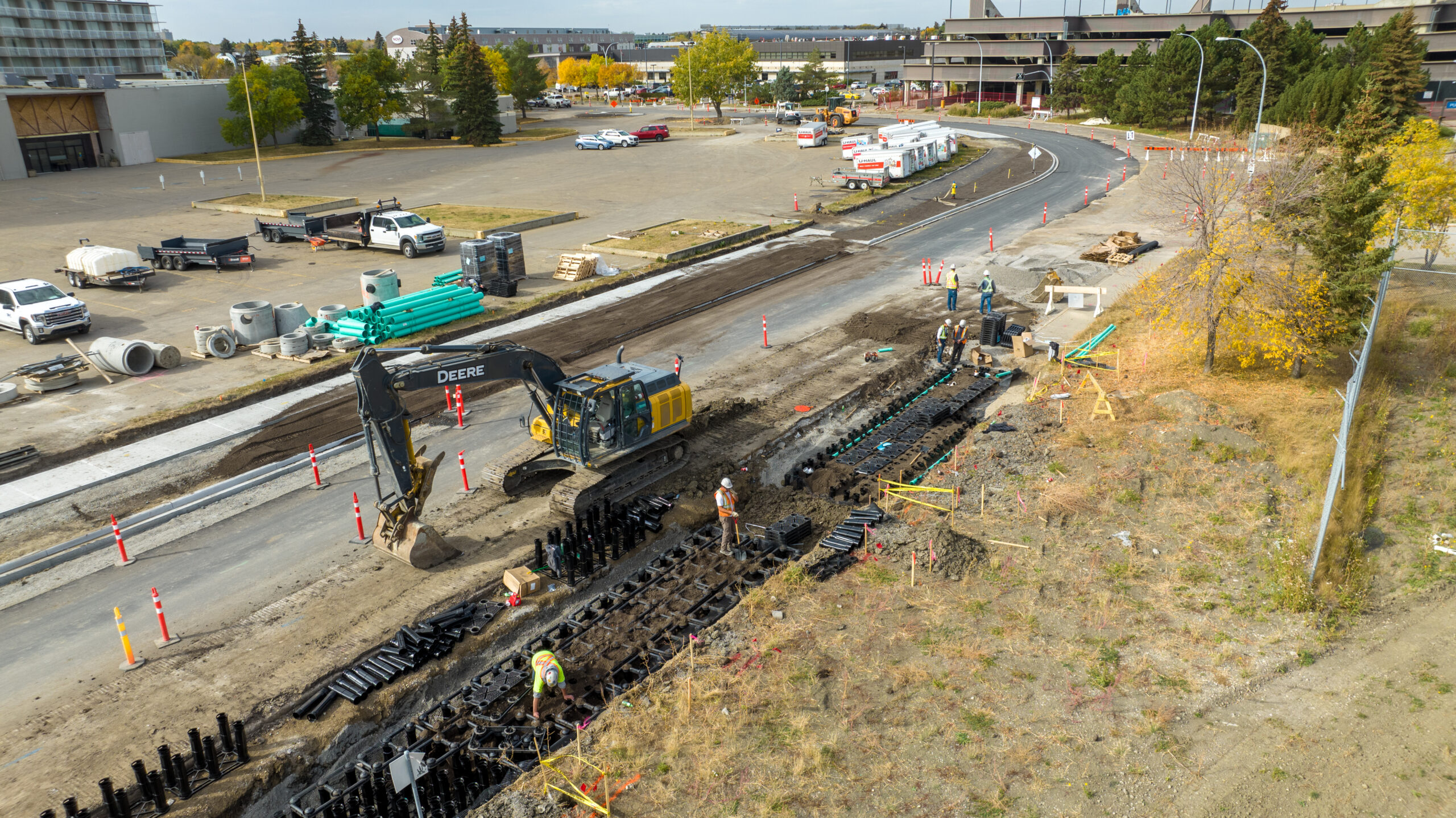 Transitioning to Blatchford
As it became evident that City Centre Airport was nearing obsolescence, Edmonton officials began strategizing what to do with the soon-to-be vacated land. In 2009, the city council voted to close the airport in phases and, in its place, erect a sustainable community named Blatchford.
Plans for the carbon-neutral neighbourhood are among the most ambitious in Canada. Housing will be constructed for up to 30,000 residents with green practices underscoring every element of the process. Energy in Blatchford will be 100% renewable, while development will also — according to the community website — prioritize "connections: public transit, district energy, green corridors and park spaces. The goal is an efficient, medium-density neighbourhood right in the city core."
Blatchford hopes to have some of the greenest homes in the province, outperforming Albertan requirements for sustainability by thirty-seven percent. The goal of community housing is inclusivity, with a number of affordable townhomes and apartments in the works.
And, after the final closure of the airport in November 2013, preparations for Blatchford started immediately by first removing and recycling area buildings and debris, including the aircraft runways — and the two-decade-long project officially began.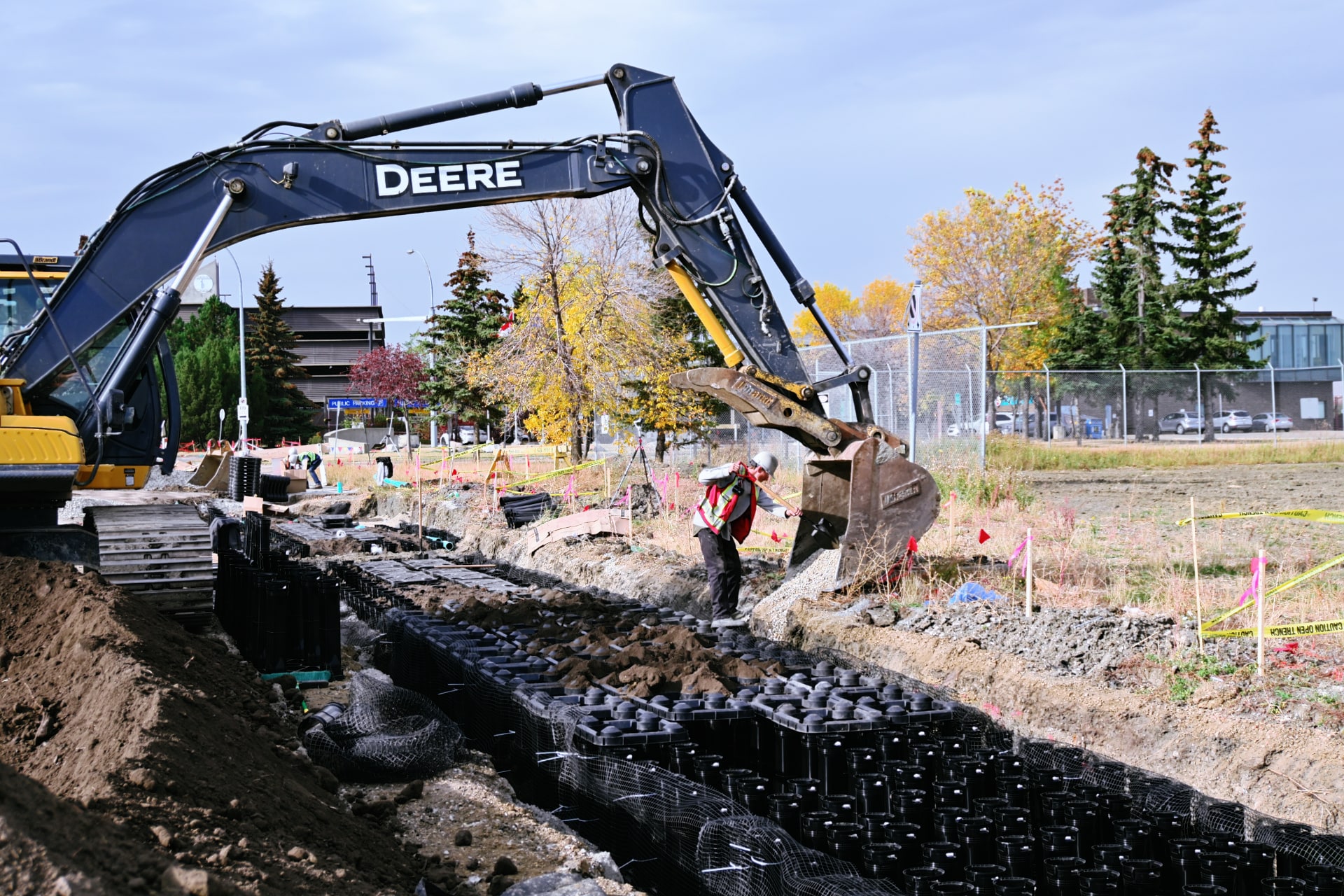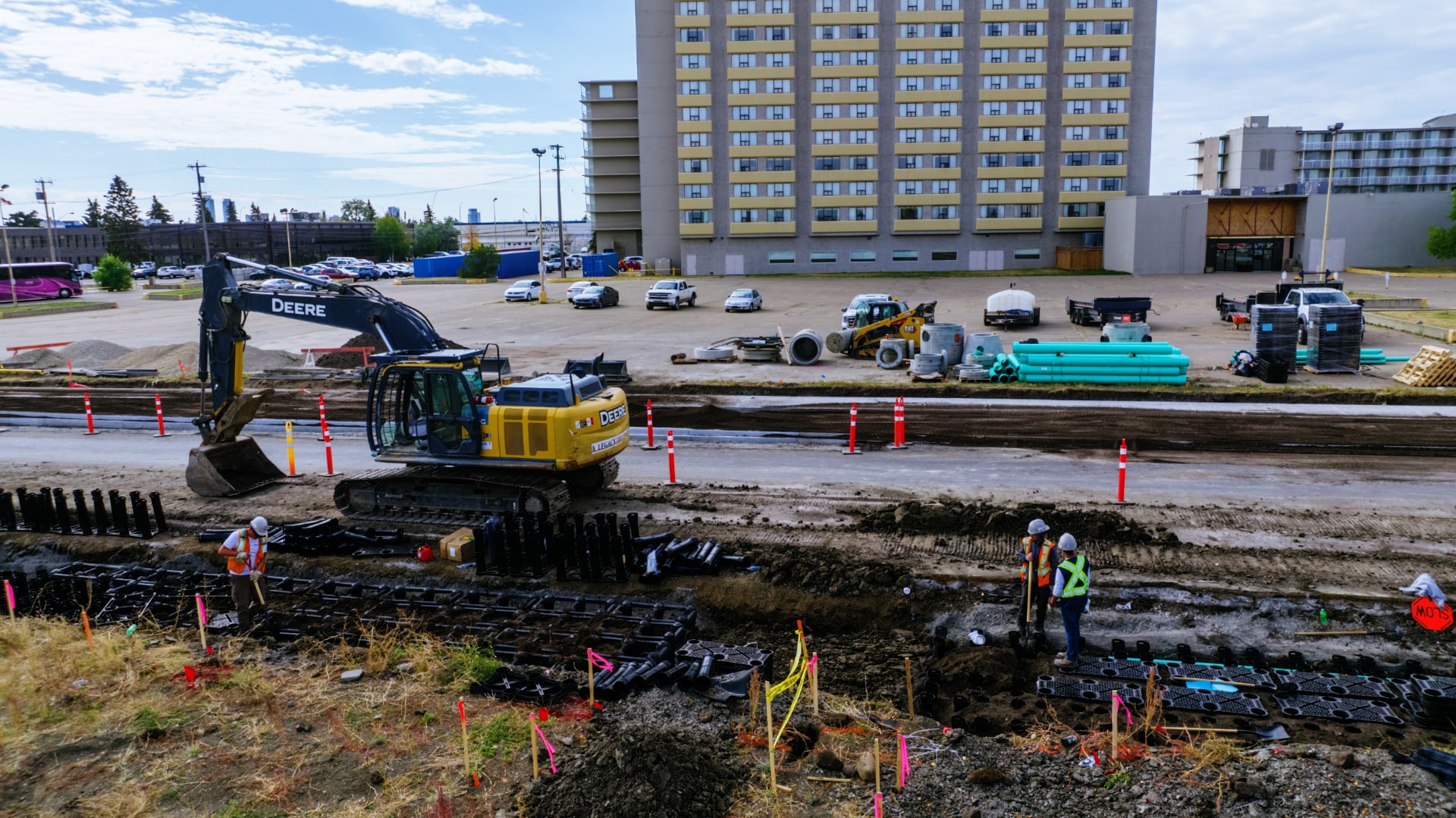 Development Begins
In the ten years since construction commenced, Blatchford has made tremendous strides — including the incorporation of DeepRoot Silva Cells into their streetscapes.
Indeed, sustainable infrastructure and green spaces are foundational principles of the neighbourhood: "Energy, water, transportation and waste management systems are the cornerstones of sustainability and will be thoughtfully designed to reduce Blatchford's environmental impact. Green spaces will be fully integrated into the community to provide both environmental benefits and places for residents to enjoy."
This embracing of green infrastructure includes the planting of new urban-environment trees. Edmonton's city requirement for soil volume is 17 cubic meters per tree, a standard met with a suspended pavement system that provides space for quality, uncompacted soil for optimal root growth.
Airport Road is one of several streets in the new community where Silva Cells have been installed, including five trees being planted in the system in late 2022. The construction team at PME Inc. selected Silva Cells for the project, having successfully installed them in past streetscape projects.
Blatchford is already receiving acclaim for its innovative community-building: it received the Best New Community in Canada Award by the Canadian Home Builders' Association at the National Awards for Housing Excellence. DeepRoot is honored to have been a piece of this visionary sustainability initiative and looks forward to monitoring its progress in the coming years.
Sources
Blatchford, Edmonton Wikipedia