Reclaiming prime waterfront locations from previous industrial uses is a common, and transformative, urban development process. The opportunity to create a fresh start from industrial lands, with ideal urban locations, provides tremendous opportunities to create new neighborhoods and revitalize a city.
The tree planning process for these neighborhoods is a critical element in the long-term success and vitality of these reimagined neighborhoods. One critical element to planning is the soil volume needs to support a long-lived, mature tree canopy. Utilizing Silva Cells and combining stormwater management with soil volume for tree growth provides the strongest platform possible for achieving lasting success and transforming industrial waterfronts into sustainable, active revitalized neighborhoods.
If trees are planted directly beside or near a waterfront, they don't need help managing soil or water volume intake, right? Wrong. If anything, tree roots need the same if not more soil volume and root growing area to flourish than areas that are not as susceptible to erosion and flooding.
Young trees and transplanted trees both have high water requirements, and a lack of adequate water from the outset will make it very difficult for them to survive and thrive. However, contrary to popular belief, trees located near a waterfront still need adequate soil volume and managed water intake.
Increasing soil volume and other landscape design techniques have vast benefits when it comes to preserving the urban forest and green infrastructure plans.
It is common for coastal, or lake effect wind to cause windthrow to trees. Windthrow, as it sounds, is a tree that has been uprooted from high winds. Creating a stronger root chamber below the surface creates a wind-resistant and resilient tree. Trees near waterfronts are more susceptible to flooding during storms or high periods of rain. Silva Cell helps prevent windthrow, reduce flooding, and creates a strong tree from its more resilient tree roots that go deep and thrive for decades. Only Silva Cell can provide the adequate soil volume and water management for trees no matter their proximity to utilities, large bodies of water, and/or flowing rivers.
Following are some of the most transformative waterfront projects where Silva Cells have played an active role in creating beautiful, ecologically productive and healthy green infrastructure throughout the USA, Canada, and the UK.
Alaskan Way | Seattle | WA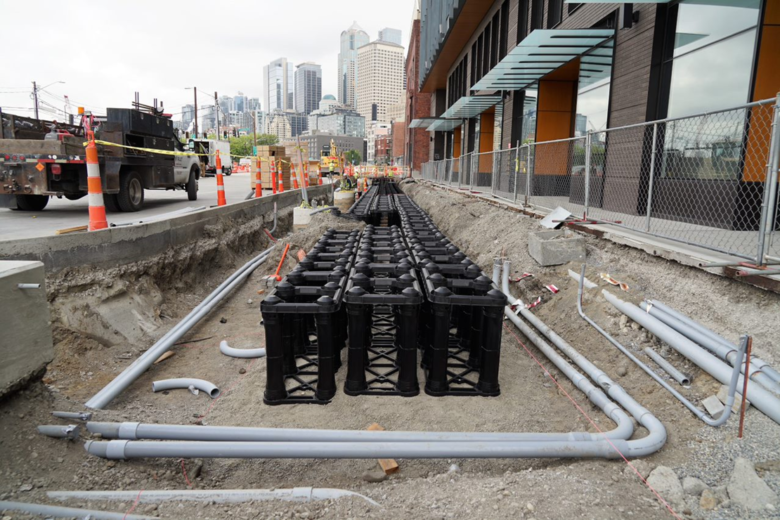 The Alaskan Way viaduct was a double-decker freeway running along the water's edge in Seattle, WA. After sixty-six years, it officially closed in 2019 and its demolition allowed for a 1.5-mile park reconnecting the waterfront to the city's residents. A great example of space that was once a gray infrastructure, life-less landscape, to a now thriving strip of greenery.
Now known as the Alaskan Way Waterfront project, it covers 26 blocks of public space with over 200 new trees planted to enhance the civic engagement space and to increase the urban forestry corridor along the water's edge. By creating the conditions for large amount of soil volume for the new trees, the city of Seattle's Office of the Waterfront led by the designer, James Corner Field Operations, established in the design a commitment to sustainability. Over 4,300 Silva Cell units were installed under the hardscape pavement to provide the soil volume needs for the long term growth of the newly planted trees.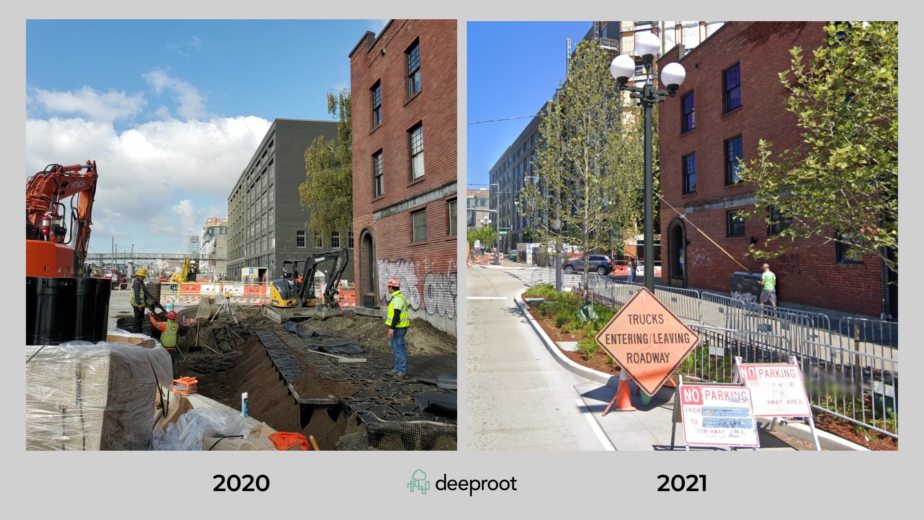 Quick Facts:
4,300 2X Silva Cells
10,000 ft3 of soil volume, ~550 ft3per tree
200 trees
Installed in 2020
Project Contractor: Gary Merlino
Project designer: James Corner Field Operations
 Sugar Beach | Toronto | CA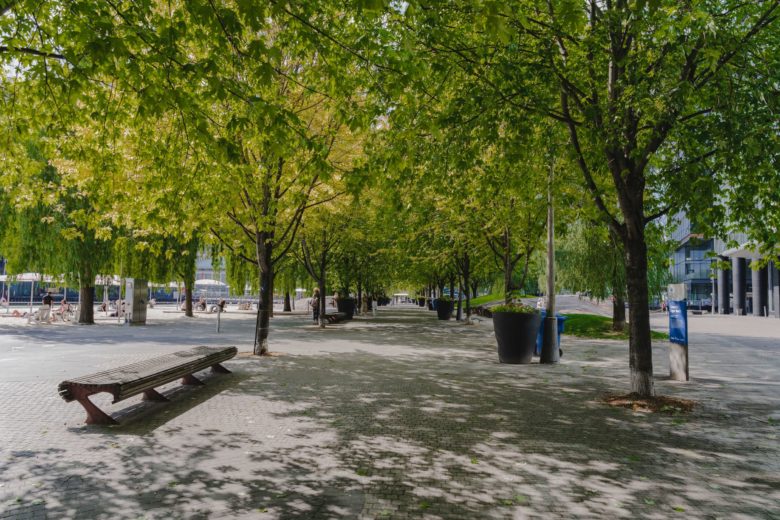 Sugar Beach is one of DeepRoot's most reputable waterfront Silva Cell projects to date. Along Lake Ontario Toronto's Sugar Beach is now an accessible, green infrastructure beacon. In 2010, the 33 maple trees were installed with over 2,080 2X Silva Cells. This created a more sustainable built environment through improved water quality, reducing flooding to the urban park.
Sugar Beach waterfront was previously an industrial port site, starved for greenery, life, and healthy soil. Silva Cell helped transition this space into a thriving green urban forest.
Silva Cells are under the entire paved area of this plaza and public park, providing the 33 maple trees with approximately 1,236 ft3 (35 m3) of soil each. The trees were planted in 2010 and recovered very nicely from their initial planting – a testament to the quality of the stock, the care with which they were installed, and the dedicated maintenance they received.
*Our header image for this blog piece features an overview of these trees during their fall color change.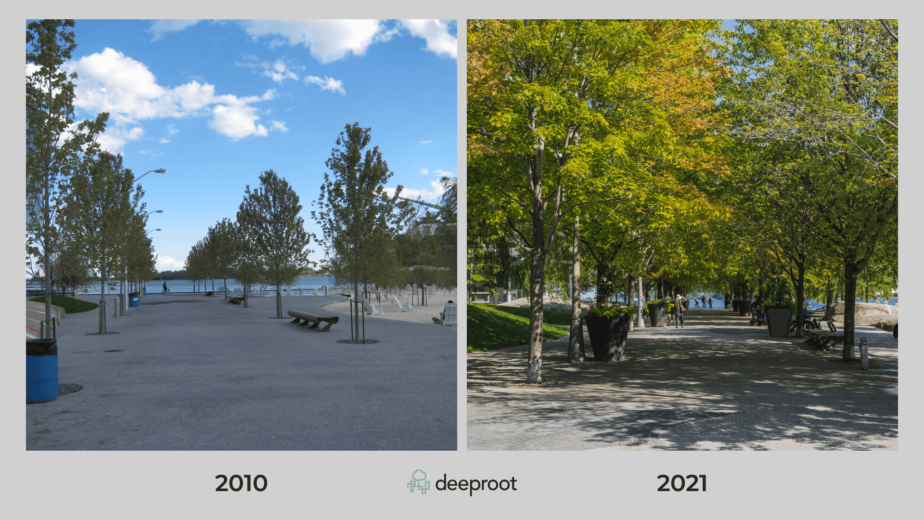 Quick Facts:
2,080 2X Silva Cells
10,000 ft3 of soil volume, ~550 ft3per tree
33 trees
Installed in 2010
Project designer: Claude Cormier + Associes.
The Strand | Liverpool | United Kingdom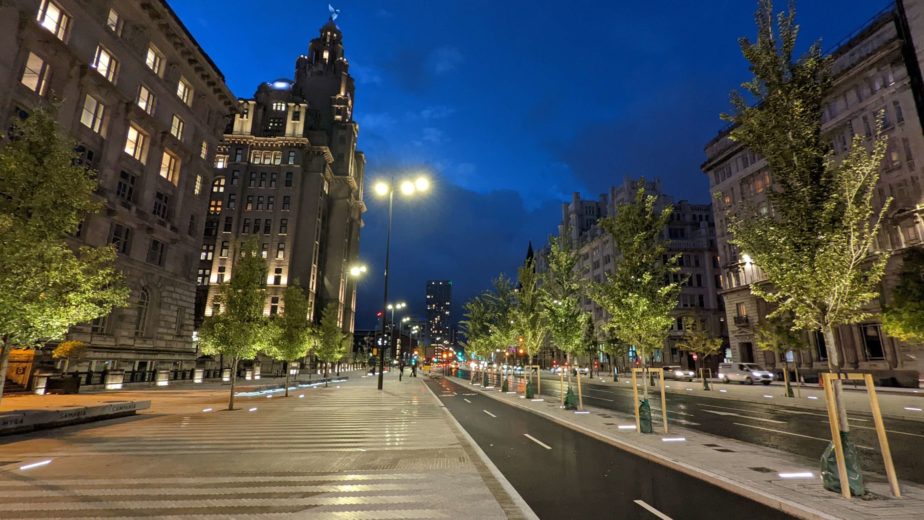 The Strand is at the epicenter of Liverpool, a UNESCO World Heritage city in northwest England. The two-kilometer street is a major artery connecting locals and tourists to the historic Waterfront, the Queensway Tunnel, James Street railway station, Mersey ferries, public spaces, retail, and restaurants. It is a busy area, with traffic converging from many directions, via multiple modes of transport. There are four categories that Urban GreenUp are using to achieve this: re-naturizing urbanization; singular green infrastructure; water interventions; and non-technical interventions. Silva Cells were chosen to achieve at least three of these priorities.
The regeneration of The Strand exemplifies the very best of green infrastructure projects, providing data and analysis for stormwater and air quality, keeping us connected via safer walkways, cycle lanes and improved traffic flows, and introducing large canopies of trees while preserving the city's heritage. For more check out the project case study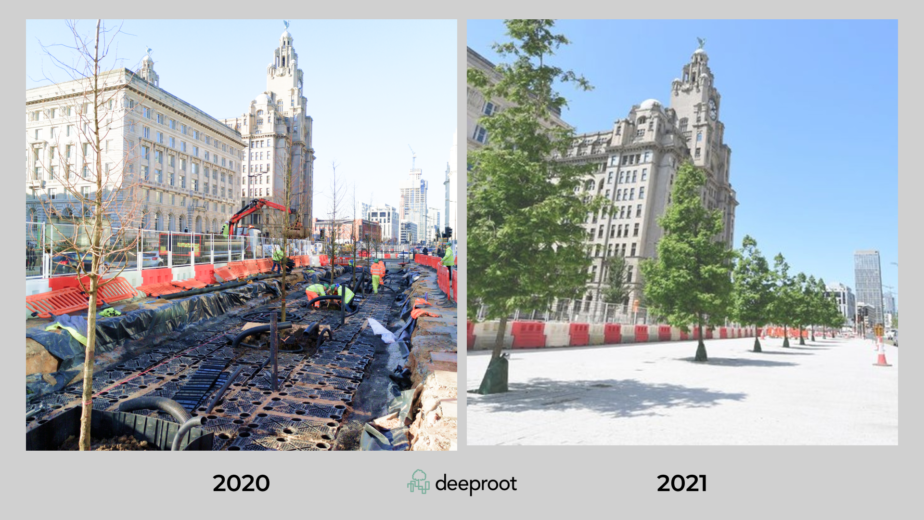 Quick Facts:
1,950 2X Silva Cells
1,536 ft3 of soil volume
128 trees
Installed in 2018 and 2022
Project designer: BCA Landscape, Amey, and Liverpool City Council
 Las Olas | Fort Lauderdale, FL | US

The 2019 Fort Lauderdale Las Olas waterfront project is an urban tree meets beachside success story. The low-lying project is surrounded by the ocean on one side and the intracoastal on the other, both saltwater bodies, even though the latter is brackish. Freshwater is lighter than saltwater, so the rainwater that falls on the new promenade installation percolates through the surface and ends up forming a freshwater lens on the surface of the saltwater. Over 100 trees, 80 palms and 20 live oaks, on this site will derive nutrients from this process. The water table is of note at this site, since the 2x system was invariably installed, at a minimum depth of 43", just steps from the beach. A common misconception is that barrier islands are too low-lying to install that deep. In reality, the geology shows that the island is actually higher toward the ocean and tapers off towards the intra-coastal. The westerly construction required to fill to increase the elevation for much of the construction, including Silva Cells. Silva Cells were installed around the parking facility perimeter and the intracoastal promenade, providing over 16,500 ft3 (467m3) healthy, biologically active planting soil. This will allow the Live Oak's trees to grow with an overarching canopy and provide shaded walkways to and from the beach. More on this project here.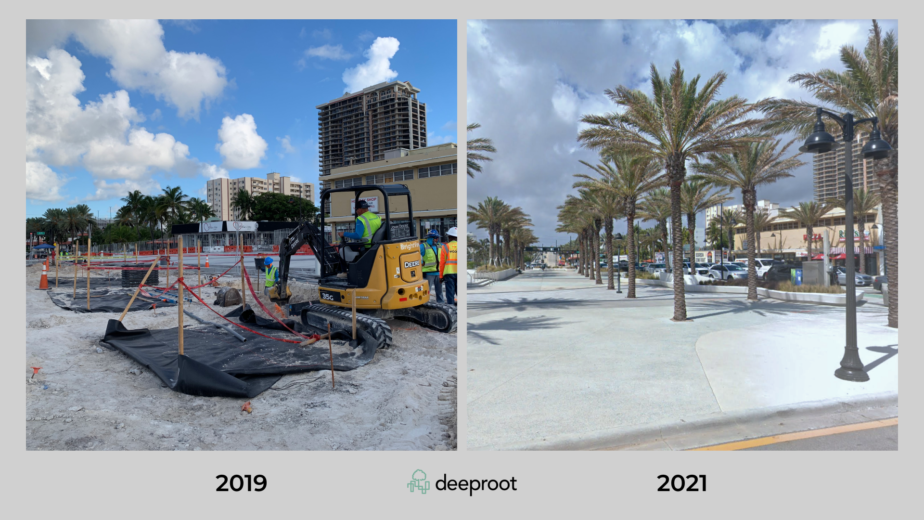 Quick Facts:
680 2X Silva Cells
325 ft3of soil volume per tree
100 trees
Installed in 2017
Project designer:  EDSA and Architectonica 
Olympic Village | Vancouver | BC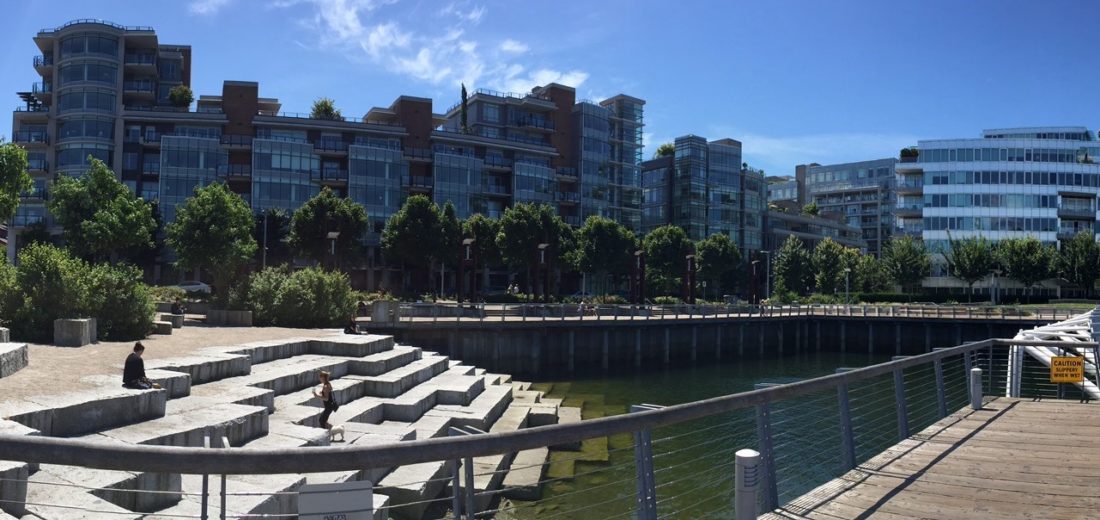 Olympic Athletes Village in Vancouver is a two-phase, multi-year project. The trees were installed between 2007-2009, but the benefits and legacy of the Silva Cell system endure, 13 years later. 5,600 Silva Cells were used in phase 1 and 1,400 were used in phase 2. The total soil volume provided by the soil cells is 70,000 ft t3 (1,982 m3). The project was finished just in time for the 2010 Winter Olympics. The village was certified LEED Platinum, three years later it won the Urban Land Institute (ULI) Open Space Award. Notably, the site was a previous brownfield site, an empty, abandoned industrial land full of gray infrastructure.
"These trees have grown twice as fast as any other trees that were planted at the same time. They're healthier. The trees aren't irrigated, the rainwater is collected in the permeable areas in the granite sets and along the rain gardens. It's become a lush area in a really short amount of time without the parks having to maintain it in a detailed manner." Margot Long PWL Partnership Landscape Architects Inc.
For more see the case study, here.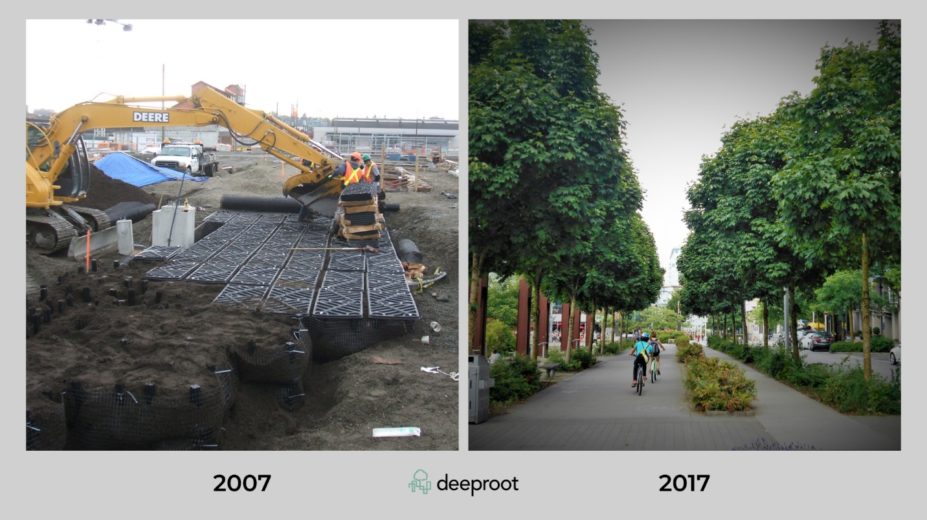 Quick Facts:
7,000 2X Silva Cells
70,000 ft3of soil volume
80 trees
Installed in 2007
Project designer:  PWL Partnership, City of Vancouver
Video