The Strand Connecting Liverpool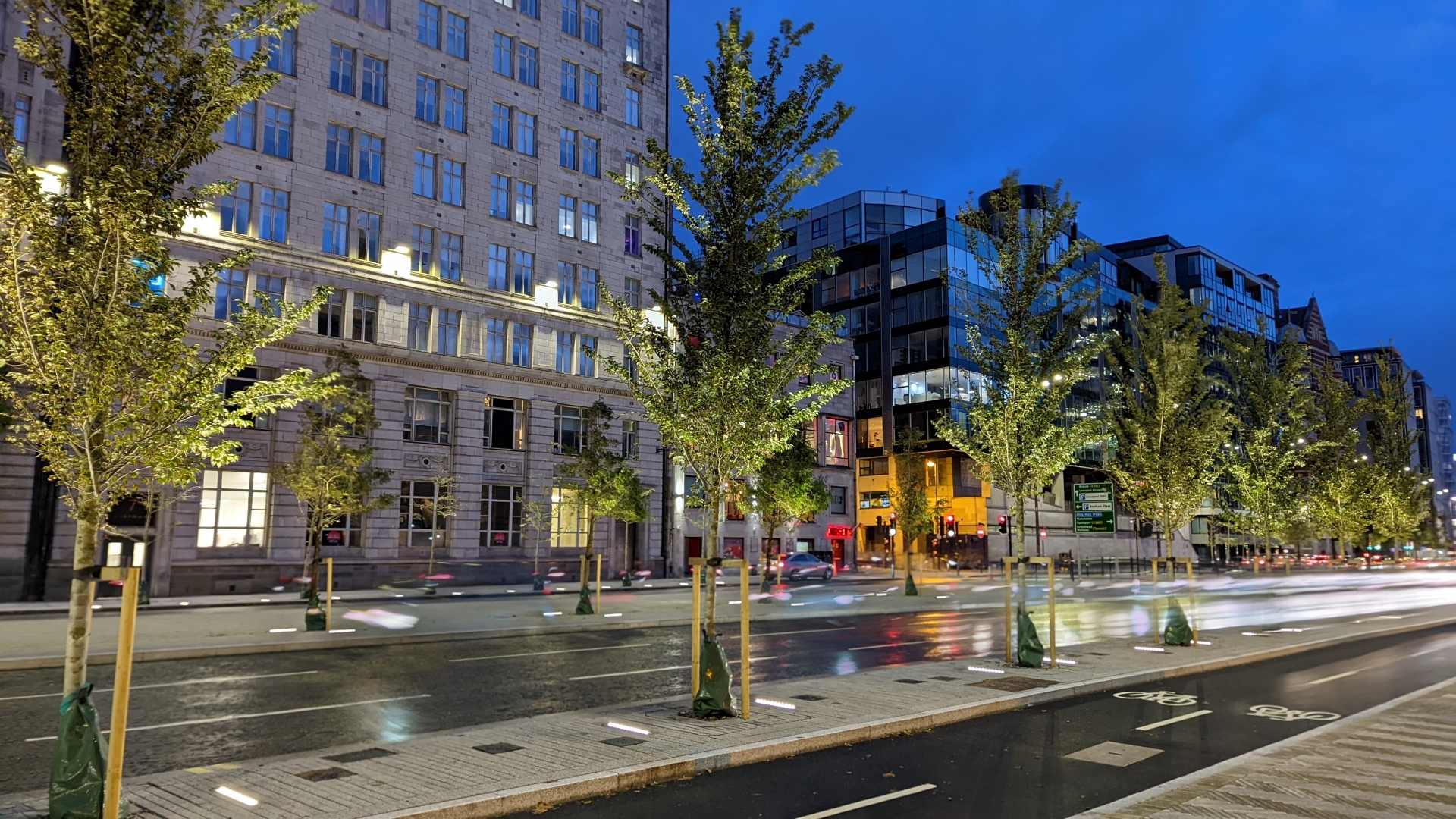 The revamp of The Strand is both human-centric and environmentally conscious. It is a public realm streetscape project that adheres to European Commission guidelines on water and air quality. As part of the EU-funded URBANGreenUP project, the green transformation of The Strand is connecting Liverpool efficiently, sustainably, and safely.  The trees installed in DeepRoot Silva Cells play a vital role in reduced carbon emissions, sustainable urban drainage system (SuDs) for stormwater, and a healthy tree canopy for generations.
Installation Summary
Number of DeepRoot Silva Cells: 1950 2X
Soil Volume: 1536 ft3
Number of Trees: 128
Type of Project: Integrated Trees, Stormwater, Government, Transit, Transportation, Streetscape
Project Designer: BCA Landscape, Amey, and Liverpool City Council
Project Contractor: John Graham Construction Limited
Installation Date of Silva Cells: January 2020-August 2021
Project Timeline: 2018-2022
The Strand project began in the Autumn of 2019 and is a critical part of the £47m Liverpool City Centre Connectivity (LCCC) scheme. Designers BCA Landscape, Amey, and Liverpool City Council, were challenged to re-envision The Strand design to reduce congestion during peak travel times, enable and promote pedestrian and cyclist safety, and to improve air quality by reducing traffic while increasing tree canopy to reduce carbon emissions and other pollutants.
Silva Cells Achieve Sustainable Urban Drainage Systems (SuDs)
The trees planted in Silva Cells create a Sustainable Urban Drainage System (SuDs) making use of the surface water from the carriageway, which is diverted to the tree planting areas and irrigation system. The Silva Cells will reduce the flow of excess water into the current drainage system and will help to reduce the flooding pressure on the system during periods of heavy rainfall.
In order to achieve this SuDs project, 426 2X Silva Cells were installed along the media to ensure adequate tree root space with 336 m3 of soil volume for SuDs and provide the ability to filter out pollutants to create a thriving urban forest full of healthy Dawn Redwoods (metasequoia) among the built environments. The Strand's footpaths, plazas, bike paths, and car lanes feature over 100 trees planted in 1,524 2X Silva Cells with 200 m3 of soil volume line the pavements between Brook Street and James Street.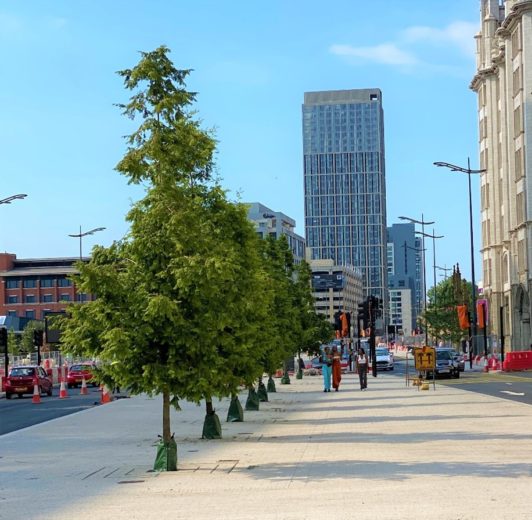 In November 2020, Regenerating Liverpool reported on the project's key transformations.
"The significant redesigning of how key junctions are used, including the banning of turns cutting across The Strand, will also ensure traffic flow is more fluid, meaning less air pollution as cars are not stopping starting so frequently. The newly planted trees take the form of a tree Sustainable Urban Drainage System and will make use of any excess surface water on the carriageway, which will be diverted into the tree pit and tree watering system. This will both reduce the need for excess water to go into the drainage system and help reduce the flooding pressure on the grids and gullies during periods of heavy rainfall."
The Strand project under the LCCC scheme is one of three projects taking place in major cities around the world, including Valladolid in Spain and Izmir in Turkey, and is managed by Urban GreenUP, a project funded by the European Union's Horizon Europe 2020 programme. Urban GreenUP strives to mitigate climate change and improve air and water quality with nature-based solutions. There are four categories that Urban GreenUp uses to achieve its goals: re-naturizing urbanization; singular green infrastructure; water interventions; and non-technical interventions.
The 128 trees installed in DeepRoot Silva Cells satisfied URBAN GreenUP's goals and provide stormwater management creating a lush urban forest canopy. The regeneration of The Strand exemplifies the very best of green infrastructure projects, providing data and analysis for stormwater and air quality, keeping the community connected via safer walkways, cycle lanes, and improved traffic flows, and introducing large canopies of trees while preserving the city's heritage.
"Liverpool City Centre is changing for the better. The improvements to The Strand, reducing traffic, more space for pedestrians, and especially the new top-quality cycle lanes, are immense. It will do so much to reconnect our world-famous Waterfront with the rest of town."
– Liverpool Cycling Commissioner, Simon O'Brien