This article is the final one in a series about tree-friendly development. In past articles we discussed tree-friendly design and building practices. Today, we discuss the vital role of a consulting arborist in the tree preservation process.
All arborists are not the same
"Arborist" is a generic term for a tree specialist. "Certified Arborist" means a person who has a certain amount of experience in the industry, may or may not hold a degree in the field, and has passed an entry-level, 200-question multiple choice exam covering a wide variety of arboricultural topics. Many professionals in the green industry including landscape architects, landscape contractors, gardeners and municipal urban foresters become Certified Arborists, but not all Certified Arborists are qualified to be consultants.
"Consulting Arborist" is also a generic term and does not refer to a specific credential. However, most are Certified Arborists and many (at least in the U.S.) are members of ASCA (American Society of Consulting Arborists). Consulting arborists are called upon to solve complex tree problems and often write reports and specifications. A Tree Protection Plan for a development project is a common assignment for a consulting arborist.
(Photo 2)
Involve the arborist early and often
For best results, the consultant should visit the site during the planning stage, before a final design has been drawn up, and take inventory of the trees. The arborist assesses existing trees for health and hazard potential and researches which ones may be protected by local ordinance.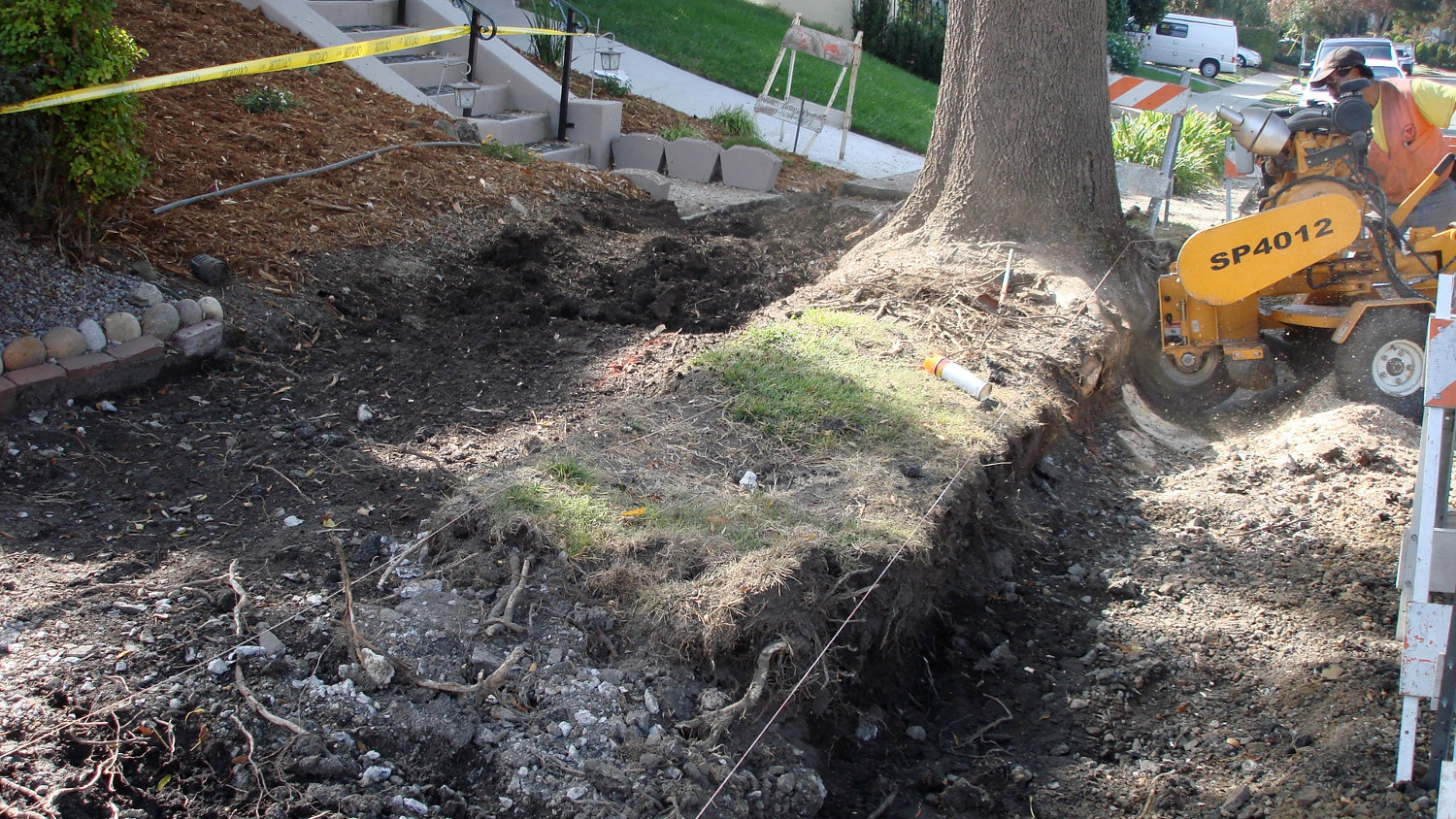 Some removal recommendations may come from this initial site visit – there's no need to spend time and money protecting dead, infested or hazardous trees. The consultant can then make design recommendations conducive to preserving the trees that are worthy of preservation or required to be protected. It's far easier to protect trees when the design and building process encroaches lightly on their roots and canopy.
I remember being called to an active construction site one time on a residential property. The contractor wanted to preserve an attractive European white birch tree (Betula pendula) in the middle of the back yard. However, the finalized plans had called for grade cuts within a few feet of the tree on the north, east and south sides to build a staircase and landings. By the time I was called, the excavation had already been done, with structural roots torn. On the west side of the tree, roots were constrained by a retaining wall, so the tree had few resources to draw from there.
I told the contractor that the tree could not be preserved because it had been rendered hazardous by having the majority of its structural roots removed. Even if the tree could have been somehow mechanically propped up, too many fine feeder roots had been destroyed for the tree to nourish itself. The restricted root area on the west side could not support enough roots for the tree to remain healthy and stable.
This was not the answer the contractor wanted to hear. "The client is very interested in preserving this tree," he said. Last year, a good amount of money had been spent on pruning and shaping and the tree was a centerpiece of the yard. However, they had not consulted an arborist in the planning and design stages of the remodel project. I apologized that I could not mitigate such severe impacts once they had already happened. Had I seen the plans prior to their approval and execution, I could have written design recommendations and specifications for the contractor. Preventing negative impacts is easier than mitigating them. I don't know whether they followed my removal recommendation but I do believe this – one way or another, the client lost that tree.
A few minutes with a backhoe can kill a tree
In addition to pre-construction recommendations, the consulting arborist should be involved throughout the project. Unforeseen issues often pop up in the field – large roots may be found in unexpected places, irrigation water gets turned off, or site conditions may force a change in the design, means or methods. The initial Tree Protection Plan recommendations lose impact with time and as more subcontractors visit the site. Years of careful tree preservation can be undone in a few minutes with a backhoe.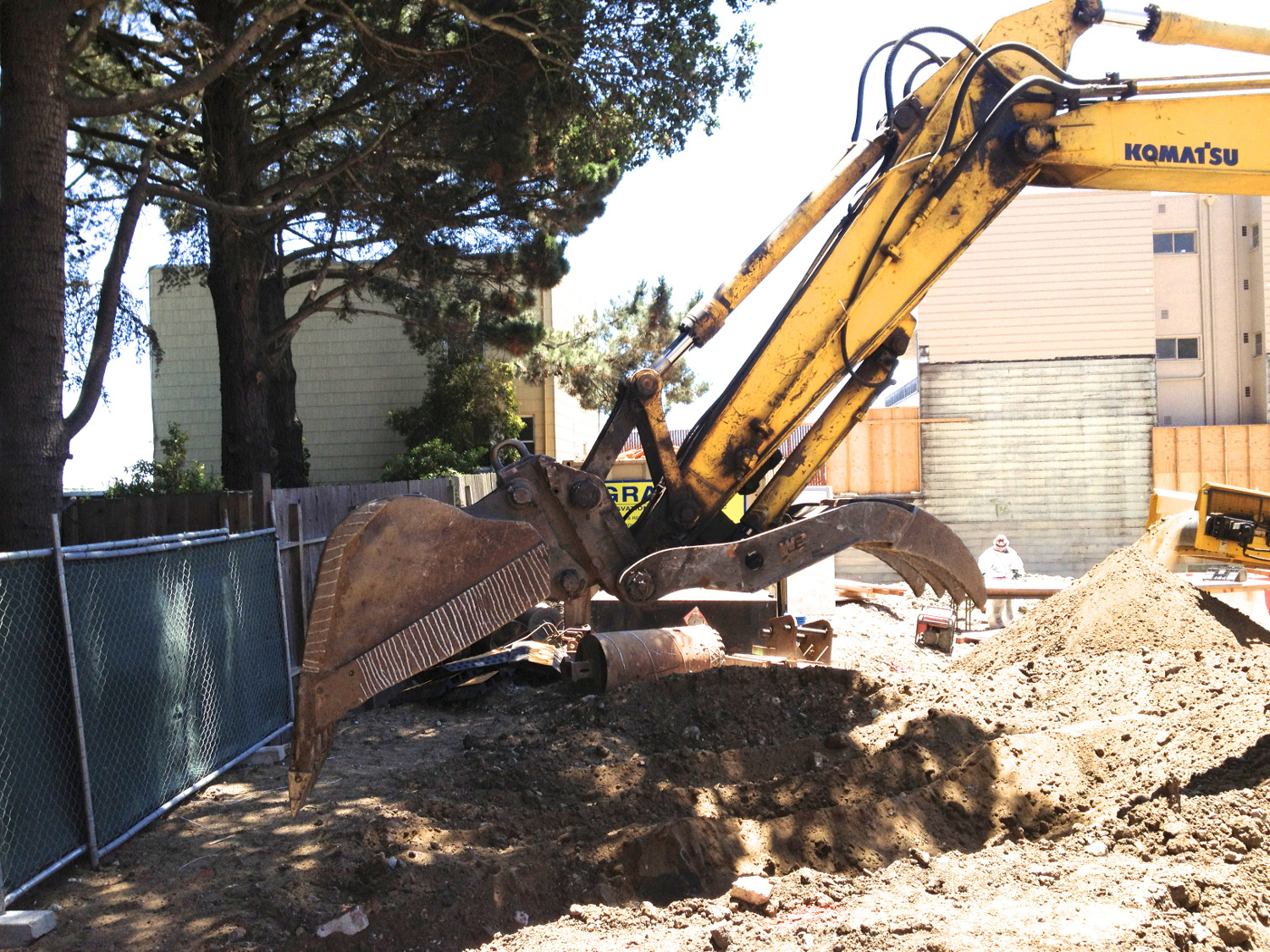 When the consultant is visiting the development site regularly, many unintended negative impacts can be prevented. Only the consultant has the historical knowledge and awareness of what has happened to the trees and what needs to be done going forward.
Some municipalities have a requirement for a "Project Arborist" to visit the site on a scheduled basis and/or whenever work takes place within designated Tree Protection Zones. If yours doesn't, include these visits in your project for best tree preservation results. Good communication between the contractor and the arborist are a must for this to work – the arborist has to know when work is being done that will affect existing trees.
Conclusion
The mere presence of a consulting arborist on a development project does not guarantee successful tree preservation. It takes continuous collaboration between the arborist, designers, contractors, owners and municipalities before, during and after a project to keep existing mature trees healthy and stable. When the dust settles, and the finished building is shaded, private and aesthetically pleasing due to the existing mature trees, all the work will have been worth it.
Ellyn Shea is a consulting arborist in San Francisco.
Massachusetts Office of Transportation / CC BY-ND 2.0 (top image). All other photos courtesy of the author.