Around the globe, cities are rediscovering their industrial land. Once sustained by industry, in some places much of this urban infrastructure has closed down, with only the bones remaining. Today, cities are drawing all types – techies, bankers, artists, and immigrants alike – but space is limited. As urban land becomes more precious, communities reconsider the possibilities in once blighted areas, and are finding new ways to accommodate the growing population and interests of city dwellers.
This resurgence has been triggered by a shift in cultural attitudes towards the city – one in which we celebrate the history and joys of city living, and find possibility in rubble, infrastructure that has fallen into disuse or disrepair, and formerly ignore brownfields
From small and often temporary pop-up parks, to the revitalization of entire riverfronts, landscape architects are playing an increasingly critical role in reclaiming abandoned urban spaces and transforming them into public commons. This investment is more significant than pure aesthetics; itcontributes to larger goals such as environmental justice, social equity, and community resilience. Often, no matter the scale, a single project intends to ameliorate an entire array of issues.
Small-scale
Boston's Lawn on D is an excellent example of how small-scale interventions can dramatically shift community livability. The Lawn on D was conceived as a way to temporarily activate an underutilized space on D Street, anchored by the Boston Convention and Exhibition Center. Formerly an urban fill site that blocked views and precluded access, the 2.7-acre space today is a platform of innovation. The design team, led by Sasaki, established a vibrant, flexible space to be utilized for endless programming possibilities.
Essentially an urban experiment intended to test configurations and programming, the space is a hub of activity for community events. Bright moveable furniture, interactive art installations, and engaging programming draw users in and invite them to make the space their own. The active and inclusive space provides this up-and-coming community with a space to come together. The flexibility of the space is key to its success, allowing for changes to be made to fit the future needs of the community.
Medium-scale
In Aalborg, Denmark, an entire 30+ acre sustainable city district, Godsbanearealet, boasts being Aalborg's first sustainable and carbon neutral quarter, and one of the largest climate adaption projects in Denmark. Rainwater management and flood control are built into the city's masterplan, with green roofs, basins, and canals installed throughout the city district to store and collect rainfall. Recreational spaces, affordable housing, and retail are mixed together to make up this livable district.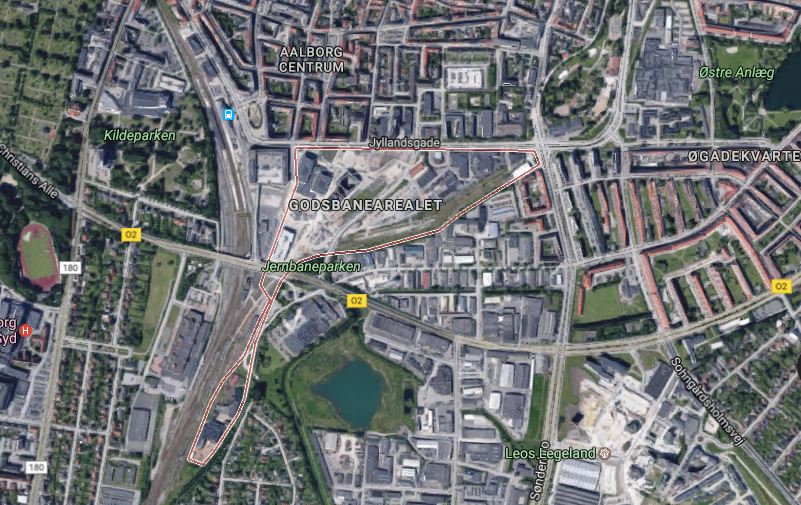 Inspired by the areas former use as a freight train terminal, the city's name is roughly translated to "freight train area." Instead of straying from the site's industrial past, the designers, POLYFORM Architects, embraced it and made a space that resonates with a unique cultural identity. Building upon the values of the area, the design seamlessly integrates the historic rail. This project is part of a gradual conversion of all freight railways in the area, and shows how a brand new, high performance landscape can be integrated into derelict and abandoned railway land.
Large-scale
Hudson River Park is a 550-acre riverside park on the west side of Manhattan. The park includes 13 public recreation piers, a five-mile walk along the riverfront, and a tree-lined bicycle path. While the land was previously bustling with commerce, over time the shipping activity diminished and the piers fell into a state of disrepair. After years of industrial decline , the park arose from a 1997 master plan by landscape architecture firms Matthews Nielsen and Quennell-Rothchild. The goal was to create a people-centric, accessible greenway, making the riverfront a core part of the city again. Running adjacent to eight diverse neighborhoods, this plan aims to reclaim the waterfront for the public, a trend that has spread to many other waterfront cities.
Several projects have sprung from the master plan, including Pier 25, which features ample play activities, such as sand volleyball, mini-golf, and a multi-purpose turf field, as well as Segment 5, whose broad lawn allows for community gatherings, while playful hills provide views to the waterfront. Each parcel of the park uniquely speaks to the needs of the residents of the adjacent community.
Other features include a sports complex, playgrounds, water features, a dog run, and an abundance of lawn space. The park is also an estuarine sanctuary, designed to provide coastal fish and wildlife habitat, while the marine organisms filter and clean the water. Additionally, the park provides recreational and education opportunities, such as kayaking and canoeing, expanding overall access to the waterfront. Hudson River Park acts as a park connector network, linking many recreational sites and landmarks as it runs along the edge of the Hudson River. While currently only 72% complete, the park is already an integral part of the lives of many New Yorkers, provided needed outdoor recreation space in one of the densest cites in the country.
Size doesn't matter
Recent investments in infrastructure have resulted in inventive solutions to city issues of crowding, pollution, and blight at every scale imaginable. This investment is vital to creating sustainable, thriving, and equitable communities. Such community revitalization projects reconnect people to their beloved cities, and help keep cities healthy places to live.
References
Stephanie Marino is a project landscape architect with LandDesign.