Following our post about critical questions to ask prior to using Silva Cells with existing trees, the following are a few examples of successful applications in the USA and Canada. As with any root pruning operation we always recommend close consultation with a local certified arborist.
Hanover Inn
Hanover, New Hampshire
At the corner of East Wheelock and South Main Street in Hanover, New Hampshire, the Hanover Inn overlooks the scenic Dartmouth College Green. As part of a significant redevelopment of the historic property, project engineers Greenman-Pedersen (GPI) chose to preserve two approximately 20-year-old, 12" DBH American Elms (Ulmus Americana). In keeping with the historic inn and leafy Ivy League College setting, it was critical to maintain the Elms to provide a sense of legacy to the site.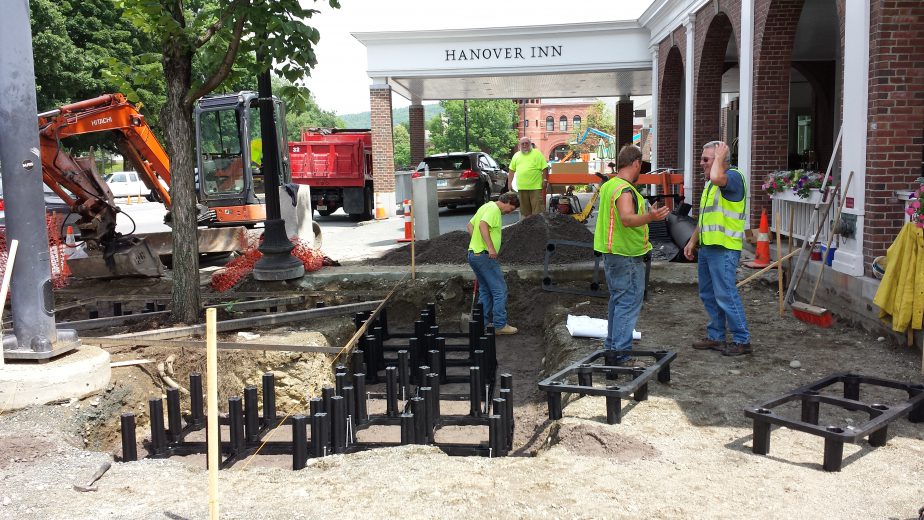 Quick facts:
50 1X Silva Cells surrounding two American Elms (Ulms Amercana)
182ft3 5m³ of total soil volume
Soil was excavated with a standard track type mini excavator
Project Designer: Greeman-Pedersen, Inc.
Project Contractor: United Construction Corp.
Installation date of Silva Cells: 2014
Project Completed: 2015
Type of project: Street tree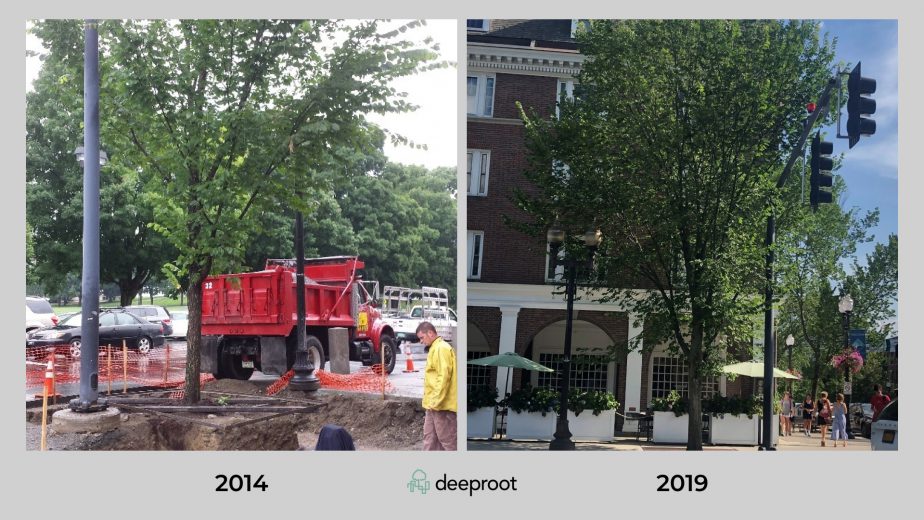 Altos Del Mar Park
Miami Beach, Florida
A two-acre grassy oceanfront with a few trees was transformed into an urban park in 2019. Sandwiched between apartments and a public beach, more urban trees, and green space were added while keeping existing trees, and enhancing their longevity.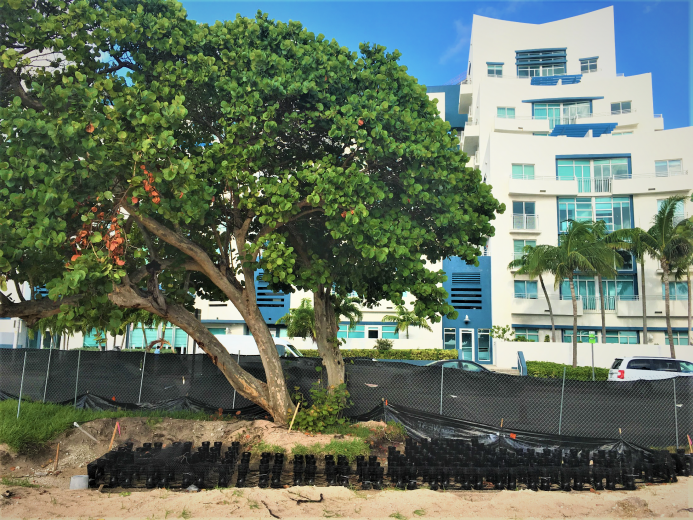 Quick facts:
150 amount of 1X Silva Cells in root pruned areas
93.44 m³ (3300 ft3) of total soil volume
24 trees were part of the urban park. 7 were existing and retrofitted with Silva Cells, while 14 were new trees.
Project Designer: GSLA Design
Project Contractor: West Construction Inc.
Installation of Silva Cells: September 2018
Project Completed: November 2019
Type of project: Urban Park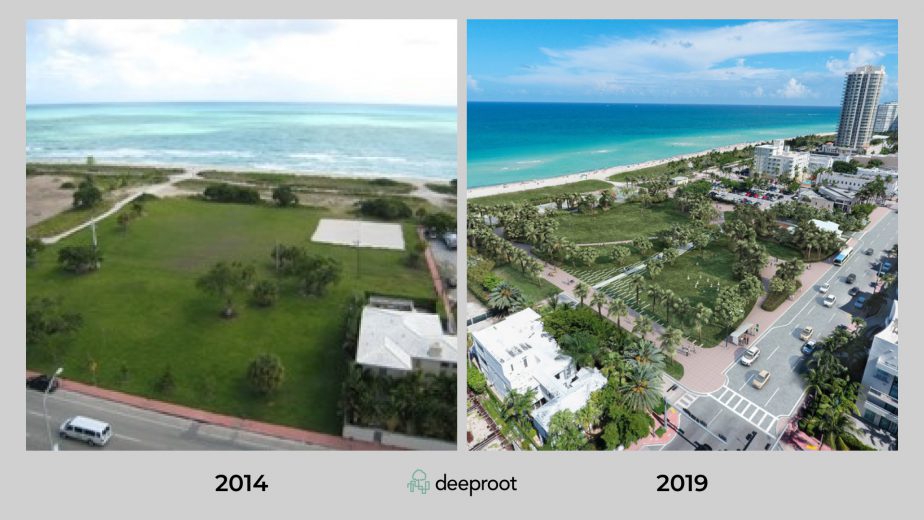 Queen St.
Niagara Falls, Ontario.
In 2011, the City of Niagara Falls updated Queen St. with new trees that included Silva Cells to provide adequate soil volume.  Several years earlier, the city had planted trees on Queen St in standard 3'x 3' (.91m x .91m) tree pits dug into the highly compacted (95 Proctor) soils under the sidewalk.  Many of these trees had failed due to lack of adequate soil volume.  Eleven of the existing trees were deemed healthy enough to try to save.  This was achieved by excavating to the drip line on both sides of the existing trees, selective root pruning and installing a "Soil Bank" of Silva Cells.
These 11 trees were given a second chance by providing a new source of uncompacted soil and nutrients in the adjacent Silva Cells.  Their growth in the last decade has been impressive.

Quick facts:
240 2X Silva Cells
167m³ (5,902 ft3) of total soil volume.
Project Designer: City of Niagara Falls
Project Contractor: A-1 Asphalt Maintenance
Installation of Silva Cells: May 2011
Project Completed in 2011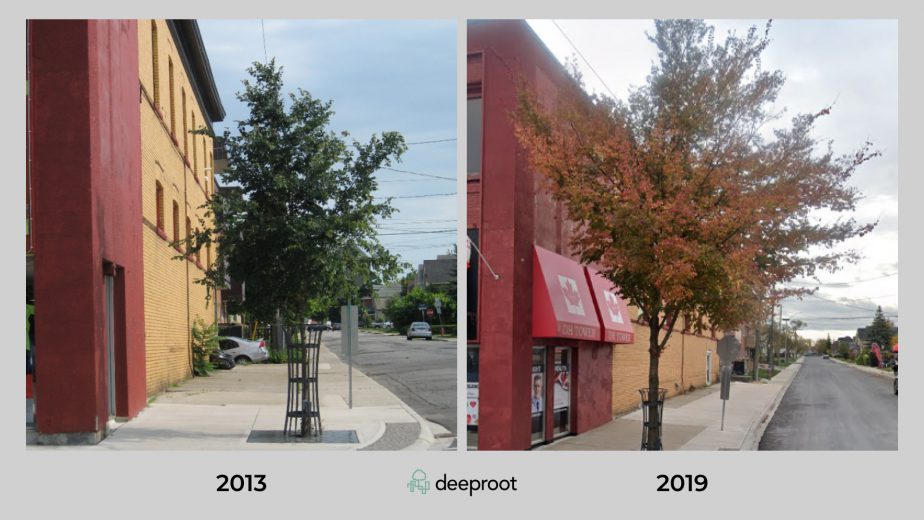 South Campus, Billie Jean King National Tennis Center, Flushing Meadows,
Queens NY
The USTA Billie Jean King National Tennis Center at Flushing Meadows in Queens, New York is the world's largest public tennis facility and host of the US Open. The landscape reconstruction work for the major plaza between the stadium included a central allée of 10 existing Honey Locust trees which were performing poorly due to the compacted nature of the site soil. Thousands of visitors each day during tournaments now enjoy the dappled shade of the healthy trees.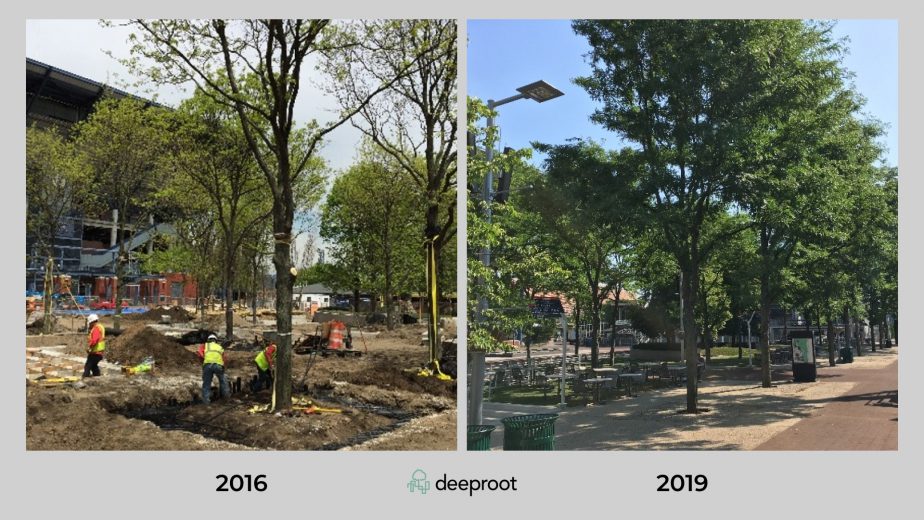 Quick facts:
120 2X Silva Cells and 60 1X Silva Cells
98.54 m³ (3480 ft3) of total soil volume
10 14" DBH Thornless Honey Locust (Gledtisia Tiancanthos).
Project Designer: RGR Landscape
Project Contractor: Ascape Landscape
Project Completed: May 2016
Type of project: Stadium