And the Professional Honor Award goes to…
November brings the annual American Society of Landscape Architects annual conference and with it the announcement of the annual professional awards. We're delighted to share that two of the projects we recently collaborated on with a talented and dedicated group of professionals were honored and we're going to take a look at both award winners over the next couple of posts.
Hunter's Point South Waterfront Park Phase II: A new Urban Ecology Leading NYC's Efforts for Low Maintenance Bioretention
We're excited to share the news that our partners at SWA/Balsey and Weiss/Manfredi with ARUP were given an ASLA Honor Award in General Design for their work at Hunter's Point South Waterfront Park Phase II. We worked closely with Jacob Glazer of SWA/Balsey and the rest of the team to help optimize the use of Silva Cells throughout the streetscape and we're thrilled to have played a role in a project that emphasizes urban resiliency and thoughtful green infrastructure that serves as a global model for urban waterfront making.
The Awards Jury stated:
"This remarkable, multi-faceted waterfront park in Long Island City, New York, has transformed a contaminated brownfield site into a model of sustainable design that incorporates diverse recreational and cultural uses and which grew from a collaborative process involving many disciplines and significant public input. Through an aspirational and innovative blending of landscape architecture and infrastructure, and by employing a host of sophisticated resiliency strategies, the designers have proven that the highest standards of design excellence and the strongest environmental practices are fully compatible. Hunter's Point South Waterfront Park Phase II shows that public spaces built by public agencies can at once look good, serve public needs, and be successfully resilient."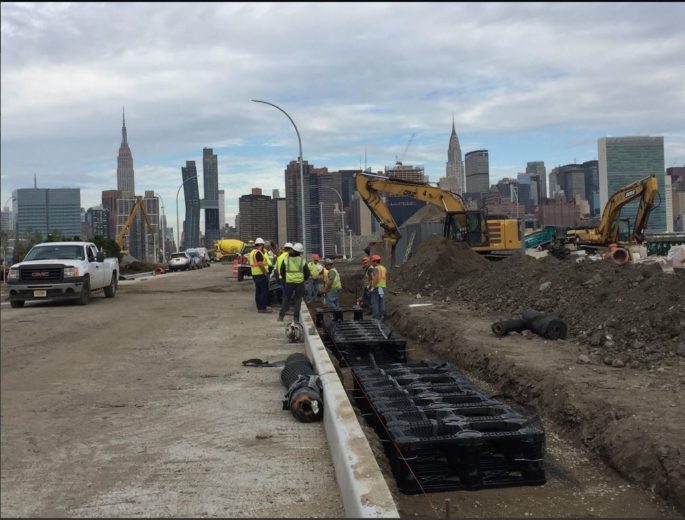 The DeepRoot team worked closely with the design and construction teams to optimize the use of Silva Cells throughout the streetscape. Combined with Hunter's Point Phase I the Silva Cell installation is the largest in New York City, comprising 24 block faces of soil volume and bioretention. A critical component of the installation is the minimum maintenance requirement of the Silva Cells, which is a key feature for a public park with no private funding for long-term maintenance.
In Phase II of Hunter's Point one of the big challenges was plant palette. In these low-lying areas the water table can be just a few feet below the surface. Hunter's Point lies at the confluence of the East River and Newtown Creek. The former is not a river at all, but a tidal estuary, and all saltwater. The upper reaches of Newtown Creek are freshwater, but at its mouth, it becomes brackish. The subsurface water, when completely cut off from rainfall becomes more saline. At Hunter's Point large parts of the paved areas counteract that tendency due to the porosity of the hardscape. When rainfall is filtered through the paving, a freshwater lens then forms over the saltwater table, allowing for a mixed plant palette. Native salt-tolerant plantings were used along with Black Tupelo (Nyssa Sylvatica) which conversely are an upland species. As with all the plants, there was concern with this gorgeous native tree, since it is largely thought not to be compatible with brackish water tables. Essential to the design, the grove of 100 Black Tupelo trees were approved because Jacob Glazer, ASLA (who was the designer at SWA/Balsley who had originally specified the trees for this location, and argued for their inclusion), showed examples of the trees thriving in similar brackish conditions. As Jacob points out "Nyssa is also appropriate for well drained alluvial soils, particularly in the northern part of their native range."
Such attention to detail and plant morphology is a trademark of SWA/Balsley. This extraordinary waterfront park and streetscape has changed a contaminated brownfield site into a prototypical sustainable design that blends landscape architecture, civil engineering, architecture and hydrology, and we're thrilled to be a part of this project. Congratulations all the members of the design team and we look forward to working with you on more terrific projects in the years to come.
More fun facts on the project can be found here https://untappedcities.com/2018/08/24/10-fun-facts-about-the-new-hunters-point-south-park-in-long-island-city/
Photo credit Llloyd/SWA, courtesy SWA/BALSLEY and WEISS/MANFREDI