When I signed up to help design and build a parklet for this year's PARK(ing) Day event with my local American Society of Landscape Architects (ASLA) chapter, I knew it would be a lot of work – but had no idea just how intense the dozens of hours of work designing and then installing it would be. 4:30am wake up? Check. 200 plant pots? Check. Tons of fun? Definitely.
Over the last 12 years, PARK(ing) Day has evolved from a single pop-up park in San Francisco to a worldwide day celebrating and promoting urban green space.The original project began in 2005 when Rebar, a San Francisco art and design studio, turned a single metered parking space into a temporary public park in the city's downtown. A photo of the parklet began to circulate online, and people were hooked on the idea of a tiny greenspace taking the place of a car. The American Society of Landscape Architects (ASLA) embraced PARK(ing) Day early on, viewing it not only as an important statement about the use of civic space, but as a way to promote the profession of landscape architecture.
My local chapter, ASLA-MN, has been involved in a few PARK(ing) Days over the years, and this year decided we wanted to create an installation that was more visible to the public and located prominently in downtown Minneapolis. We decided to take over a stretch of six metered parking spots in the popular North Loop area of downtown, a stretch of Washington Avenue where there are no trees, no bike racks, and nowhere to sit. We would transform this area into a vibrant park, giving those who work and live in the area a beautiful park, if just for one day.
In order to involve the membership of ASLA-MN in the planning and design process, two charrettes were held at local design firms. During the first charrette, the group of over 20 enthusiastic people was divided into four smaller groups, each of which was given a set amount of time to come up with a basic idea for the parklet. When that time was up, each group presented their idea to the rest of the attendees. Fantastic ideas, from creating a topographic wonderland to a plant-filled detour off the bike lane were tossed around.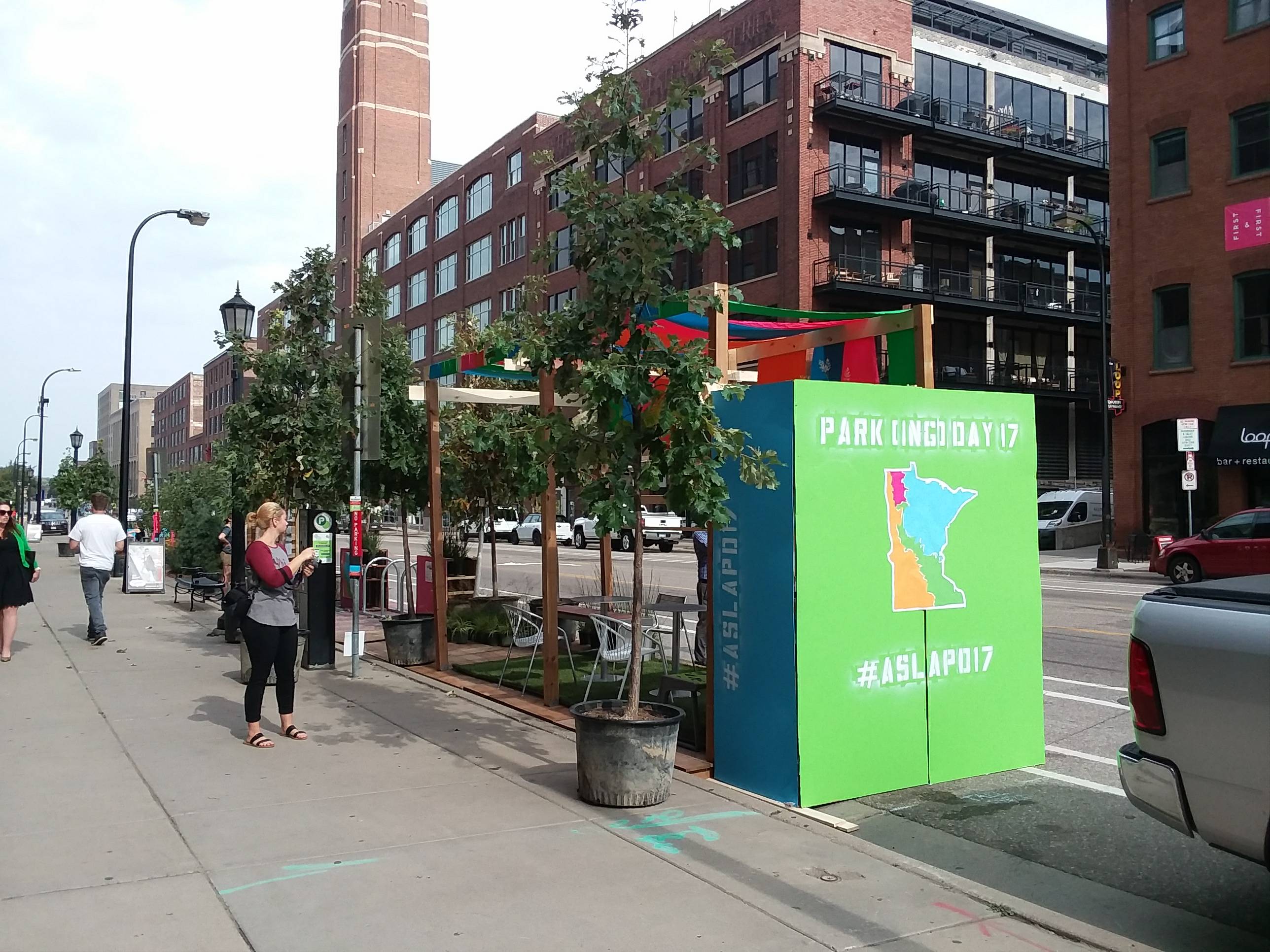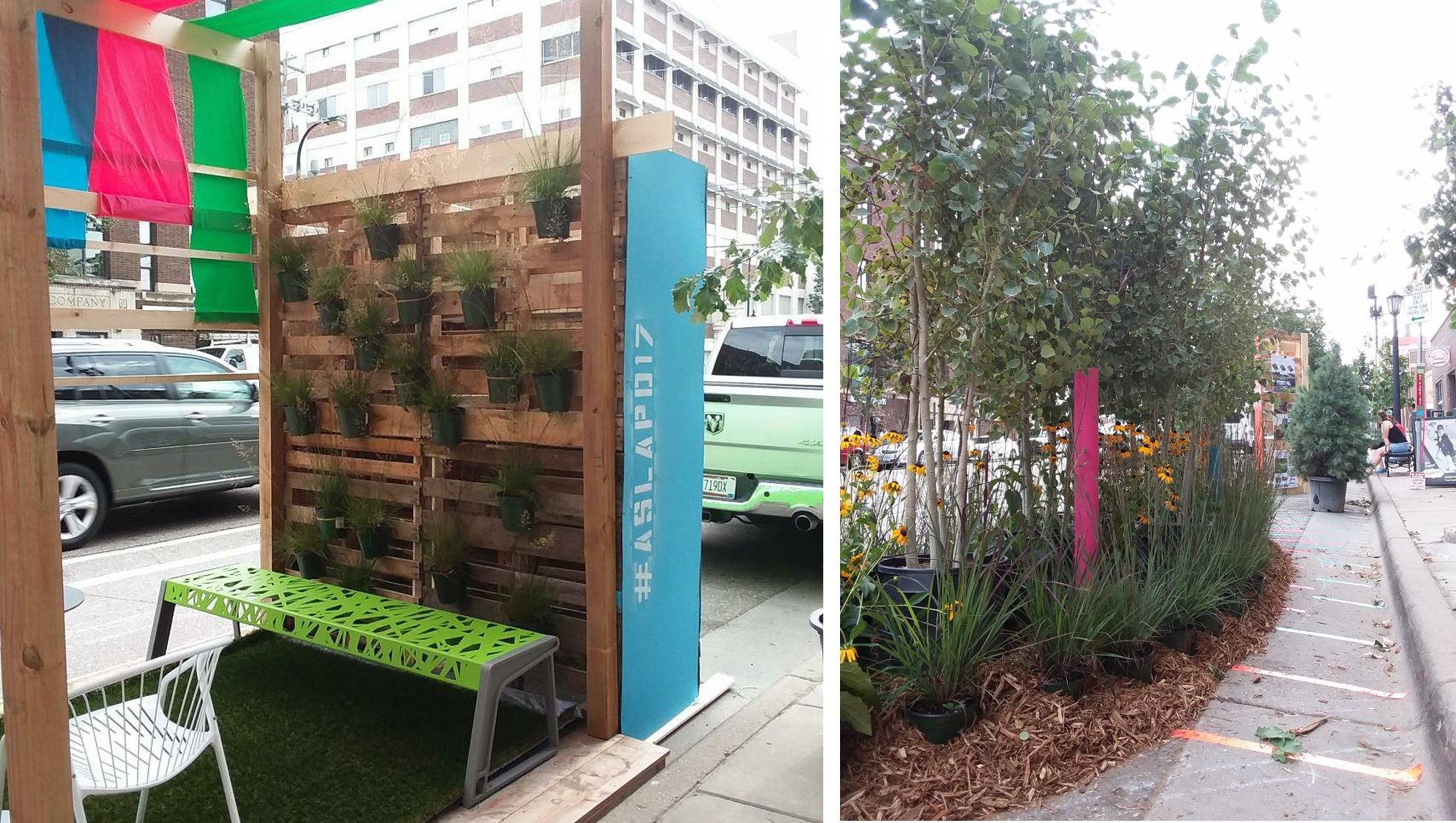 However, there were some common themes that transcended all four groups, and by the end of the charrette a basic plan had been distilled out of the evening's work: the parklet would be divided into fourths, with each segment representing one of the four biomes found in Minnesota. At one end, a pergola structure would provide a seating area for people downtown to sit and enjoy their coffee or lunch, and at the other, a less structured area would display the ASLA-MN award winning projects for 2017, along with information about the profession. After this first charrette, myself and the other two PARK(ing) Day committee members, Jake Coryell and Elizabeth Hixson, fleshed out the ideas generated in the charette and created a SketchUp model of the final concept. In the second charette, we presented this model to the group and asked for feedback, and then determined where our materials would be sourced. Many generous sponsors stepped up to provide us with plants, raw materials, and site furnishings, and with our army of volunteers, we were confident we could build this ambitious installation.
Over the course of a few build days, with the help of nearly a dozen volunteers, we were able to construct the main elements of the parklet in my yard. Planter boxes, gallery walls, and the pergola were constructed from palettes and purchased lumber, and painted in the bold colors ASLA uses in its marketing. As with most projects this size, there are always loose ends to tie up and last minute work to be done, and we found ourselves working by flashlight the night before, putting the finishing touches on the parklet. Having rented a large moving truck, we loaded up the items we had built along with numerous benches, bike racks, café tables, and other donated items. Tomorrow was the big day, and after weeks of work, everything was finally ready.
When my alarm went off at 4:30am the next morning, I was excited for the day despite the early hour. We got the truck downtown by 5:30am, and an army of ASLA-MN volunteers arrived to help us unload and set up. We wanted to have the park constructed by the time people would be getting to work, and we had a lot of work to do! The plants arrived and we began to unload over 200 pots, including impressive trees and blooming native perennials. A load of mulch was dumped in the street and sculpted into mounds, while decking was installed at one end of the parklet to bring the area up to sidewalk level. By the time people were walking to their offices, the park was complete.
Throughout the day, people came out to see what the park was all about, and walk through the plants that appeared overnight. We discussed PARK(ing) Day, urban green space, street trees, and landscape architecture. The response was overwhelmingly positive. Visitors to the park expressed over and over that they wished the park was permanent, and wanted such an amenity in the North Loop. Lunch was our busiest time, with people walking to and from area restaurants, some of whom chose to eat their lunches in our parklet. An unexpected group of visitors was 80 undergraduate design students from North Dakota State University, who had been touring firms downtown. Suddenly, two coach busses pulled up next to the park and we were inundated with interested students. It was a wonderful surprise!  The day passed quickly with all the activity, and suddenly it was time to start taking the park down. The pergola was deconstructed, the plants were moved back onto the truck, mulch was swept up and hauled away, and in two hours, there was no trace of our ephemeral installation.
For anyone inspired to create their own PARK(ing) Day installation next year, first check out the official (PARK)ing day site and read the guidelines. Be sure to check with your city to see if you need any permits (we needed an obstruction permit to get the meters hooded for our park). Then, I recommend securing some sponsors who will donate time or products to your efforts, and gather as many volunteers as you can. A well-organized group of volunteers will be the backbone of your parklet. PARK(ing) Day is a fun way to reach out to the public about landscape architecture and public space, and illustrate how important green space is in our everyday life.
Top image: marcin wojcik / CC BY-NC 2.0. All other images courtesy of Nicole Peterson.