Convention Centers bring people together in the form of concerts, graduation ceremonies, summits, conferences, and tradeshows. Oftentimes convention centers are packed with multi-day events. These events can be productive and busy: back-to-back keynote speakers, presentations, break-out rooms, exhibits, and after-hours networking. With limited daylight available inside, the ability to leave the building and go outside to have lunch under a shade tree can be cathartic. It can promote relaxation, meditation, and mindfulness.  Trees are a conduit to recharge, and restore our minds. Trees provide recharge via air purification, temperature reduction, beauty, and invite other species to join. Trees encourage us to slow down, watch, and listen.
Many landscape architects are using biophilic and holistic design; prioritizing green infrastructure and green space, at convention centers. DeepRoot is excited to share projects where Silva Cell support urban trees surrounding convention centers. These trees will mature and thrive through generations, providing the space for decreased anxiety from the multi-tasking events going on inside the convention center, and an increase in serenity.
A Sample of DeepRoot Convention Center Projects
Dena'ina Civic and Convention Center | Anchorage, Alaska
The Dena'ina Civic and Convention center, built in 2008, increased the civic and convention capacity of Anchorage by 300%.  The Dena'ina Center is used in conjunction with The Egan Civic & Convention Center and the Alaska Center for the Performing Arts. These three facilities form the Anchorage Convention District and are joined by heated sidewalks. Two of the four streets that surround the convention center were planted with trees. Some trees were planted in planters (without Silva Cells) while six trees on 6th St. were installed with Silva Cells. (photographed above)
The trees face bitter winters and are surrounded by concrete and compacted soils. The Silva Cells provide an underground garden of loosely compacted, high-quality planting soil for their roots to grow into under the heated sidewalks. The design included 2" of concrete insulation and 4" of Granular A between the heated sidewalk and the deck of the Silva Cells.  This ensured that the soil in the Silva Cells, below the sidewalk, was not warmed up leading the trees to think it was Spring in February.
Quick facts:
108 2X Silva Cells
6 trees
2700ft3 (76m³) of total soil volume
Installed in May 2008
Project Designer: Land Design North
https://anchorageconventioncenters.com/denaina-center/overview 
Global Health Center for Innovation (Medical Mart) & Convention Center | Cleveland, Ohio
The Global Center for Health Innovation, also known as the Medical Mart, was built in 2011 with a green space including a dual allée of 31 London Plane trees. The trees line the park promenade in downtown Cleveland, bordering Lake Erie. The trees and cells are located over a parking garage, and structural foam, used to decrease the weight of the assembly, serves as the stable base on which the cells fit. The 1X Silva Cells create a breakout zone for the roots to explore the surrounding soil. See the case study with more details here
 Quick facts:
1,760 1X Silva Cells
31 London Plane (Platanus x Acerfolia)
18,181 ft3 (515 m³) of total soil volume
Project Designer: URS Corporation
Installed in 2012
 https://www.clevelandconventions.com 
Miami Beach Convention Center | Miami, Florida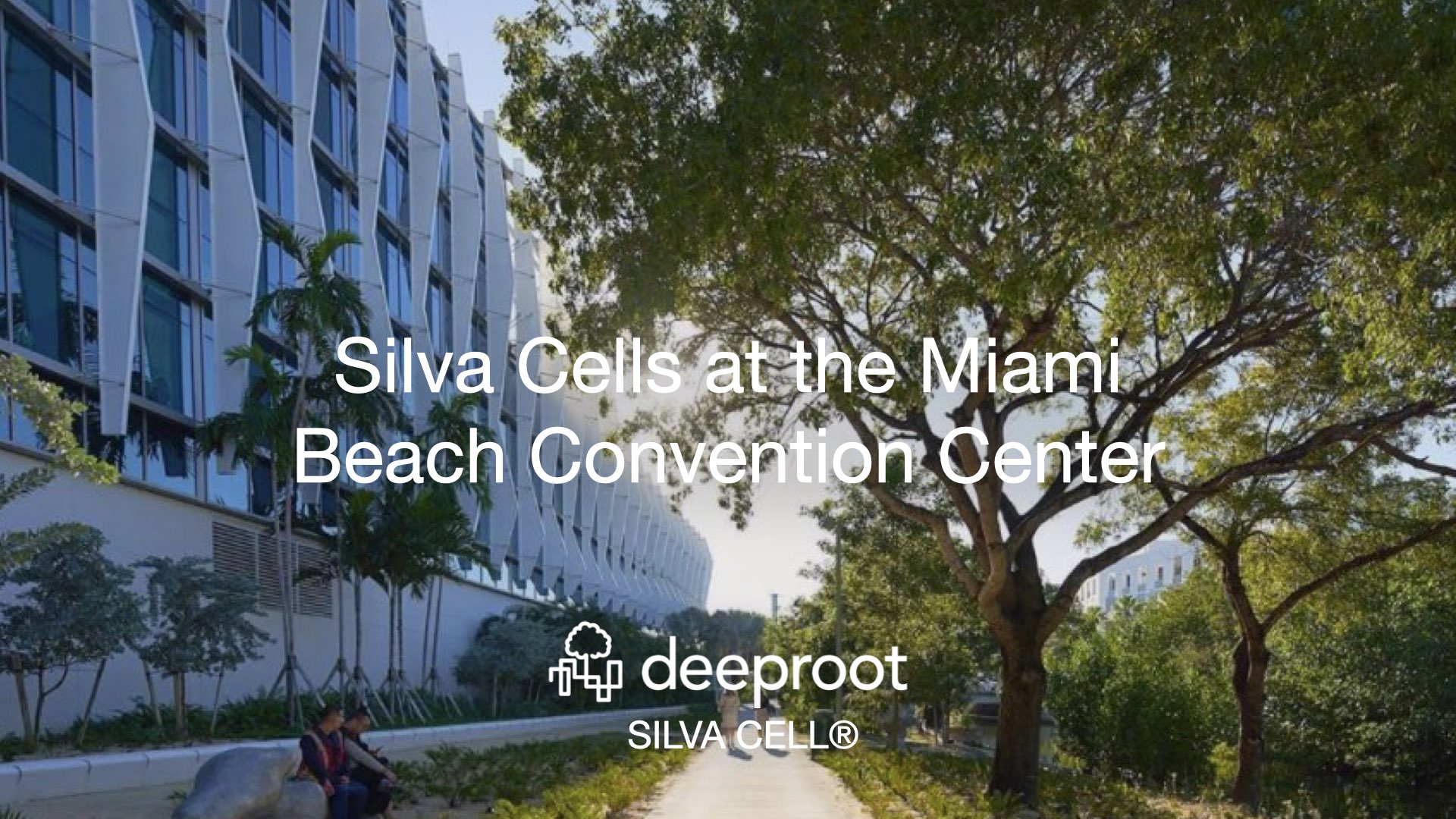 When any of the 600,000 yearly guests visit the Miami Beach Convention Center, before they enter the newly designed, award-winning building, they are walking on 1,453 1x and 2x Silva Cells. 9 acres of public green space surround the site with Silva Cells for trees in the paved areas. The Silva Cells support over 100 trees with 30,000 ft3 amount of soil volume. The building redesign was featured in Convention South Magazine magazine as a 2018 renovation winner. This case study goes in-depth discussing -the design awards, sustainability achievements, and Silva Cell's role in achieving these goals.
Quick facts:
1,453 1X and 2X Silva Cells
102 trees
30,000ft3 (850m³) of total soil volume
Project Designer: West 8
Installation Date of Silva Cells: 2018-2019
https://www.miamibeachconvention.com/ 
New Orleans Ernest N. Morial Convention Center | New Orleans, Louisiana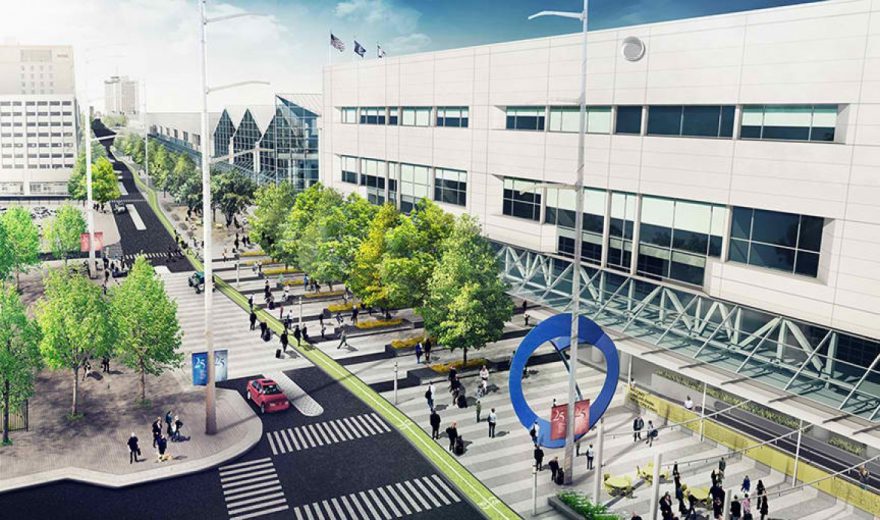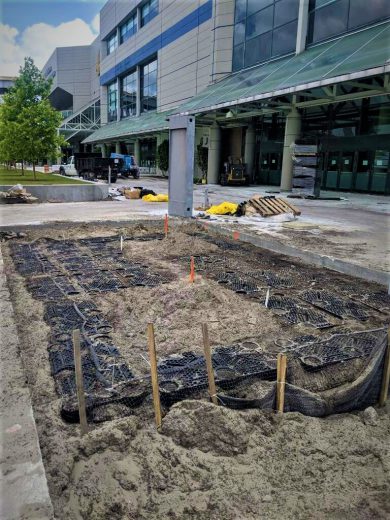 The New Orleans Ernest N. Morial Convention Center will serve meeting and event attendees and New Orleans residents alike. The new park repurposes 7.5 acres of roadway into a lushly landscaped, continuous pedestrian promenade along Convention Center Boulevard for the length of the Convention Center. Spackman Mossop & Michael converted a four lane road in to a 3000′ linear park and a two-lane car road for cars and bikes. Over 80 Oaks and Maple, an allay of trees, are the star of this green space renovation which also includes lawns, benches, in-ground interactive fountain. Silva Cells were chosen to expand rooting zone and water holding capacity.
Quick facts:
948 2X Silva Cells
80 trees in Silva Cells
50,000 ft3 (1416 m³)  of total soil volume
Installed in May 2018
Project Designer: Spackman Mossop Michaels
https://www.neworleans.com/listing/new-orleans-ernest-n-morial-convention-center
Oklahoma Convention Center | Oklahoma City, Oklahoma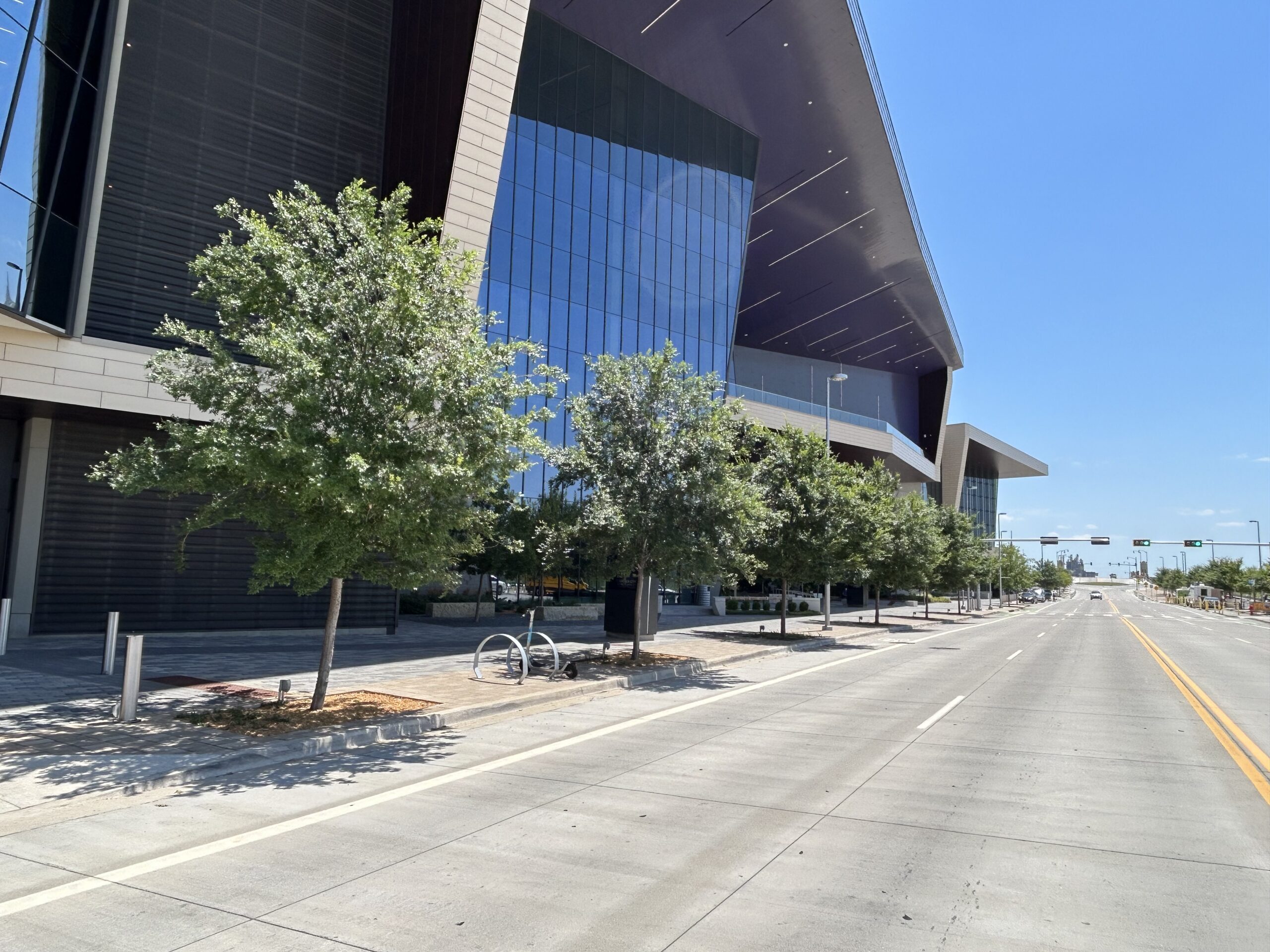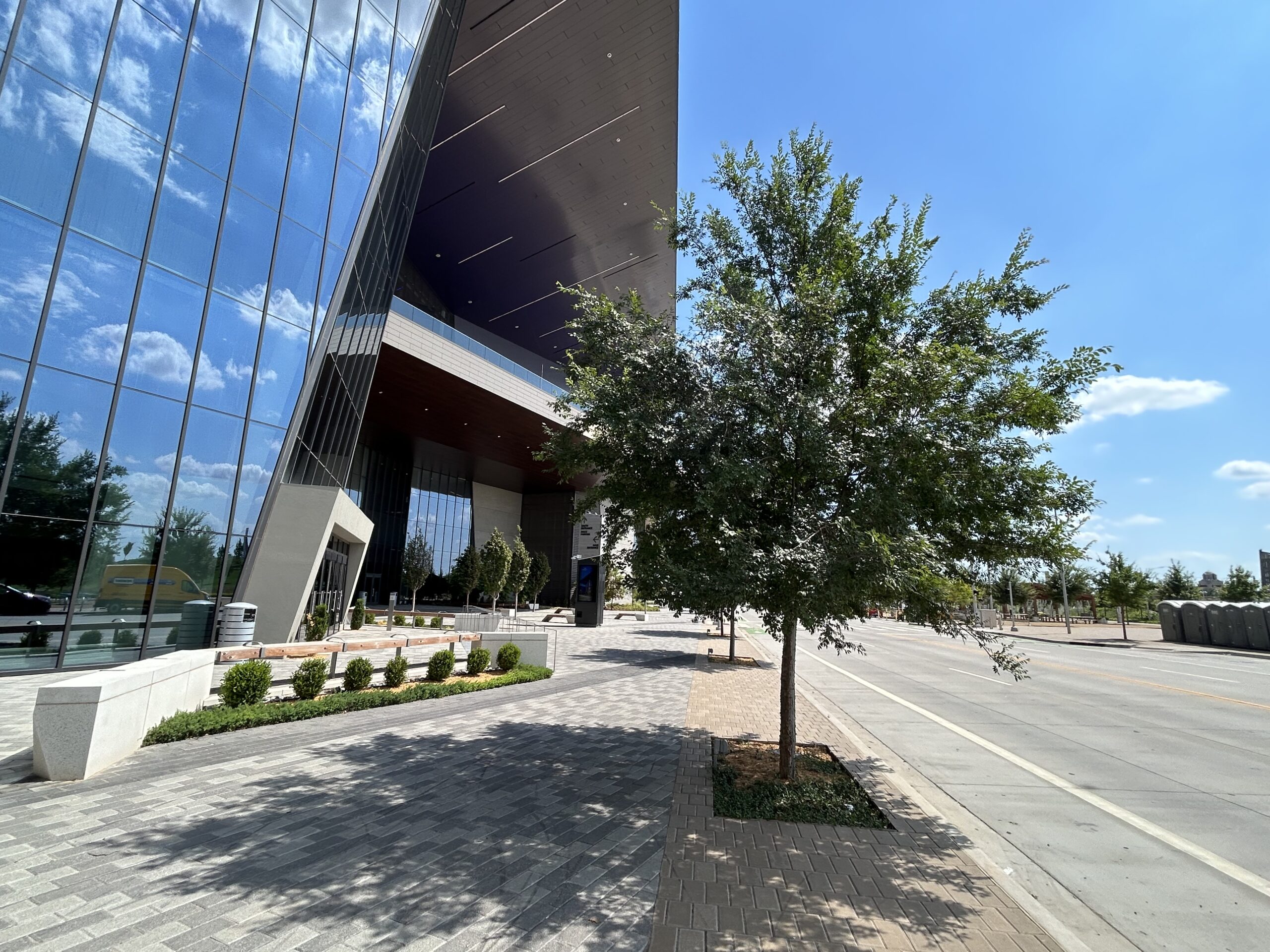 The stunning new Oklahoma City Convention Center officially opened in January 2021, a state-of-the-art building located east of Scissortail Park along Robinson Boulevard. In the summer of 2019, Silva Cells were installed along all four streetscape sides of the convention center and the adjacent Omni Hotel. Several tree species were used, including Lacebark Elm (Ulmus parvifolia), Trident Maple (Acer buergerianum), and Darlington Oak (Quercus hemisphaerica) to provide shady walkways for the many conventioneers enjoying the facility. The commitment of Oklahoma City to Trees their benefits and the Silva Cell is evidenced by this project and for the multiblock streetscape throughout the city, collectively known as Project 180.
Quick facts:
798 2X Silva Cells
60 trees in Silva Cells
27,000 ft3 of total soil volume
Installed in August 2019
Project Designer: Howard Fairbairn Site Design
https://okcconventioncenter.com/
Rochester (Mayo Clinic) Convention Center | Rochester, Minnesota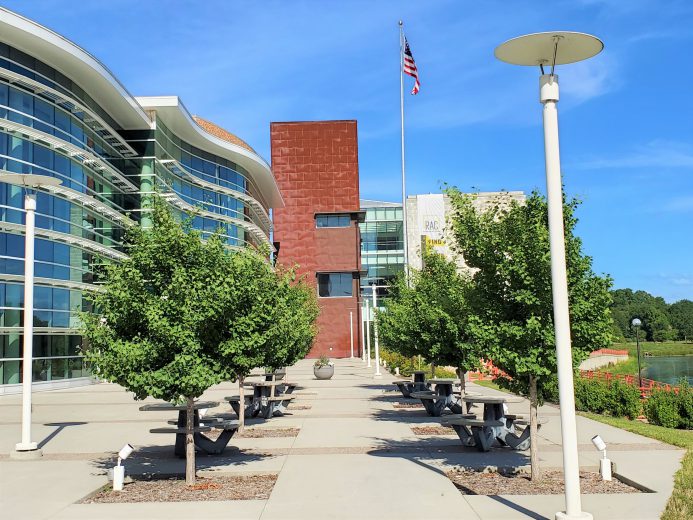 The world-renowned Mayo Clinic established the Civic Center originally in 1938. It has seen several renovations over the last eighty years. In 2017, it nearly doubled in size. It's existing arena, auditorium, and exhibit hall added a convention center. The $84 million expansion included a 40,000 sq. ft ballroom,16 meeting rooms/suites, two-executive boardrooms, and 8 Gingko Bilboa in a bosque of 1x Silva Cells. The expanded center hosts medical and technical conferences, large business meetings and healthcare summits as Mayo Clinic's main campus is just steps away, making the City of Rochester the nation's only destination medical center.
Quick facts:
222 1X Silva Cells
8 trees
2,917ft3 (83m³) of total soil volume
Installed in 2016
Project Designer WSB & Associates
https://www.mayociviccenter.com/