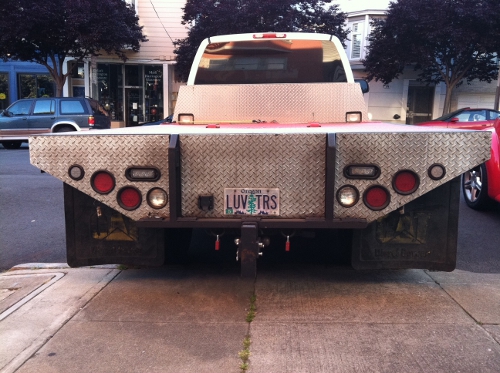 I happened upon this truck parked outside my house a couple of days ago and immediately assumed the "TRS" abbreviation stood for "Trees." But now I'm wondering if that was an erroneous conclusion, tacitly suggested by the fir tree on the Oregon license plate.
If "TRS" does in fact stand for "trees," I will be particularly delighted since this is probably one of the more unexpected vehicles you would expect a tree lover to adorn with a vanity plate (unless that person is also a logger?).
It's been a while since I featured any recipes here. I was the lucky recipient of these delectable steel cut oatmeal blueberry muffins from my friend Amanda on a recent trip to the East coast. Steel cut oats can be kind of a pain because they take a while to cook, but they're oh-so-much better than your standard Quaker Oats.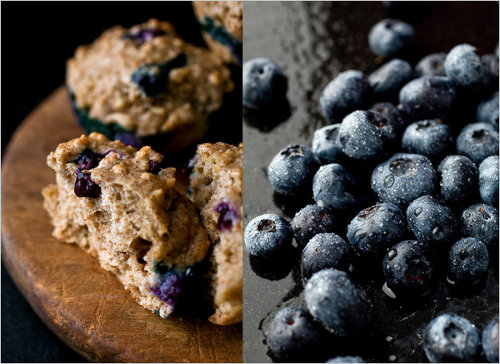 1 1/2 cups whole-wheat flour
1 cup all-purpose flour
2 teaspoons baking powder
1 teaspoon baking soda
1/2 teaspoon salt
2 eggs
1 1/3 cups buttermilk
1/4 cup canola oil
1/4 cup maple syrup
1 teaspoon vanilla
1 cup cooked steel-cut oats
1 cup blueberries tossed with 1 teaspoon flour
1. Preheat the oven to 375 degrees with the rack positioned in the upper third. Oil, spray or butter 12 muffin cups.
2. Sift together the flours, baking powder, baking soda and salt. In another bowl, beat together the eggs, buttermilk (or yogurt and milk), canola oil, maple syrup and vanilla. Quickly stir in the dry ingredients with a whisk or a spatula. Do not beat, just mix, stirring up from the bottom until you can no longer see flour. A few lumps are fine. Fold in the cooked oats and the blueberries.
3. Spoon into muffin cups, filling them to just below the top. Place in the oven, and bake for 20 to 25 minutes until nicely browned. Remove from the heat, and allow to cool for 10 minutes before unmolding. Cool on a rack, or serve warm.
Yield: Twelve muffins, depending on the size of your muffin tins.
[Via]