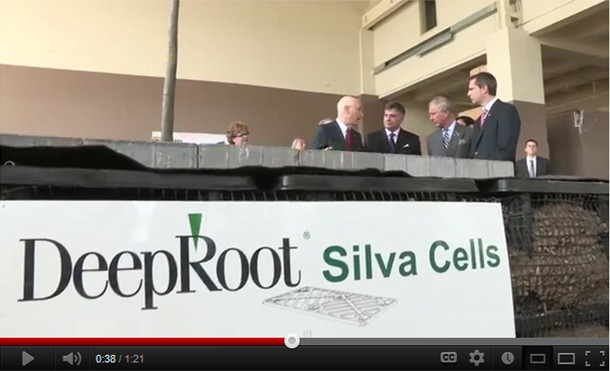 We're excited. It's not every day that Prince Charles visits a Silva Cell demonstration!
As part of the Queen's Diamond Jubilee celebration, the Prince and Camilla recently visited Canada. And while in Toronto on May 21st, they stopped at the Pan Am Village site, where Silva Cells will be installed as part of a revitalization effort for the city's street trees. Prince Charles is very interested in sustainable design and architecture, which is why this product was selected to showcase to him as part of the village's Green Initiative.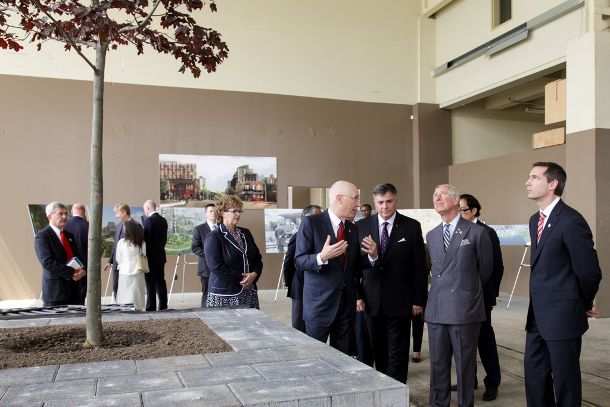 His visit was comprised of a 20 min tour through a heritage warehouse next to the site of the Pan Am Village. The Prince was shown pictures of what the site is soon to be, and met some of the athletes who demonstrated their sports.
With the invaluable help of Aldershot Landscape Contractors Limited, we created an 8' x 12' foot mock up of the Silva Cells in the warehouse. The installation was topped with pavers, and a young maple tree was planted. The installation has a cut away view on the edges, so that participants could see the soil from the sides.
Front Street, which runs through the site of the Pan Am Games Village, is going to be re-named Front St. Diamond Jubilee Promenade. And the maple from the Silva Cell mockup will be planted there with a commemorative plaque in celebration of the Queen's Diamond Jubilee.
The Silva Cell is also being used at the new RAF Bomber Command Memorial in London, whose opening Queen Elizabeth will attend on June 28th. (More pictures of that installation on our Facebook page).
Images & video: Premier of Ontario