It's no secret to anyone who buys trees that nursery-grown trees, especially container-grown stock, are very prone to root defects such as circling, diving and girdling roots. With the right know-how and attention, some of these defects can be corrected at planting time. However, once roots have become woody, many defects are uncorrectable – and can weaken or kill trees.
Circling roots can girdle the trunk, cutting off the flow of water, nutrients, and sugars and lead to decline or death. Defective roots do not properly stabilize the tree and can cause tree failure. Because the problems associated with defective roots may not manifest until after the tree warranty period, the connection is less well known than it should be. Lack of education on all sides, and the realities of project budgets and timelines, mean that many customers continue to buy defective plants, so there is little economic motive for growers to do things differently.
We wanted to write about the issue of tree nursery quality from the perspective of professionals who bought trees on a regular basis, so we reached out to a variety of professional organizations including American Society of Landscape Architects, American Society of Consulting Arborists, and International Society of Arboriculture via email. We made the survey anonymous so that respondents could feel free to tell the truth, even if it didn't reflect well on themselves or someone they did business with. The idea was not to encourage bad-mouthing or start fights, but to gain a greater understanding of the problem in hopes of finding solutions.  Comments written by survey respondents are included throughout. A tally of all the free responses can be found here.
The headlines
95% of respondents stated that buying trees free from uncorrectable root defects is very important to them.
Quality of nursery stock was the #1 reason respondents chose a grower.
Nearly 44% said it was either very difficult or somewhat difficult to find the quality of tree stock needed, and about 30% said it depended on the project.
Over 83% said they had no problem rejecting defective stock at any time.
Nearly 78% said they would be willing to pay more for trees that were guaranteed to meet root quality specifications, such as those found here.
Who responded?
Of the 103 professionals who responded, a little over third were arborists, just under a quarter were landscape architects and designers, and about a fifth were municipal urban foresters. The remaining 18% included landscape contractors and various other professions, including at least one nursery employee.
Respondents came from 35 different states and Canadian provinces, with just under a third from California. Since the survey authors are based in California, that may have caused some bias (we bugged our colleagues more to respond), but California is also home to a lot of containerized trees, where root defects are more likely, and folks have something to say about it.
Although well geographically distributed and with many professions represented, the sample size is smaller than we'd hoped for. It would be interesting to replicate this survey with a larger sample size, perhaps given more time and access to respondents.
What kinds of trees are people buying?
Most respondents worked on projects where fewer than 50 trees were needed for a project, with about a quarter working on projects needing fewer than 10 trees.
About 40% of respondents bought balled and burlapped (B&B) trees, 30% bought 15-gallon (#5 container) containerized trees. About 20% worked with boxed trees, 24-inch and larger. Other sizes, such as 3-gallon pots or bare-root stock, were also used.

… it is so difficult for nurseries to minimize root defects during the production of container trees. I do not think [most] are up to it. I rarely plant container trees due to foundational root defects that are uncorrectable and poor water holding capacity of medium.
Respondents purchased trees in 34 different states or provinces, as would be expected given where they are located, with about 37% purchasing from California and Oregon. Most people are fortunate to have wholesale nurseries within 2 hours' drive away, with 64% able to drive less than an hour. How frequently respondents patronize nurseries with lower quality stock simply because of proximity and convenience is an unanswered question.
The challenges of finding quality stock
95% of respondents stated that buying trees free from uncorrectable root defects is very important to them, with the rest saying that it is somewhat important.
Quality of nursery stock was the #1 reason respondents chose a grower (39 percent), with species available a close second (31 percent). A strong existing relationship was the third most important reason people chose a grower, with location and price much lower priorities.
Given that most respondents are buying smaller amounts of trees and not buying containerized stock, we might anticipate fewer complaints about root defects in this sample population, but only 5% of respondents said it was very easy for them to find the quality of tree stock needed for their projects, and less than a quarter said finding good trees was somewhat easy. Nearly 44% said it was either very difficult or somewhat difficult to find the quality of tree stock needed, and about 30% said it depended on the project.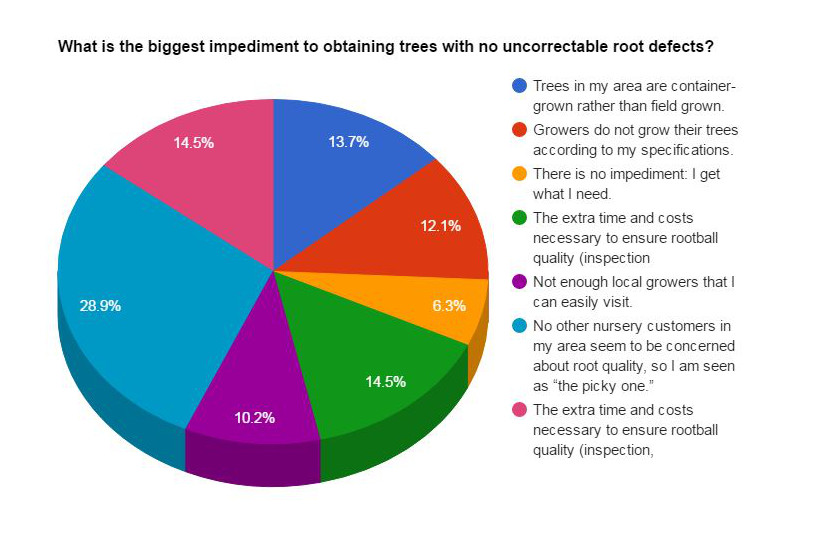 What is the biggest impediment to finding trees without uncorrectable root defects? There was no consensus. The most common answer, given by about 30% of respondents, was no other nursery customers in my area seem to be concerned about root quality, so I am seen as 'the picky one.'
Write-in answers included:
"We have a high standard in my office but are faced with opposition because other wholesale nursery customers only value availability and price. This has allowed some nurseries to say they won't bother working with us."
"the supplier…continued to grow lower quality trees because the demand for quality was not present."
Many other impediments to finding good quality trees were mentioned. Those in quotation marks were written in, and those in italics were survey options.
Trees in my area are container-grown rather than field grown (survey option)
However, B&B trees aren't immune to problems either:
"Production methods like tap root pruning, planting depth in growing fields, and containers planted out for B&B production are often causes of poor quality root systems with defects."
"B&B loses 70%+ of its root system."
"Container and bare root stock that has been properly root pruned tends to establish with more success than B&B stock which has a lower percentage volume of root mass."
The extra time and costs necessary to ensure rootball quality (inspection, rejection and correction) are not built into the project bid (survey option)
"By the time trees are going in the project is drawing to a close and there is more emphasis on finishing than finishing correctly."
Lack of compliance and/or options, i.e. Growers do not grow their trees according to my specifications (survey option).
"Not enough local growers that I can easily visit."
"Supply often doesn't meet demand."
We even got a surprising comment from a nursery insider:
The boss wants quantity, not quality. Period. I've vetoed sales based on awful circling and girdling roots, only to be chastised later. I've brought purchased stock to the attention of the owner, who seems uninterested in the potential liability further down the road. It doesn't pay to be a conscientious nurseryman.
About 6 people (5%) responded, There is no impediment [to finding quality tree stock], I get what I need. Is that because they have exceptionally good suppliers or a lack of concern for/knowledge about root quality issues?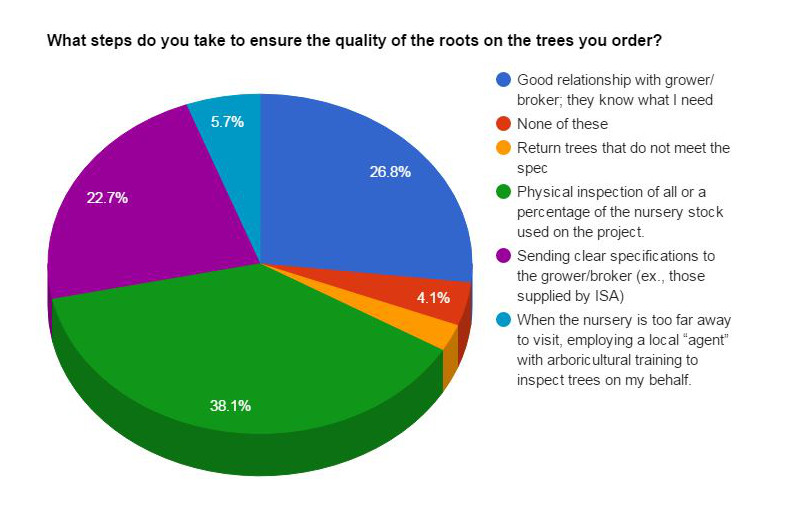 Strategies and Solutions
The problems with finding quality nursery stock are well known – so how are people dealing with it in the real world? What steps are they taking to ensure root quality on their projects? (Respondents were allowed to give multiple answers here as well as write in comments.)
Remote physical inspections
Less than half of respondents physically inspected all or a part of their order for root defects. Where nurseries were too far away to visit, the following strategies were listed:
Videoconferencing to communicate quality specifications.
Hiring a subcontractor to visit nurseries and inspect all nursery stock before it is purchased, adding about $40 to the cost of each tree.
Recommending locally grown stock to clients to avoid the issue altogether.
Sending specifications
About a quarter of respondents sent specifications to the nursery.
Relationships and trust
About a quarter of respondents depended on a good relationship with the grower to "know what I need."
Alternative production methods
One person chose to buy only containerized stock grown using a patented system called RPM.
Contract growing
One respondent felt he/she could have better control over tree quality by hiring a grower in advance to produce trees specifically for a project, a process known as contract growing. "We should be encouraging more contract growing to specifications and quantities for projects at the time of planning."
Collaborate with the landscape contractor
More than one person trusted their landscape contractor to do the inspection, either with or without some prior communication about what is acceptable. "As a Landscape Architect, we are not often involved in the source selection so we have to use examples so that the installing contractor AND crew understand what a good tree should look like."
However, a number of comments from others cautioned:
"Landscape contractors do not understand the concern over defective roots."
"Lack of knowledge of issue is the norm for installers."
"The contractors have to find the cheapest stock available (that meets specifications) when bidding or they won't be awarded the project. If the preferred growers are more expensive, the contractors I work with won't be using them."
"It seems unreasonable to dump this problem on to contractors if they have nothing to choose from. I cannot enforce my own specification for balled and burlap trees because then the contractor would not have any trees to buy."
About 62% of our respondents are personally involved in the correction of root defects at planting time, either doing the work themselves or training/supervising those who do. Close to 20% only write specifications regarding root correction, and almost as many are not involved at all.
Since nearly half our respondents are not involved in correcting root defects, many trees may or may not have received any root correction. Remember that the inspection process at the nursery should weed out any stock with uncorrectable defects. However, if no one is correcting the stock that is planted, those defective roots can still cause problems.
Rejecting Stock: Theory and Practice
Less than 10% of respondents said they return trees that do not meet the root quality specifications, yet when asked: "How comfortable do you feel rejecting trees with root defects at delivery time?" 80% said that they had no problem rejecting defective stock at any time.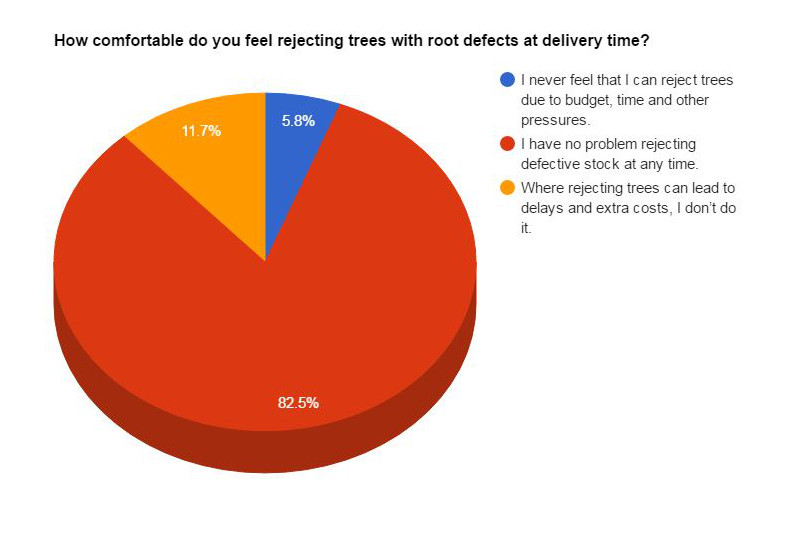 There is clearly a conflict between the theoretical belief in rejecting defective stock and the realities of actually rejecting it.  11% of respondents frankly answered, "Where rejecting trees can lead to delays and extra costs, I don't do it," and less than 6% felt they could never reject trees due to real-world pressures of money and time.

Cost
Cost is an issue that growers may cite as an impediment to growing better quality stock. These growers may be interested to hear that over three-quarters of respondents say they would be willing to pay more for trees that would be guaranteed to meet root quality specifications, such as those found on the ISA website. About a third say they would pay up to 10% more and about a third would pay up to 20% more. Nearly a fifth say they would pay at least 30% more.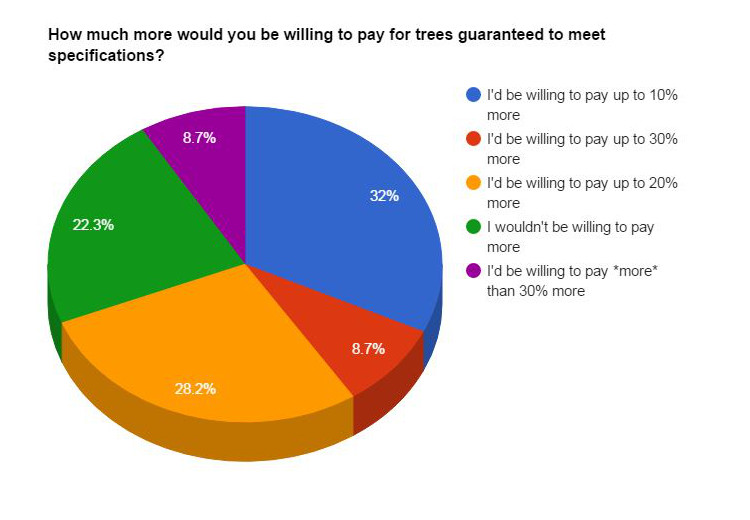 However, real-world budgets may stick a pin in this balloon of good intentions. Truthfully, no one wants to pay more for anything unless they can perceive a greater value for the more expensive item. A lot of education is still necessary to help those who manage budgets to understand the long-term value of planting trees without root defects. Since many projects are awarded to the lowest bidder, contractors are going to look for the cheapest trees in order to have the most competitive bid. Specifications for root quality would have to be written into the bid request, perhaps with penalties for planting poor quality trees. Of course inspection and enforcement of those penalties would have their cost as well.
Looking Ahead
Perhaps the mutual understanding that quality costs more can serve as a starting point for customers and growers to work together to improve tree root quality.
Most of our respondents would agree: about 80% of respondents are either "cautiously" or "very" optimistic about growers and tree professionals working together, acknowledging that some growers in their area have already taken the necessary steps to produce a quality product. Better communication and collaboration between industries will help, and here's hoping these survey results can help jump-start the dialogue.
We need more cross-pollination between the nursery industry and arborists. Neither profession understands the other one well enough. We need to attend each others' conferences. Individuals with experience in both worlds need to share their knowledge and help build bridges. Once growers and arborists understand each others' unique needs and challenges better we can begin to communicate and work together, with a safer, longer lived urban forest as the ultimate result.
Finally, we asked respondents to share their preferred nurseries and to tell us why they love them. That list is included here so that we can all benefit by sourcing the best trees we can find.
STATE/PROVINCE
CITY
NURSERY
REASON FOR PREFERENCE (IF PROVIDED)
MULTIPLE RECOMMENDATIONS?
WEBSITE
Alabama
Alpine
Hunter Trees
http://www.huntertrees.com/
Arizona
Mesa
Arid Zone Trees
http://www.aridzonetrees.com/
Arizona
Phoenix
Baseline Trees
http://www.baselinetrees.com/
Arizona
Tucson
Mountain States Wholesale Nursery
"large selection,"
"send me photos on request"
British Columbia
Courtney
River Meadow Nursery
"good stock"
http://www.rivermeadownursery.com/
British Columbia
Nanaimo
Green Thumb Nursery
"good stock - good relationship"
http://www.greenthumbgardencentre.com/
British Columbia
Pitt Meadows
Specimen Trees
"largest variety, quality stock,"
"high quality and standards"
http://www.specimentrees.com/
California
Clayton
Clayton Tree Farm
http://www.claytontreefarm.com/
California
Colma
Pacific Nursery
"I think they do their best to produce a quality product. They source trees from good wholesale nurseries,"
"many species,"
"responsive staff"
Yes
http://pacificnurseries.com/
California
Dixon
Lemuria Nursery
http://www.lemurianursery.com/
California
Eureka
Piersons
"Not many nurseries in the area, and they have the best stock"
http://www.thebighammer.com/
California
Farmington
Valley Crest
"One of our preferred nurseries because they have worked with us for some time and have a few staff members that know what we are looking for."
http://www.vctree.com/menu.asp
California
Fresno
Belmont Nursery
http://www.belmontnursery.com/
California
Grass Valley
Rare Earth Nursery
http://www.rareearthnursery.net/
California
Loomis
High Ranch
"good selection"
http://hrnursery.com/
California
San Juan Capistrano
Tree of Life Nursery
"because of the species they carry and the quality of the stock"
http://www.californianativeplants.com/
California
San Ramon
Devil Mountain Nursery
http://www.devilmountainnursery.com/
California
Somis
Ventura County Nursery
California
Sunol
Valley Crest
http://www.vctree.com/menu.asp
California
Vista
Briggs Tree Nursery
http://www.briggstree.com/
California
Vista
Brightview Tree Company
http://www.briggstree.com/
California
Willets
Sanhedran Nursery
https://www.sanhedrinnursery.com/
California
Fillmoor
Valley Crest
http://www.vctree.com/menu.asp
California
Lower Lake
Specialty Oaks
"stock is of very high quality"
http://specialtyoaks.com/
California
Riverside
A.Y. Nurseries
http://www.aynursery.com/
California
San Gabriel
Norman's Nursery
"volume availability"
http://www.nngrower.com/
California
Somis
Berylwood
"consistent, quality product"
http://www.berylwoodtreefarm.com/
California
Woodland Hills
Boething Treeland
Yes
http://www.boethingtreeland.com/
Florida
Lakeland
Butler Tree Farm
http://butlertreefarm.com/
Florida
Morriston
Marshalls Tree Farm
http://www.marshalltrees.com/
Florida
Plant City
Harrell Nursery
http://www.harrellsnursery.net/
Georgia
Bishop
Select Trees
"consistently high quality stock and root balls,"
"Previous experience and roots are their culture."
http://www.selecttrees.com/pgs/Home.php
Georgia
Canton
Buck Jones
"relationship and knows what I need"
http://buckjones.com/
Idaho
Boise
Cloverdale Nursery
Yes
http://www.cloverdalenursery.com/
Idaho
Boise
Franz Witte
http://www.franzwitte.com/
Idaho
Merdian
Jayker Wholesale Nursery
"They are knowledgable and great to work with for everything we need"
http://www.jayker.com/
Idaho
Meridian
Victory Greens
"Usually a good stock of trees"
http://victorygreens.com/web/
Illinois
Kaneville
Kaneville Tree Farms
"they grow superior trees"
http://www.kanevilletreefarms.com/
Indiana
Fort Wayne
Arbor Farms
http://arborfarmsnursery.com/
Indiana
Fort Wayne
Plant Center
http://www.plantcenterinc.com/
Kansas
Ottawa
Loma Vista Nursery
"Good stock/great people"
Yes
http://www.lomavistanursery.com/
Kansas
Overland Park
Family Tree Nursery
"They source quality material from various growers and give good rewholesale discounts."
http://www.familytreenursery.com/
Louisiana
Amite City
Bracys
http://www.bracys.com/
Manitoba
Carman
Aubin Nurseries
"Involved in research and takes proper care in producing healthy nursery stock"
http://www.aubinnurseries.ca/
Manitoba
Portage la Prairie
Jeffries Nurseries
"Involved in research and takes proper care in producing healthy nursery stock"
http://www.jeffriesnurseries.com/
Maryland
Frederick
Stadler Nursery
http://www.stadlergardencenters.com/
Maryland
Laytonsville
Ruppert
http://www.ruppertnurseries.com/
Missouri
Kansas City
KAT Nursery
"good selection"
Yes
http://www.katnurseries.com/
New Jersey
Millstone Township
Halka Nursery
Yes
http://www.halkanursery.com/
New Mexico
Corrales
Trees of Corrales
"Consistently excellent quality"
Yes
http://www.treesofcorrales.com/
New Mexico
Las Cruces
Sunland Nursery
"local, often grow what I want"
http://www.sunlandnursery.com/
New York
Springville
Chestnut Ridge Nursery
http://www.crnursery.com/
New York
Springville
Schichtel's Nursery
"provide quality trees"
http://www.schichtels.com/
Ohio
Cincinnati
Natorp
http://www.natorp.com/
Ohio
Cleveland
Cahoon
http://cahoonnurseryandgardencenter.com/
Ohio
Cleveland
Willoway
http://www.willowaynurseries.com/
Ohio
Perry
Klyn
"Strong relationship,"
"great quality"
Yes
http://klynnurseries.com/
Ontario
Saint Williams
St. Williams Nursery
"local seed, very good quality, have species others don't have"
http://stwilliamsnursery.com/
Oregon
Boring
J. Frank Schmidt
"good stock the majority of the time,"
"quality nursery stock of varied species at the right prices and quantities,"
"good customer service,"
"consistently good quality and good customer service"
Yes
http://www.jfschmidt.com/
Oregon
Canby
Super Trees
"quality nursery stock at a good nice,"
"good customer service,"
"attention to grower/buyer relationship"
http://supertrees.com/
Oregon
Salem
Northwestshade Trees
http://www.shadetrees.com/
Oregon
Aloha
Rigert Shade Trees
http://www.tree-source.net/
Pennsylvania
Downingtown
Harmony Hill Nursery
http://www.hhnurseryllc.com/
Pennsylvania
Leesport
Eaton Farms
"local, species selection, great form"
http://www.eatonfarms.com/
Pennsylvania
Point Pleasant
Walters Nursery
"good oversight of lining out process my management"
http://www.waltersnurseryinc.com/
Quebec
Assomption
Montreal City Nursery
"They produce trees like we need"
South Carolina
Orangeburg
Shady Grove
Yes
http://shadygrovenursery.net/
Texas
Austin
Far South Nursery
"dedicated to making available native plants that are hard to get from other nurseries."
https://farsouthnursery.com/
Texas
San Antonio
Top Notch
"They are trying to produce quality"
www.topnotchf.com
Washington
Mt. Vernon
Urban Forest Nursery
Yes
http://www.urbanforestnursery.com/
Wisconsin
Waterloo
McKay Nursery
http://www.mckaynursery.com/
Wisonsin
Menomonee Falls
Johnson's Nursery
http://www.johnsonsnursery.com/
Ellyn Shea is a consulting arborist in San Francisco. Lead image is courtesy of U.S. Department of Agriculture (CC BY 2.0).