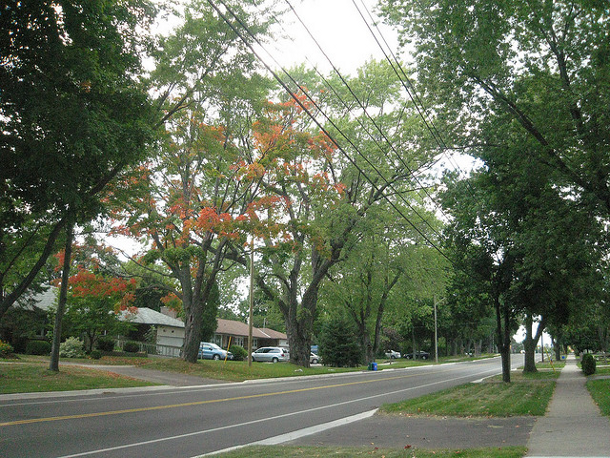 We like to keep track of cities that are doing more for trees, specifically by implementing minimum soil volumes for urban planting. I'm happy to share that we are adding the city of Oakville, ON to the list, where they have recently implemented a requirement that street trees be planted in 30 m3 (1,059 ft3) of soil per tree, or 15 m3 (530 ft3) per tree if in a shared trench. Oakville Councillor Allan Elgar took some time to talk to me about the process of implementing the standard. I have edited for content and clarity.
LM: First, the easy question: what are the City of Oakville's standards, codes, or recommendations regarding minimum soil volumes for trees? Are these required or recommended?
AE: This is a requirement that calls for 30 cubic meters of soil per tree if in an individual planter, and 15 cubic meters of soil if shared.
LM: Where did the proposal for the soil volume standard originate?
I initiated the proposal. It had become clear to many of us that Oakville's trees were not doing well. They might live 20 or 30 years, but they'd remain small and root-bound, and then they'd die. Once we learned about how much more we could be doing, it was obvious to us that we had to move in that direction.
LM: What specific obstacles did you encounter while trying to establish minimum soil volume requirements?
AE: Well, the city staff were not ready at all. We'd already been pushing for 15 cubic meters of soil per tree, which seemed high at the time, and people wondered why it was necessary to go up to 30 cubic meters. They also wondered how we would ever do it! Michael James, with DeepRoot Canada Corp. helped explain why 30 m3 was a much better target.
Even more importantly, he told us about other municipalities, such as Markham and Toronto, that had successfully gone up to 30. Once we saw that other towns were doing it better, we knew we could do it as well. It took a lot of work from Oakville's council to change it.
We set up a subcommittee so people could research and share information about the importance of mature urban trees. There was some tension over this – developers resisted it, and they shared their objections with staff. Peter Simon from Toronto's urban forestry department, came in and talked to us about what they had done as far as soil volume minimums, and that was enormously helpful. Once the staff saw that soil volume minimums are becoming increasingly common in other parts of Canada, they began to see how it could be done here, too.
In the end, our staff was proud of pushing an ambitious standard for street trees and took total ownership of it.
LM: How did you overcome objections?
AE: Naturally, people were concerned about the cost issues. But after a lot of discussion, we persuaded everyone that this was no different than many other forms of urban infrastructure. Like those, we consider providing trees with adequate soil to be included in the costs of a house or building, and expect people to learn to comply with it just the way they would with anything else.
LM: How long did the process of setting soil volume standards take, from beginning to end?
AE: (Laughing) We talked about it for a long time before doing anything, but in the end, it took at least two years of active work on the part of the staff, 6 months of which was just the work of the subcommittee. If it weren't for Toronto and Markham taking the lead on this, I don't know if it would've passed. But when you see other municipalities are able to set standards like these for trees, you can't continue to say that it's impossible. Oakville's motto is "the most livable town in Canada"; this is another way for us to stay serious about earning that description.
LM: What worked well during the process of enacting these standards?
AE: Hearing from people in other cities who had implemented ambitious soil volumes successfully and demonstrated that it could work was probably the number one most important part of the process. I especially relied on Peter Simon, with the City of Toronto, and staff from Markham, ON and Kitchener, ON to share their experiences with us.
LM: What didn't work so well, and what would you do differently?
AE: I don't know that there's anything I would have done differently. I think the biggest obstacle to getting this started in the first place was not having enough communication between municipalities. Until meeting Mike James, I had no idea how much work was being done on this – and, as it turned out, so close by. Having now gone through this process, I anticipate communicating with other municipalities much more effectively about tree issues in the future.
LM: What do you expect the challenges of enforcement/compliance to be?
AE: There definitely is going to be a period of adjustment in the beginning, especially for projects whose plans are already in the works. But going forward, with new projects, I expect it to be pretty simple. Either you provide the requisite volumes, or you don't get to build. People need to understand that we're treating this like water, pipes, or any other type of infrastructure. Now it's just one more tool in the toolbox.
Image: Anz-i