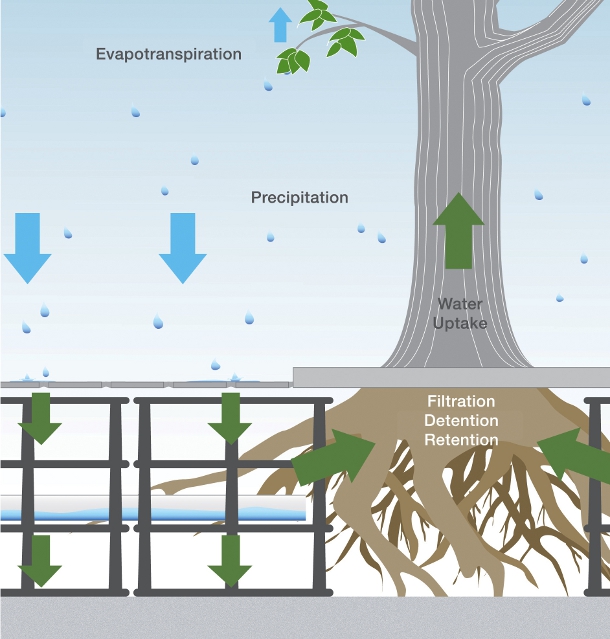 The Greenbuild tradeshow is coming up next week in our hometown of San Francisco. We're exhibiting – booth #2130S – and in addition to that, our partner, Peter MacDonagh, is speaking with Dr. Greg McPherson. Their topic is Large Trees for Stormwater Management: Fact vs. Fiction. 
Date: Thursday, November 15, 2012
Time: 9:30-10:30 am
Location: Moscone Center 
The old urban forestry model is broken, and the old stormwater management model is broken. This session will present a new paradigm to successfully grow large urban trees AND at the same time provide sustainable, on-site stormwater management. Large Urban Tree/soil systems have the potential to contribute significantly to urban stormwater management while at the same time providing many other benefits, such as cleaner air, carbon storage, energy savings and urban heat island reduction.
Aware of the multiple benefits of trees, many cities are developing large-scale tree planting initiatives. However, if these trees are planted the way urban trees have been planted in the past, they will not survive long enough to become large trees. Studies have found that street tree population half-life ranged from 13 to 20 years (Roman and Scatena 2011), a  fraction of their much longer lifespan under natural conditions. The most significant problem urban trees face is the inadequate quantity of soil useable for root growth. Research has shown that trees need 2 cubic feet of soil volume for every 1 square foot of canopy area (Lindsey and Bassuk, 1991). Most urban trees, confined to a 4' x 4' x 4' tree pi, have less than 1/10th the rooting volume they need to thrive. Therefore they are unlikely to grow large enough to produce anywhere near the level of ecological services they are capable of providing or are promised by policy makers.
Innovative techniques, such as suspended pavement, to extend rooting volume under HS-20 load bearing surfaces and create favorable tree growing conditions in urban areas, enable trees to grow to their mature size AND provide the stormwater and ecological benefits commensurate with mature trees.
Peter MacDonagh will introduce the nuts and bolts of using large trees for stormwater management, including a description of the processes by which large urban trees provide stormwater benefits, soil engineering requirements and tree selection guidelines. He will illustrate these principles with case studies showing a range of projects that have used large urban trees for stormwater management at various scales. He will also describe how using trees for sustainable stormwater management can contribute to LEED site and water points.
Greg McPherson, a USDA Forest Service scientist will highlight results of research that has measured and modeled effects of trees and engineered soils on rainfall interception and stormwater runoff. He will describe computer tools and other resources that professionals can use to better plan and design green infrastructure, thereby transforming projects from merely aesthetic amenities to amenities that also deliver quantifiable ecological services.
This session will provide a platform for informed discussion to separate fact from "fiction" regarding the use of large urban trees for sustainable stormwater management.