Last week I wrote about our Root Barrier product; this week I'll look at the basics of Geomembranes.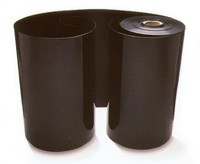 There's a bit of confusion around the terminology for this product, perhaps justifiably so. Let me back up a moment.
"Geomembranes" is a generic term that we use to describe two very similar products — BambooBarrier and Water Barrier — that are used for different purposes.
BambooBarrier prevents the unwanted spread of bamboo and other invasive species. The smooth surface of the Bamboo Barrier acts as a root stop, diverting the rhizome and preventing unchecked growth.
Water Barrier protects hardscapes and landscapes from subterranean water movement. When used around building foundations and medians, Water Barrier maintains soil/water equilibrium and prevents root intrusion.
Both BambooBarrier and Water Barrier are made of HDPE and are available in a variety of widths and thicknesses. Most rolls are sold in 300′ lengths; only designated suppliers can cut custom lengths.
If you'd like to learn more about the Geomembranes for use in either type of application, check out our FAQs and case studies.