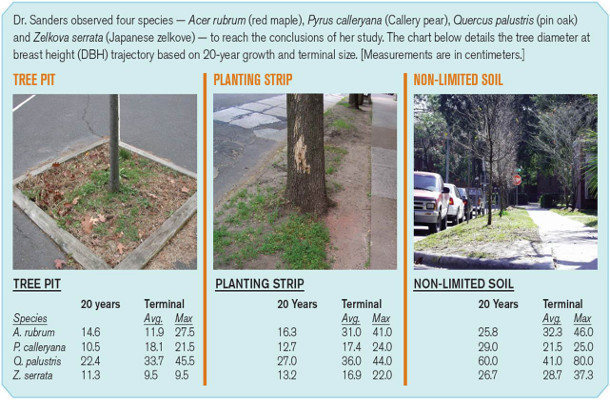 There's a nice little study about tree mortality in the most recent issue of the Casey Trees newsletter, Leaflet. Dr. Jessica Sanders, Casey's Director of Technical Services and Research, examined both tree mortality and the role of apparent available soil in tree size. Her findings were really interesting.
First, tree mortality. For this part of the study, Dr. Sanders looked at trees in New York City. She found that urban trees had a 91.4 percent survival rate after two years, and a 75.8 percent survival rate eight to nine years after initial planting. Unsurprisingly, the highest mortality rates were in downtown areas, while rates dropped in more residential areas.
The second study, to examine the role available soil plays in tree size, looked at parking lot trees 20 years after planting. From Dr. Sanders:
To determine if size reduction occurred because of the amount of apparent available soil, I observed specimens in tree pits, planting strips and trees on the edge of the lot.
The findings suggested that increases in apparent available soil provided by the design of the planting space resulted in larger canopy trees. The largest trees were found on the edge of the lot for all species, showing a correlation between access to soil and canopy size. There was a reduction in canopy area seen across all five species measured as apparent available soil decreased. Specifically, there is an extreme reduction in canopy growth when there is less than 20 square meters of soil. There is a dramatic increase in canopy size when trees are planted in linear strips of at least 40 square meters as opposed to planting pits measuring six square meters.

Overall, this study suggests that better planting design will help accomplish the goal of successful tree establishment. By providing a wider soil zone around trees, we can increase canopy coverage.
[Emphasis is added].
Finally, Dr. Sanders looked at the maximum size diameter at breast height (DBH) of trees in municipal inventories. She found that maximum size is closely related to terminal (trunk) diameter based on the type of the planting site. Again, in her words:
Maximum terminal size was different in all three planting site types (tree pit, planting strip, and nonlimited soil), irrespective of size class. Overall a reduced planting space resulted in a reduced maximum size.
If you look at the chart at the top of this post, you'll see that the difference in maximum terminal size between the three planting conditions is significant. For example, looking just at the Acer rubrum trees from the study, after 20 years trees in a typical pit had an average terminal size of 11.9, trees in a planting strip had an average terminal size of 31.0, and trees in unlimited soil volume had an average terminal size of 32.3. These are very real differences.
Dr. Sanders suggests that we use more "proven performers" in city plantings — in other words, species that are more resilient in harsh conditions — to help increase canopy in urban areas. And she's right that these trees have their places. But we can't rely on super species to compensate for a lack of suitable planting spaces. We can't just plant the right tree in the right place. We also need to consider more solutions to make the place right for the tree.
Image: Casey Trees