Trinity Mills Mixed-Use Development Kicks Off Multi-Phase Project with Green Space
Carrollton, Texas, in Dallas Metro is building a transit-oriented development complete with a tree-lined esplanade and 50 new Silva Cell trees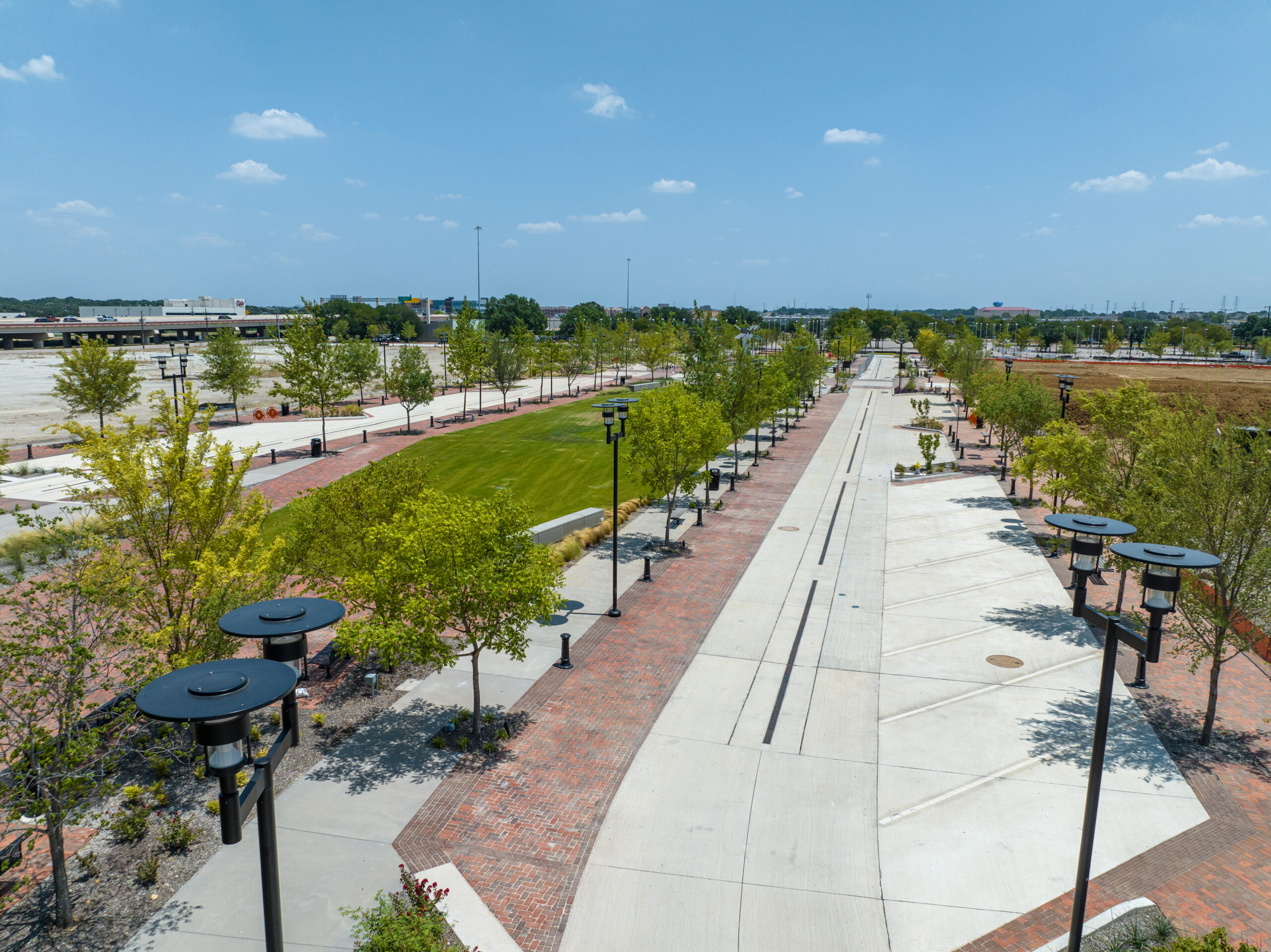 Overview
A public-private joint venture, the Trinity Mills development in Carrollton, Texas — a northern suburb of the Dallas-Fort Worth Metroplex — is the area's largest transit-oriented development (TOD). The 25-acre lot is undergoing a multi-phase initiative with the goal of serving as a transportation hub as well as a mixed-use urban neighborhood complete with an apartment complex, retail and dining options, office space, and a state-of-the-art esplanade green space. Kimley-Horn was selected to design the esplanade, the first phase of the Trinity Mills project to be completed (in 2022). Among its many visitor-friendly features are a host of new trees, 50 of which are planted in Silva Cells along the park's pedestrian hardscapes, ensuring healthy growth and shady relief from the hot Texas sun.
Installation Summary
Number of Silva Cells: 674 (2x)
Total Soil Volume: 17,900 cubic feet
Number of Trees: 50
Type of Project: Promenade, Park
Project Designer: Kimley-Horn
Project Landscape Contractor: Earthtones Design
Installation Date of Silva Cells: 2022
Project Timeline: 2021-2025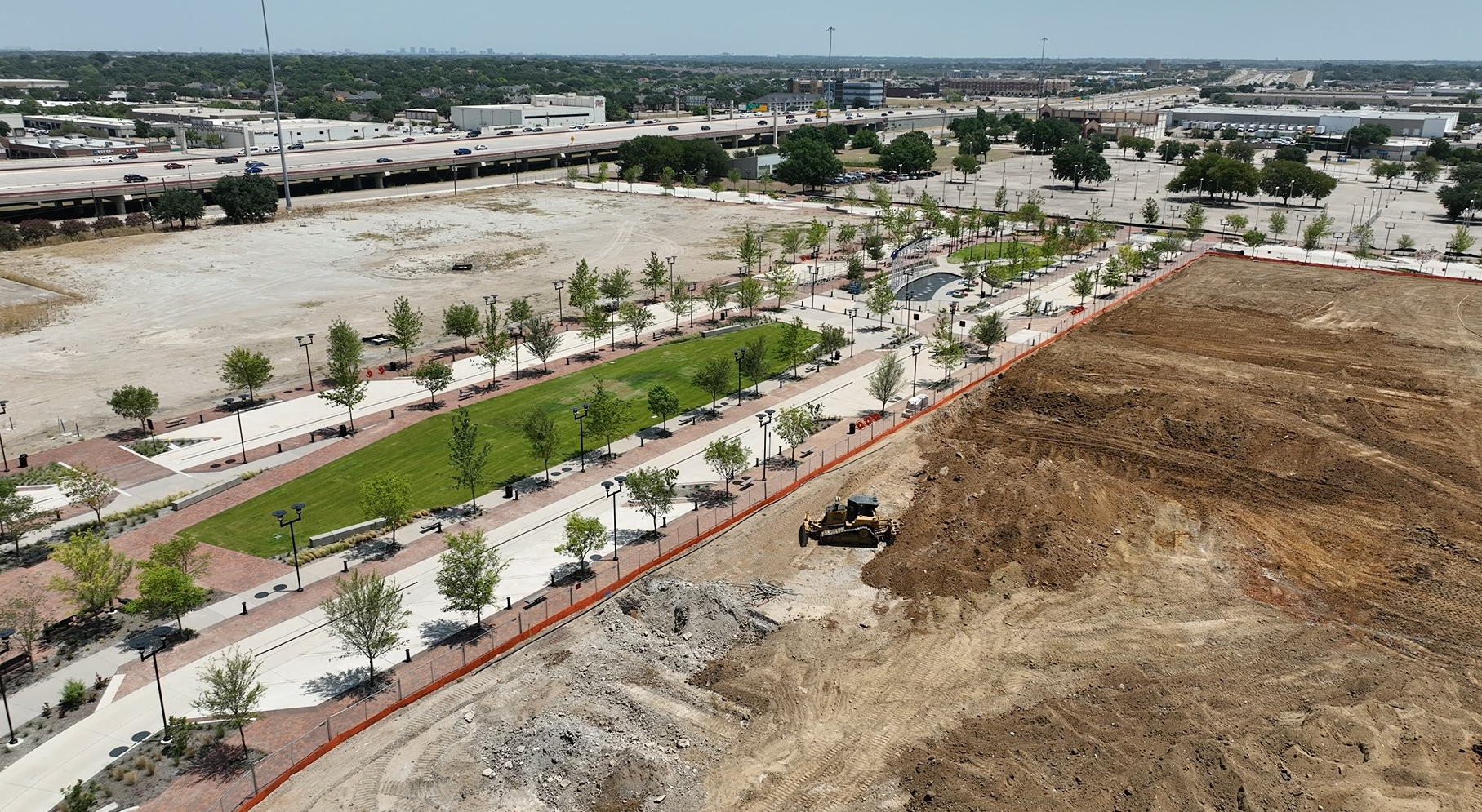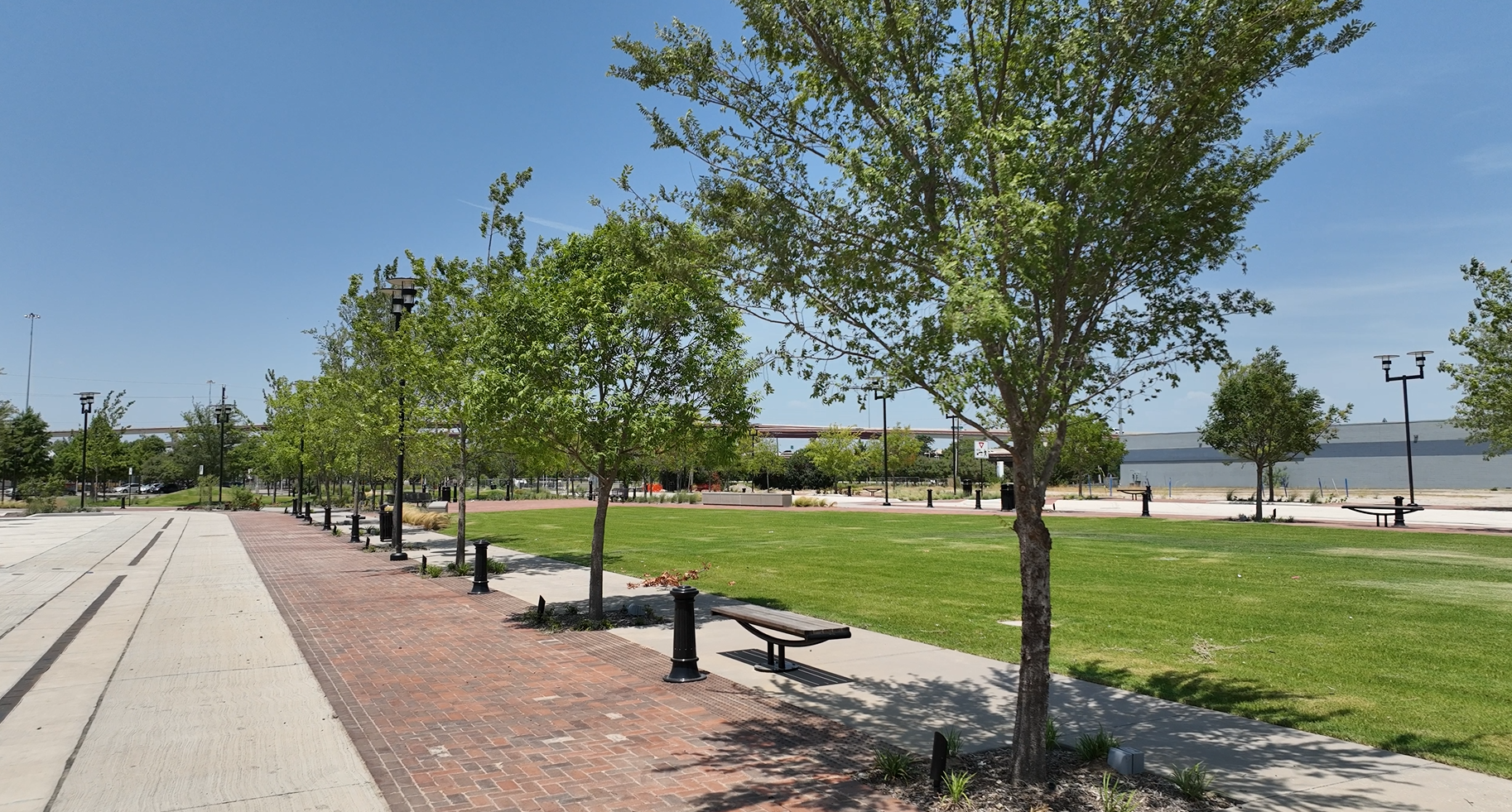 The Project
The largest and most-connected transit-oriented development (TOD) site in the state, the Trinity Mills project is an ambitious, multi-phase initiative underway in Carrollton, Texas. Twenty-five acres of land adjacent to the Trinity Mills Station — opened in 2011 and providing the only transfer service from Denton County Transportation Authority to Dallas via the green line light rail — are being transitioned from a largely vacant commercial area into a fully developed community with residential, retail, professional, and outdoor space.
The mixed-use renovation, which was set in motion 2017, is set to include three office buildings (totaling almost a million square feet of space), entertainment and dining options, a luxury hotel, and a state-of-the-art apartment complex: EVIVA Trinity Mills, a five-story structure with over 430 modern units that broke ground in 2023 and is set to open in 2025.
"Every aspect of Trinity Mills Station is designed with meticulous attention to detail," notes Carrollton mayor, Steve Babick. "The quality partnerships forged here are what ensure its success and continue to make Carrollton the community that families and businesses want to call home."
The "heart" of the new development is the first phase of the project to be completed: a three-acre esplanade at the center of the community, running the length of the property and positioned between the future office complexes on its north and the EVIVA apartment building on its south.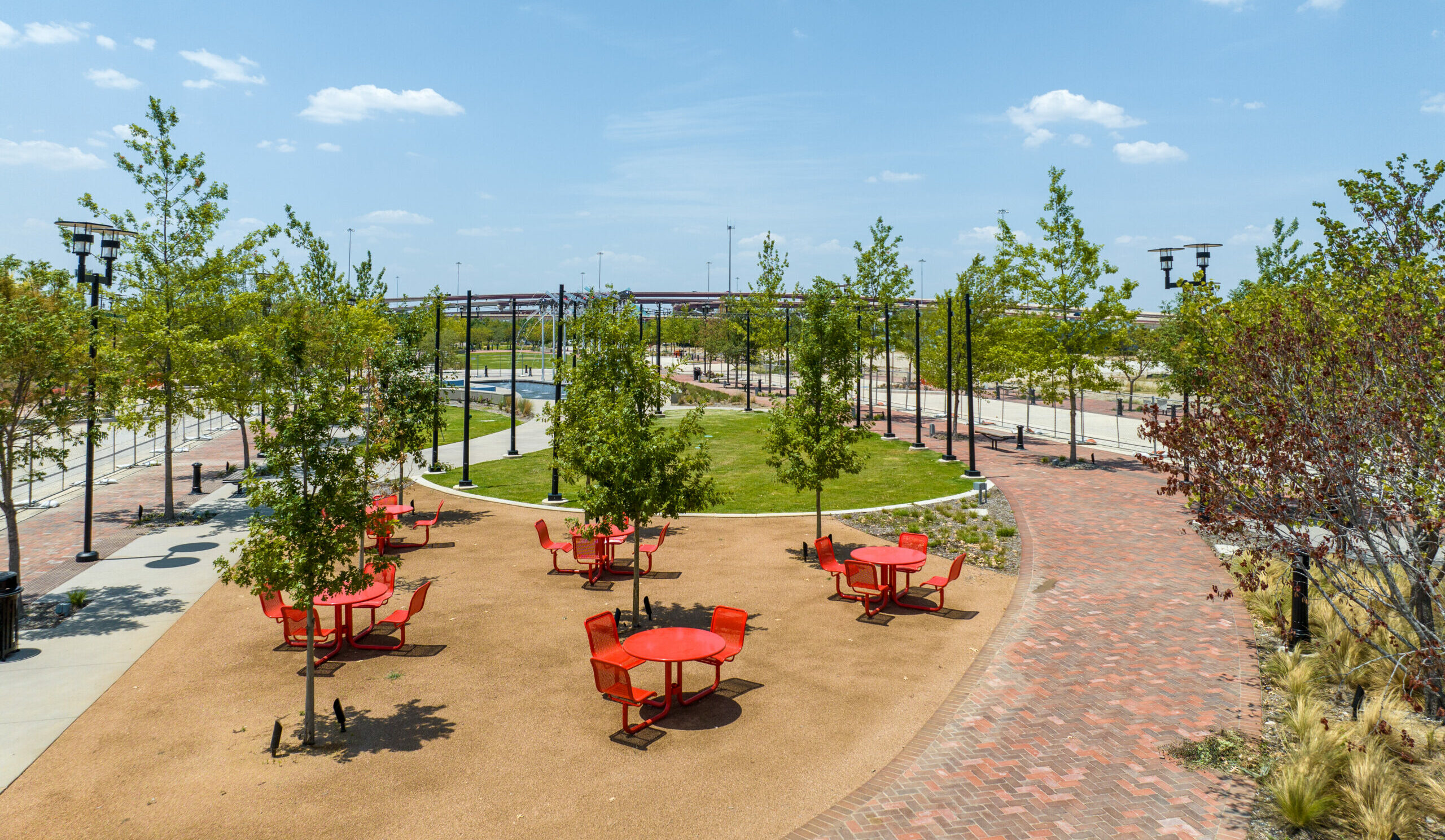 The Esplanade and Silva Cells
"The esplanade's modular space, as a convergence of commerce, culture, and community gathering, provides connectivity and integration." -Art Lomenick, Integral Master Developers
The experienced design team at Kimley-Horn was tasked with drawing up plans for the all-important Trinity Mills esplanade. Their vision culminated in an "open-air park which will serve as the social center to the new development, a lawn for casual enjoyment, and a special event area for concerts and public markets. The new esplanade design will offer a walkable community area, seamlessly connecting shopping, dining, entertainment, living, and working."
Green sustainability is an indispensable element in the project: water-quality features are incorporated into the streetscapes and courtyards while alternative energy strategies are also being utilized. Likewise, one of the most important esplanade characteristics is its shade trees lining the boulevards and hardscapes — a total of 674 (2x) Silva Cells were installed to help these trees grow to maturity, providing 17,900 cubic feet in total soil volume for healthy root expansion.
Project planners wanted to mimic the successful strategies employed at Klyde Warren Park in Dallas, which also specified Silva Cells for a number of its hardscape-planted trees. "The design brings the best amenities of Klyde Warren Park in Dallas and those of similar promenades and streetscapes across the Unites States and will create a series of unique spaces and experiences to be enjoyed by residents, business owners, and visitors alike," observes former Carrollton mayor, Kevin Falconer.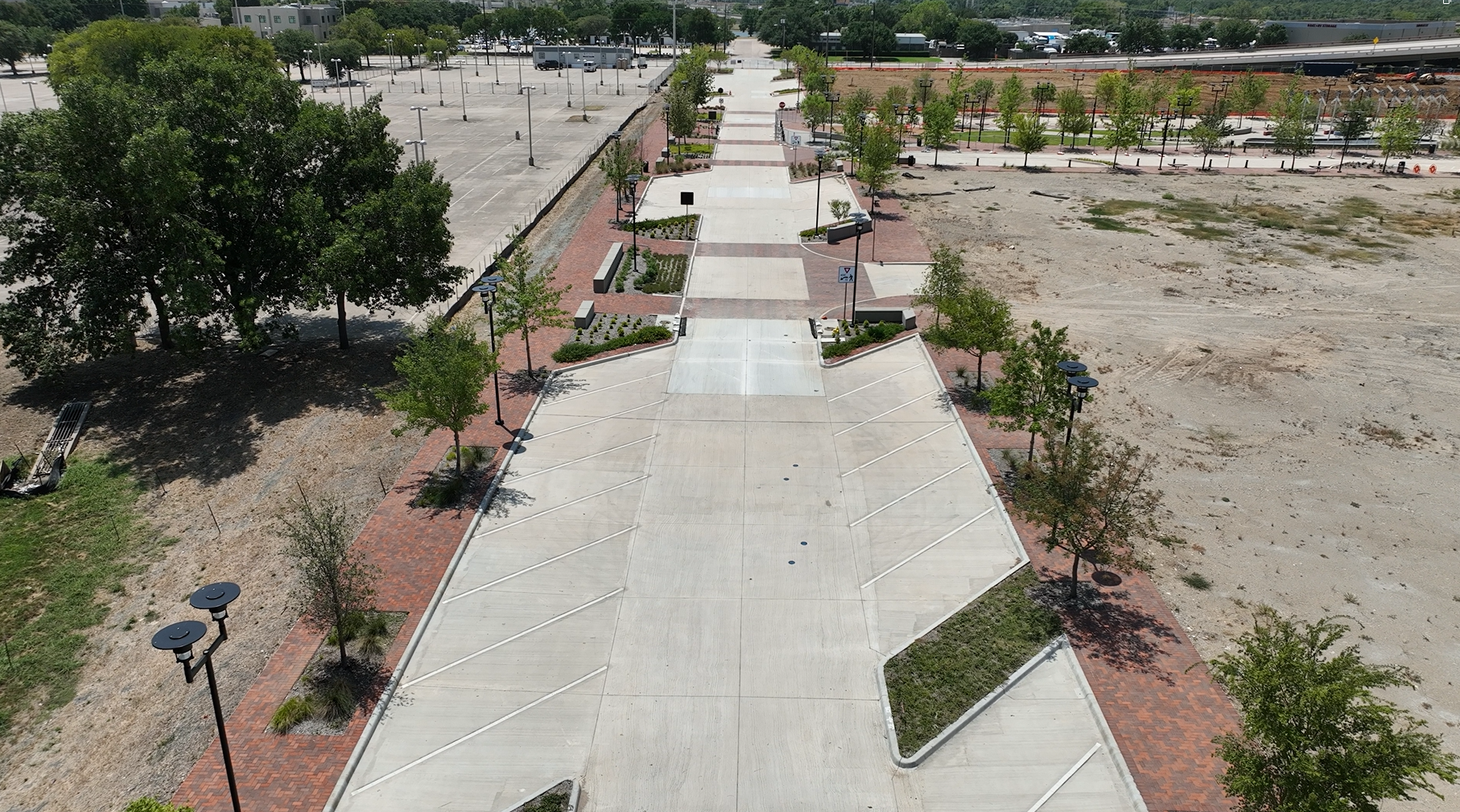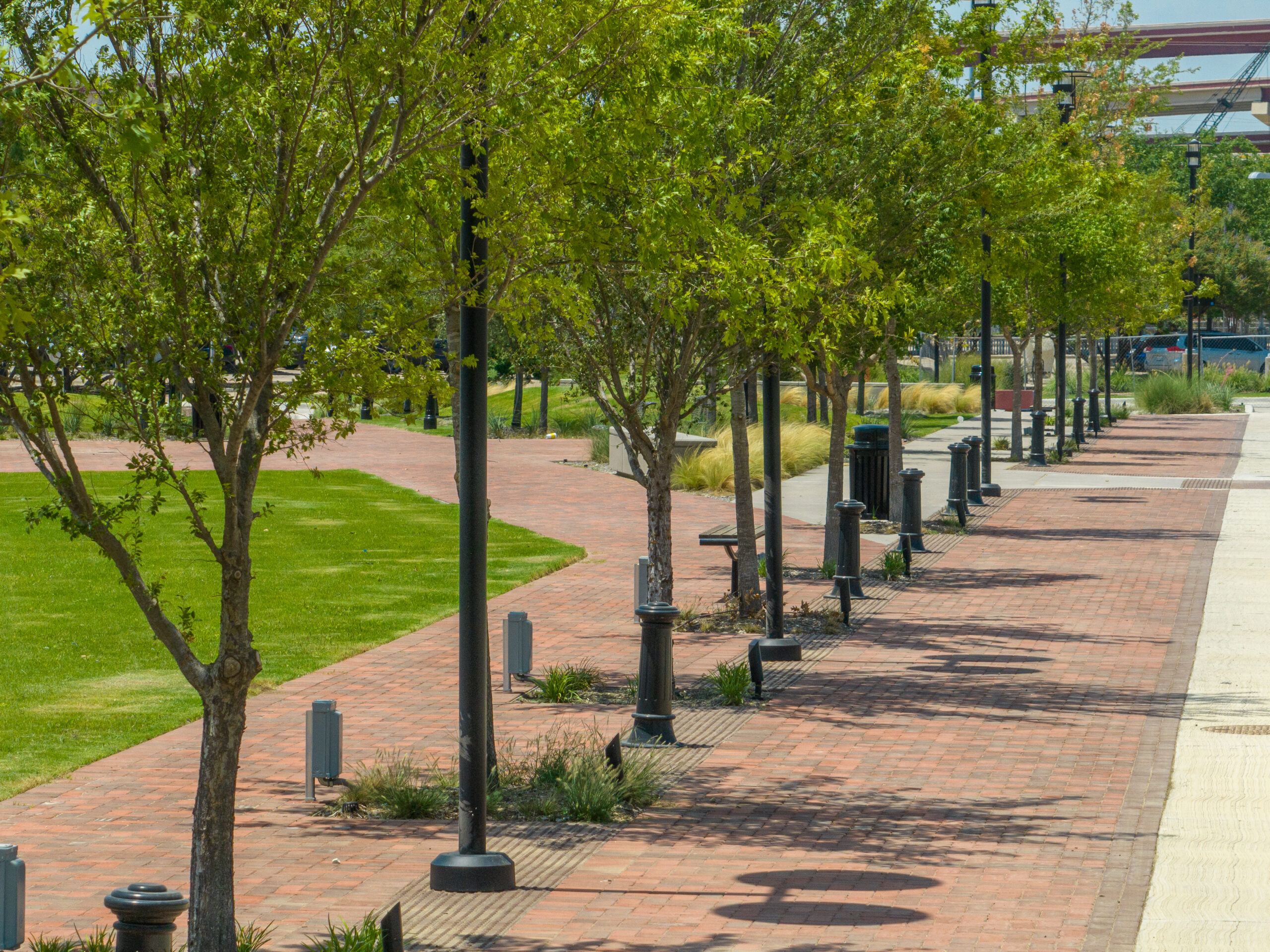 The trees line the pedestrian walkways and parking zones throughout the park, which stretches from Blanton Drive to Mayes Road. The area includes numerous seating options, one-of-a-kind water features, and a flexible open-air pavilion — the "Great Lawn" — at its core for community gatherings and events. Art Lomenick of Integral says that this area with "integrated seating will provide room for concerts, picnics, exercising, and other events, creating an opportunity for activity day and night every day of the year."
Blake Starnes, estimator and project manager at Earthtone Designs, discusses the project and how the Silva Cell installation was a critical element:
This was a major project for the City of Carrollton that laid out the infrastructure for their Multi-Use District. The goal was to create an uptown style area that would allow for Small Businesses to set up shop in a high traffic area. A major part of this phase was establishing the groundwork for this project through Utilities, Flat work, and Landscape. The landscape portion included a small park area, a water feature, full irrigation system, and large caliper trees along the pedestrian walkways. The Silva Cell system played a major part in the survivability of these trees and the long-term protection of the paving around them! [DeepRoot Technical Director] Pat Greeley was a huge help during the installation process by setting up a training prior to starting the work and assisting with all questions afterwards.
The Trinity Mills development is still in progress with the esplanade being the first phase to reach completion (in 2022). DeepRoot is looking forward to continually monitoring the progress of this impressive, sustainable new community!
Additional Resources
-For more DeepRoot projects in the Dallas area, check out our case studies here, here, and here.
-Kimley-Horn also specified Silva Cells in Miami Beach's Collins Park Garage project; read the case study here.