Downtown Dallas Office Space Upgrades Plaza Area with Street Trees
The building at 400 Record Street utilized DeepRoot Silva Cell system to ensure healthy growth of 14 Bald Cypress Evergreen trees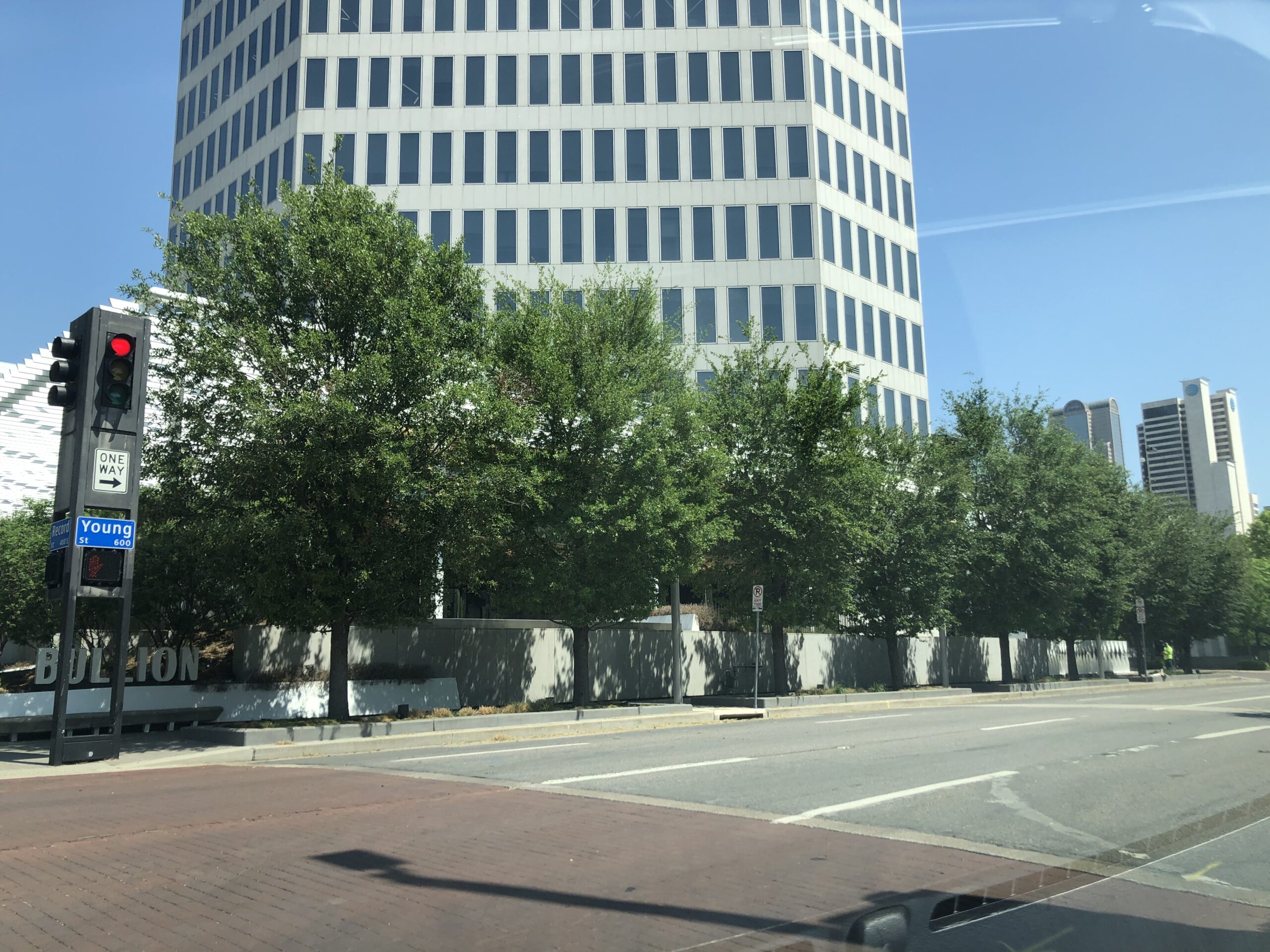 Overview
Built in the 1980s and originally named the Belo Building, the structure at 400 Record Street in Downtown, Dallas, transformed in 2017-2018 from a nearly empty office space to a vibrant commercial hub. One of the top priorities of the renovation was to upgrade the transition area from the building to the street, now an impressive multi-use plaza, complete with a louvered shady canopy — as well as greenery in the form of 14 new Bald Cypress Evergreen street trees. The DeepRoot Silva Cell system was adopted to assist in providing these trees with the necessary soil volume to ensure flourishing growth, and thus a natural canopy mitigating the heat island effect experienced in hot Texas summers.
Installation Summary
Number of Silva Cells: 318 (2x)
Amount of Soil Volume Per Tree: 7,820 ft3 / 558 ft3 per tree
Number of Trees and Type: 14 Bald Cypress Evergreen
Type of Project: Integrated, Commercial, Streetscape
Project Designer: Talley Associates
Project Contractor: Southern Botanicals Inc.
Installation Date of Silva Cells: January 2017
Project Timeline: 2016-2017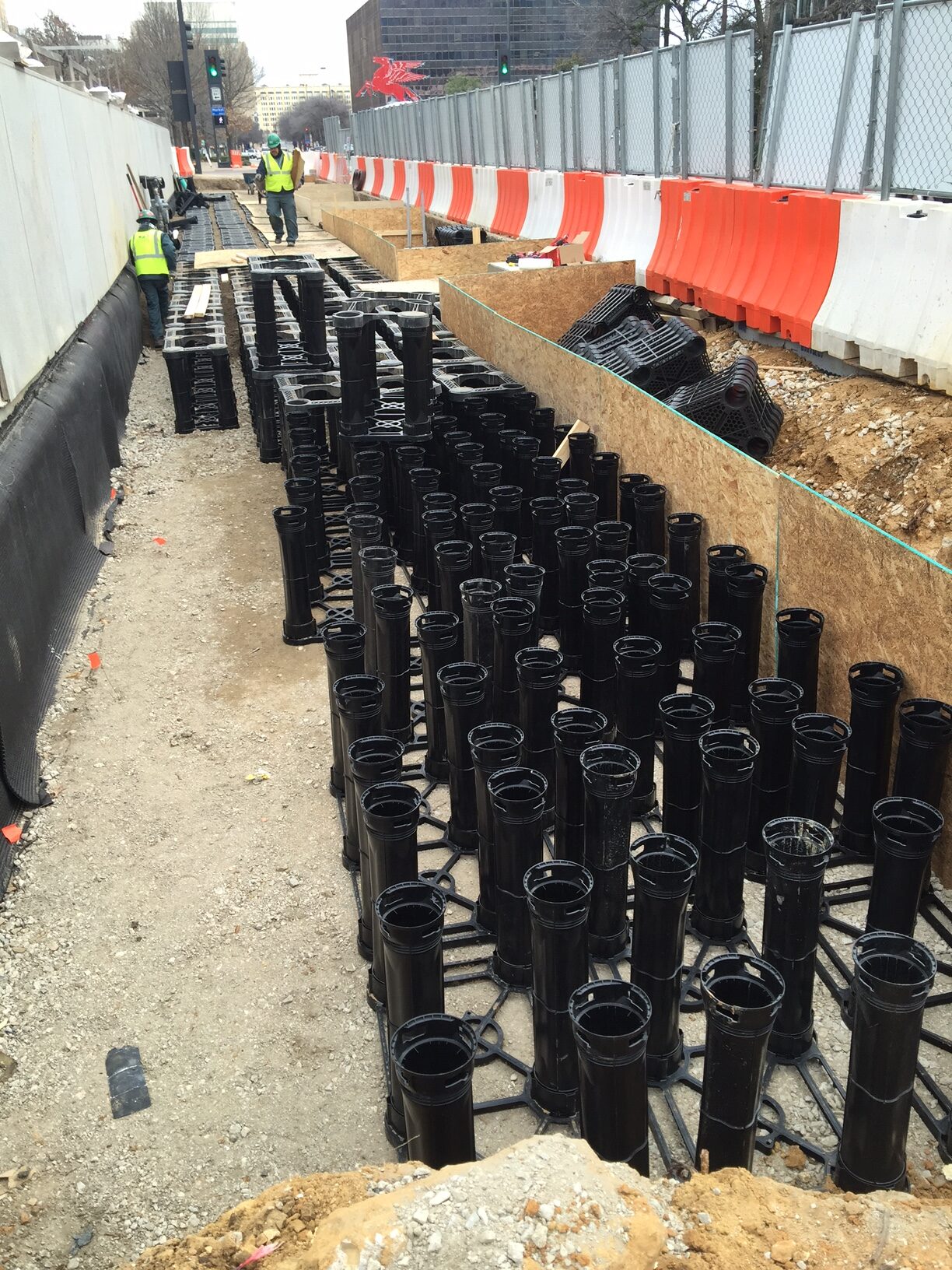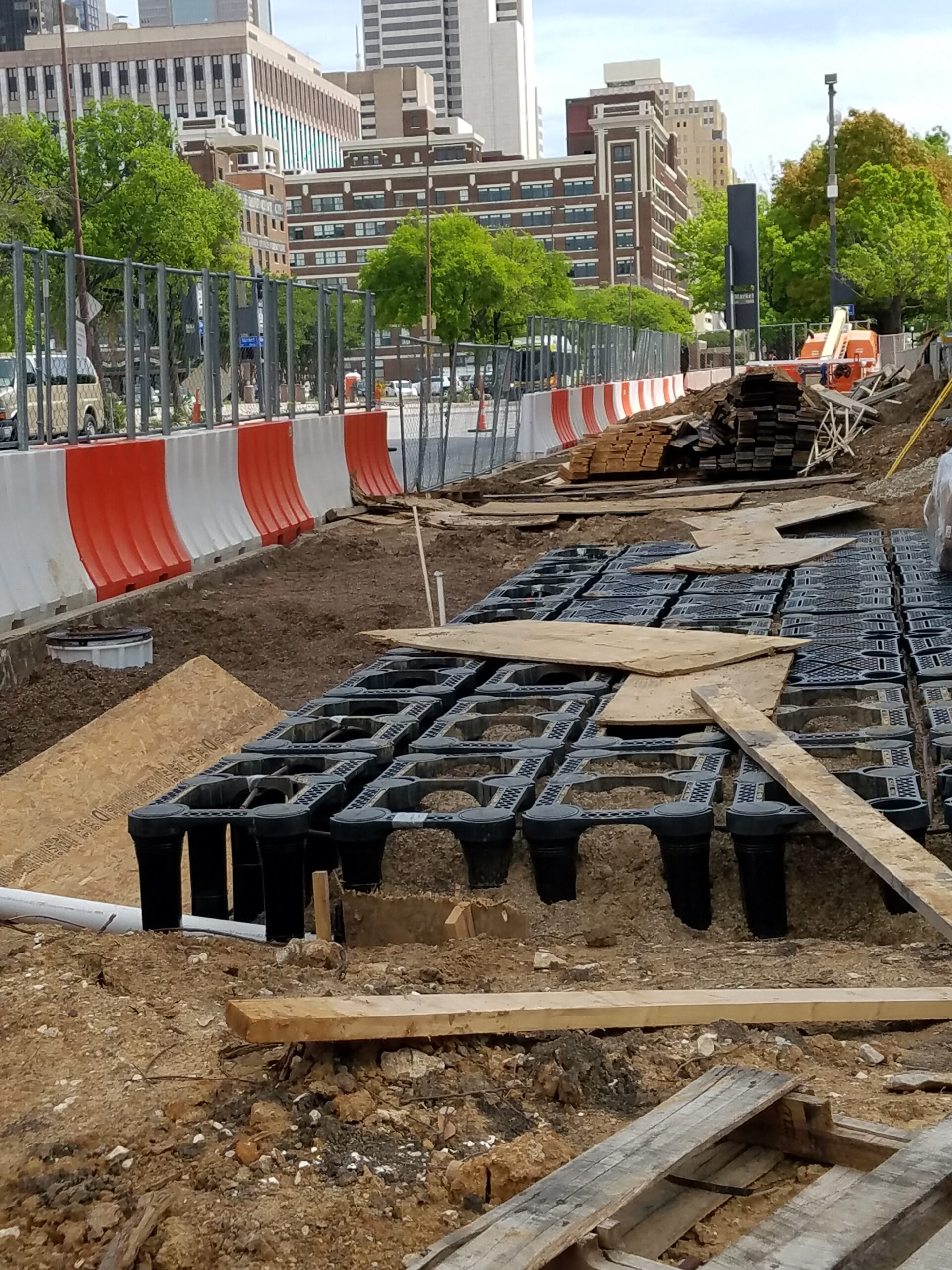 The Project
By 2014, the office building at 400 Record Street in Downtown, Dallas, was largely vacant; however, with new ownership came a vision for revitalization, and an ambitious improvement project was undertaken. In addition to interior upgrades to the 17-story structure, the plaza and street space outside the building was also slated for renovation.
One of the primary goals of the exterior design plan was to integrate the space more cohesively, creating a smoother and more welcoming transition from the plaza to the building itself. In addition to the louvered canopy providing plaza visitors with a shady respite from the sun, street trees were also prioritized to help extend this coverage to the adjacent sidewalks and roadways — an effort spearheaded by the design team at Talley Associates.
Because tree canopy coverage was so crucial, Talley Associates chose to incorporate the DeepRoot Silva Cell system in their plans: a proven strategy to ensure healthy, flourishing tree growth.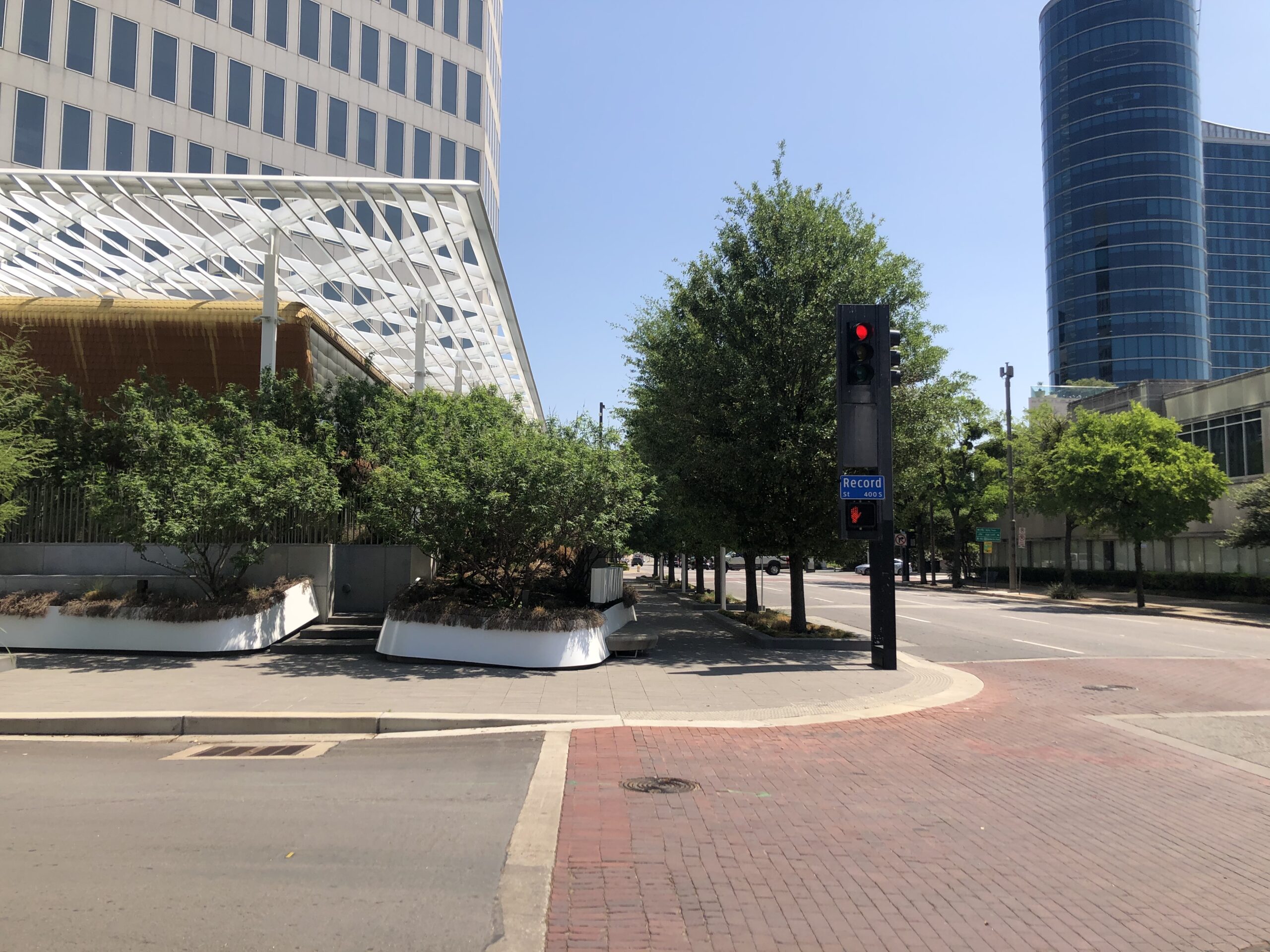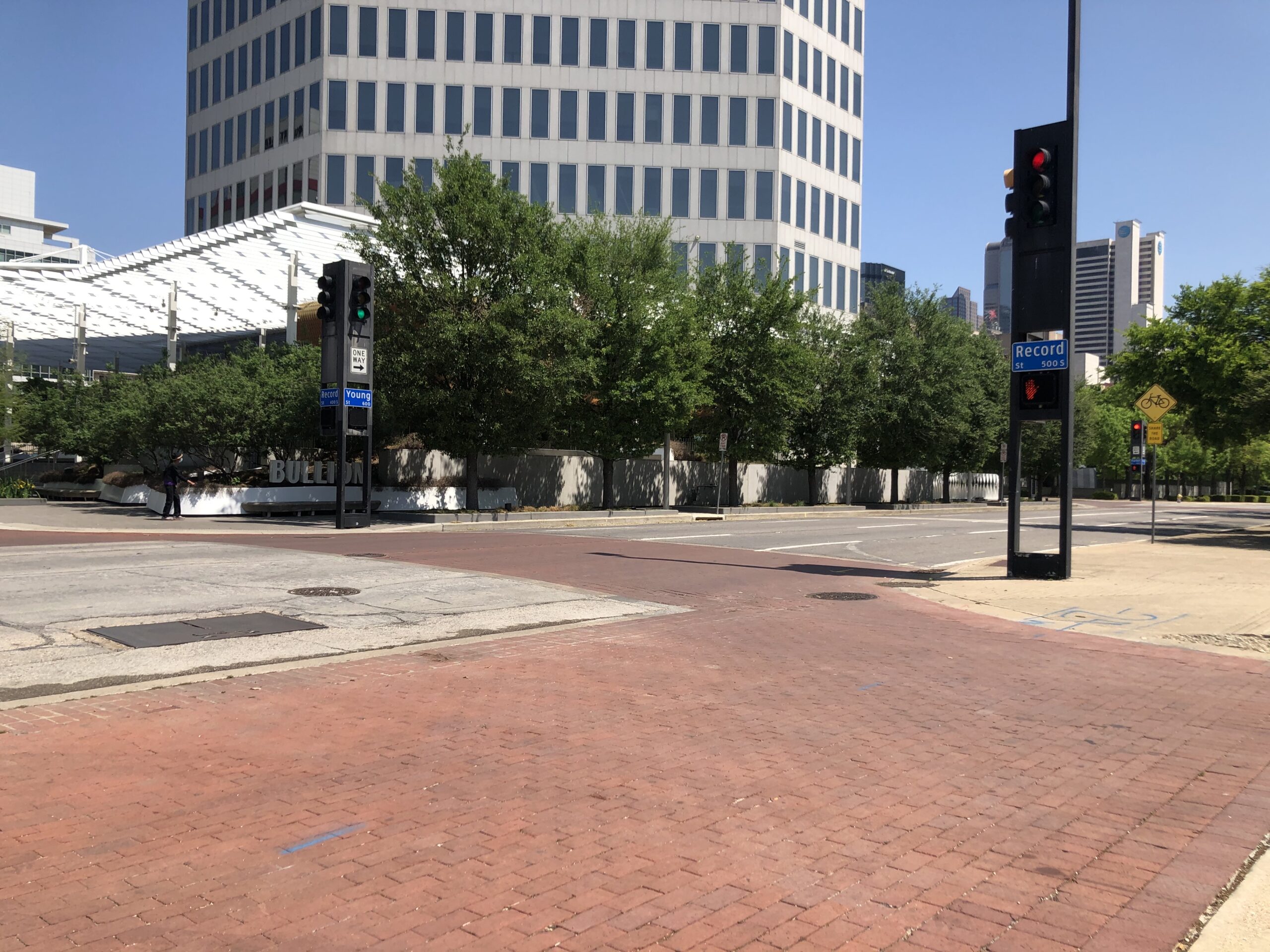 DeepRoot Silva Cell Success
A total of 7,820 cubic feet of soil were provided to the 14 trees by 318 Silva Cells — each tree receiving access to 558 cubic feet of soil volume.
"Silva Cell was chosen for its durability, easiness to assemble with less pieces, and its thoughtfulness in design," said Eric Antrim of Talley Associates. The system's flexibility was paramount, as both Wood Street and Young Street have a natural grade, something the Silva Cells were able to accommodate.
Only a few years since installation, the trees are already showing great promise in their growth and fullness, quickly becoming guardians for pedestrians and cyclists in Downtown Dallas. Likewise, as the trees continue to mature, they have the potential to reduce the suffocating city heat by as much as 20 degrees — a valuable heat island mitigation tool.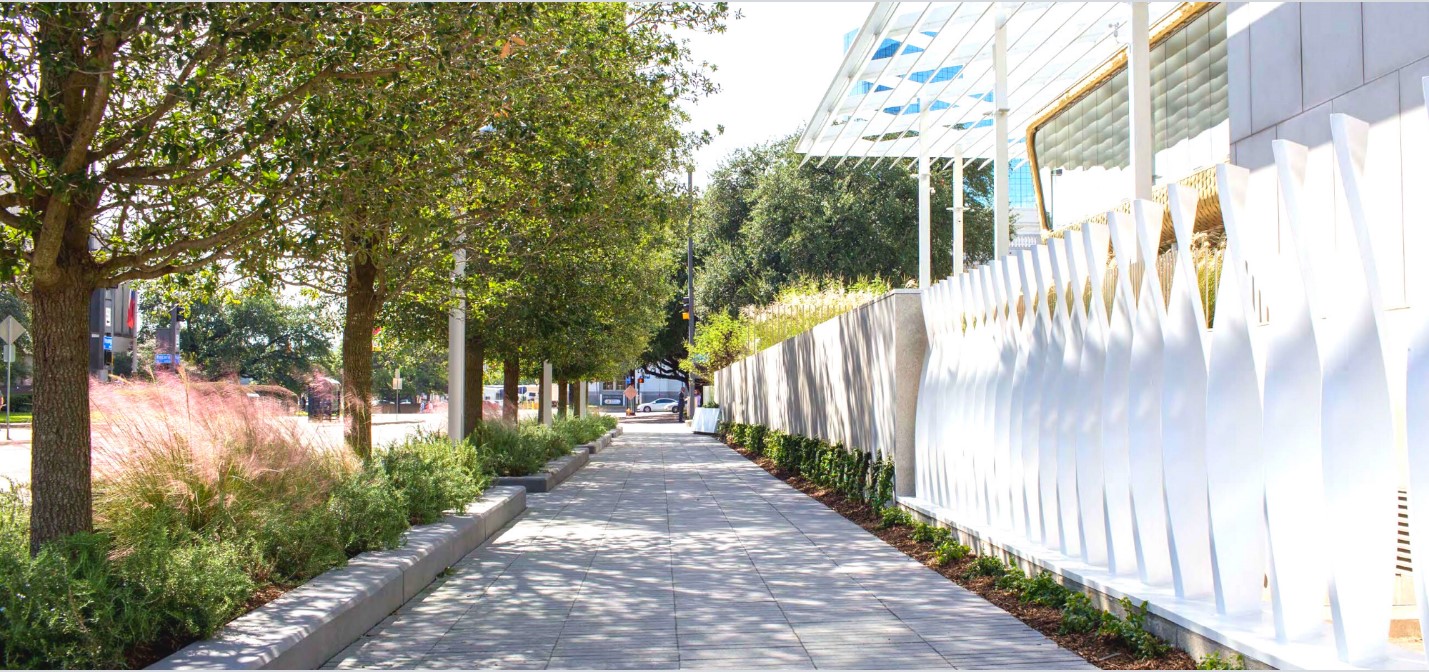 Additional Resources
Check out other DeepRoot projects in Texas here, here, and here.