Trees at 400 Record St. Dallas Texas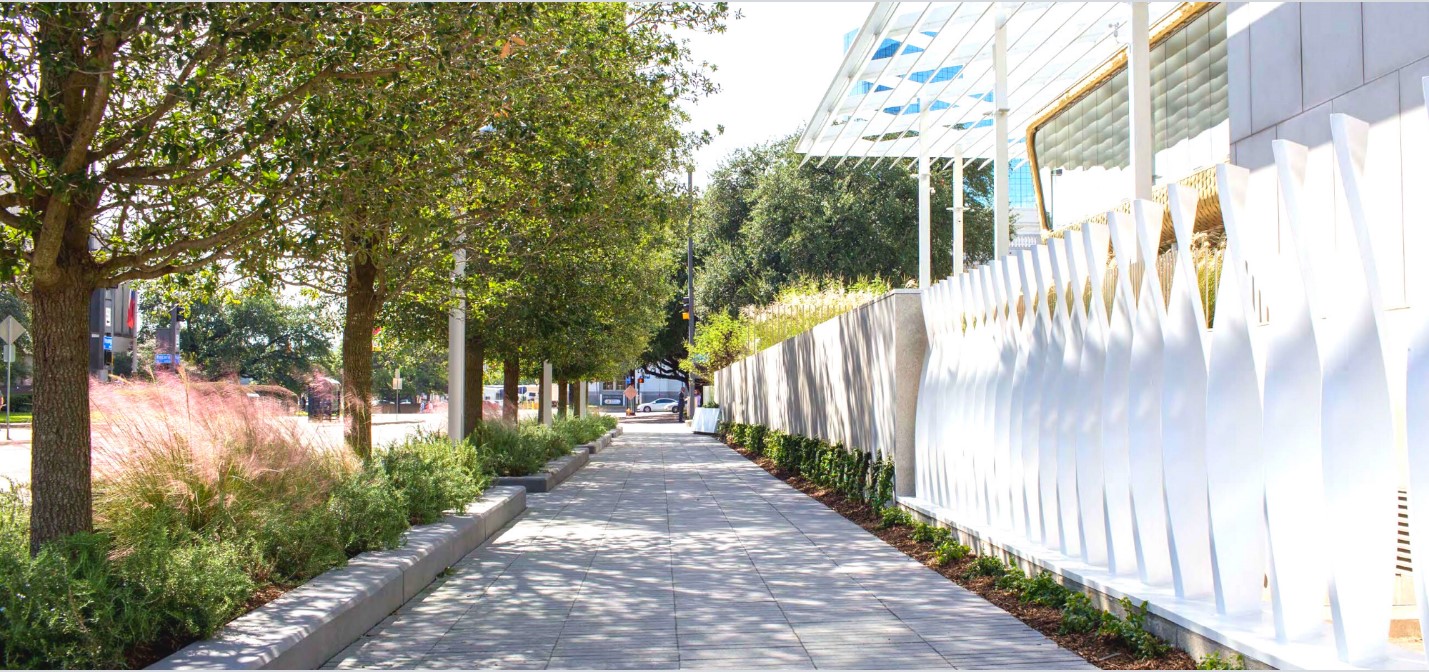 – 14 Bald Cypress' extend shade from beyond 400 Record to the street in Dallas, Texas.
– Dallas, Texas Urban Tree Canopy is around 29%, but equal distribution is lacking
– Silva Cells add a total of 7,820ft³ (221m³) of soil, tapping into the trees at 400 Record's longevity and sustainability
In 2016, the 40-year-old building at 400 Record St. in Dallas' downtown historic district, began its first phase of modernization. New ownership in 2014 prompted reconstruction, an upgrade to the building's interior and exterior.  Catering to the needs of multi-use office space, the once, "Belo Building" has been transformed. Today in 2021, 400 Record is now home to office spaces, a fitness center, conference center, and big street trees. Outside of the 17-story building, DeepRoot's 2X Silva Cells line Young and Wood St below 14, 8″ Live Oaks Evergreen shade trees. Over 7,820ft³ (221m³) of soil was distributed with Silva Cells throughout the tree pits giving proper space for healthy tree roots for decades.
Trees With & Without Silva Cell Support
A total of 20 trees were planted around the perimeter of 400 Record during planting installation in 2017. However, only 14 were planted with Silva Cells.  Landscape Architects, Talley Associates chose six Bald Cypress to create a different design element on the ends of the building rather than just circling the building in one type of tree. Silva Cells were not installed with the Bald Cypress due to the designer's observance that they are notorious for doing well within contained concrete planters and absorbing any excess trapped water. Wood and Young have a natural grade underneath them and space under the sidewalks to use the Silva Cell system. While Record and Market are over an existing parking garage and limited on space, so the existing sunken tree wells that are about 8′ x 5′ x 5′ D, formed into the existing garage were utilized.
"Silva Cell was chosen for, its durability, easiness to assemble with less pieces, and its thoughtfulness in design."

– Eric  Antrim, Talley Associates
In three years, the results of 558 ft³ (19m³) of soil volume per tree reveal what Silva Cell's do for trees and the environment around them: longevity, shade, & exponential growth. The trees have become guardians for pedestrians or cyclists in Dalla's historic district on hot summer days.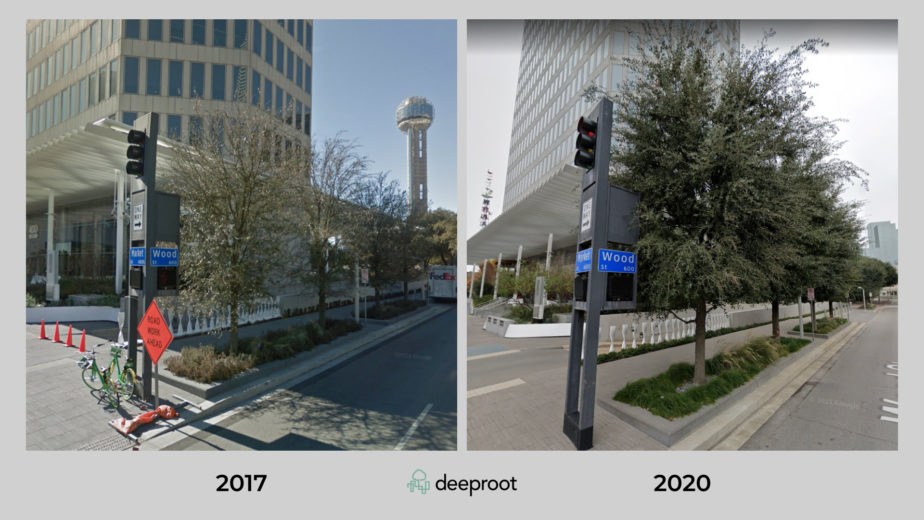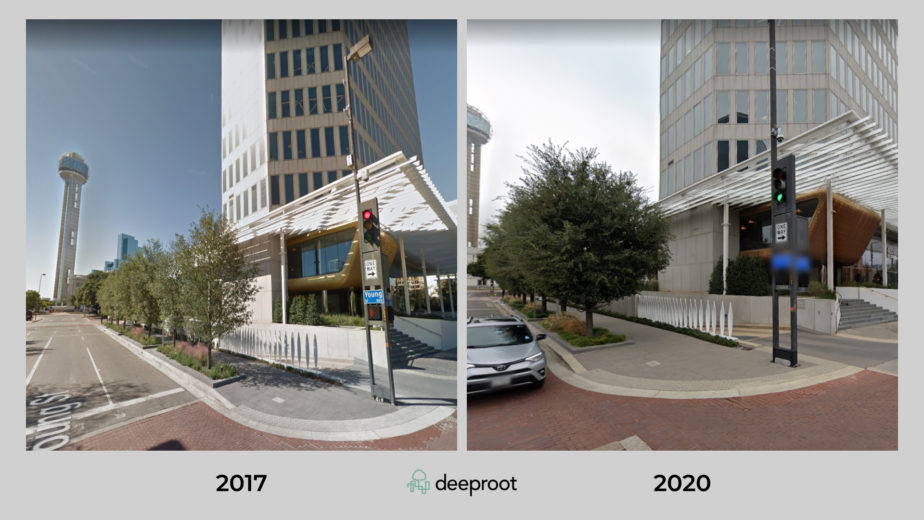 Trees Beyond Downtown Dallas
400 Record St. trees are a slice of the Dallas Urban Tree Canopy (UTC) pie. As of 2015, Texas Trees found Dallas had a UTC average of 29%. According to Texas Tree, it is not a bad number. However, the distribution of trees is proving less equitable.  "With such a large portion of the city's tree canopy focused in specifically zoned areas, it is important for Dallas to take steps to protect and enhance the urban forests by setting canopy goals. There is a strong correlation between land use and canopy cover." To see the full report, of Dallas' urban forest head here.
The shade from the trees will reduce temperatures by up to 20 degrees, on a sweltering 90F+ day + humidity, which can make all of the difference. Reducing temperatures, increasing biodiversity, beautification, and UTC, and drawing down carbo, is a big win.
Installation Summary:
Number of Silva Cells: 318 2X
Amount of Soil volume: 7,820ft³ (221m³) total
558 ft3 (19m3) per tree
Number of trees and type: 14 Bald Cypress Evergreen
Type of Project: Integrated trees & stormwater, Commercial, Streetscape
Project Designer: Talley Associates
Project Contractor: Southern Botanicals Inc
Installation Date of Silva Cells: January 2017
Project timeline: 2016-2017