Dallas, TX Pacific Plaza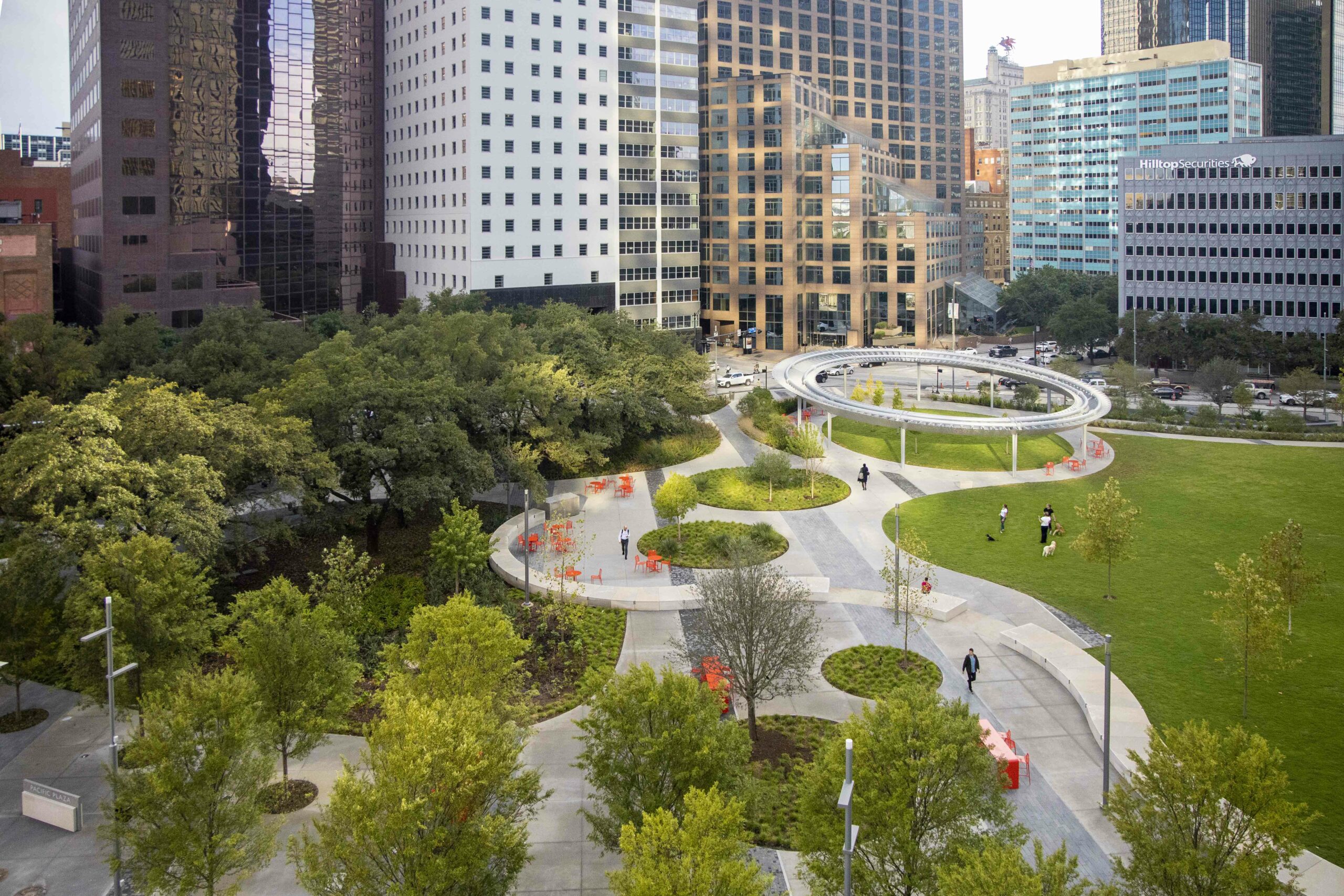 – The City of Dallas installed 180 DeepRoot Silva Cells and 36 trees at the newly opened Pacific Plaza downtown park.
– Pacific Plaza was originally a parking lot that has been transformed into a 3.7-acre slice of green, providing a welcome refuge for shade in the urban heat island of downtown Dallas.
Pacific Plaza was funded by Parks for Downtown Dallas, nonprofit organization whose goal is to establish four new, major downtown parks amid a dense concrete filled district for the benefit of the city.
The plans for the $15 million project called for structural soil to be used under the pathways leading into the heart of the park. The Beck Group, whose construction division had previously completed successful projects using the Silva Cells, recognized the advantages of loam soil for tree growth, rather than a rock mix, and proposed substituting the structural soil. The SWA Group, the landscape architects of the park, readily agreed to the change in an effort to bring the best possible growing environment for the promenade trees. While the total soil volume available for the trees is less than the ideal goal of 1,000 cubic feet per tree, the application of the Silva Cells presented the best compromise of cost efficiency and meeting the tree health needs.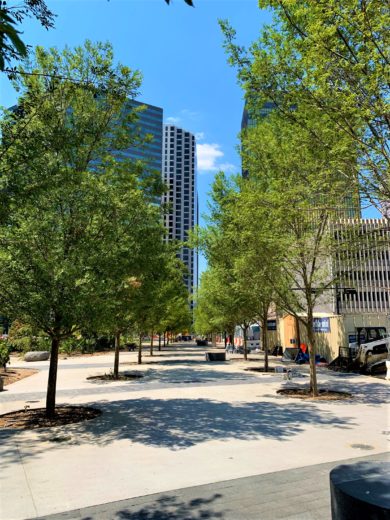 "At The Beck Group, we understand that by using DeepRoot Silva Cells we can remove a large quantity of structural soil and replace it with a smaller quantity of Silva Cells and achieve the same structural requirements above ground, and have much healthier, better- performing trees."
– Jim Shipley, The Beck Group
Pacific Plaza required 36 new trees to be installed using 180 Silva Cells. The non-symmetrical layout of the Silva Cell system was due to the large root ball and circular tree openings. The electrical conduit and drainage pipes were easily accommodated due to the open space within the Silva Cells units and the ability to provide spacing between the units. The flexibility, modularity, and ease of construction of the Silva Cells were evident throughout the installation, and the excavation and haul off quantities of soil were significantly reduced by switching from the proposed structural soil solution. Structural soil has been proven to not be as affective as Silva Cell. In a study at the University of North Carolin, the Bartlett Tree Lab found that after three years tree in Silva Cells versus structural soil were performing much better.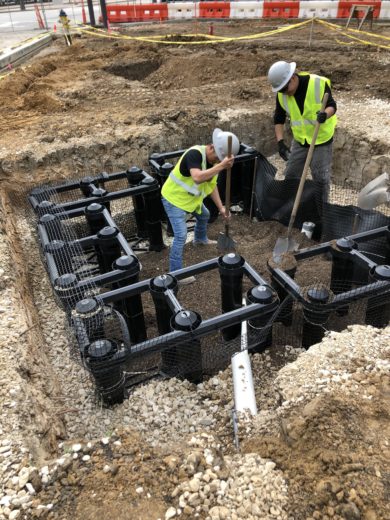 "By using Deeproot Silva Cells at Pacific Plaza, we were able to install a much smaller quantity of material, which meant we had to excavate and haul off less soil. For our customer, Parks for Downtown Dallas they were able to deliver a green-space within walking distance to businesses and downtown residents on budget". – Jim Shipley, The Beck Group
For more details on the architecture and the design put into this green infrastructure gem, here is a video by Parks For Downtown Dallas:
Installation Summary:
Number of Silva Cells: 180 2X
Amount of soil volume total 4,426 ft3 (125 m3)
Number of trees and type: 36 
Type of project: Integrated trees
Project designer: SWA Group
Project contractor: Nova Landscape Group
Installation date of Silva Cells: 2018
Project timeline:  2018-2019
Photos via Bill Tatham from SWA Group