Arrive Hotel in Austin Chooses Silva Cell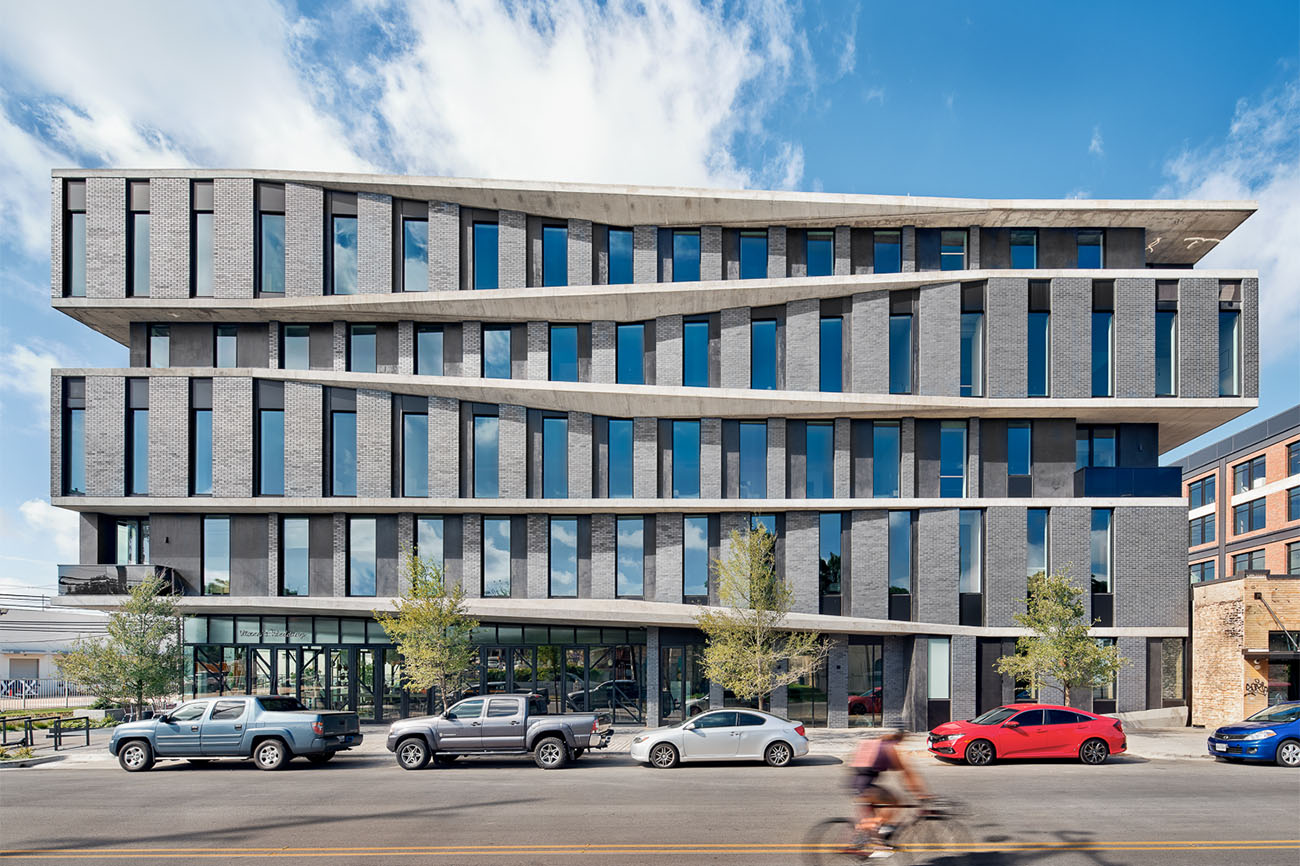 – Arrive Hotel preserved its old architecture while enriching its future landscape with Silva Cells.
– Silva Cells help to balance the water infiltration in Austin's dynamic humid and dry climate.
– Landscape Architects, dwg., prioritized tree health and stormwater management by allocating 500 ft³ of soil volume in each tree with Silva Cells.
If there were ever a place to take refuge in Austin, Texas it would be at Arrive Hotel. The stylish new hotel features a restaurant, brews, local artist displays, and eight thriving trees. Austin's East 6th St has been up and coming for years, and the new "low-key luxury" hotel will certainly sustain the enthusiasm. Texans are known for their hospitality and this hotel does not fall short of the signature characteristic. All are welcomed to dine and drink and enjoy Cedar Elm, Monterrey Oak (Quercus polymorpha), and Mexican Sycamore shade on the hot and humid Austin days, even if you aren't a guest. There is a sense of community and neighborhood that is embraced inside and outside of the hotel.
The project team kept the 100-year-old warehouse, now home to Lefty's Brick Bar, as part of an old meets new aesthetic, and fortifying a sense of place. The warehouse, the 83 guest rooms, two restaurants, two additional bars, a coffee shop, courtyard, event space, and the tree lined street encapsulates 77,000 total square feet. Below the surface area lives 120 2X of DeepRoot's Silva Cell®. The green infrastructure system suspends pavement, allowing for ample soil volume and loosely compacted soil to grow healthy mature trees, while also meeting the engineering requirements for above ground activity.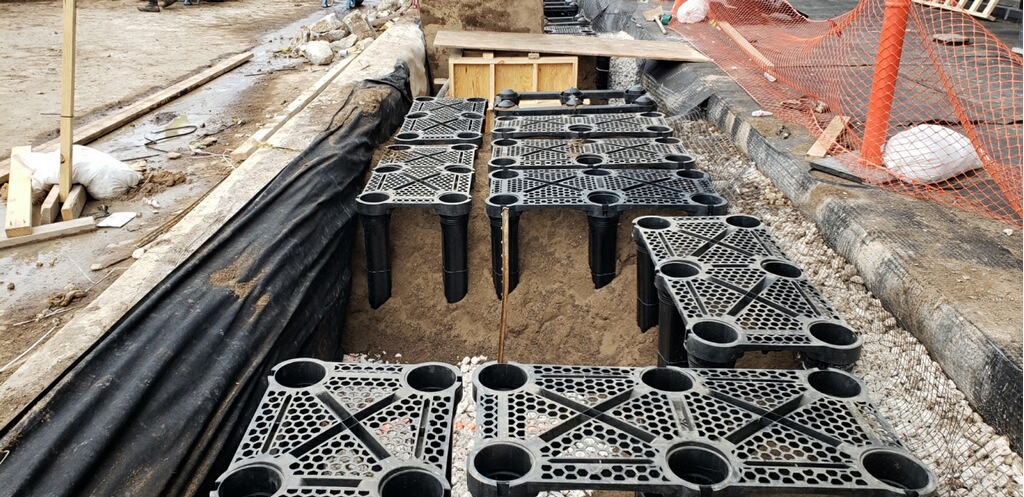 Much of the accolades go to the design team in Austin, dwg. The Arrive Hotel is one of the first private developments in Austin to use Silva Cells. The ideals and goals of progressive, green infrastructure were met and exceeded through the use of Silva Cell. The project took 2 years to complete, 2017-2019.
Arrive Hotel street view, displaying four Cedar Elms(Ulmus crassifolia). Photo courtesy of Casey Dunn.
"
The team's hard work and forward-thinking paid off. Through the use of DeepRoot's Silva Cells, the project achieved six times the uncompacted soil volume typically provided by conventional tree pits with grates. "-
dwg.
Characteristics of Austin, TX and ARRIVE hotel:
Dynamic:
Known as a progressive outlier in Texas, East Austin has rapidly changed over the last few years. Aside from the influx in population, there are other standards the city has incorporated. The architects of the building, Baldridge Architects, noted the transit-oriented design of the project, "The hotel opens at a time of rapid change in East Austin, but there was a community ethos at play in its design. It is an admittedly large structure, although not out of keeping with the transit oriented sixth street development. But it is to ARRIVE's credit that it requested a building that favored public elements first, hotel second."
Stormwater and soil volume were prioritized by dwg., even though there is no requirement by the city of Austin to do so.  Stormwater management was specified on all parts of the project. Street facing and sidewalk tree soil health and soil volume needs were thoughtfully planned by the dwg. team. Jason Radcliff at dwg. noted, "Paver grate system [used] to maximize the overall sidewalk width became an important factor. Additionally, a continuous tree trench along street frontage incorporated a pervious paver system above the soil cells to encourage the infiltration of stormwater to reduce the amount of surface runoff from the site".
Static:
While progressive in many ways, the City of Austin still has no soil volume requirements for new construction. The City has been discussing this for years, but there is no officially adopted requirement. Right now, incorporating soil volume is voluntary and a "nice to have".
Sun and Rain
Austin has a humid subtropical climate, which means it has long, hot summers and typically mild winters. According to data provided by the National Oceanic and Atmospheric Administration, 6 months out of the year Austin, TX averages 88° F for its daily high temperature. July and August feature 100° F days (typically several in a row).  Tree shade can provide up to a 12.5° F difference in temperature, which can make or break a good time while stay-cationing or vacationing.
Large swaths of trees can help to reduce heat island effect. The U.S. EPA notes the number one way to reduce heat island and curtail climate change is by planting trees. "Planting trees and other vegetation lowers surface and air temperatures by providing shade and cooling through evapotranspiration. Trees also protect health by improving air quality, by providing cooling shade for outdoor activities, and reducing exposure to harmful UV radiation." (USEPA).
The 500 cubic feet of soil volume each Silva Cell is providing per tree not only allows for root growth and soil health, but acts as an onsite stormwater management system. By combining Silva Cell with a pervious, decomposed granite surface, the rainwater is kept onsite and creates a passive irrigation system for trees. Simultaneously the irrigation system also prevents runoff. In the plaza, the Monterrey Oak (Quercus polymorpha) and two Mexican Sycamores (Platanus Mexicana) will be sure to thrive with Silva Cell as they will receive ample water, sustain healthy soil volumes, and mitigate water runoff.
In July 2019, ARRIVE arrived
The right team, the right attitude, the right digs, and the green infrastructure priorities led to a beautiful complex in just two years. A big thanks and congratulations to our partners for incorporating soil volume, providing beautiful trees, and creating a hospitable space for locals and tourists to enjoy.
Installation Summary:
Number of Silva Cells: 120 2X- DeepRoot Silva Cells Cells
Amount of soil volume: 3,500 ft3 of total soil volume
Numbers of trees and type: (8) four, Cedar Elms ( Ulmus crassifolia ) , one Monterrey Oak (Quercus polymorpha), three Mexican Sycamores (Platanus Mexicana)
Project Type: Integrated Trees and Stormwater
Landscape Architect: dwg.
Architect: Baldridge Architects
General Contractor: Austin Commercial
Project Timeline: 2017-2019
Silva Cell Installation: February 2019