New Austin Hotel Includes Welcoming Urban Forest
"Through the use of DeepRoot's Silva Cells, the project achieved six times the uncompacted soil volume typically provided by conventional tree pits with grates."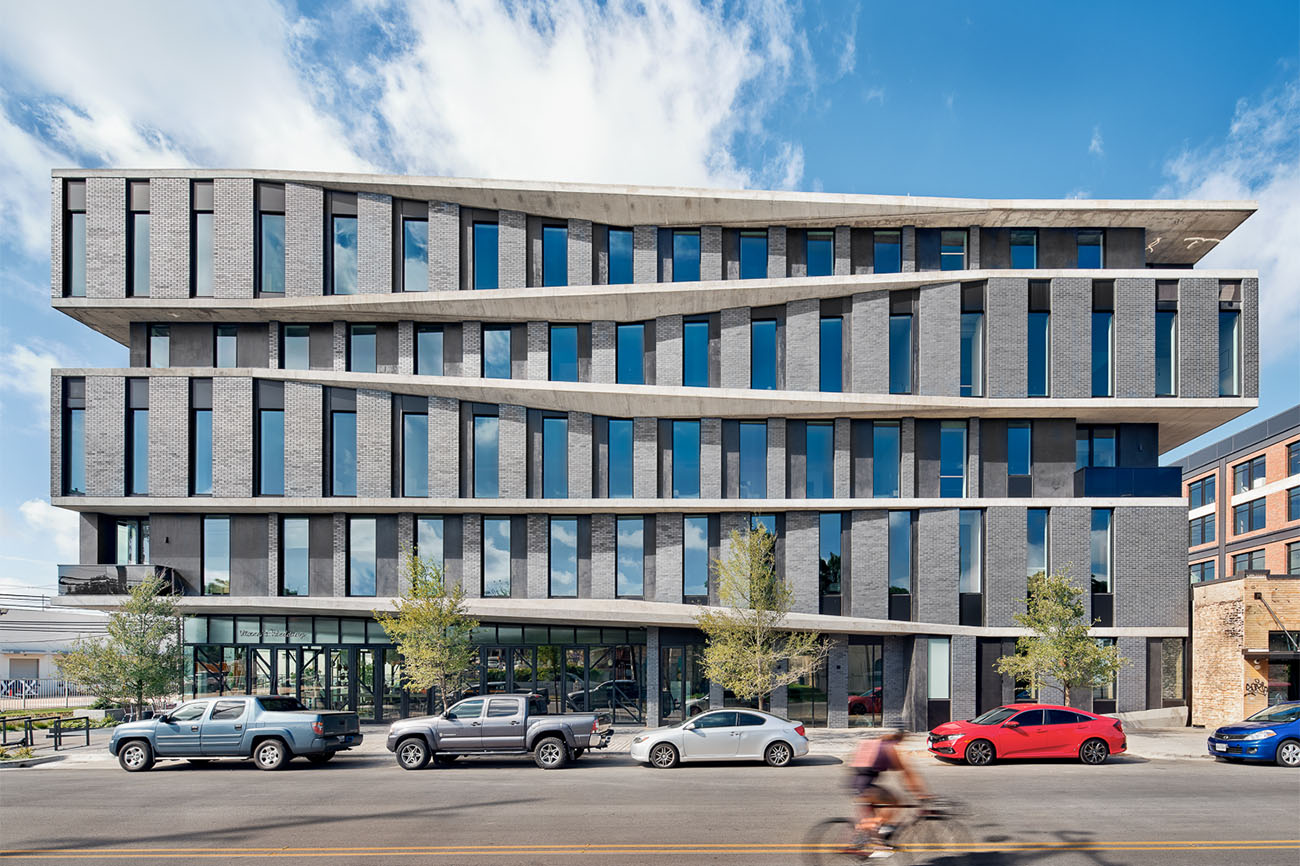 Overview
When designing Arrive — the new "low-key" luxury hotel in Austin, Texas — project planners integrated green infrastructure into their strategy, prioritizing proper soil volume for their proposed urban forest. The team at DWG Landscape Architecture, despite not being required by local standards to meet a soil volume minimum, recognized the superiority of the DeepRoot Silva Cell system, and chose to incorporate it into their plans. It serves as the foundation for eight trees, a thriving urban forest that helps reduce the often-stifling heat island effect experienced in Texas summers.
Installation Summary
Number of Silva Cells: 120 (2X)
Amount of Total Soil Volume: 3,500 ft3
Number of Trees and Type: 8 (4 Cedar Elms, 1 Monterrey Oak, 3 Mexican Sycamores)
Type of Project: Integrated Trees
Landscape Architect: DWG
Architect: Baldridge Architects
Project Contractor: Austin Commercial
Installation Date of Silva Cells: February 2019
Project Timeline: 2017-2019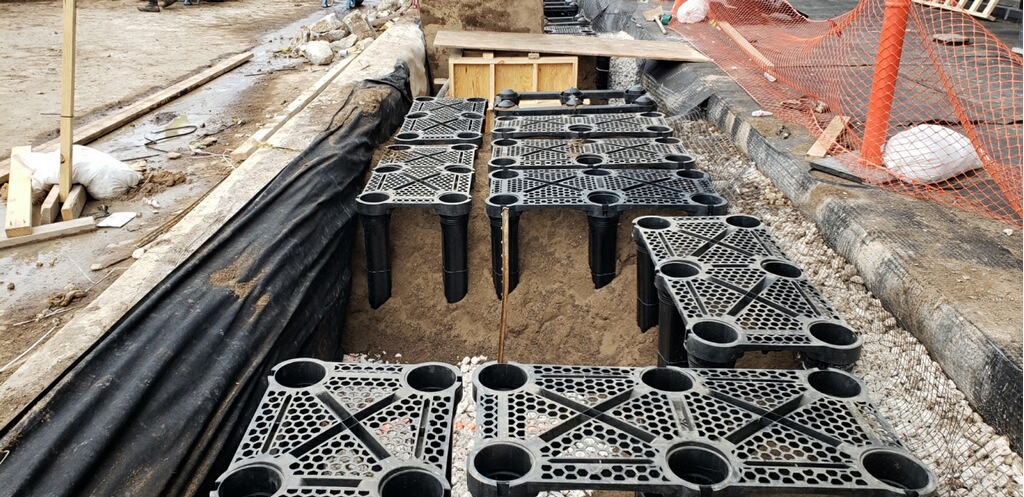 The Project
A massive 77,000 square-foot complex featuring shops, bars, and restaurants in addition to its 83 guest rooms, Arrive Hotel provides visitors with a "low-key" luxury experience on Austin's growing East 6th Street. To ensure a welcoming atmosphere, the DWG design team — which began work on the project in 2017 — included plans for eight new trees to line the main-entrance sidewalk.
DWG chose to prioritize soil volume and stormwater management into their green infrastructure strategy — both being specified throughout the project. DWG thus became one of the first Austin-area firms to utilize the DeepRoot Silva Cell system, a fortuitous decision that helped guarantee the success of the proposed urban forest.
DeepRoot Silva Cell Success
A total of 120 (2X) Silva Cells were utilized in this project, providing support for the suspended pavement, allowing for ample soil volume and loosely compacted soil to grow healthy and mature trees, and meeting engineering requirements for above-ground activity.
"The team's hard work and forward-thinking paid off," recognized DWG. "Through the use of DeepRoot Silva Cells, the project achieved six times the uncompacted soil volume typically provided by conventional tree pits with grates."
The 500 cubic feet of soil volume each Silva Cell is providing per tree not only allows for root growth and soil health, but also acts as an onsite stormwater management system. By combining the Silva Cell system with a pervious, decomposed granite surface, the rainwater is kept onsite and creates a passive irrigation system for the trees. Likewise, the irrigation system prevents runoff.
"[The] paver grate system [used] to maximize the overall sidewalk width became an important factor," DWG observed. "Additionally, a continuous tree trench along street frontage incorporated a pervious paver system above the soil cells to encourage the infiltration of stormwater to reduce the amount of surface runoff from the site."
Finally, the DeepRoot Silva Cell system was an essential element in the creation of shade to reduce heat island effect: an important goal of the project design team to design a pedestrian-friendly walkable block. According to data provided by the National Oceanic and Atmospheric Administration, six months out of the year Austin averages 88-degree daily high temperatures (with July and August reaching 100-degree highs). The shade offered by an urban forest tree canopy can lower the temperature by up to 12.5 degrees through evapotranspiration. The DeepRoot Silva Cells help ensure the healthy, full growth of these trees, which furnish a shady respite for Austin visitors.