Open-Concept Park in Miami Beach Utilizes Silva Cells for New and Existing Trees
Newly planted trees access adequate soil volume from Silva Cells while original on-location trees are retrofitted for continued health and vitality
Overview
Bequeathed to the city of Miami Beach by the state in 2003, the stunning waterfront parcel of land between 76th and 77th Streets in the North Beach neighborhood began its transformation into a community-oriented, open-concept park called Altos Del Mar in 2014. In addition to the numerous park amenities — including a playground, walkways, retaining/sitting walls, an office/storage building, and irrigated landscaping — the design team at GSLA wanted to plant 14 new trees to complete the welcoming green space ambiance. The DeepRoot Silva Cell system was selected to assist in providing adequate soil volume for both the newly planted trees and to give new life to the existing, mature trees retained along the pedestrian pathways.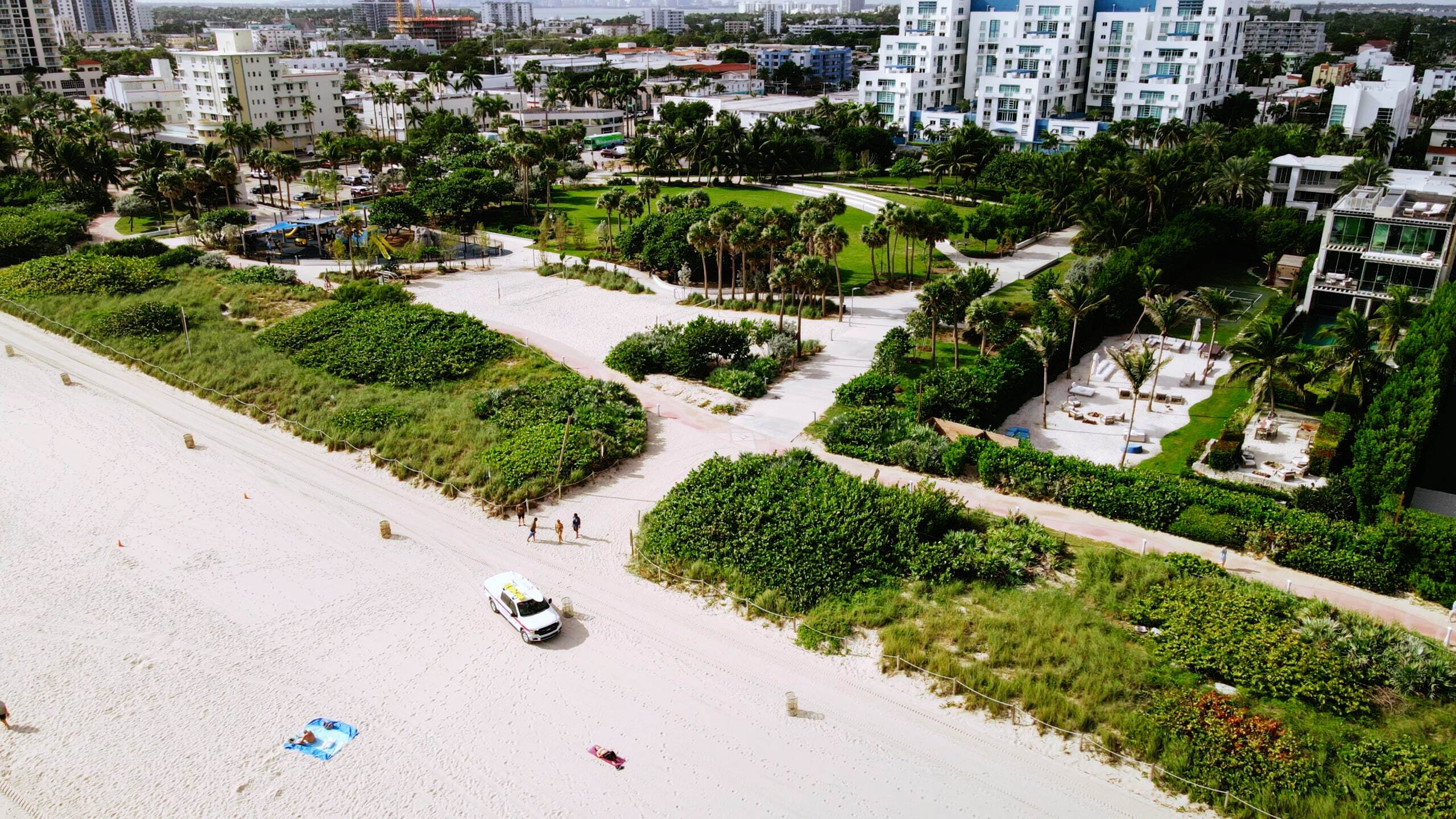 Installation Summary
Number of Silva Cells: 150 (1x)
Total Soil Volume: 3,300 ft3
Number of Trees: 21 (14 new and 7 existing, retrofitted)
Type of Project: Urban Park
Project Designer: GSLA Design
Project Contractor: West Construction Inc.
Installation Date of Silva Cells: September 2018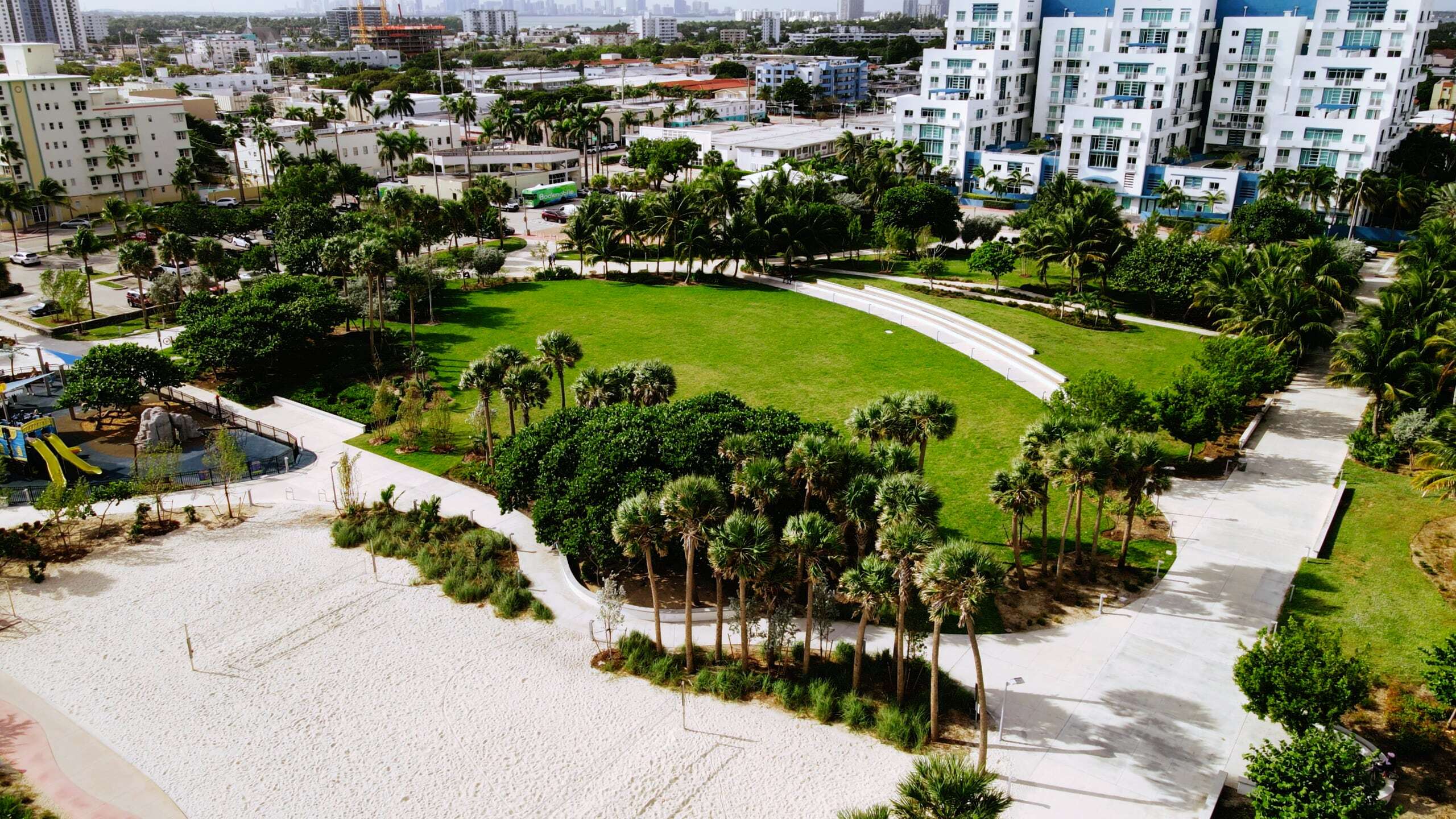 The Project
The waterfront strip of land between 76th and 77th Streets in the North Beach area of Miami Beach was given to the city by the state of Florida in 2003, under the condition that it remain pubic-use space. When original plans to create a sculpture garden failed to materialize, the city decided instead to build an open-concept park with a community-first character.
The Altos Del Mar Park revitalization project received the go-ahead by the Miami Beach City Commission in 2014, and construction plans commenced. GSLA Design was hired to re-envision the park, prioritizing the needs of local residents. Built primarily as a "passive" park, Altos Del Mar's upgrade included a number of exciting features such as a new park entrance, beach and open-space walkways, a dual-purpose building for office and storage space (with public restrooms), a playground, sand volleyball courts, retaining/sitting walls, open sodded areas, irrigated landscaping, and new lighting.
Additionally, GSLA ensured resiliency and sustainability were at the forefront, incorporating green infrastructure into their strategy with an urban forestry element. Ensuring the 14 newly planted trees along the park walkways received proper soil volume was a challenge; likewise, project planners wanted to retain the seven mature trees already flourishing in the area, despite the new pedestrian walkways potentially limiting their ongoing access to uncompacted soil.
The DeepRoot Silva Cell system was chosen as a solution to both of these design obstacles.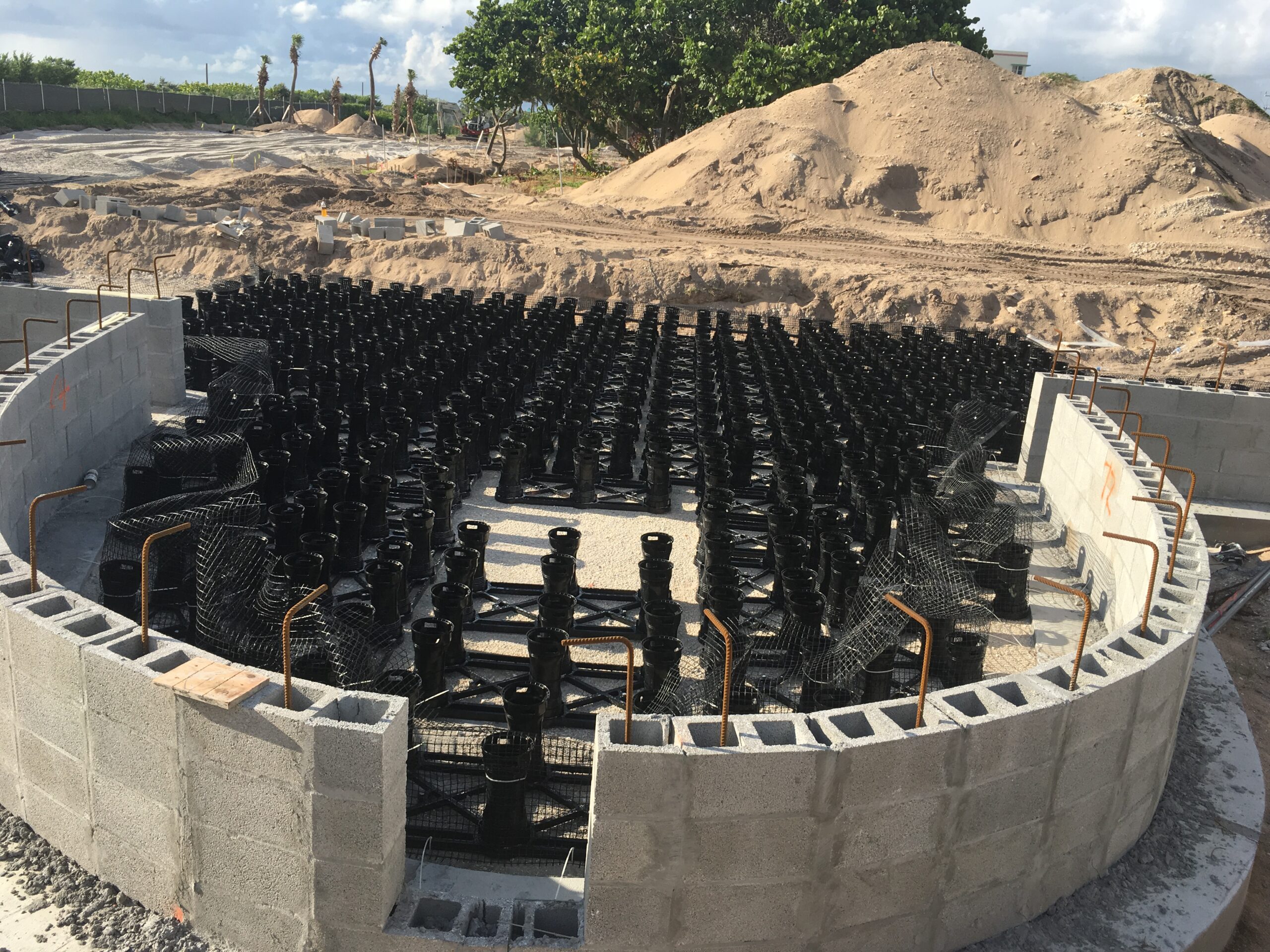 DeepRoot Silva Cell Success
A total of 150 (1x) Silva Cells were installed in September 2018, providing 3,300 cubic feet of shared, nutrient-rich soil volume for healthy tree root growth. It was also important to preserve seven preexisting trees, though the new walkways abutting the tree root area presented an obstacle. To solve the problem, Silva Cells were also integrated in these areas: by excavating area soil and retrofitting the space with Silva Cells above which the paved walkways could be built, the existing trees were given new life with continued access to uncompacted soil. For more information on Silva Cell applications with existing trees, check out our blog.
"The Silva Cell portion of this project went very smoothly," observes Ken Gardner of GSLA Design. "The contractors were very familiar with the material and the installation techniques and installed them easily.  We recognize that this product is crucial to the growth of the root systems and in turn the beauty and vigor of the project."
DeepRoot has previously written about the challenges of planting trees on the barrier islands in South Florida. But the Silva Cell system helps manage these obstacles, while also making the trees more resistant to windthrow events — common in hurricane regions — by ensuring strong root growth.
Altos Del Mar Park is now a local favorite, a popular destination in which residents can enjoy the views, greenery, and quiet serenity of their surroundings, thanks in no small measure to the DeepRoot Silva Cell system.
Additional Resources
Check out some of our other South Florida projects here and here.
For more info on utilizing Silva Cells around existing trees, see our two-part blog series here and here.