Manhattan High-Rise Adds Green Features to Courtyard Entryway with Silva Cells
Riverbank West is utilizing Silva Cell system for soil volume and on-site stormwater treatment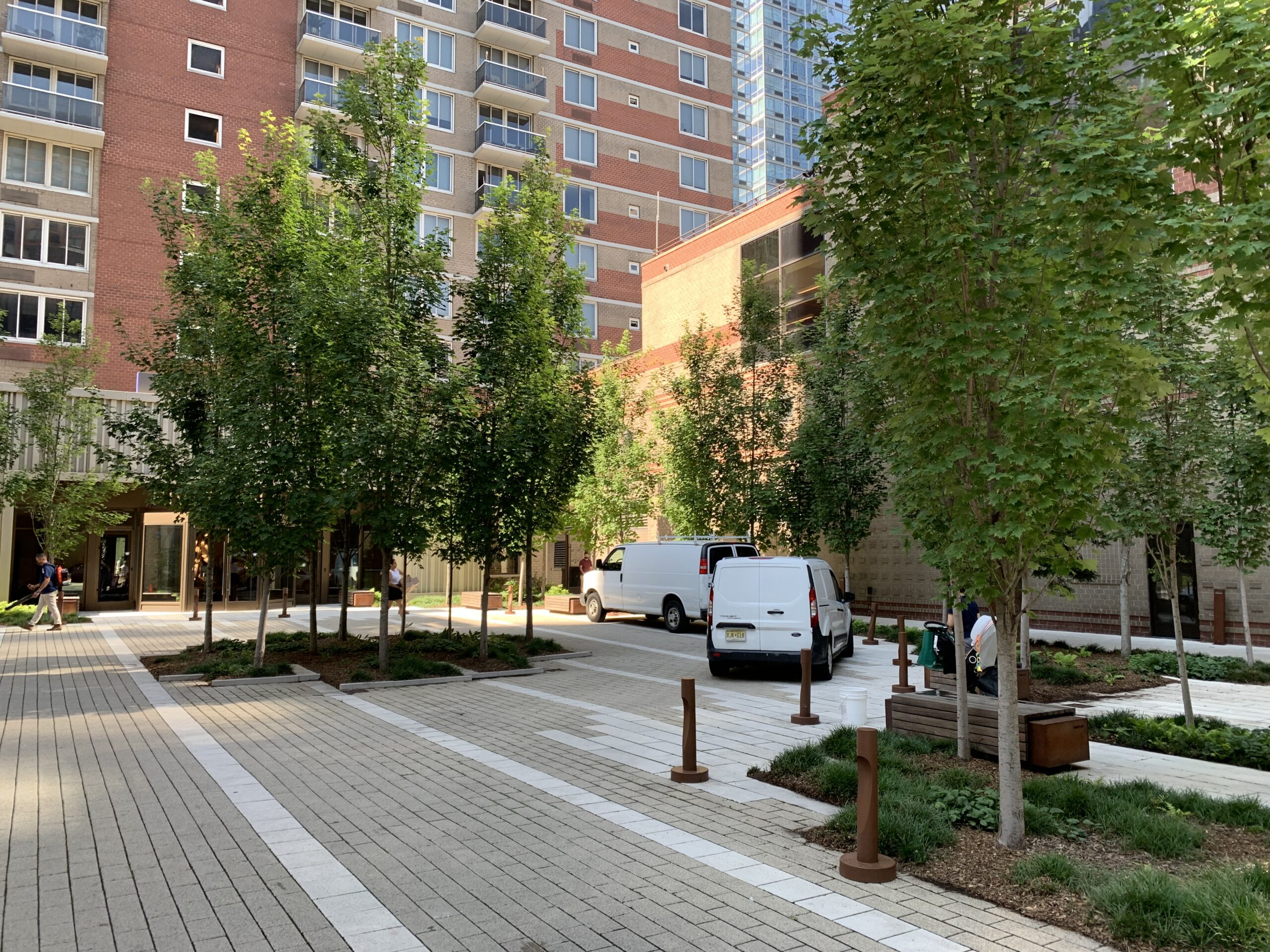 Overview
A 45-floor high-rise in the Hell's Kitchen neighborhood of New York City, Riverbank West has provided luxury housing options for Manhattanites since 1987. Its courtyard entryway along 43rd Street, however, was by 2016 in desperate need of modernization — and the design team at HMWhite envisioned a densely planted plaza in which cars and people comingled within a shared inviting open space landscape. A forest of 36 columnar Red Maple trees was used as vertical spatial markers to safely direct cars to the building's front entry while introducing traffic-calming human scale. To achieve a vehicular and pedestrian experience of entering a woodland forest, DeepRoot Silva Cells provided the most effective solution in meeting the structural needs for supporting vehicular and pedestrian pavements and creating sustainable growing conditions for the courtyard's ambitious planted context. With its comprehensive courtyard coverage, the Silva Cell system performs as an on-site stormwater management solution: rainwater enters the cells through the planting areas and the pavement's open joints down to its web of "weep holes" — a successful fusion of a sustainable, densely planted landscape within a hardscape urban environment.
Installation Summary
Number of Silva Cells: 600 (1x)
Total Soil Volume: 7,884 ft3
Number of Trees: 36
Type of Project: Plaza, Stormwater
Project Designer: HMWhite
Project Contractor: Let it Grow Inc.
Installation Date of Silva Cells: Fall 2017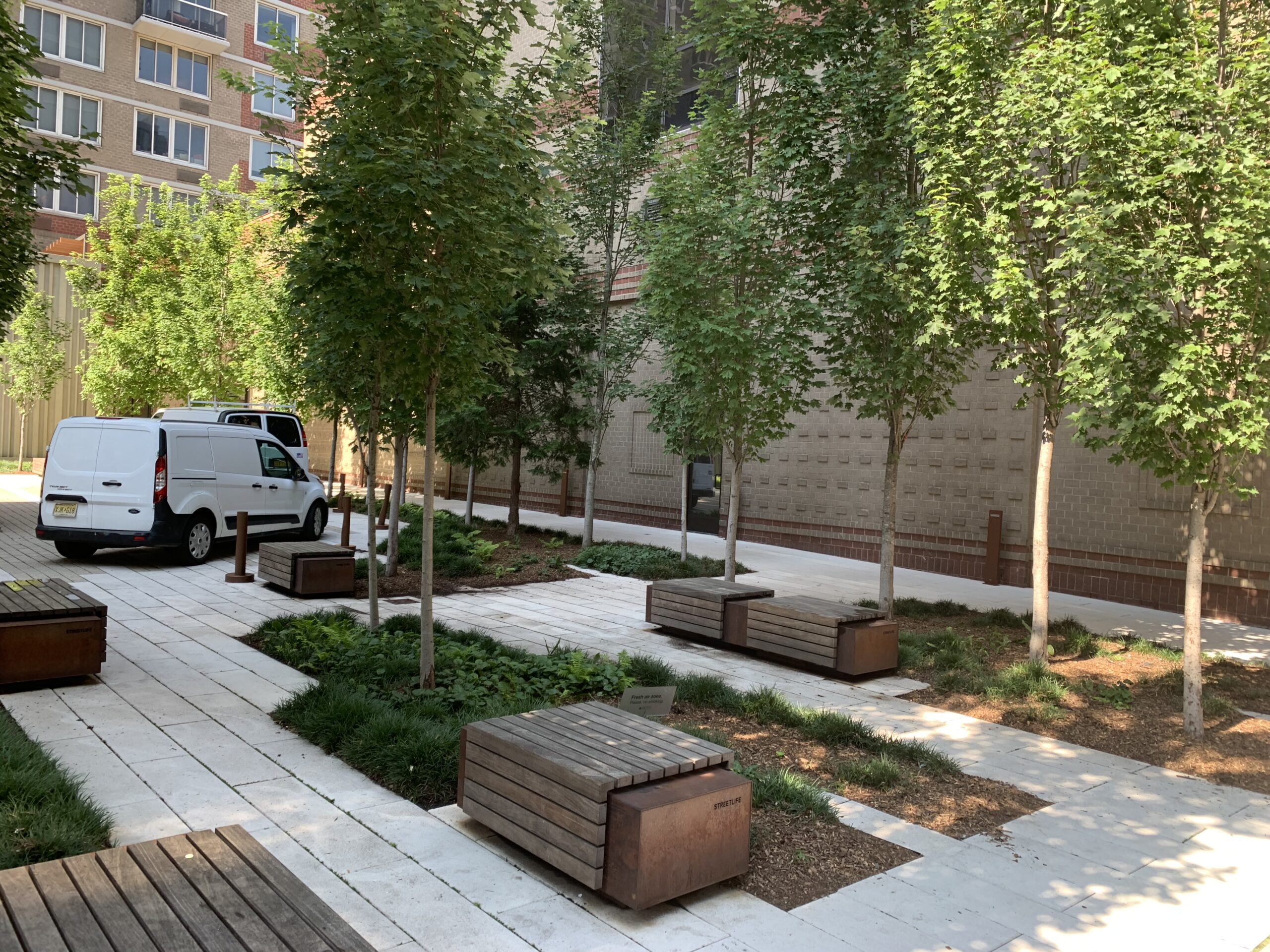 The Project
Located at the corner of 43rd Street and 11th Avenue in the Hell's Kitchen district, Riverbank West in New York City — which officially began housing tenants in 1987 — features 45 floors of upscale apartments. Situated just a block east of the Hudson River, it offers residents stunning views of the Manhattan skyline in addition to luxury, on-property amenities such as the "Harbor Club" suite, a media lounge, swimming pool, fitness center, and dining terrace.
The entryway along 43rd Street, a vehicular roundabout, also provided residents with quick drop-off access to the facility. By the mid-2010s, however, Riverbank West's fenced-off design was looking dated and unwelcoming — and the design team at HMWhite was chosen to help upgrade this entryway plaza with green, sustainable features.
A total of 36 trees were specified for the new entryway. In addition to providing these plantings with access to an expansive volume of uncompacted soil, the project landscape architects sought to manage and contain the plaza's stormwater runoff on site; thereby mitigating strain on the neighborhood's drainage infrastructure. The DeepRoot Silva Cell system was selected as a multi-purpose green infrastructure tool to fulfill the project's ambitious design and environmental improvement objectives (as it has on numerous New York City initiatives).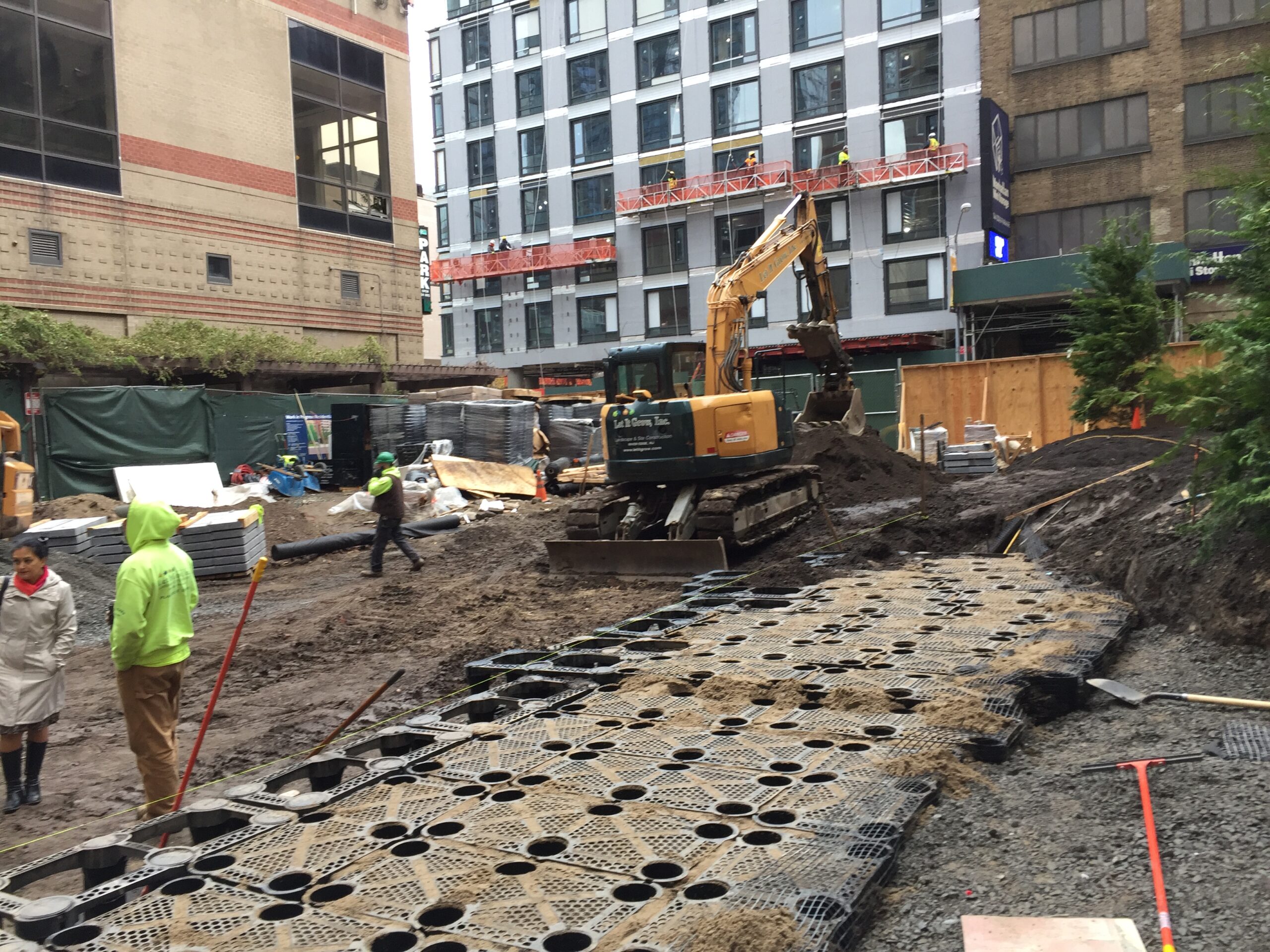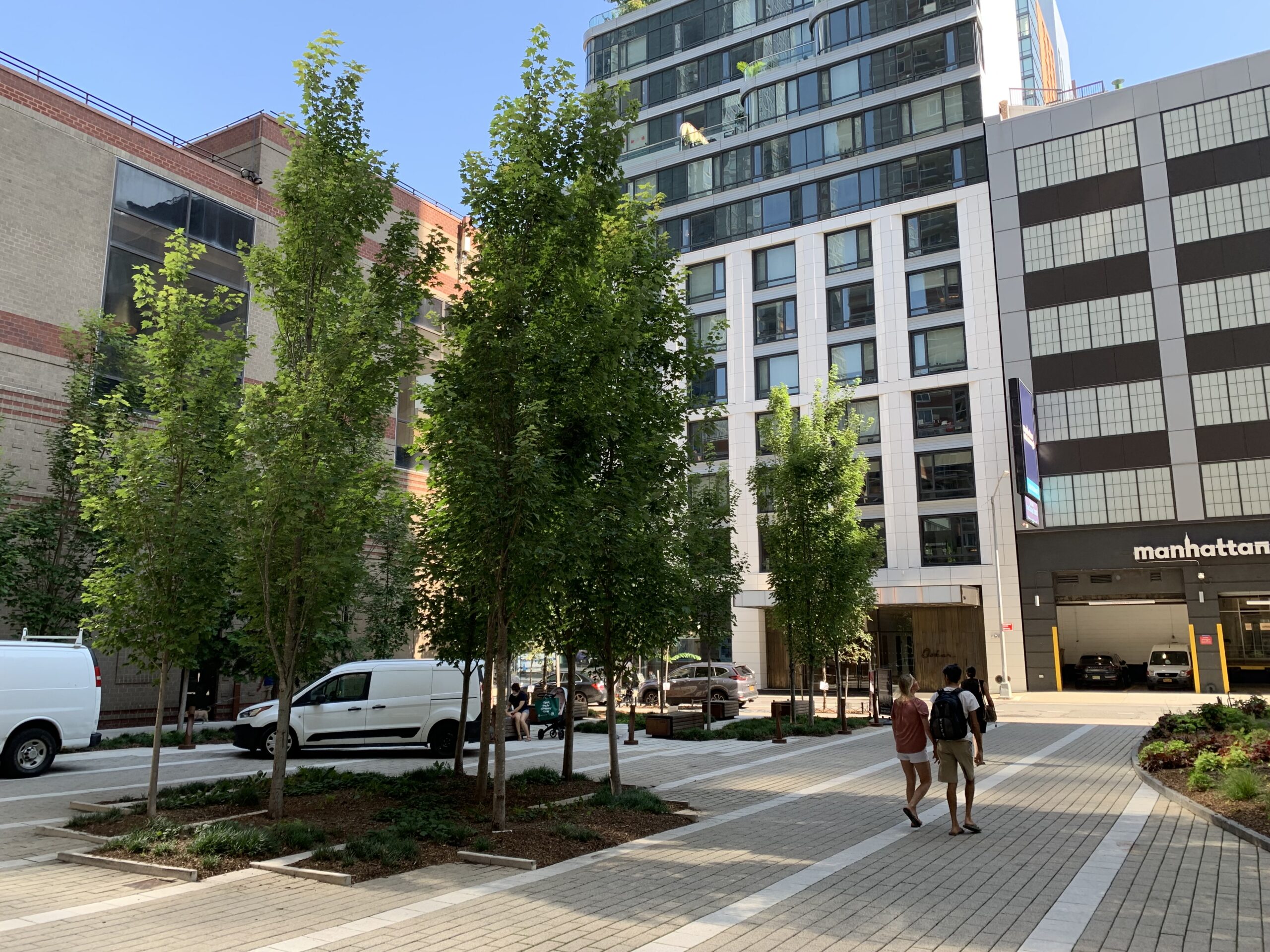 The New Entryway Installs Silva Cells
The renovated entryway, while still allowing vehicular drop-off, now features a more pedestrian-friendly configuration as well as gathering space and seating options. This modern arrangement, as noted by the complex's website, "creates a transition for Riverbank residents from the density and din of the city to the elegantly restored Riverbank homes. The convenience of a private driveway to access the attended lobby or on-site garage places Riverbank in the upper ranks of exclusivity in luxury rental buildings."
Pathways in the plaza area are surrounded by greenery, including 36 new trees. Designers at HMWhite prioritized creating large, healthy tree canopies for Riverbank residents, which requires adequate soil volume for unimpeded root expansion. As noted by Hank White of his company's objective: "We are relentless in seeking ways to bring landscape into the human experience to deepen the restorative and healing properties gained from the natural world and its references." The team specified Silva Cells for the task — a total of 600 (1x) cells were installed under the car turnaround and the surrounding walkways, providing foundational support for the hardscapes above while offering over 7,500 cubic feet of uncompacted soil volume below.
With the Silva Cells' integration throughout the project's hardscape environment, its lightweight material contributed to reconciling the courtyard's rooftop structural limitations and meeting the needs the courtyard's distinctive and visually unifying curbless unit paving design. Filled with lightweight growing medium, the interlocking network of the Silva Cells' substructure provided substantial root volume capacity for the trees to achieve their mature size potential.
Treating stormwater on location was also important, a tricky proposition due to the well-trafficked nature of the entryway and its typically impervious material. The DeepRoot Technical Services team helped craft a site-specific solution, utilizing a high-strength "pavers on concrete" section in support of vehicles while implementing permeable "weep holes" as a method of diverting runoff into the Silva Cells. By including these weep holes every five feet, the rainwater can drain into the cells below, thereby reducing peak-flow events during major storms and preventing contaminated water from flowing into the Hudson River.
Additional Resources
For more DeepRoot projects in New York, check out our case studies here, here, and here.