Vancouver High School Project Uses Silva Cells for Stormwater Ponding Space in Parking Lot Rebuild
Eric Hamber Secondary School installs Silva Cell system under its new parking lot hardscapes for soil volume and stormwater benefits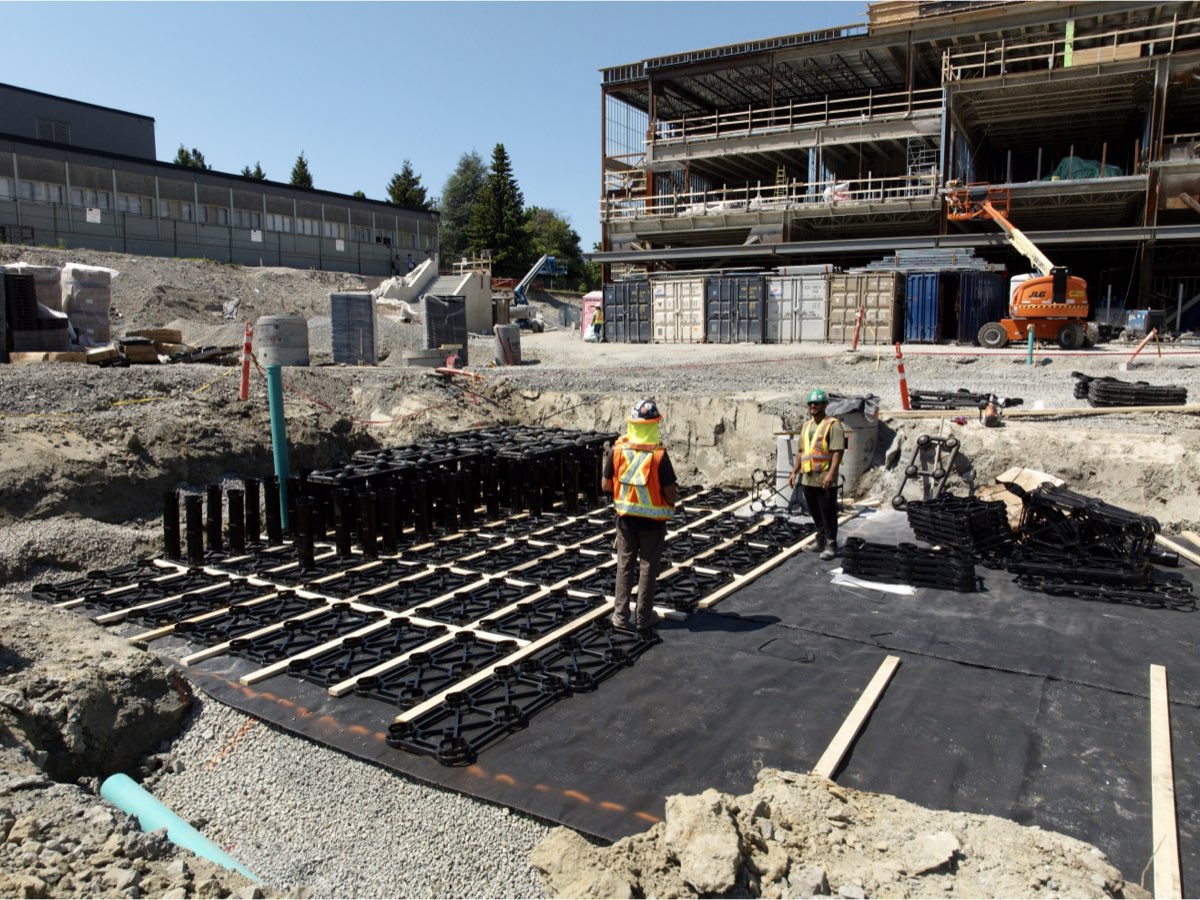 Overview
In an effort to make all provincial educational facilities safe from earthquakes, Eric Hamber Secondary School in Vancouver's South Cambie neighbourhood is receiving a $79 million rebuild — the largest seismic project in city history. The new four-story school, set to open in the fall of 2023 and built adjacent to the current campus, is LEED Gold Certified. As part of the development, a new parking lot was constructed at the main entrance along West 33rd Street; DeepRoot Silva Cells were installed under the parking lot, serving as a dual-purpose green infrastructure system: providing uncompacted soil volume to the 20 new shade trees and performing on-location stormwater management, utilizing 300mm of ponding space within the Silva Cells for underground bioretention.
Installation Summary
Number of Silva Cells: 288 (2x)
Number of Trees: 20
Amount of Soil Volume Per Tree: 11 m3 to 30 m3
Type of Project: Integrated Trees and Stormwater
Project Engineer: Aplin Martin
Project Contractor: B&B Contracting
Installation Date of Silva Cells: Spring 2023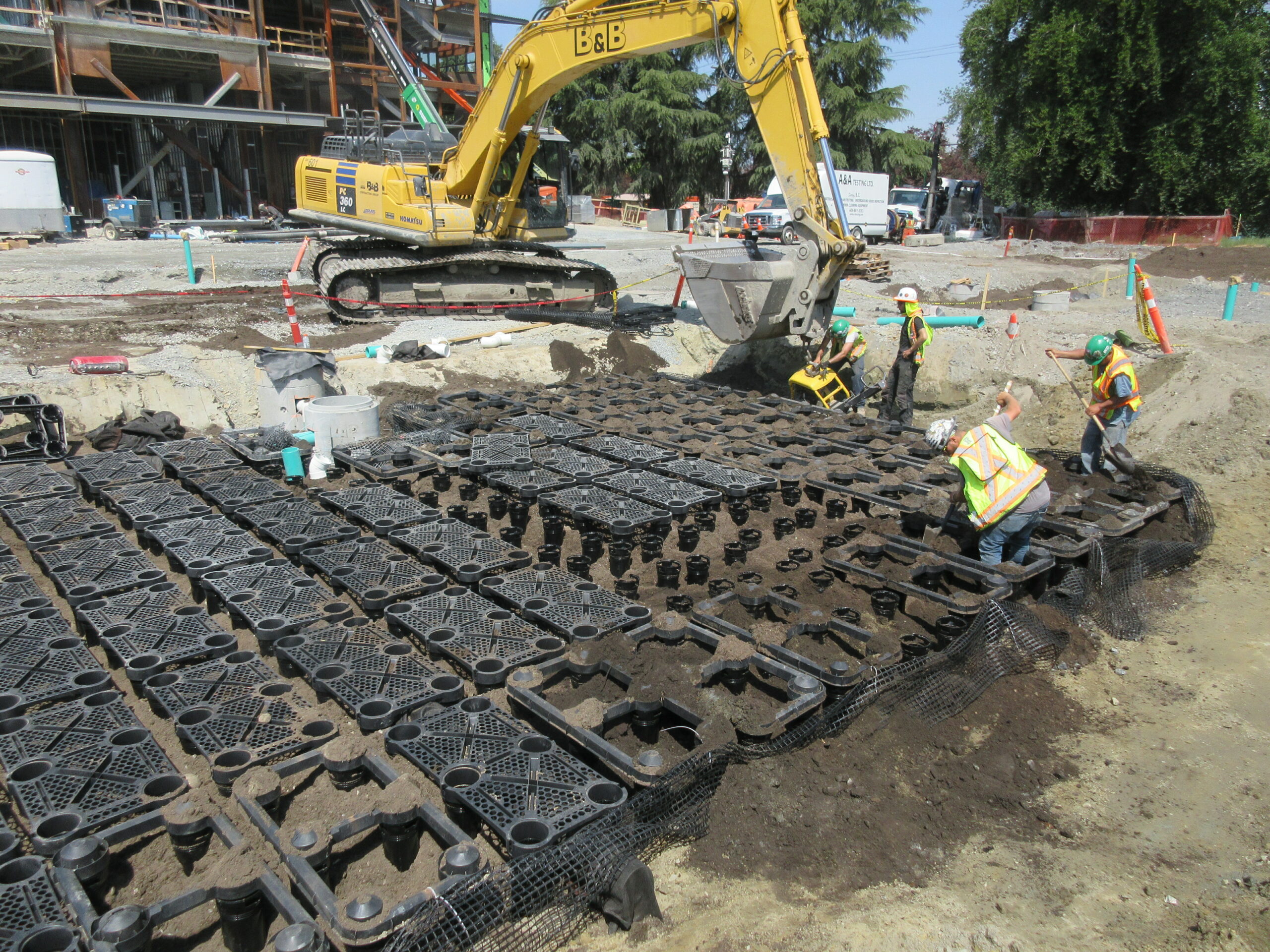 The Project
The Provincial Seismic Mitigation Program is a billion-dollar initiative to upgrade British Columbia's school buildings, making them safer and more earthquake-resilient. Eric Hamber Secondary School, located in Vancouver's South Cambie neighbourhood, is thus far the most elaborate and expensive of these improvement projects: a $79 million rebuild that broke ground in the summer of 2020.
The new four-story building is being erected adjacent to the existing school, the latter serving as educational flex space until 2030, during other area upgrades, when it'll be removed for a new recreational field. The modernized Eric Hamber will be home to 1,700 students (grades eight through twelve) with a separate-entrance childcare facility serving children up to age four (complete with a rooftop playground).
Likewise, the new school will be LEED gold certified, meaning it's a "healthy, high-performance learning environment that includes sustainable low-toxic materials, natural light, abundant fresh air, energy conservation, [and] habitat protection [with] reduced demand on local landfills."
Eric Hamber's newly designed main entryway along West 33rd Street is also embracing these sustainable principles: twenty shade trees were planted in the parking lot to provide cooling relief to students and faculty. The DeepRoot Silva Cells were chosen to provide adequate, uncompacted soil in support of these trees' root growth, while simultaneously assisting in managing the parking area's stormwater runoff.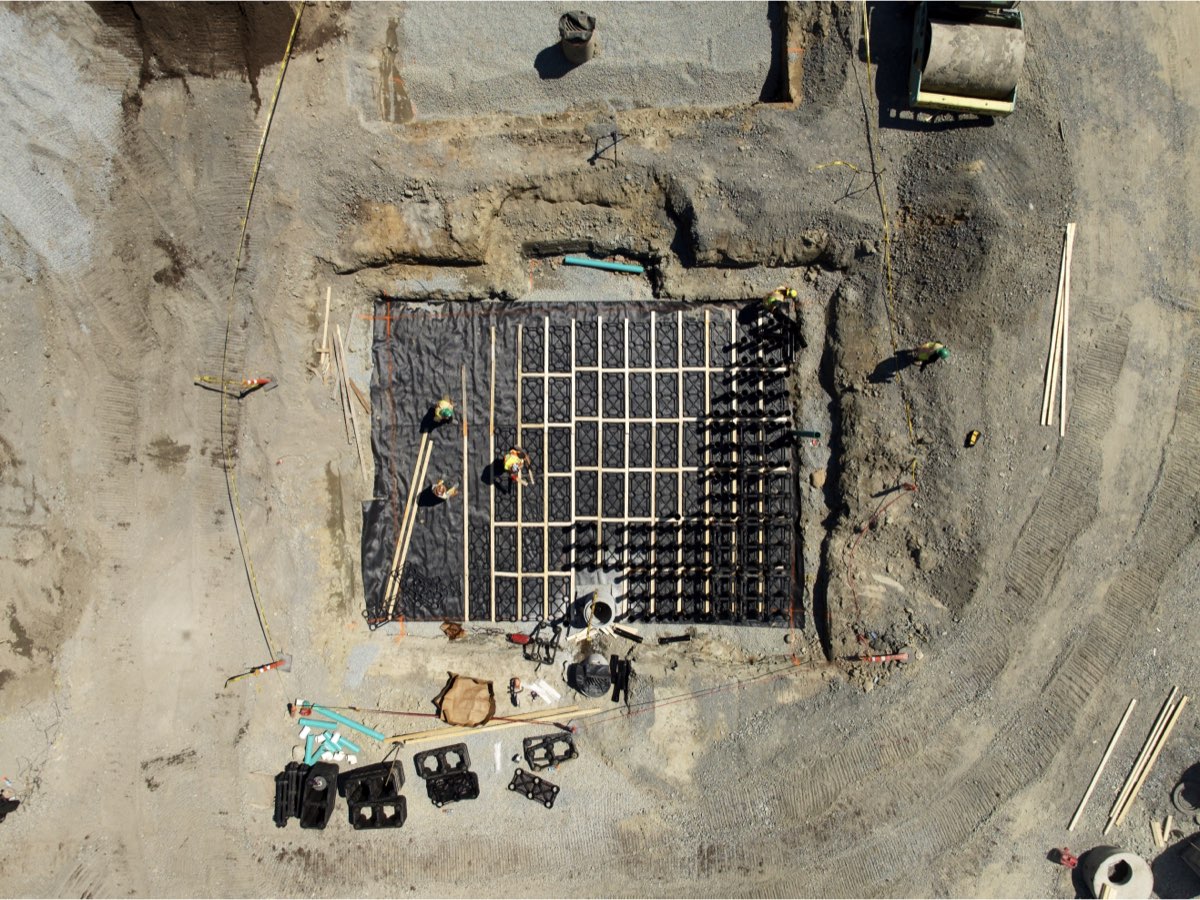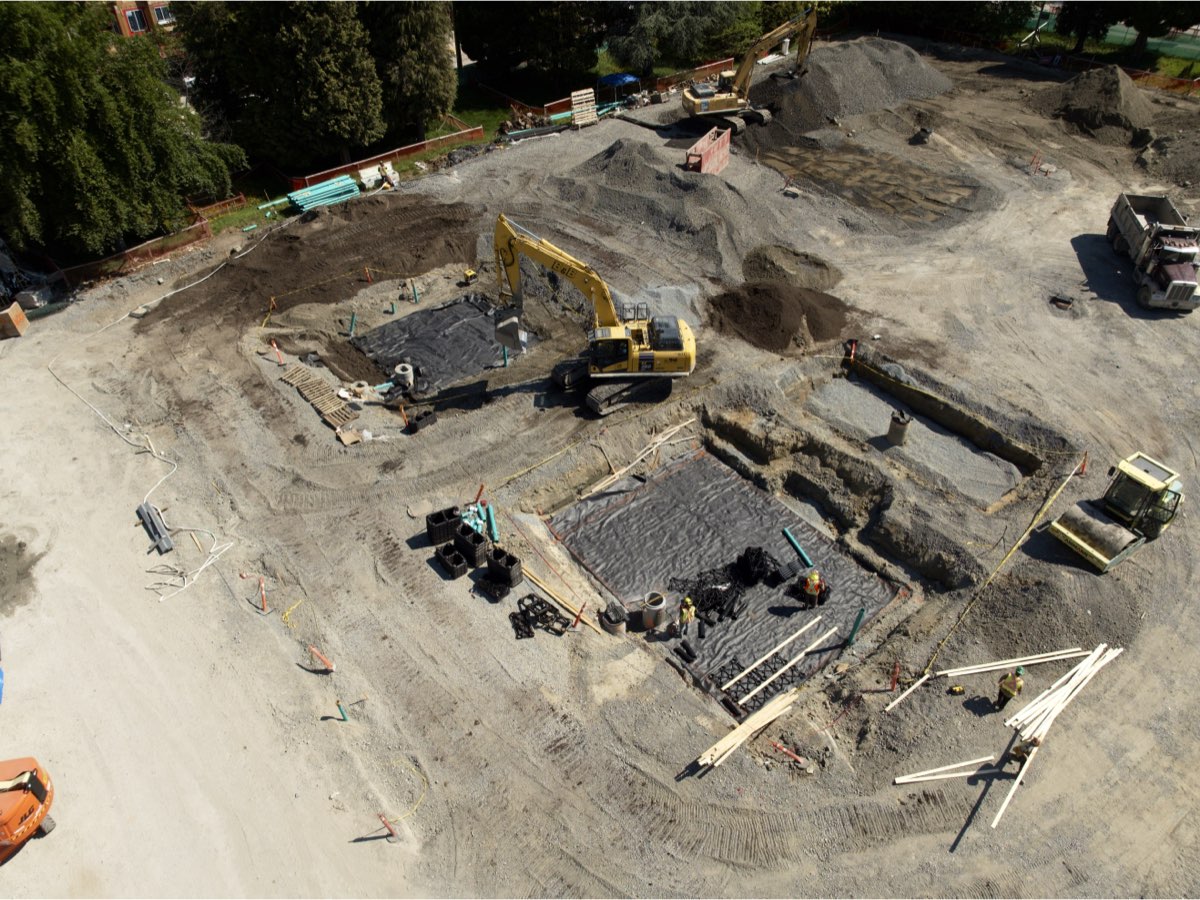 DeepRoot Silva Cell Success
A total of 288 (2x) Silva Cells were installed under the new Eric Hamber parking lot, where 20 trees now have access to between 11 and 30 cubic meters in soil volume per tree for healthy growth. The Silva Cell system has a track record of success in parking lots, supporting the hardscape above while allowing an impressive bank of quality loam soil for the new plantings' root expansion.
Likewise, the Silva Cells are simultaneously providing stormwater-treatment benefits: an affordable dual advantage for a system already specified for its tree-growing abilities. Under the parking bay, the Silva Cells feature a 300mm ponding area within its void space, increasing the volume of stormwater that can be managed. This ponding area acts as an underground bioretention swale — and, of the 197 cubic meters of runoff in the parking lot catchment area, Silva Cells are retaining 142 cubic meters (more than 70%) of the total.
Embracing the benefits of green infrastructure is an increasingly viable option for public-realm projects of all kinds, with Silva Cells specified in educational facilities across North America. DeepRoot is excited to continue monitoring the growth progress of the trees, as well as the stormwater treatment process, at the new Eric Hamber Secondary School which is set to open in the autumn of 2023.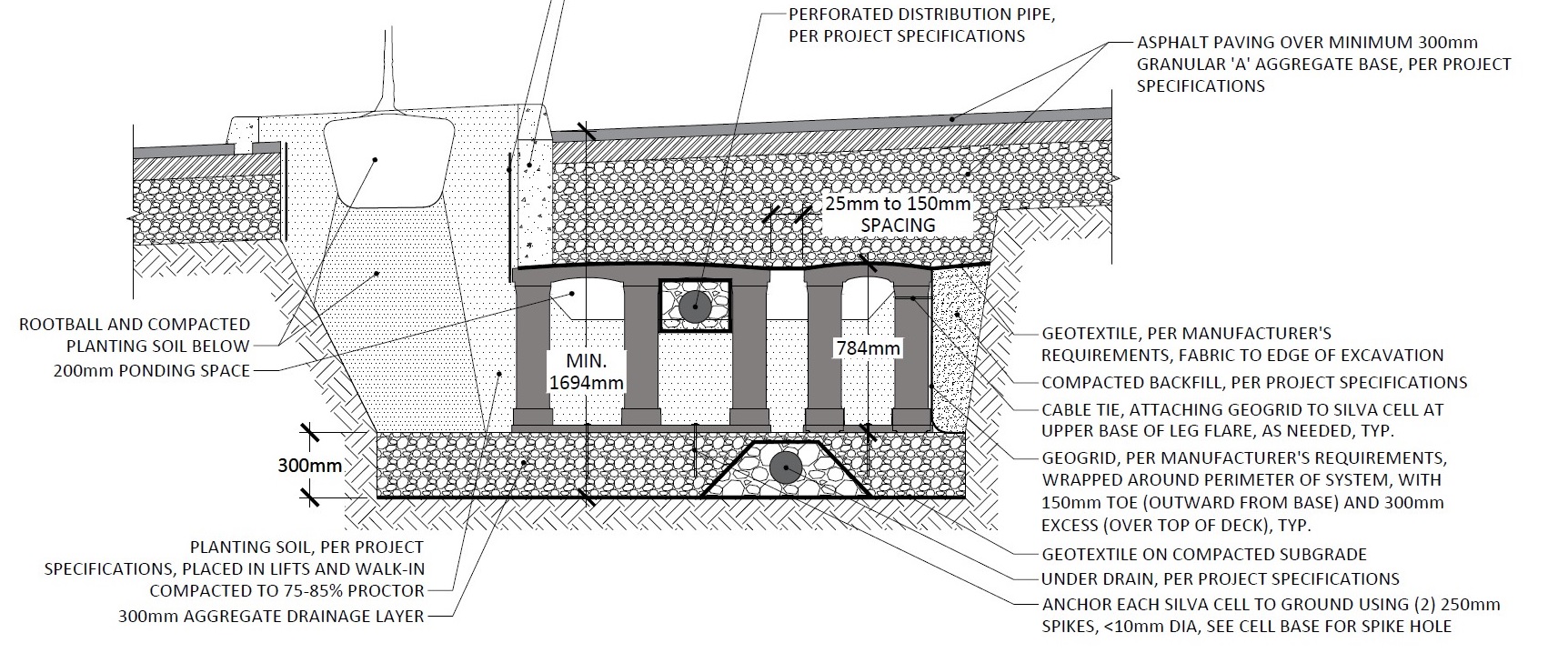 Additional Resources
For more DeepRoot projects in the Vancouver area, check out our case studies here, here, here, and here.