Greening Palo Alto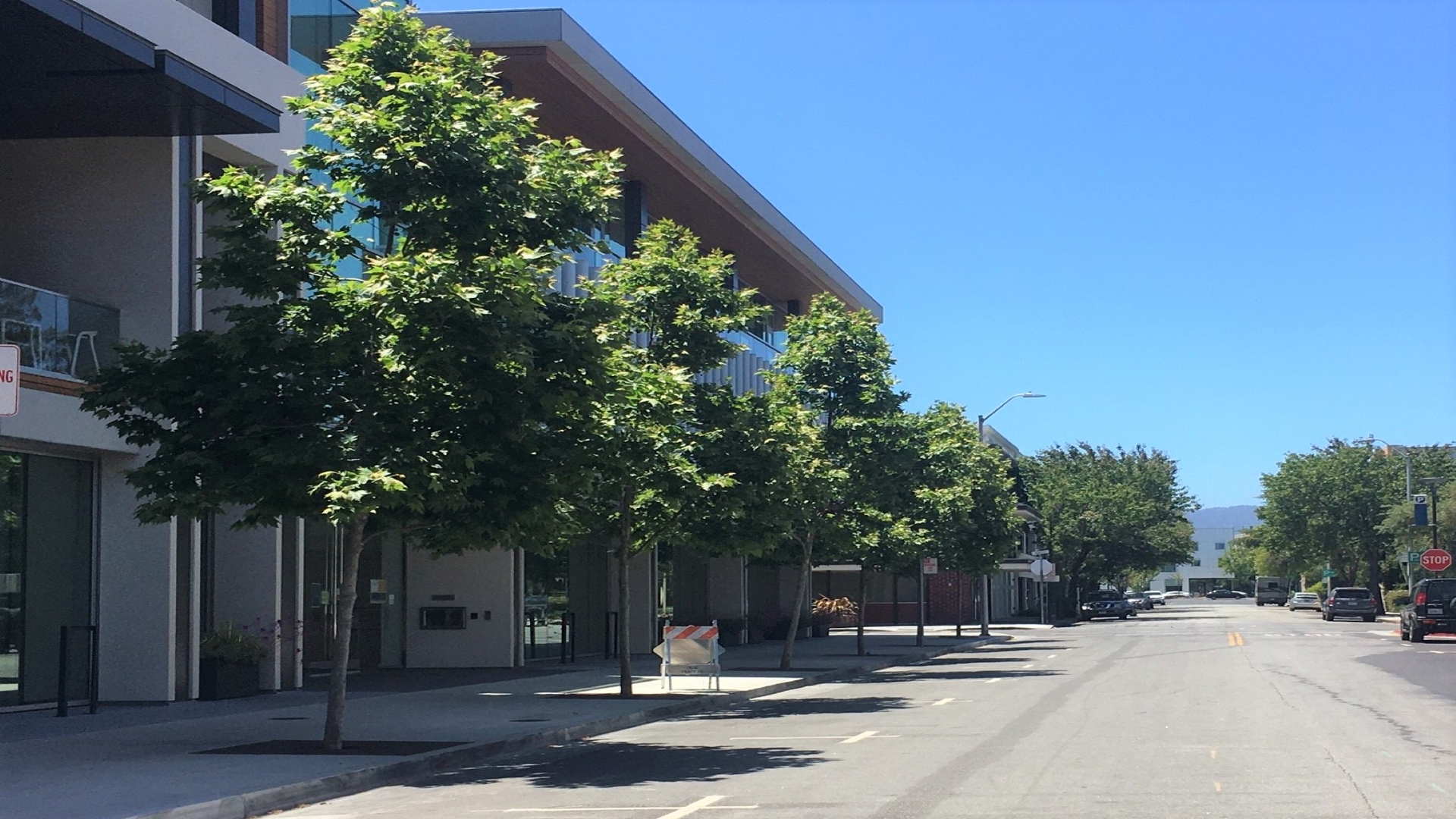 – In 2016, a few blocks from the Stanford campus, in Palo Alto's Evergreen Park district, a new multiuse building was constructed. The project included eight shade trees as part of the streetscape along the sidewalk on Sherman Avenue.
– Today, the 70,000 ft 2 office space and condominium building boasts a streetscape that handles stormwater runoff, provides shade, and mitigates heat island effect thanks to over 192 3X Silva Cells that support the eight Sycamore trees.
One block from the main thoroughfare, California Avenue, of the Evergreen Park neighborhood in Palo Alto, California, sits a modern office and condominium space surrounded by green infrastructure. A streetscape of trees was designed in front of the condominium units to create an inviting entry and differentiate the residential space from the commercial space at 385 Sherman. Above the condominiums is an elaborate roof garden for office employees. A wood and metal trellis provides shade, while planters with simple modern forms allow for informal seating using a mixture of wood and concrete.
Shade from healthy Sycamore trees, which line the sidewalk along Sherman Avenue, encourages walking and cycling. The trees complement the surrounding bike parking and seating. California Avenue is now one of many "slow streets" dedicated to walkability and accessibility that were created during the COVID-19 pandemic. The Evergreen Park district is an oasis of restaurants, shops, and walkable streets surrounded by but separated from the El Camino Real and the Oregon Expressway. The Evergreen area successfully combines walkability, safety, housing, and greenery. 385 Sherman is at the center of this contribution.
Palo Alto has been striving to be a more bicycle-friendly city, increase its 66,000 urban tree canopy , and create healthier trees by way of large soil volume. Since 2017, the city of Palo Alto has required a minimum amount of soil volume for newly planted trees. The city breaks it down by tree size: large: 1,200 ft3, medium: 800 ft3, small: 400 ft3. These Sycamores met the medium range and therefore were given 822 ft3—provided by the Silva Cell system alone.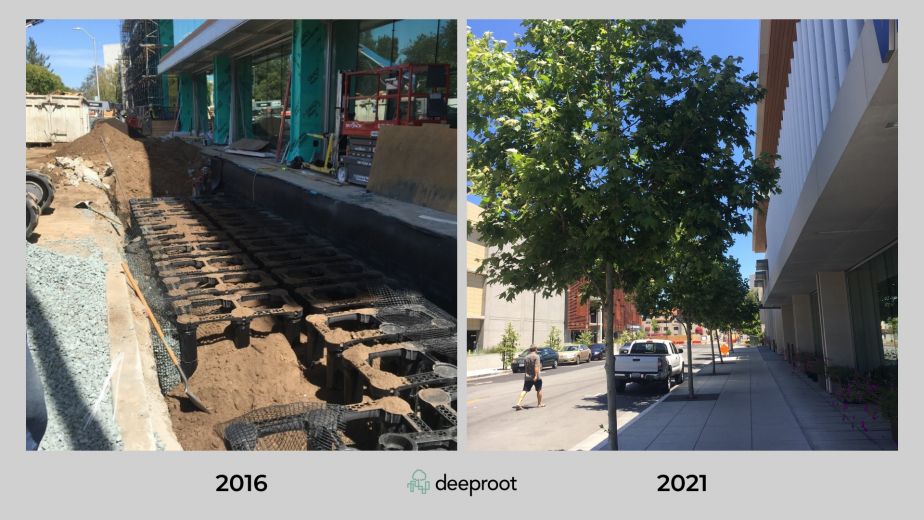 "We specified Silva Cells as a requirement by the city of Palo Alto. They were used under the sidewalk to provide a healthy soil environment for Sycamore trees. After a few years of growth, the trees are very healthy, vibrant and we couldn't be happier with their current condition.

–Todd Lansing, Principal at Creo Landscape Architecture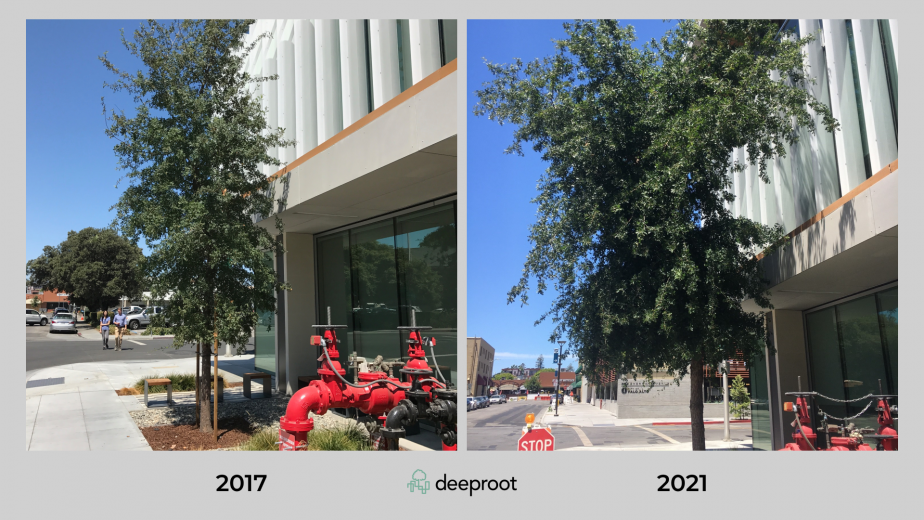 The landscape architect, Creo, values work that builds community, and creates outdoor space for people. The eight trees at 385 Sherman have grown big enough to offer space for people and wildlife. In addition to shade and shelter for people, big trees can house more species of mammals and birds than small trees. The built environment and the green infrastructure at 385 Sherman is a hub of mixed-use space. We can't wait to see what another four years of growth will do for the community in Evergreen, Palo Alto.
Installation Summary:
Number of Silva Cells: 192 3X
Amount of soil volume per tree: 822 ft3 (23.2m3)
Number of trees and type: Eight Sycamore trees
Type of project: Urban Canopy, Streetscape
Project designer: Creo Landscape Architecture
Project contractor: South Bay Construction Inc.
Installation date of Silva Cells: September 2016
Project time line: 2015–2017