Downtown Core in Bothell adds 48 Trees and 'Flex Space'
– A transportation renovation in 2017 that featured sustainable development planning, including the use of Silva Cells, is seeing the fruits of its labor in the heart of Bothell, Washington.
– 48 trees, spanning five blocks, between 101st Street to 106th Avenue, line Main Street in Bothell, Washington.
– The trees, their support unit (Silva Cells), and the ability to cater to bikes, cars, pedestrians, and outdoor dining are just some of the long-term planning efforts that have made Bothell's main thoroughfare attractive not just today but for the next 30, 40, and 50 years.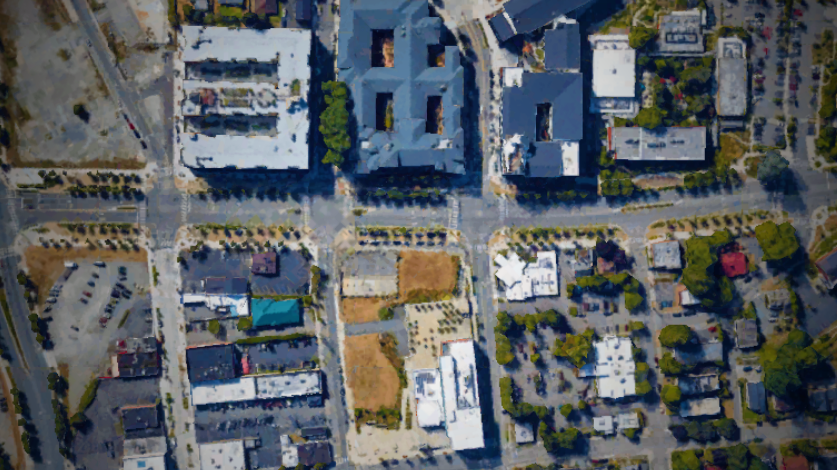 Bothell, Washington, just outside Seattle, is home to nearly 50,000 people. The town received a huge upgrade in street beautification from the Bothell Main Street Enhancement Project. The $5.8 million project revitalized downtown Main Street, the core of the city. In addition to more pedestrian-friendly, widened, and walkable sidewalks, and 48 new street trees, underground improvements were an important part of the project. Flexibility was a key theme in the design for Bothell's main avenue, both in the above- and below-ground spaces.
In the past 40 years, this is the third iteration of a downtown street improvement. After a decade of discussion and planning, in 2016, the team broke ground.
Landscape architecture firm Hough Beck & Baird Inc. (HBB) incorporated philosophies and elements that enhanced mobility, connectivity via automobile, transit, bicycle, and pedestrian travel. The demands of business and people are matched with the "flex zones." The flex zone can function as a parking space, pedestrian seating, or a vending space, able to be modified for different needs. The street trees are part of the flex zone, allowing for better growth and narrowing the automobile road lanes.
HBB wanted a tree-lined boulevard consisting of Frontier Elm trees. Trees were planted in different soil conditions comprising longitudinal bioswale planters along the roadway edge and 4-foot x 6-foot planters within the sidewalks. Some of these design features of the project could make it difficult for trees to grow to maturity. HBB opted to use Silva Cells to avoid any growth issues.
"Since trees were planted in both continuous bioswale planters and within small concrete sidewalk tree planters, we were concerned that trees planted within sidewalk planters could display poor stunted growth compared to the bioswale trees that had adequate soil volumes. To ensure all trees could equally reach their mature size, we specified Silva Cells to ensure adequate soil volumes for tree growth." – Jim Howard, principal, HBB Landscape Architecture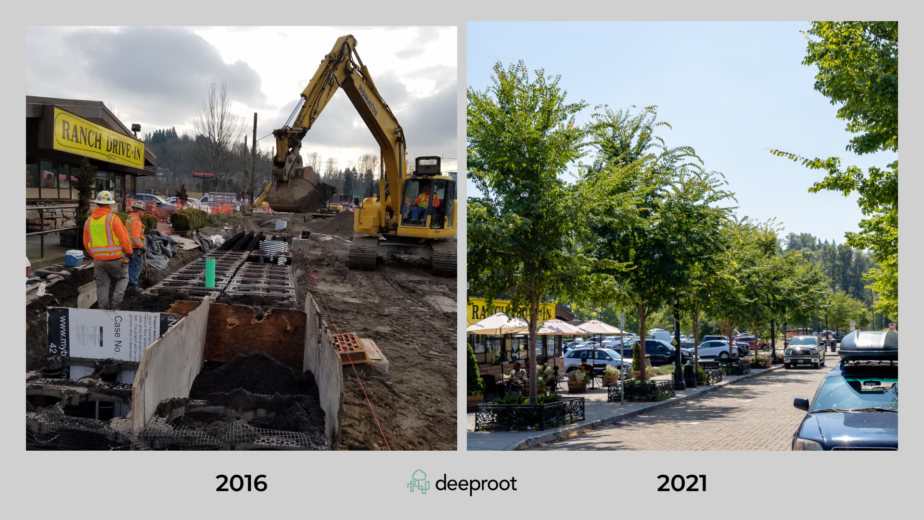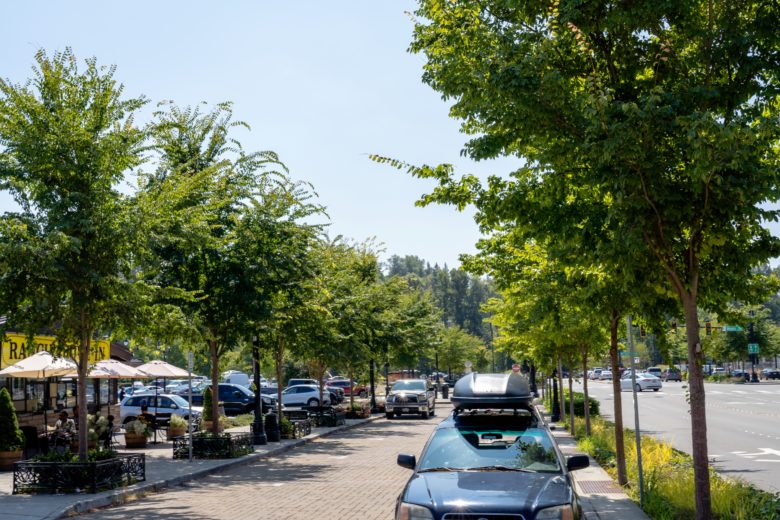 The new Main Street improvements support a thriving pedestrian-oriented environment in the heart of downtown Bothell. Main Street businesses can turn any of 16 street parking spots between 101st Avenue and 102nd Avenue into safe, street-level outdoor dining or shopping opportunities. The urban design portion of the boulevard features large street trees, architecturally unique seat walls, custom tree grates, and tree well railings.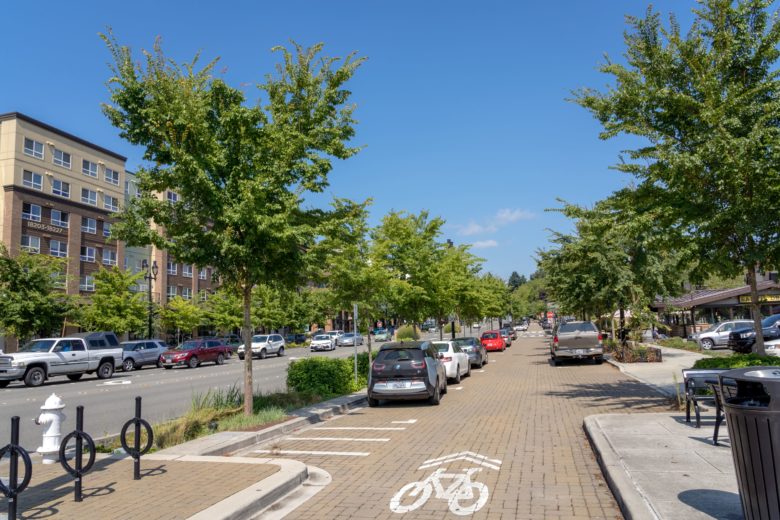 Flexible Space That Enhances Volume
The designers mimicked concepts from the streets of Italy, Spain, Denmark, the Santa Monica Third Street Promenade, and their home state's Pike Place Market in Seattle. All of these places have pedestrian-oriented streets.
The street trees make flex zones feel like part of the sidewalk to narrow the vehicle traffic lanes, calm traffic, and help define the flexible zones. Trees were planted between parking spaces. Bollards were installed in front of the trees to protect them from cars but are removable. Silva Cells were used under the flexible zone and sidewalks to encourage healthy root development. Silva Cells conserve the pavement by preventing damage caused by tree roots. Contractor Interwest installed the Silva Cells. Project manager Caleb Armstrong recalls it as a smooth process, on track, and one that fostered an appreciation for Silva Cells' role in maintaining the quality of roadways and pedestrian pathways for the long term.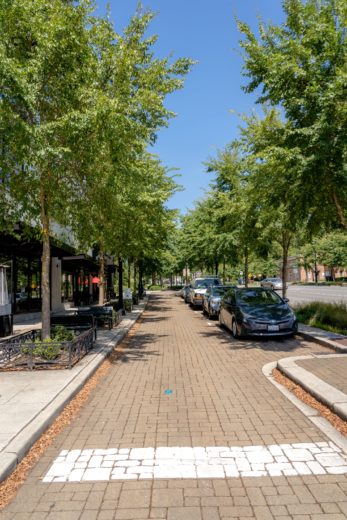 "Prior to the Multiway Blvd. (Main St.) Project, Interwest had limited experience in installing Silva Cells. DeepRoot provided valuable information as we began to piece the system together. With their guidance, Interwest's crews were soon able to run with the installations to keep the project on track. Considering the value of the work placed over the top of the Silva Cells, Interwest gained an appreciation for the product's role in ensuring stability and quality of the roadway and pedestrian pathways for the long term, while also providing for healthier trees that have room to grow."— Caleb Armstrong, project manager, Interwest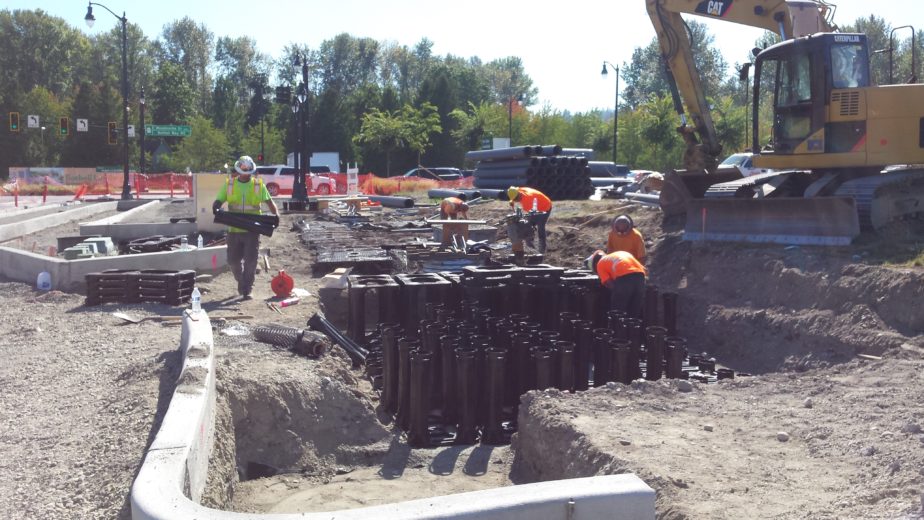 Installation Summary:
Number of Silva Cells: 696 2x, 36 1x
Amount of Soil Volume per Tree: 352 ft3per tree
Number of Trees: 50
Type of Project: Integrated trees stormwater
Project Designer: Hough Beck & Baird Inc. (HBB)
Project Contractor: Interwest Construction Inc.
Installation Date of Silva Cells: September 2016
Project Timeline: 2016–2017