Silva Cells Utilized in Project 180, Transforming Downtown Oklahoma City with Greenery
Over 2,000 trees were planted in the streetscape/roadway transformation initiative known as Project 180 — and the Downtown OKC urban forest is thriving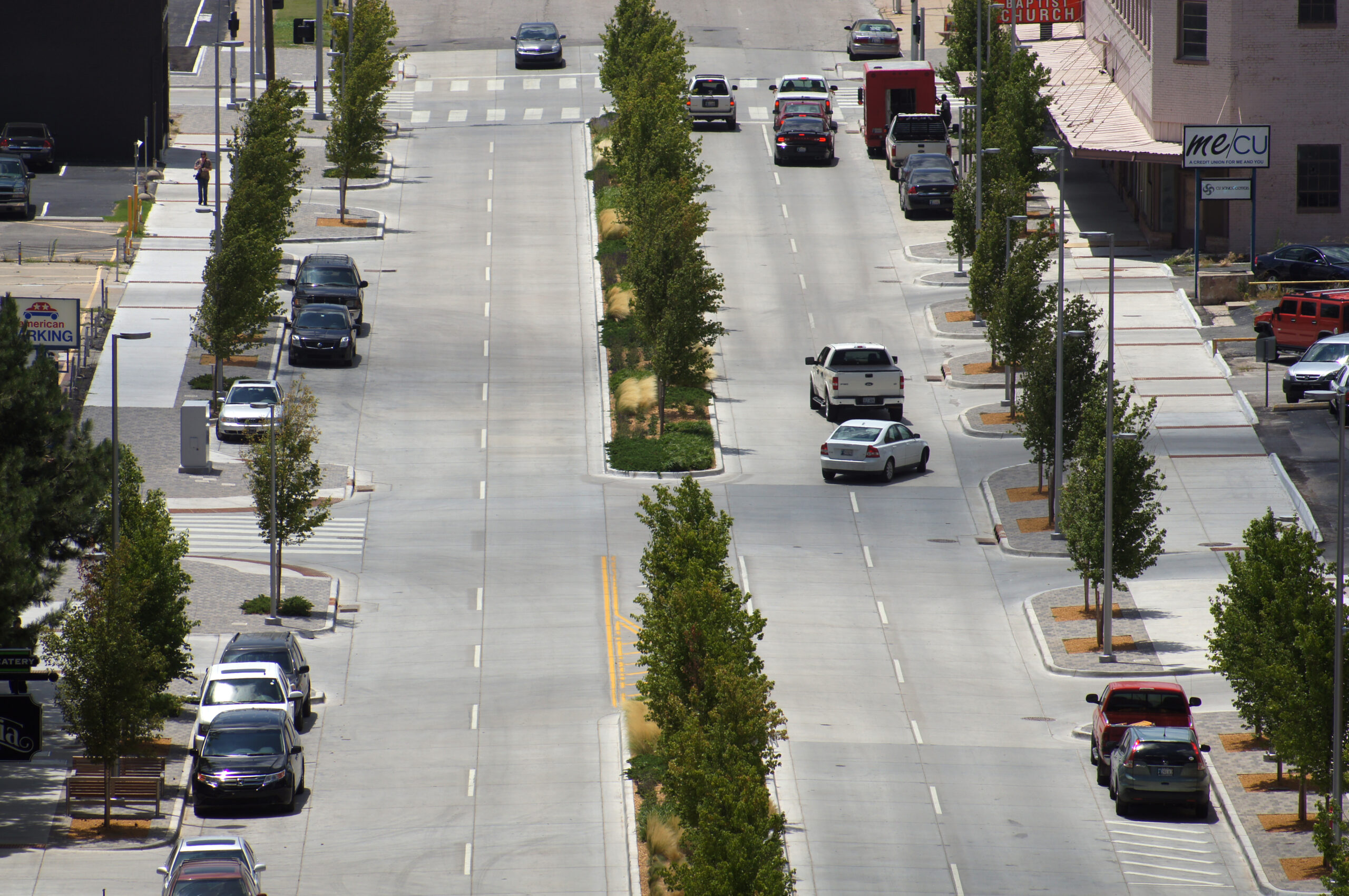 Overview
Spurred by a 2008 study naming it the least walkable city in America, Oklahoma City in 2009 initiated one of the most aggressive downtown renovations in recent memory: Project 180, named for the $180 million price tag in which 180 acres of land was being transformed in an effort to rotate OKC's pedestrian-hostile reputation a full 180 degrees. The roads themselves were entirely reimagined, with one-way street traffic being largely eliminated with biking, walking, and parking spaces reprioritized. The landscaping was also overhauled, led by the design team at the Office of James Burnett: thousands of streetscape trees were added along the sidewalks and new medians, offering safe delineations between spaces in addition to welcoming shade. More than 2,000 of the trees were planted in the Silva Cell system, which provides an uncompacted soil environment for healthy root expansion — and, as a result, the urban forestry element of this ambitious, award-winning Oklahoma City project is alive and flourishing.
Installation Summary
Number of Silva Cells: 13,000+
Number of Trees: 2,200
Type of Project: Streetscape
Project Designer: Office of James Burnett
Installation Date of Silva Cells: 2011-2014
Project Timeline: 2009-2019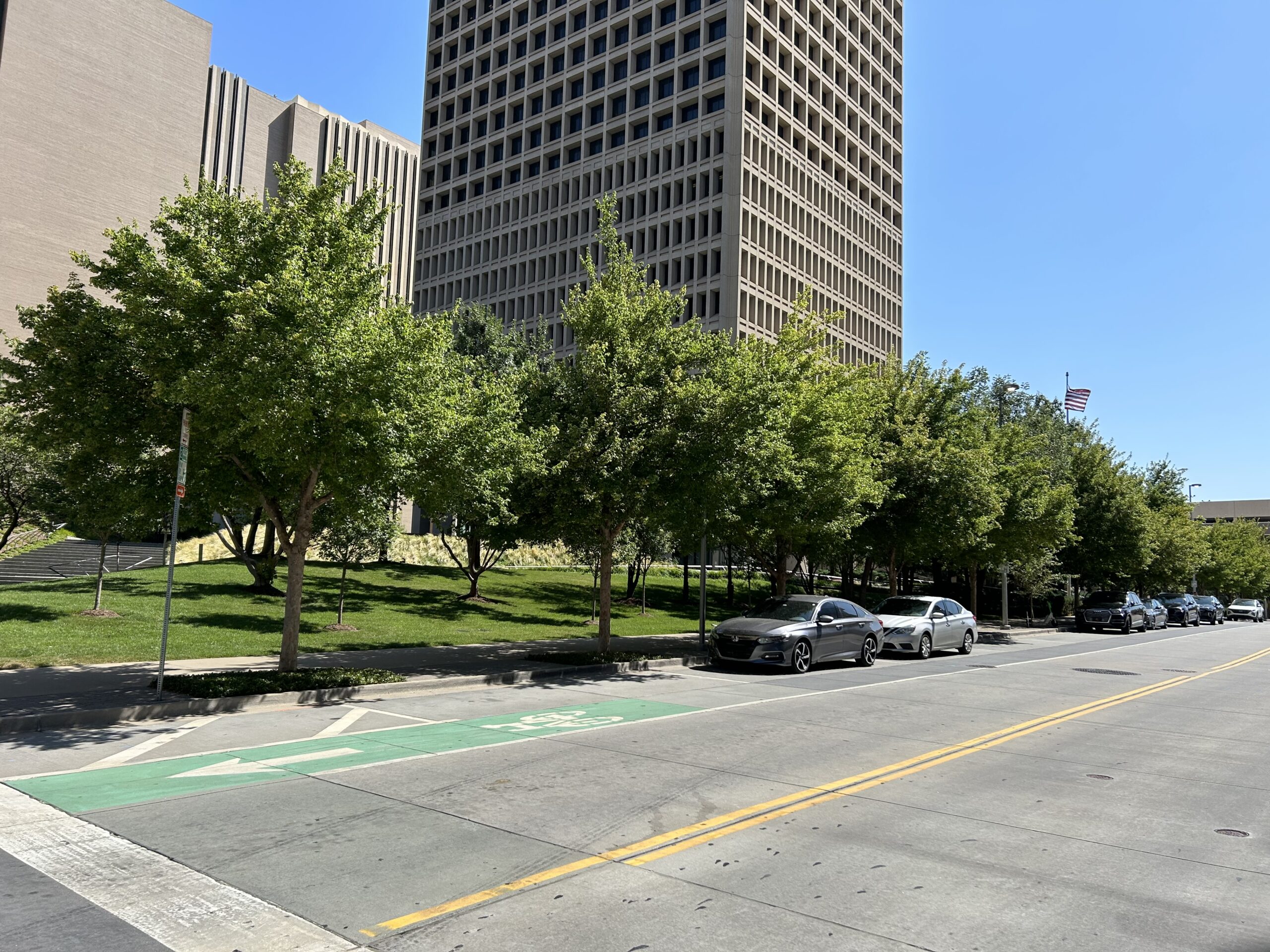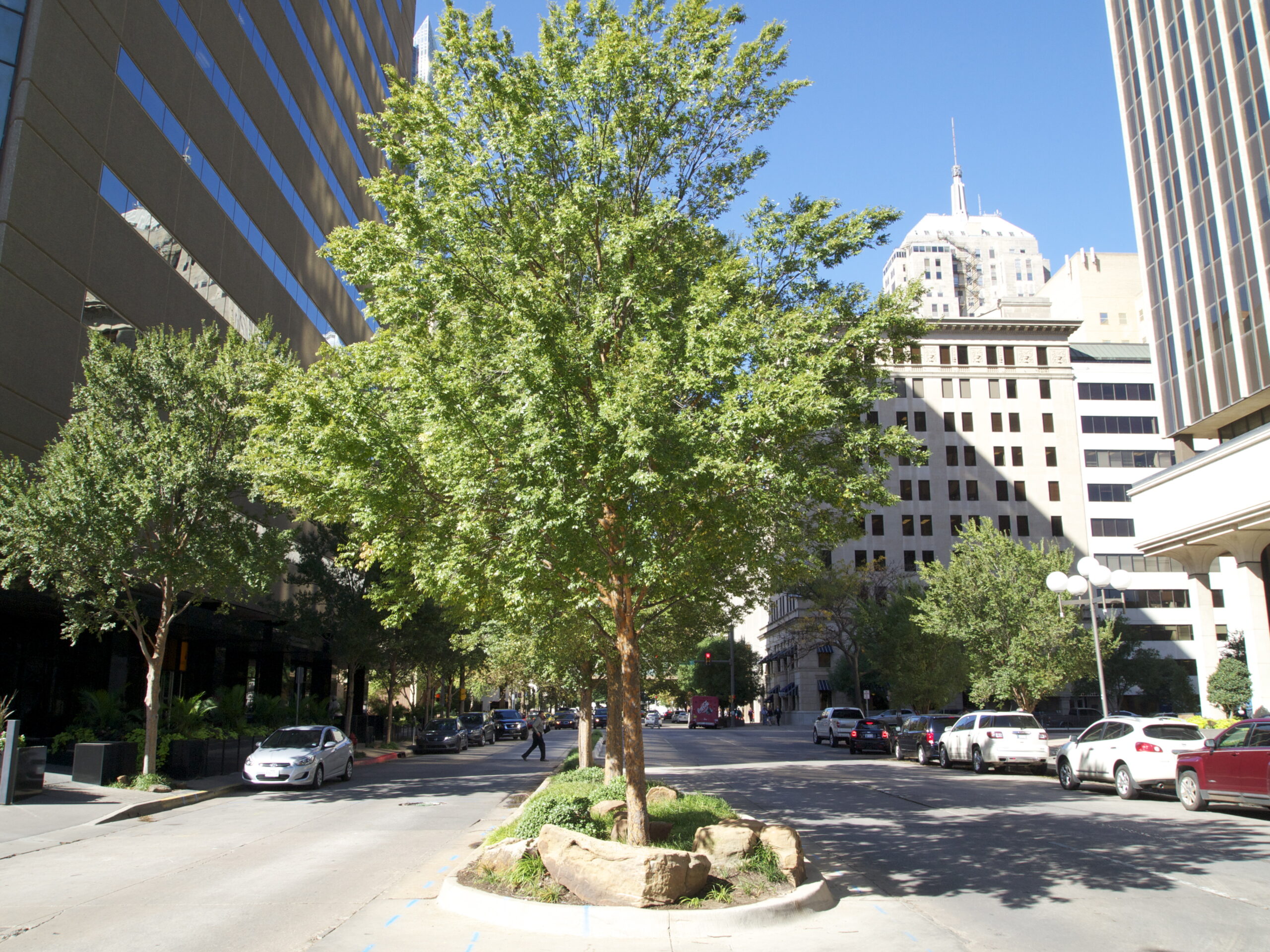 Project 180
Prevention Magazine in 2008 published an assessment of 500 American cities, ranking them by walkability — Cambridge, Massachusetts, topped the list, followed by New York City, Ann Arbor, and Chicago. Rounding out the bottom of the list, ranking dead last and earning the unofficial title as the least walkable town in America, was Oklahoma City.
Downtown OKC was built around car traffic, dating back to the 1940s and the transition from streetcars to road vehicles. Wide one-way streets, an inefficient utilization of the dense urban space, encouraged speeding while discouraging pedestrian commuting. Suburban flight and decades of infrastructure neglect led to a decline in the downtown core, culminating in the eye-opening Prevention Magazine study that propelled city officials to reexamine the district.
An independent assessment of Oklahoma City walkability was undertaken by Speck & Associates. Jeff Speck found that the "streets were wide enough to handle two to three times the volume of traffic they carried. Downtown streets were largely one-way speedways, and… the city could better use the space to support pedestrians, bicyclists, businesses, and urban life."
Project 180 was thus born, one of the most comprehensive undertakings of its kind ever attempted. Every downtown block was slated for renovation, 180 acres of land with a total estimated cost of $180 million, funded as a private-public partnership. Then-mayor of Oklahoma City Mick Cornett said they wanted to build "a city for people, not just a city for cars." The design team at the Office of James Burnett (OJB) set to work eliminating one way streets, increasing public parking and bike lanes, updating LED lighting, adding street furnishings and public art, and implementing integrated streetscape standards throughout the central core.
One of the most important features of Project 180's renovation was the new urban forest: more than 2,000 trees were planted across the downtown landscape, most of which are receiving access to quality, uncompacted soil thanks to the DeepRoot Silva Cell system.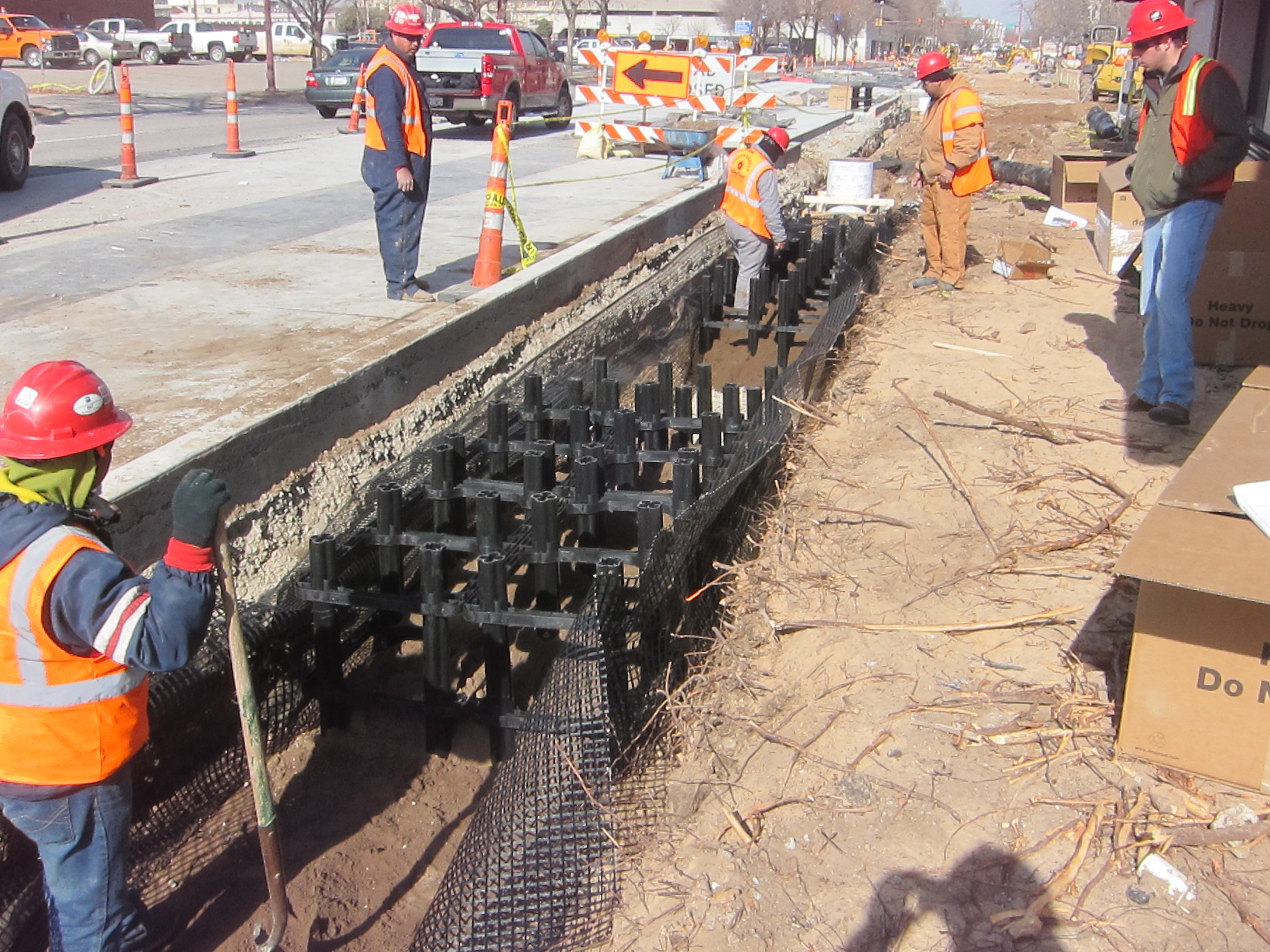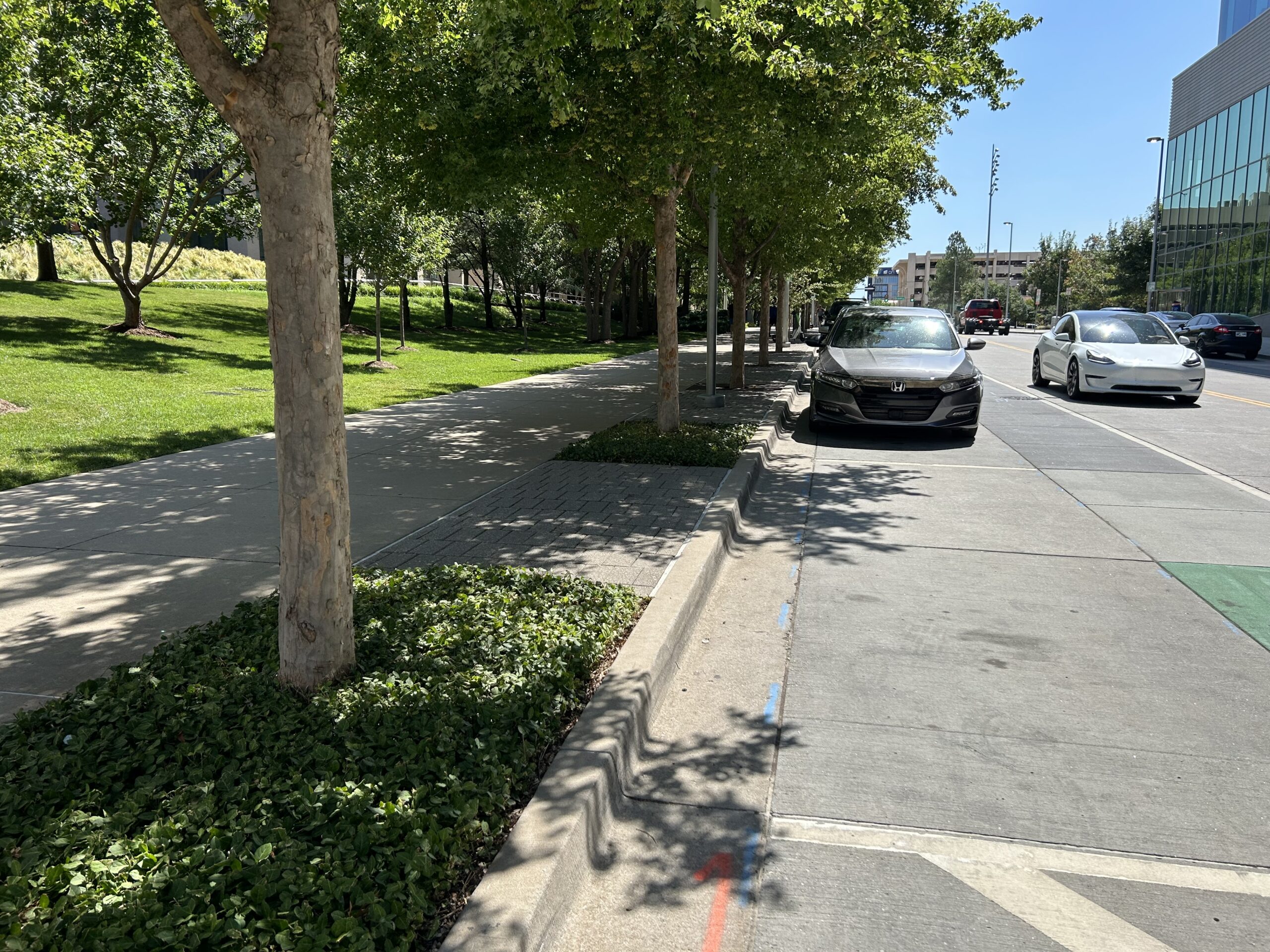 A Thriving Urban Forest
The greenery of Project 180 was an indispensable element, creating — as summarized by OJB — a new visual language throughout the city, with generous sidewalks framed by layered planting and anchored by street trees. To help ensure the trees grew to large, healthy maturity, the Silva Cell system was installed to provide support for the street-level hardscapes while offering a robust soil environment for the new trees, perfect for unobstructed root expansion. More than 13,000 Silva Cells were utilized in Project 180, installed over numerous phases beginning in 2011. The new tree species included:
Shantung Maple
Kentucky Coffee Tree
Chinese Pistache
Varwood London Plane
Shumard Red Oak
Live Oak
Bald Cypress
Elm
It was also discovered during the multi-year installation process that nearly all of the utilities had to be replaced. Many of them were old and outdated, including brick-arch combined sewers from the early 1900s as well as placement issues in which some pipes were too close to the surface. The Silva Cells' void space versatility was also useful in this regard, being able to work around both existing and new utility lines.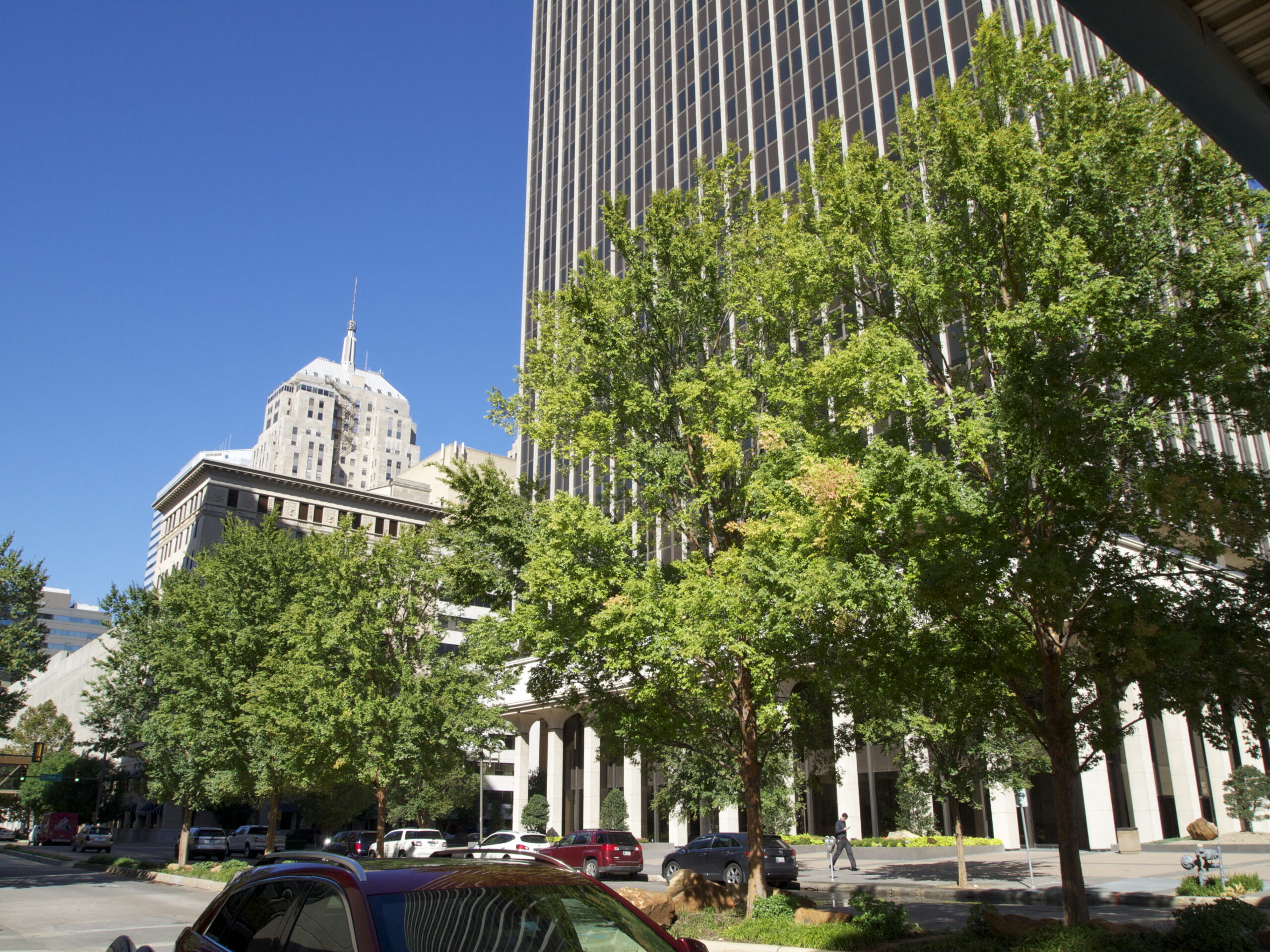 The project wrapped up in 2019 and the trees, planted throughout the decade-long project timeline, are already showing terrific growth. As observed by Free Press OKC: "If you've had a stroll or a drive through Downtown OKC recently, you've surely noticed the full, healthy, vibrantly green trees lining the sidewalks and shading the streets." Leading Oklahoma urban forester Mark Bays appreciates the newly green neighborhood, recognizing the value the trees bring to the area: "They're not amenities. They're not niceties. They're necessities." He goes on to identify why healthy trees are so important to a community:
The value of trees is about air quality, and about cooling the sidewalk, and about a direct impact on productivity and human health. There's research that's been going on forever that shows just how valuable having green spaces in downtown areas can be, reasons that go way beyond just beautification. I always jokingly say 'beautification be damned,' because that's all just an added benefit."
By OJB's count, the new OKC urban forest has intercepted 1.25 million gallons of water and sequestered 300,000 pounds of annual carbon. The trees, in addition to their sustainability benefits, also create a welcoming, safe environment for new downtown pedestrians. There is a calming effect to streetscape trees, as noted by JoBeth Harmon, councilmember for Ward 6 in Downtown OKC: "Paths directly abutting streets with cars speeding 50 miles per hour will feel dangerous, but having trees between the two will create a buffer for pedestrians and make the driver feel there's less 'room for error.'"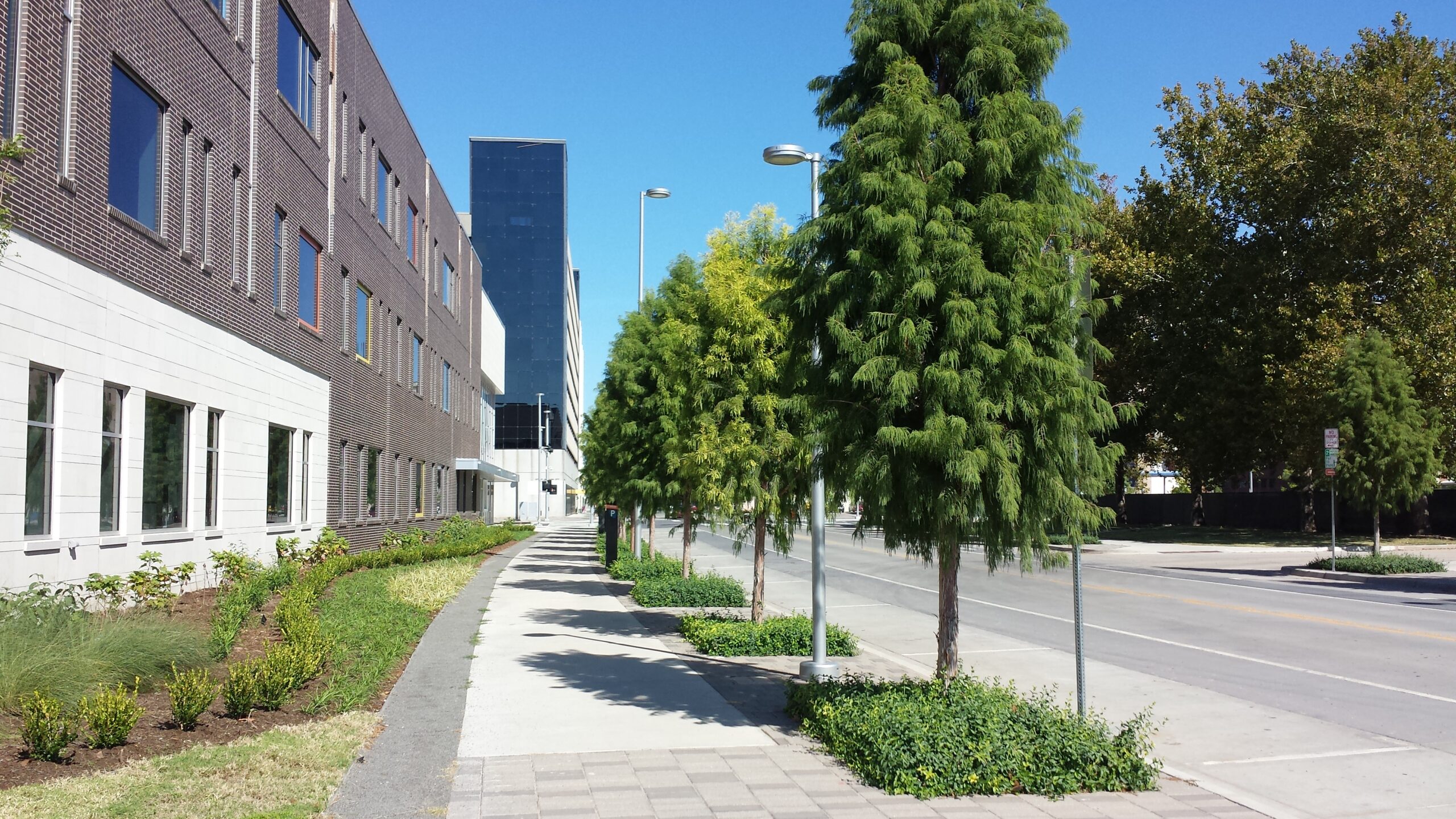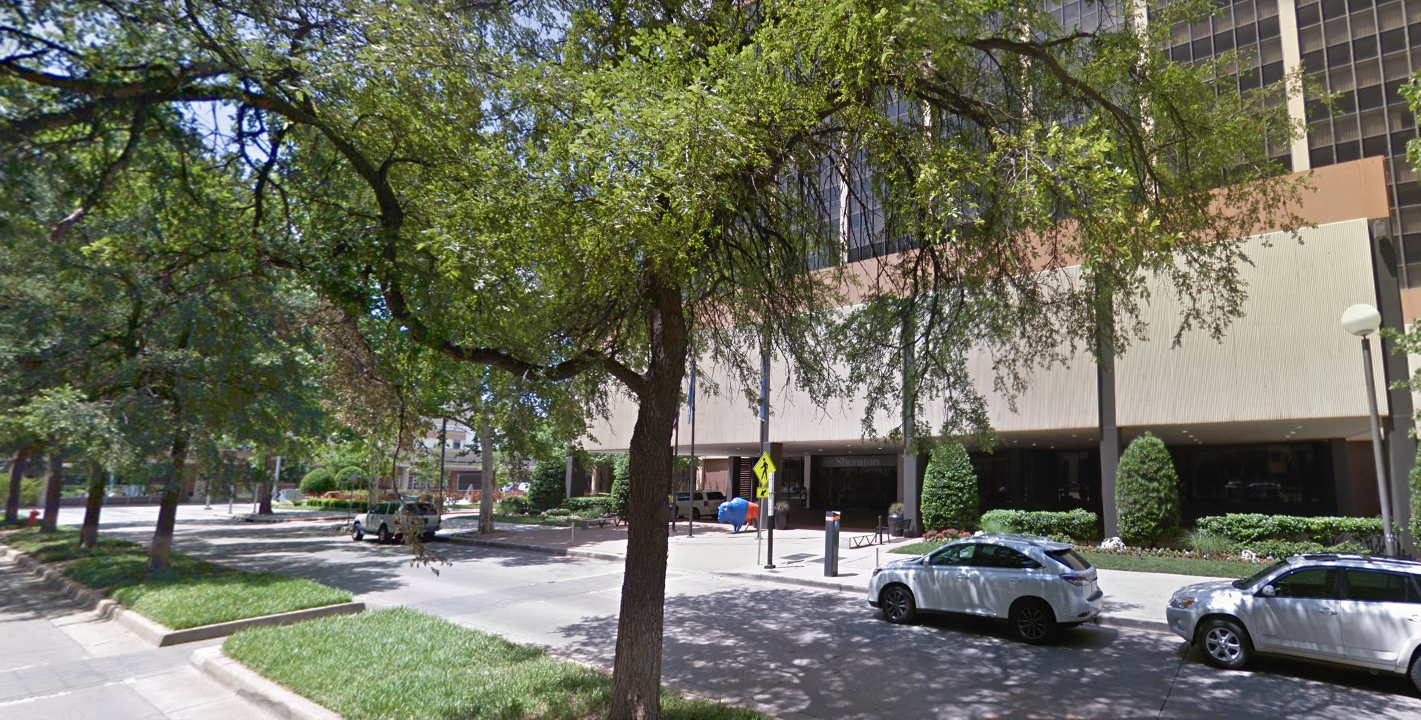 Praise for Project 180 has been nearly universal. Jeff Speck, who conducted the initial walkability report, says "it remains the most transformative downtown plan I've worked on." Public works director Eric Wenger observes that "people who haven't been here for ten or twelve years don't recognize Oklahoma City." New businesses and residential developments are flocking to the city, and the tourism sector has seen an impressive revitalization. "By increasing walkability, you become a place where people want to be," Speck says.
Andrew von Maur, a professor of architecture at Andrews University, summarizes the influence of Project 180 by saying it "changes how this area of the city functions. This kind of project could be implemented in cities across America, in a post Covid world, reimagining streets as comfortable places for people to be for an extended period of time."
Project Awards
-2011 ASLA Texas Chapter Honor Award in Planning
–2013 International Economic Development Council Bronze Award for Public-Private Partnership
–2015 Impact Award MAPS 3 Trails and Sidewalks
–2015 ASLA Central States Award of Excellence