Silva Cells Shine at Award-Winning Pike & Rose in Maryland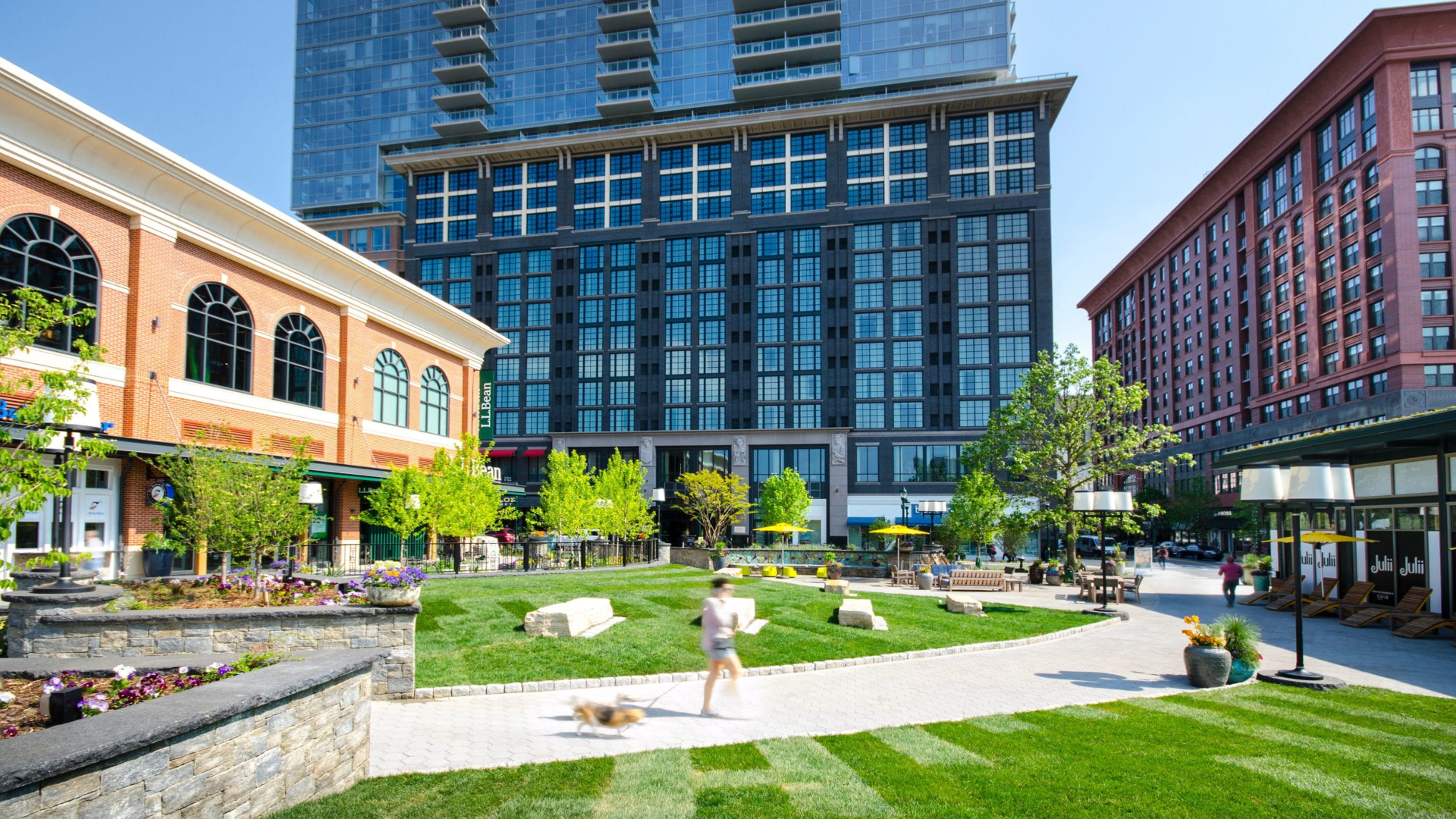 – 1,300 Silva Cells help make tree health and urban forestry health central to a new sustainable development in North Bethesda, Maryland.
– 40 sidewalk trees at the 24-acre Pike & Rose development have ample tree root support to grow strong, maturing for generations.
– Community and resilience are at the heart of the Pike & Rose complex, as seen through its pedestrian and cycling accessibility, and urban, public green spaces.
– Silva Cells are just one of a handful of sustainably-minded technology and design features that helped Pike & Rose to be named the most Sustainable Project of 2019 by NAIOP, the Commercial Real Estate Development Association.
– Pike & Rose represents health, regeneration, and smart growth, which is why it has five awards and why DeepRoot is proud to be a part of the project.
In 2011, discussions to replace the 1962 Mid-Pike Plaza shopping mall began. The Mid-Pike Plaza in (Rockville) North Bethesda, Maryland, is just a block away from the White Flint Metrorail station. For developers and urban planners, the location was the key attribute. The mall itself was long overdue for a huge upgrade to help draw in new residents and sustain the community in the Rockville suburb.
In this 2017 press release, Montgomery County details plans to have as many as 20,000 new residents in the central business district of North Bethesda that includes Pike & Rose. "Five years ago, there were no residents in this part of North Bethesda, and now there are about 1,500 residents, with more to come," says Michael Ennes, vice president of the residential division at Federal Realty. The need for a new development 10 years ago was clear, and the developers chose to incorporate sustainability and resiliency features throughout the new landscape.
At Pike & Rose, everything was designed to appeal to all modes of transport: walking, biking, car, or train. In particular, the Pike & Rose development encourages and emphasizes walkability. More than just a mall, Pike & Rose is creating a neighborhood and a community of apartments, offices, stores, restaurants, public spaces, and retail establishments. It is laced with green infrastructure from top to bottom. From the top, rooftops are either utilized to generate renewable energy with solar panels or provide space for gardens (which supplies food for the farmers market at the new space). From the bottom, soil volume, stormwater, and tree roots are all managed and supported by 1,200 (a mixture of 2X and 3X) Silva Cells.
Water as an Essential Resource
Silva Cells go beyond supporting 40 trees lining the sidewalks of Pike & Rose. This project demonstrates how Silva Cells effectively clean water in a completely paved environment. Getting the stormwater managed in this way was critical because the state of Maryland and Montgomery County have very stringent requirements as the area drains directly into the largest estuary on the continent, the Chesapeake Bay. The EPA has designated that entire water system to be so vital that it was the first NPDES (National Pollutant Discharge Elimination System) Phase 3 watershed in the nation. The TMDL spans six states plus the District of Columbia. For this project to go forward, DeepRoot obtained approvals from Montgomery County and the state of Maryland in a rigorous application process.
The Water Process-Executing TMDL
Pike & Rose is a pedestrian-friendly, mixed-use development, where increased urban density was emphasized and thus did not have a lot of space for traditional large water gardens or retention ponds. The approval of Silva Cells on this project allows for effective treatment of all the water from the site. There are large Contech precast concrete storage tanks under the streets that collect water from the street, and the Silva Cells receive water from the building downspouts and the sidewalks. While the soil in the cells provides filtration, water in the soil is an essential resource to the trees. As they grow to maturity, evapotranspiration and canopy intercept of the water will increase as well, increasing the strength and resiliency of the system as a whole. The net effect is the Silva Cells system reduces the stormwater flow, and delays, cleans and cools the stormwater that does leave the site, meeting all the essential goals of the Chesapeake Bay regulators.
"By installing a vast infrastructure of Silva Cells, primarily at the curb edge of this 13-block development, we were able to achieve several overlapping design and engineering goals:
– creation of large open tree planting zones to support large caliper street tree installations
-interconnected soil beds to promote tree and plant root growth; sub-surface drainage and moisture retention for positive growth and reduction of irrigation needs
-and the fulfillment of County greywater and stormwater drainage requirements. "
In total, the Pike & Rose space encompasses 3.4 million square feet of development.  The first phase began in 2011, on the southern block of Grand Park. Here, there were 315 3X Silva Cell systems that supported 13 trees. The 13 trees are a mixture of 11 Honey Locust (Gleditsia Triacanthos) and 2 Pine Oak (Quercus Palustris)
The design team at Clinton + Ries Landscape Architects  explains the two-phased approach and organic growth at Pike & Rose, "Landscape is the first thing one experiences when arriving at Pike & Rose, and one of the most important draws to this new urban community. We didn't open Phase 1 of Pike & Rose until 2014. Rather than resembling a planned, cookie-cutter 'town center,' the neighborhood looks as if it has grown organically. In part, that's because it has, rising in an area with some roads and streets and shops already in place. In addition, the developer deliberately designed narrower lanes and sidewalks of stone and brick to establish a pedestrian-friendly central street."
The main thoroughfares of the development, Rose Street and the northerly section of Grand Park, all have trees supported by Silva Cells. On Rose Street alone there are 507 3X Silva Cell systems supporting 40 trees.  In addition, 382 Silva Cells were installed on the northerly section of Grand Park and Rose Street. The trees in Phase 2 encompass Hackberry, Honey Locust (Gleditsia Triacanthos), and Willow Oak.
"The past 5 years of maturing landscape has shown great success containing and keeping most rainwater runoff on-site for use by plants, and the maturity rate of trees and other herbaceous plants has been exponential, compared to similar sites without Silva Cell support."- Clinton + Ries Landscape Architects 
Sustainability Accolades & Awards:

Pike & Rose exemplifies sustainability throughout its community and sets a clear example of what is possible when longevity, aesthetics, and design are applied with equal priority.  Pike & Rose achieved two notable USGBC LEED accomplishments:
– Pike & Rose itself is a LEED Neighborhood Development (ND) Stage 3 Gold-certified project, one of only four LEED NDs in the U.S. and one of five in the world.
– The project is one of only a few in the world to achieve LEED certifications at 100% of its buildings.
The area that was once 23 acres of asphalt is now covered with 21,000 cubic feet of green roof space, over 12,000 ft2 of surface area of Silva Cells housing over 43,000 ft3 of soil volume to support tree growth, manage stormwater and enhance green infrastructure. Silva Cells treat 100% of the stormwater onsite. The solar canopy is Maryland's largest retail garage-top canopy.
The team behind Pike & Rose (landscape architect: Clinton +  Ries, engineer: VIKA Engineering, general contractor: Whiting Turner and  Ruppert Landscape) recognized the local community's need for a walkable, sustainable place to live, work, and play. They used native plants, green roofs, and sustainable irrigation methods throughout the property. The landscaping at Pike & Rose is designed to reduce potable water consumption by 96% versus typical commercial landscaping.
These are just some of the reasons the project won the following awards in addition to being named the Best Sustainable Project of 2019:
– USGBC: National Capital Region's Award for Innovative Project of the Year-Neighborhood Development
– National Association of County Planning Award of Excellence
– NAIOP Best Retail Project Street Level Retail Space of Larger buildings or Mixed-Use Award of Excellence
– NAIOP Best Mixed-Use Project Award of Merit
– National Association of Landscape Professional (NALP) and Landscape Contractors Association (LCA) award-winning project
Today, 10 years after construction began, we can see that Pike & Rose is a vibrant, transit-oriented neighborhood that exemplifies the value sustainable development can bring to a project and how it impacts the lives of the community it serves.
Installation Summary:
Number of Silva Cells:  Phase 1: 315 3X; Phase 2: 889 3X
Amount of Soil Volume Total: Both phases-43,000 ft3
Number of trees and type: Phase 1: 11trees, Phase 2: 29 trees, (*type varies by street-see note under phases)
Type of project: Integrated trees stormwater, mixed-use, mall, residential, commercial
Project engineer: VIKA Maryland LLC
Project designer: Clinton + Ries
Project contractors: Whiting-Turner & Ruppert Landscape
Installation date of Silva Cells:  Phase 1: July 2013; Phase 2: September 2016
Project timeline: 2012–2018
Feature image courtesy of Federal Reality