Silva Cells Rejuvenate Carmel, Indiana's Monon Boulevard & Midtown Plaza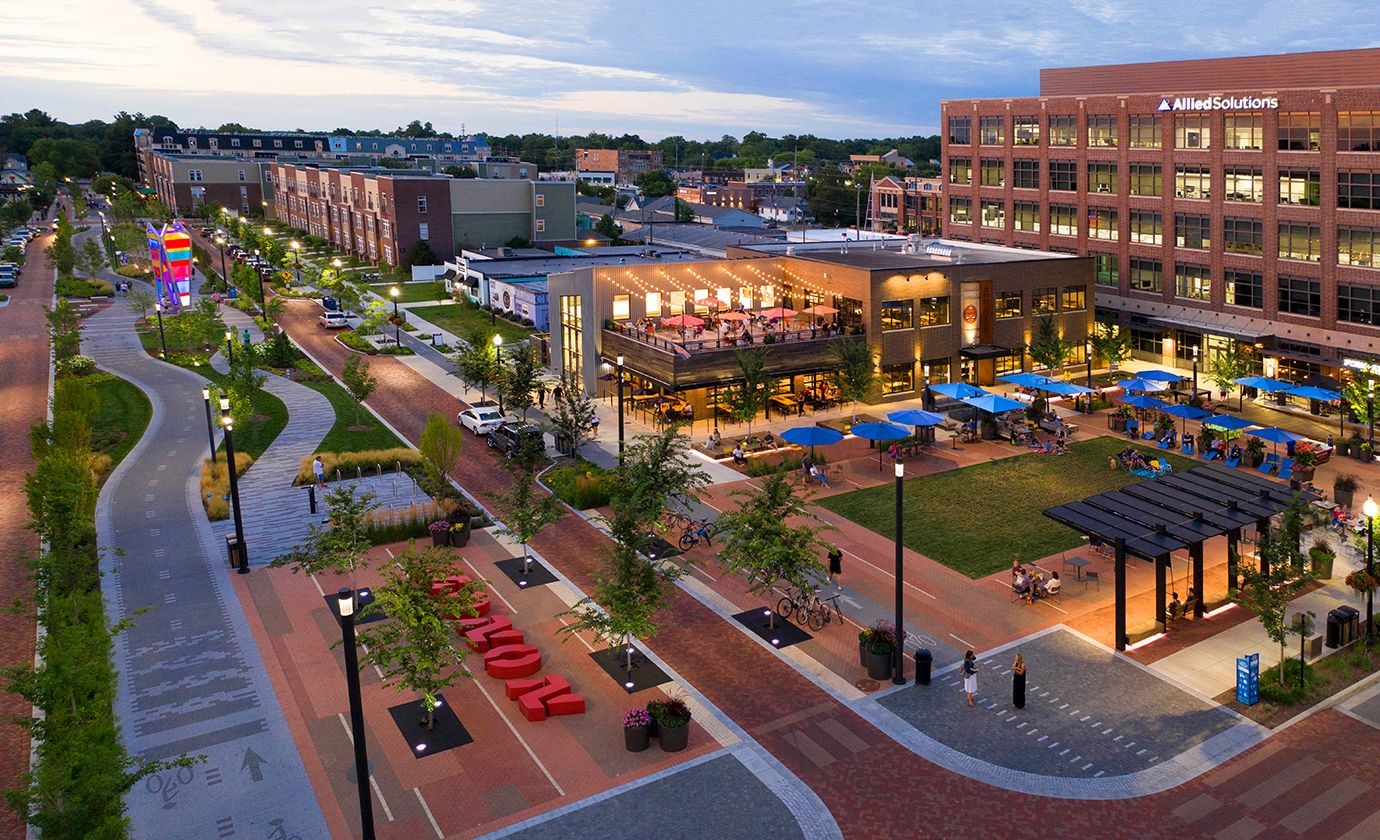 – A .5 mile stretch of the famous Monon Greenway running through Carmel, Indiana received an urban makeover in 2017. At the foundation of the reconstruction: 2,000 Silva Cells.
– From Main Street to Walnut Street in downtown Carmel, more than 300 trees were planted as part of the renovated, multi-modal corridor known as Monon Boulevard. 140 trees used Silva Cells to supplement soil volumes of which 75 used Silva Cells exclusively to provide the needed volume.  An array of Hackberry, Kentucky Coffeetree, Triumph Elm, and Yellowwood trees were planted throughout, with a dozen other species adding to the diverse urban canopy. *Full list of trees in the installation summary*
– Silva Cells' low-impact, modular pavement system will strengthen the green infrastructure along the Greenway while allowing for different load-bearing capacities, such as vehicles and bicycles, in the shared urban corridor.
Every local Hoosier has traversed the Monon Trail – arguably the most popular outdoor recreation spot in the Hoosier State. A scenic, pedestrian pathway, the Monon Trail courses through the heart of central Indiana. It links together Indiana's many vibrant urban communities at various access points, including the Indiana State Fairgrounds in Indianapolis and nearby Broad Ripple, a lively neighborhood rich with gastronomy and nightlife. It crosses White River and Fall Creek, and, of course, Carmel in Hamilton County, its redeveloped Arts & Design District and Midtown District are now the Midwest's premier center for culture.
The Monon Trail stretches more than 26 miles, creating a recreational corridor that melds bike trails and footpaths with public spaces with commerce.
The 'Swift Running' trail becomes the 'Monon Greenway'
The Monon Trail rose from the ashes of the Monon Railroad, which ran from Chicago to Indianapolis for 100 years, steaming through Carmel and other major industrial points along the route. The word Monon originates from the Native American Potawatomi people, meaning "swift running".
Monon Railroad was decommissioned in 1987, and in the late 1990s, a rail-trail was established as a mixed-use path for cyclists, joggers, and walkers.
In 2002, Carmel added 5.2 miles to the Monon Trail (from 96th Street to 146th Street) in a major refurbishment of its pathways. Each section of the trail is managed by the jurisdiction through which it passes, and Carmel maintains the 5.2 miles of trail, known as the Monon Greenway, that sit within its borders.
It wasn't until 2017, when Mayor James Brainard envisioned a connective artery that would blend forest landscape with urban centers and suburbs while increasing green spaces, that Carmel saw a refurbishment of this caliber. Rundell Ernstberger Associates (REA),  designers of the original Monon Trail in Carmel in 1990, led the design of the transformative project, in collaboration with White Construction and DeepRoot, and on completion of the project in 2019 achieved its redevelopment goals. They included:
Linking the city's premier arts and cultural destinations
Enhancing the community's connectivity and walkability
Capitalizing on economic development opportunities
Providing a transformational recreational amenity
Why Renovate?
Mayor Brainard, an advocate of "better biking," believes in the ability of sustainable cycle networks to transform American life. In 2017, he presided over a regeneration project that sought to promote "beautiful, walkable neighborhoods and stores and shops, connected by trails," he is quoted as saying in the Indy Star. The multi-million dollar project set out to "widen part of the Monon Trail, a rails-to-trail multi-use path that runs directly to the Indy Cultural Trail in downtown Indianapolis, into a new Monon Boulevard," with bike lanes running through a new Carmel Midtown district.
Design Concept
Monon Boulevard & Midtown Plaza are a showcase of intense color – not least from the verdant trees dotted around large sections of the trail, but also from the well-structured, color-coded pathways and road surfaces that veer off into retail and entertainment spaces. The Boulevard is a highly engaging linear greenspace system with connected active and passive activity zones formed in the eddies of the meandering pedestrian and bicycle paths. The Active zone provides play opportunities for all ages and abilities including a destination playscape, bocce ball and shuffleboard courts, and a spray plaza. Comprised of small plazas and green spaces, public art, community tables and benches the Civic Green zone provides places for quiet relaxation artfully arranged along the boulevard.
Highly durable materials throughout ensure the project's longevity. Asphalt paver bicycle and walking paths, permeable clay paver street lanes, granite curbs and pavers, and vibrant plantings comprise the horizontal surfaces, while custom architectural elements, artworks, lights, street furnishings, signage, and a robust tree canopy whose foundations are supported by Silva Cells animate and shape the spaces and amenity zones.
Summers are hot in Indianapolis, averaging 80 degrees at the height of summer, with high humidity making long runs and walks uncomfortable. Using Silva Cells as part of its regeneration plans, Rundell Ernstberger Associates ensured pockets of urban canopies offering people respite from the oppressive heat.
Silva Cells provide 27,000ft3 (764m3) of soil volume
Rundell Ernstberger Associates (REA) set out to create a full canopy of mature shade trees along the trail. The size of a tree at maturity will determine the volume of soil needed to sustain it; research indicates that 2ft3 for every square foot of crown projection is recommended. Such abundant soil volumes are generally only found in non-urban settings. Given the urban density of the trail, and the need to plant trees within the pavement to shade the multi-use path, significant volumes were required under the wearing surface. Silva Cells were the perfect solution. REA placed 140 trees in 810 3x systems, providing more than 27,000ft3 (764m3) of a biologically active loamy soil soil.
Tree root and pavement conflicts are a common occurrence in urban landscapes, and the trees along the trail had enough soil to grow a large zone of rapid taper (ZRT) or root plate. These are the structural roots that can lift pavements. The Silva Cell system is designed to effectively manage this and ensure a smooth path. By utilizing our industry-leading root guides, together with smart engineering practices, REA was able to ensure that root growth takes place within the Silva Cells system, not in the pavement
Because of the design team's forward-thinking plans, this multi-use trail is an infrastructure asset – a valued amenity that will enhance urban living in Carmel for decades to come.
Carmel's renovation of its Monon Greenway is both environmentally conscious and blends with the community's city planning, keeping green infrastructure at its core. REA's incorporation of Silva Cells will allow generations of Hoosiers and visitors to enjoy the benefits of flourishing urban trees for generations to come.
Installation Summary:
Number of Silva Cells: 810 3X
Total Soil Volume: 27,000ft3 (764m3)
Number of Trees and Type: 300 Total, 140 using Silva Cells
Celtis occidentalis Common Hackberry B & B
Cladrastis kentukea American Yellowwood
Gymnocladus dioicus `Espresso` Kentucky Coffeetree
Ulmus x `Morton Glossy` Triumph™ Elm
Acer saccharum `Endowment` –  Endowment Maple
Liriodendron tulipifera `Emerald City` –  Emerald City Tulip Tree
Ginkgo biloba `Autumn Gold` – Maidenhair Tree
Ostrya virginiana –  American Hophornbeam
Platanus x acerifolia `Exclamation` –  Exclamation London Plane Tree
Quercus rubra –  Red Oak
Ulmus x `Homestead` –  Homestead Hybrid Elm
Ulmus x `Patriot` –  Patriot Hybrid Elm
Amelanchier x grandiflora `Autumn Brilliance` – `Autumn Brilliance` Serviceberry
Cercis canadensis – Multi-stem Eastern Redbud
Syringa pekinensis `China Snow` –  China Snow Tree Lilac
Syringa reticulata `Ivory Silk` –  Japanese Tree Lilac
Type of Project: Integrated trees, stormwater, streetscape, urban trail, walking, and cycling path
Project Designer: Rundell Ernstberger Associates
Project Contractor: White Construction Inc.
Installation Date of Silva Cells: June 2018 And May 2019
Project Timeline: January 2018-August 2019