Silva Cell Trees Reach New Height at High Gate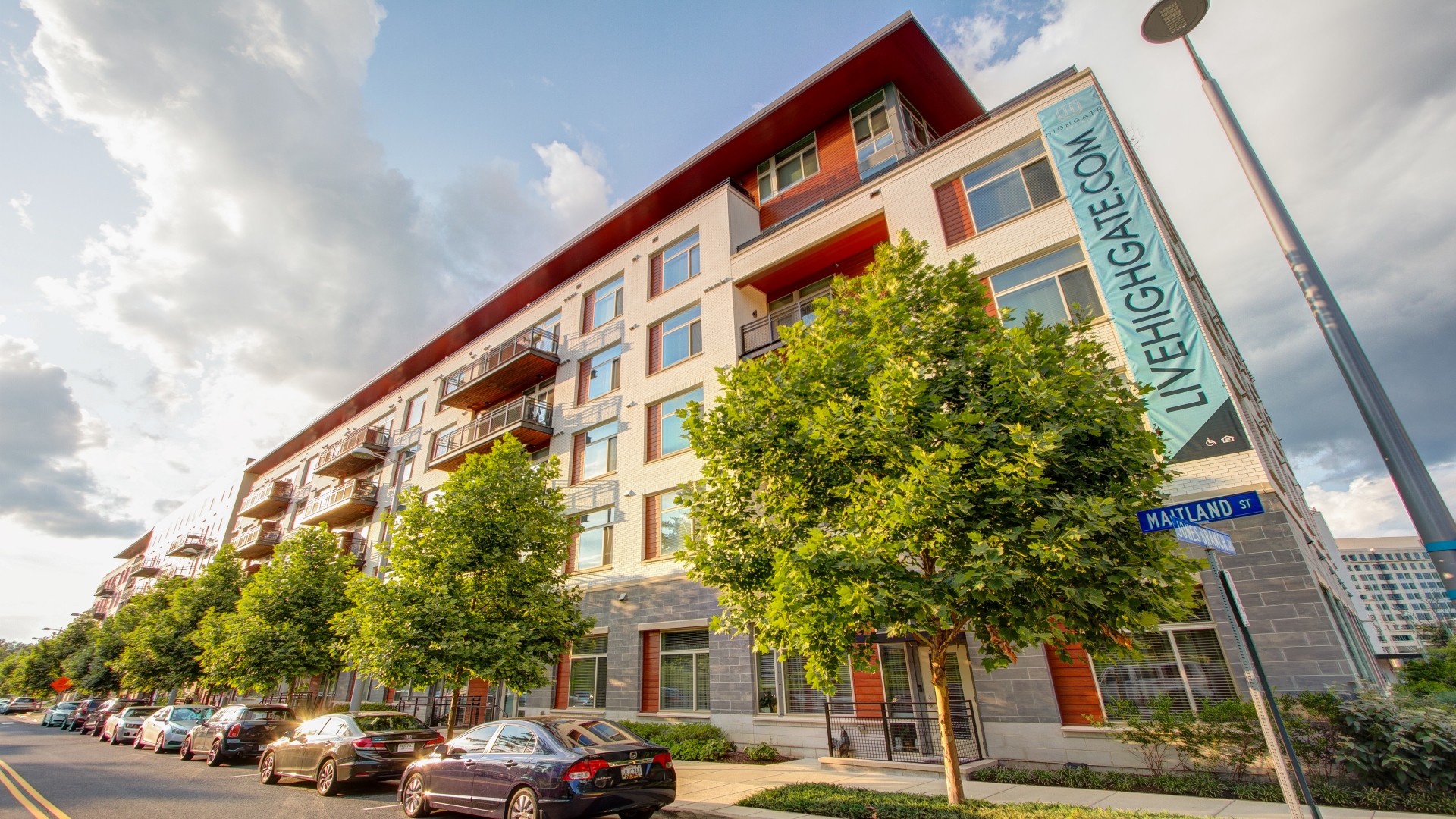 – What was once a suburban office complex and parking lot in Tysons, Virginia, is now home to a luxury apartment building and landscaped space.
– Highgate at the Mile, on Jones Branch Drive, has 350-plus units and 35 lush trees along its perimeter.
– Four years after 252 2X Silva Cells were installed in the ground, surrounding each tree pit, the trees are flourishing.
– The trees have grown big and full enough to provide shade and pedestrian comfort and to establish an inviting sense of place and calm for the residents.
Just 20 minutes northwest of Arlington, near Tysons Central metro station, sits Highgate at the Mile, or "Highgate." In 2016 this area was half an acre of parking lot and office park. Today it has transformed into a luxury residential building surrounded by thriving green trees, supported by Silva Cells.
There are over 400 people who reside at Highgate. Adding 35 trees around the half-acre, five-story building created more shade, better air quality, and an inviting communal feel.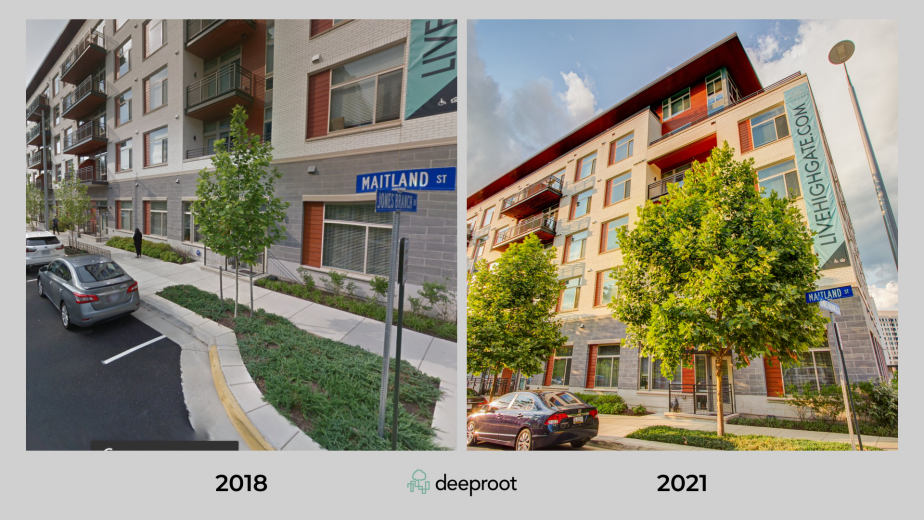 Whether commuting by car, by metro, by bike, or walking, those who live at Highgate all pass under the tree canopy at Jones Branch Drive. Knowing that this would be the case, landscape architect Parker Rodriguez used 252 2X Silva Cells to provide total soil volume of 6,197 ft3 when establishing the green space. The trees share the soil volume root area and are robust and growing vigorously.
"Silva Cells were used to create a fully supported sidewalk while still complying with county requirements for minimum soil volumes for each tree pit.  Installing Silva Cells ensured the street trees have the proper soil volumes to provide a long and healthy environment in a dense city landscape."
– Jeffery Brewer, Project Manager, Parker Rodriguez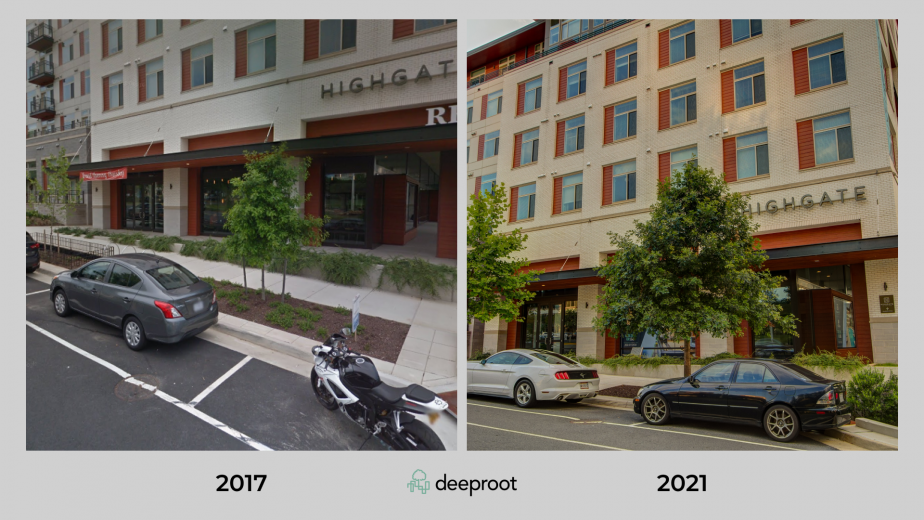 Known to locals as the "downtown of Fairfax county," Tysons Corner, Virginia, is a town of 23,000 people. Just a 30-minute drive from Alexandria and Washington, D.C., Tysons (McLean) the town is faced with hot summer months. Between May and September the temperature in Fairfax County averages above 75 degrees. The increase in the number of high-average days has doubled compared with a decade ago. According to the Center for Climate and Energy Solutions, "Over the past decade, daily record temperatures have occurred twice as often as record lows across the continental United States." Adding Silva Cells to this project increases the soil volume for tree roots, allowing the trees to grow and mature quickly. Mature trees help develop the city's resilience in the face of extreme heat because of their capacity to cool and deter urban heat island effect.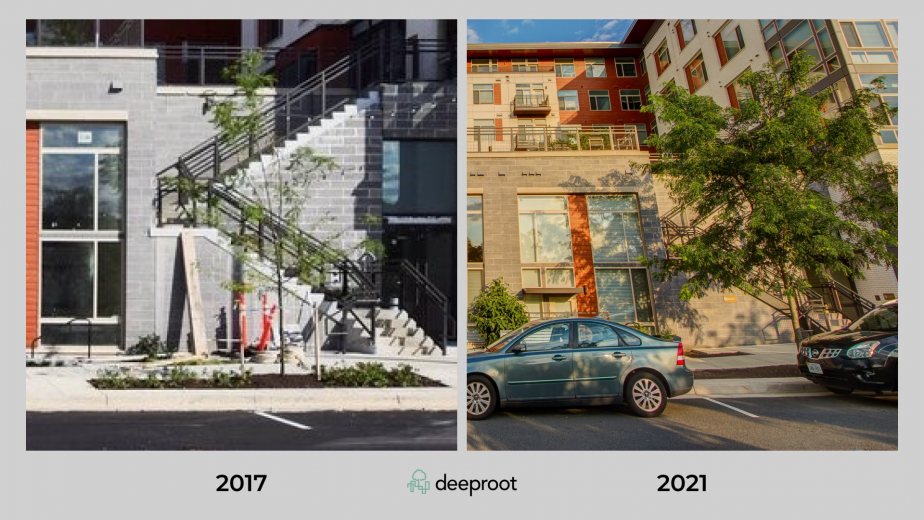 Fairfax County understands the importance of soil volume in growing healthy, strong trees. Shortly after ground was broken on this project, officials there created a soil volume mandate. In 2018, it was established that the measures would be 700 ft3 per tree or 1,200 ft3 for shared space. See pages 3-62 of the 2018 Tysons streetscape guidelines  and DeepRoot's soil volume mandate by city page for more details.
Installation Summary:
Number of Silva Cells: 252 2X
Total soil volume: 6,197 ft3 175m3
Soil volume per tree: 177 ft3 (5 m3)
Number of trees and type: 35
Type of project: Integrated trees, streetscape, apartment
Project designer: Parker Rodriguez
Project contractor: Clark Builders
Installation date of Silva Cells: 2016
Project time line: 2016–17
https://www.parkerrodriguez.com/highgate