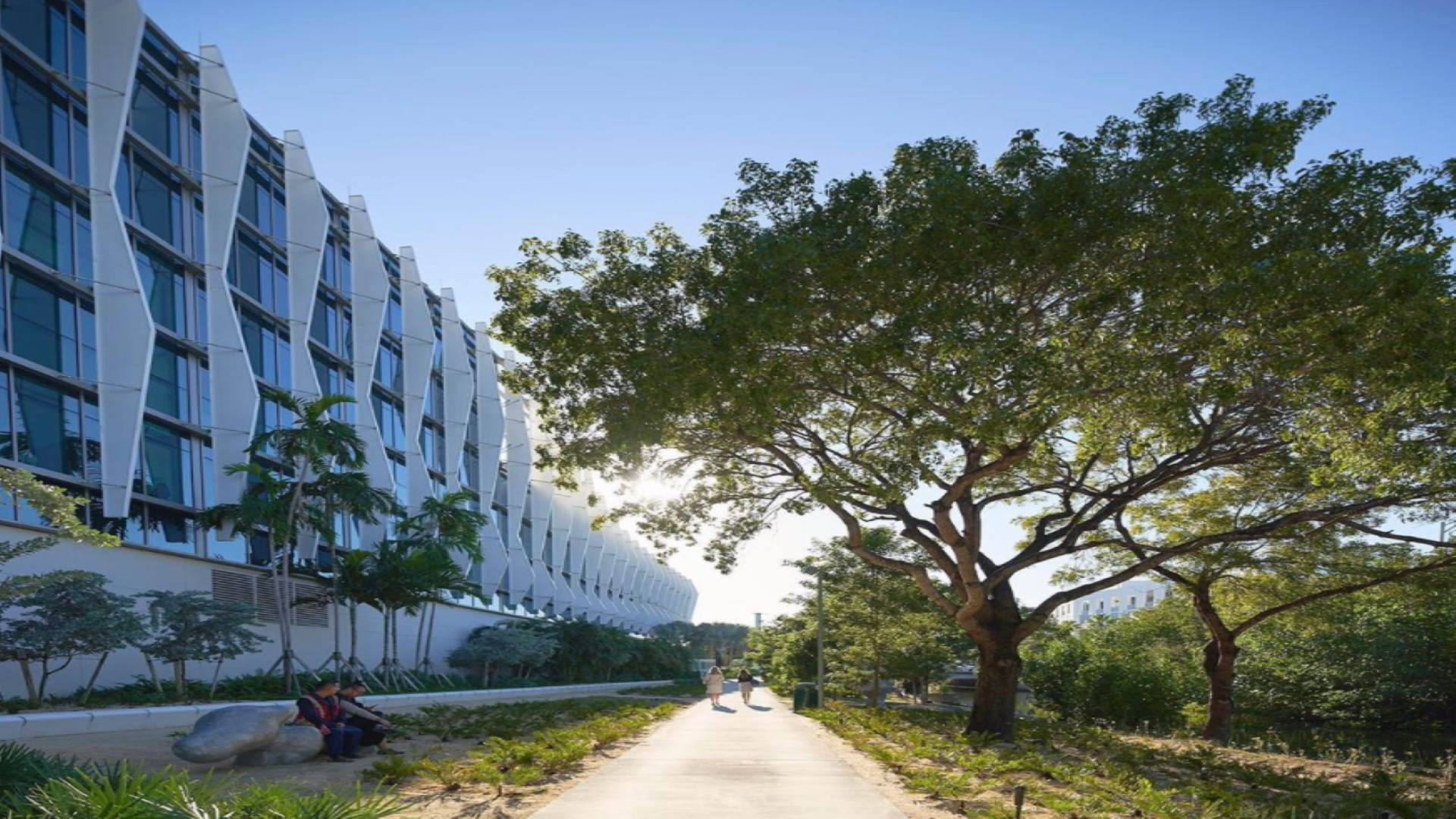 In 2015, the Miami Beach Convention Center announced a project that would be a nearly 12-fold cost increase from the '88 renovation, a $620 million revamp that would spawn a list of holistic environmental building achievements, certificates, and accolades. On the list of environmental and green infrastructure design elements is the resilient, green infrastructure product: the DeepRoot Silva Cell.
Installation Summary:
Number of DeepRoot Silva Cells: 1453 1X and 2X
Average Soil Volume per tree: 30,000 ft3
Installation type: Integrated Trees, Sidewalk, Plaza
Number of trees: 114
Project Designer: West 8
Contractors: Clark Construction, Superior Landscaping
Installation date: 2019
Challenge | Solution
The 1.4-million-square-foot LEED-Silver Certified, Miami Beach Convention Center is one of DeepRoot's largest project in southeast Florida. A mixture of Silva Cell depths and layouts were used along the perimeter roads of the Convention Center, as well as the adjacent park, designed by West 8. The 1,453 Silva Cells specified on the project were chose to simultaneously increase soil volume by suspending the pavement, alleviate compacted soils, and provide a buffer against king tides and sea-level rise.
"West 8 takes special care to ensure trees receive high-quality soil and ample soil volume. Soil is the foundation of any landscape. By investing in it, you are investing in the comfort of the park's visitors. By providing trees with additional soil volume, they will grow larger and live longer, which also protects the client's initial investment by reducing the frequency that trees are replaced. This is critical, as trees provide the shade and comfortable microclimate for harsh streetscapes, an especially important factor in Miami," said West 8's founder, Adriaan Geuze, "Additionally, more soil volume provides storage and absorption of water from flash flooding events. The use of DeepRoot Silva Cells allows excess water to be stored under the concrete sidewalk, creating a more sustainable approach for urban drainage and reducing reliance on off-site resources. Our experience with Silva Cells across our projects is that they have proved to give long-lasting environmental benefits, which is a goal of the LEED Silver Facility."
Working with Clark Construction Group, a mixture of Silva Cell depths and layouts were used along the perimeter roads of the Convention Center, as well as the adjacent park, also designed by West 8. The architecturally dramatic entrance along the four-lane divided highway that is Convention Center Drive needed similarly dramatic plantings to match the street trees across the drive by the Miami Beach Botanical Garden and the newly planted street trees that created a pedestrian friendly way for conventioneers to get to the open space in Convention Center Park. In all, 719 Silva Cell 2x systems were used along both sides of Convention Center Drive, supporting 47 multistem Solitaire Palms and 9 Live Oaks. Along the eastern side of the Convention Center, on Washington Avenue, 554 2x systems and 180 1x systems provide soil for a mixture of relocated Solitaire palms and Gumbo Limbo in large planting beds and tree openings.
Herman Guerra, a former senior project manager at Clark Construction Group commenting on the installation and overall project synergy said, "Working in downtown Miami Beach was complicated due to many known and unknown underground utilities and the water table, which changed throughout the day, every day. Working with Silva Cells was so easy due to their flexibility, if we encountered something, we could switch the depth of the Silva Cell and continue to work. We were very successful as a team in coordinating to make sure the installation met the designers' intent without affecting or damaging any underground systems."
With more than 600,000 annual guests, the Miami Convention Center is now flourishing with mature trees made possible with Silva Cells. The trees and soil surrounding the Convention Center are now equipped to better handle extreme weather and manage stormwater. The City of Miami Beach and Metro Dade County has continued to strongly support the environmental efforts to address the issues of rising sea-levels in Miami. These efforts have included installation of larger storm-water pipes, new pump stations to push rainwater out to sea, and elevation of sea walls and roads by 3 ft in lower lying areas. These renovations have also included the Silva Cell as a green stormwater solution in the Sunset Harbour neighborhood, the New World Symphony, Espanola Way, and all along Pennsylvania and Lenox Avenues.