Greenville, South Carolina, Silva Cells Then and Now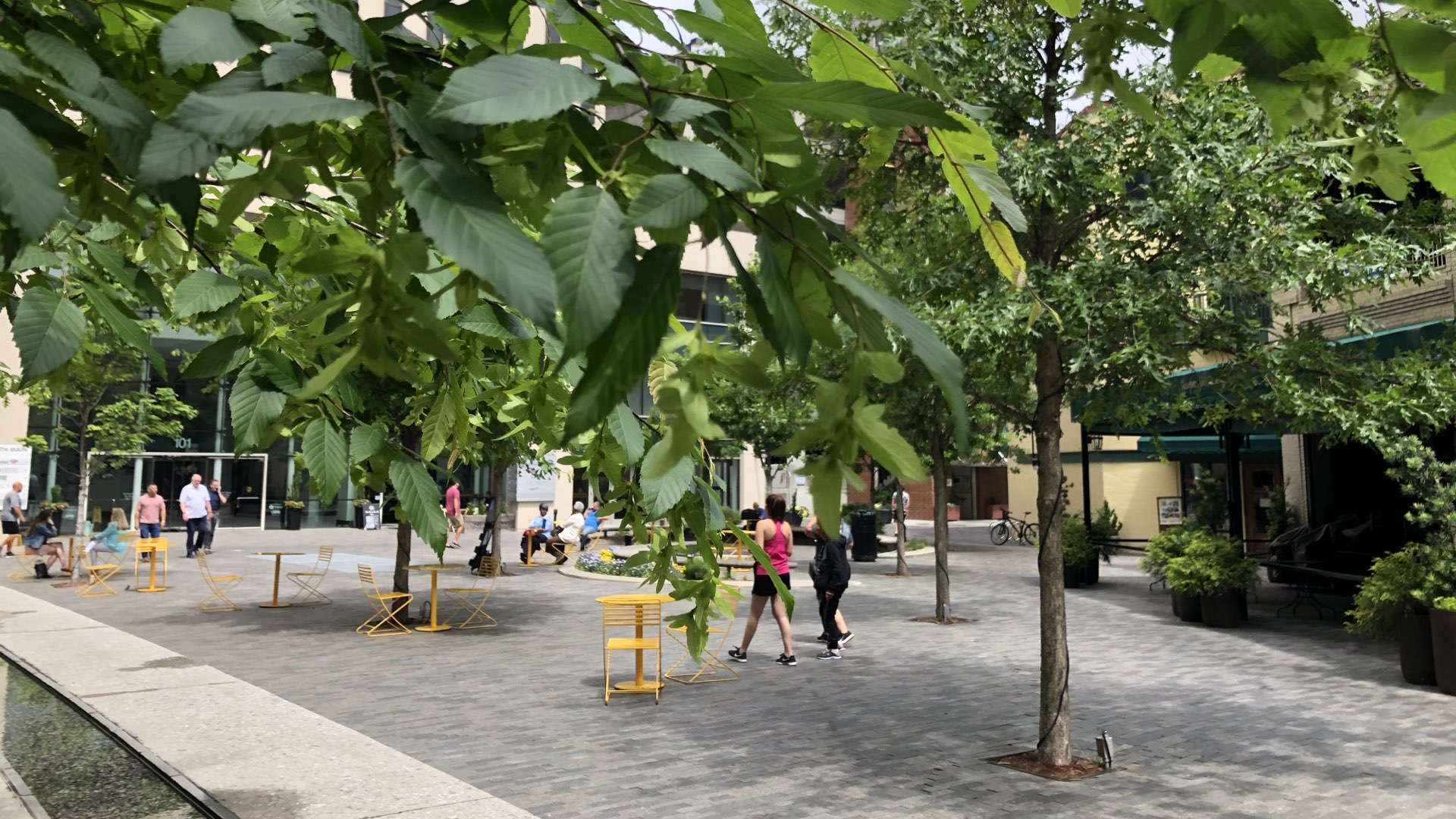 – One of DeepRoot's earliest Silva Cell projects involved Jim Urban, FASLA, and Drew Smith of Greenville, South Carolina.
– 13 years later, two additional Silva Cell projects are complete, and the city has continued to prioritize green infrastructure—a big contributor to the strengthening of the downtown economy, and a strong lure to new, permanent residents.
– Jim Urban reflects on the whys, challenges, and lessons learned from the 2008 project. An interview with Drew Smith reveals why Greenville chose Silva Cells, continues to choose Silva Cells, and what the future of the Camperdown project will look like.
Greenville, South Carolina is seeing a stronger and more resilient economy, partly due to the decades of "greening" public spaces, streets, and urban parks. The city has seen great growth in population—reaching 70,000 (up 20,000 from 20 years ago), infrastructure, and industry the past few decades, but especially in the past 12 months from pandemic migration.
COVID-19 lockdowns and remote work highlighted interest in accessing outdoor space. Many people have flocked to smaller towns, such as Greenville, to get easy access to urban parks and green public spaces. Greenville is a 3 ½ hour drive from the Atlantic Ocean just outside of the Blue Ridge Mountains. The Wall Street Journal covered this big city to small-town living proliferation in a recent article, in which the author tells the story of three cities that are experiencing significant COVID-era growth. All three (one of which is Greenville) are considered "breakout cities" because of their draw, which comes in part from urban green infrastructure.
Greenville—which has certainly stayed true to its name—incorporated soil volume and tree planting as a priority in its landscape architecture and urban planning—in the early 2000s. The town could not have foreseen the slew of people that would leave the cities for smaller towns during the COVID-19 pandemic; nonetheless, its natural beauty attracted transplants such as Cliff Holekamp. Photographed at Falls Park on the Reedy River, which is within a five-minute walk of all the Silva Cell projects, Cliff reflects on his decision to move to Greenville. The author of the WSJ article, Justin Baer, noted, "In the end, [Holekamp] was sold by downtown Greenville's Falls Park, a patch of meandering trails, bike paths, waterfalls and greenery along the Reedy River. 'It really is one of the prettiest city centers in the U.S.,' Mr. Holekamp said."
To understand how Greenville got to this current, exciting place, DeepRoot spoke with both Jim Urban and Drew Smith, who were part of the 2008 Main Street and Laurens Street improvement project.
"My history with Greenville goes back to the dawn of Silva Cells. I did an upgrade master plan and continued for over 10 years monitoring the health of the trees for the city. The original plan for downtown was by Lawrence Halprin and Associates in the 1970s. Willow Oaks were planted along Main Street in clusters in large planting spaces and grew very well. In between the Oaks were rows of Red Maples in narrow slot planters that had not grown well. I developed a way to keep the Halpern plan and use Silva Cells to enlarge the slot planter soil volumes. We changed species from Maple to Lace Bark Elm. The city was fantastic in its support of the ideas. Despite budget challenges, the city stuck to the plan of changing one block at a time to phase in the Silva Cells. This took about five years starting with the blocks where the Maples were in the worst shape and progressing until all the Maples were replaced. The phase-in worked because the Oaks s and the elms filled in quickly."

— Jim Urban FASLA
Prior to the 2008 project on Main Street, the city tested the Silva Cell technology in an Allée adjacent to the main street, Laurens Street.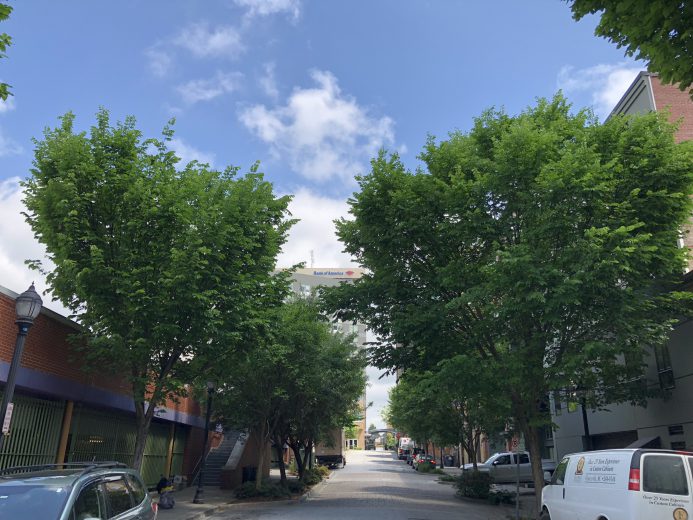 This piazza is adjacent to the main avenue and makes for a perfect area to sit, relax, or grab a bite from one of the surrounding restaurants. Anticipating the shade coverage that the several species of trees would provide, there are ample spaces for the community to gather and sit during the sweltering summer months.
Camperdown
In 2018, developers wanted to add a mixed-use space that would house hotels, condos, and restaurants, all sharing a plaza space for performances. This space is now known as Camperdown—just a few blocks from the Reedy River where newcomer Holekamp commented on the city's beautification as the main driver for relocating. Full advantage was taken to incorporate green infrastructure. In total 53 trees were planted with the support of 888 (2x and 1X) Silva Cells.
Camperdown is "a huge deal", according to Drew Smith. Since 2008 his title of parks and rec manager has now transformed into the unique title of 'right-of-way of trees superintendent', which in Drew's words means "overseeing all of the right of ways, beautification, and trees of Greenville." Below is a Q&A DeepRoot and Drew had about the greening of Greenville.
DeepRoot: "You worked on the Main Street/Laurens Street project back in 2008. Can you tell me about that experience?"
Drew: "That was a project that was new to us, it was one of ya'll's earliest installations, it was new to a lot of people. It was an extensive Silva Cell project, double-stacked. The whole street was lined. It was a real interesting project. We had a lot of utilities: underground water lines, sewer lines, that were in the area as well. There were challenges and learnings with how to install correctly. It turned out to be a really great project. The trees now are nice and full and they have plenty of growing space now. They are very happy. We have not had any kind of sidewalk problems or anything of that nature as well.
DeepRoot: "That's great to hear! Can you recall at all why this is something the city pushed for or maybe why your team was interested in using Silva Cell technology?"
Drew: "We saw on Main Street that we had a lot of Red Maples that were in tight planting spaces. This was basically an allée way that we were redoing. We knew the root space was the contributing factor to the maples that were in decline on Main Street. We wanted to first install on Laurens Street in the allée, then once we had that down put the Silva Cells in on Main Street.
DeepRoot: "Tell me about Greenville. You've worked with the city for the last 16 years. What are some of the biggest changes you've seen?"
Drew: "The change has been a lot of development. We've just had a boom of housing, condos, businesses coming in from the outskirts, which brings more and more people. The trees that we do have are a high priority. Our street trees especially are important because they can't get touched by development. They are well-protected. It's a balance of working with developers up to where their property line comes right up to city property. We work with them to make sure we have good agreements to install properly, to grow, and have a good downtown landscape."
DeepRoot: "It sounds like the city and development are working well together."
Drew: "That's part of internal communication with the city as well. We have a great economic development department that knows that the trees planted in the early '80s and on are what brought business back downtown and make downtown thrive again. They know that, and they are grateful. So they want to be part of the next project to their successors as well."
DeepRoot: "That is a good segue into the Camperdown project. There were 53 planted and several hundred Silva Cells installed. What kind of role do you see this project playing in the downtown vitality?"
Drew: "It's a huge deal. It's the other side of Main Street. On the other side is a center for performing arts. It's got a big open area allowing for people to walk about and meet up. Gives an area for small performances. It's a huge deal. It is a mixed-use space. There is a hotel, condos, business, and restaurants all in the space. They all share the open area as their front door basically. Because a lot of people are walking, there is a lot of hardscape. Because of that, Silva Cells were a great option for the root space."
DeepRoot: "Have you seen an increase in people who are coming to Greenville just because of its greenery?"
Drew: "I think so. We have probably one of the most unique downtowns. We've got a huge waterfall, Reedy River. There was a vehicle bridge that was removed in 2004, which made it feel safer. That happens with all of the tree-lined streets. They create a safety factor."
DeepRoot: "What are some thoughts you can leave us with? What suggestions do you have for urban planners or landscape architects?"
Drew: "Fight for space for your trees. Make connections in all the departments that are in your city. You never know who is going to help you out and fight for you as well. Preach to the other departments. They'll soon start preaching for you in other meetings. I think that's the biggest thing. Make it a culture of green infrastructure. It is just like any infrastructure in the city, but people see it, unlike the sewer system AND it brings people in."
Installation Summary: The Piazza
Number of Silva Cells: 200 1X
Amount of soil volume per tree: 240 ft3 (6.8m3) of soil volume
Number of trees and type: 11 (Elm, Swamp White Oak and Sourwood)
Type of project: Integrated trees stormwater
Project designer: Civitas, Inc.
Project contractor: Brasfield & Gorrie
Installation date of Silva Cells: 2013
Project timeline: 2013–2014
Installation Summary: Camperdown
Number of Silva Cells: 740 2X and 144 1X
Amount of total soil volume: 20,089 ft3 (569m3)
Amount of soil volume per tree: 379 ft3 (10.7m3)
Number of trees: 53 trees
Type of project: Integrated trees, stormwater
Project designer: Beau Welling Design
Project contractor: Brasfield & Gorrie
Installation date of Silva Cells: 2020/2021
Project timeline: 2019-2021