Underground Bioretention Along Armorlite Drive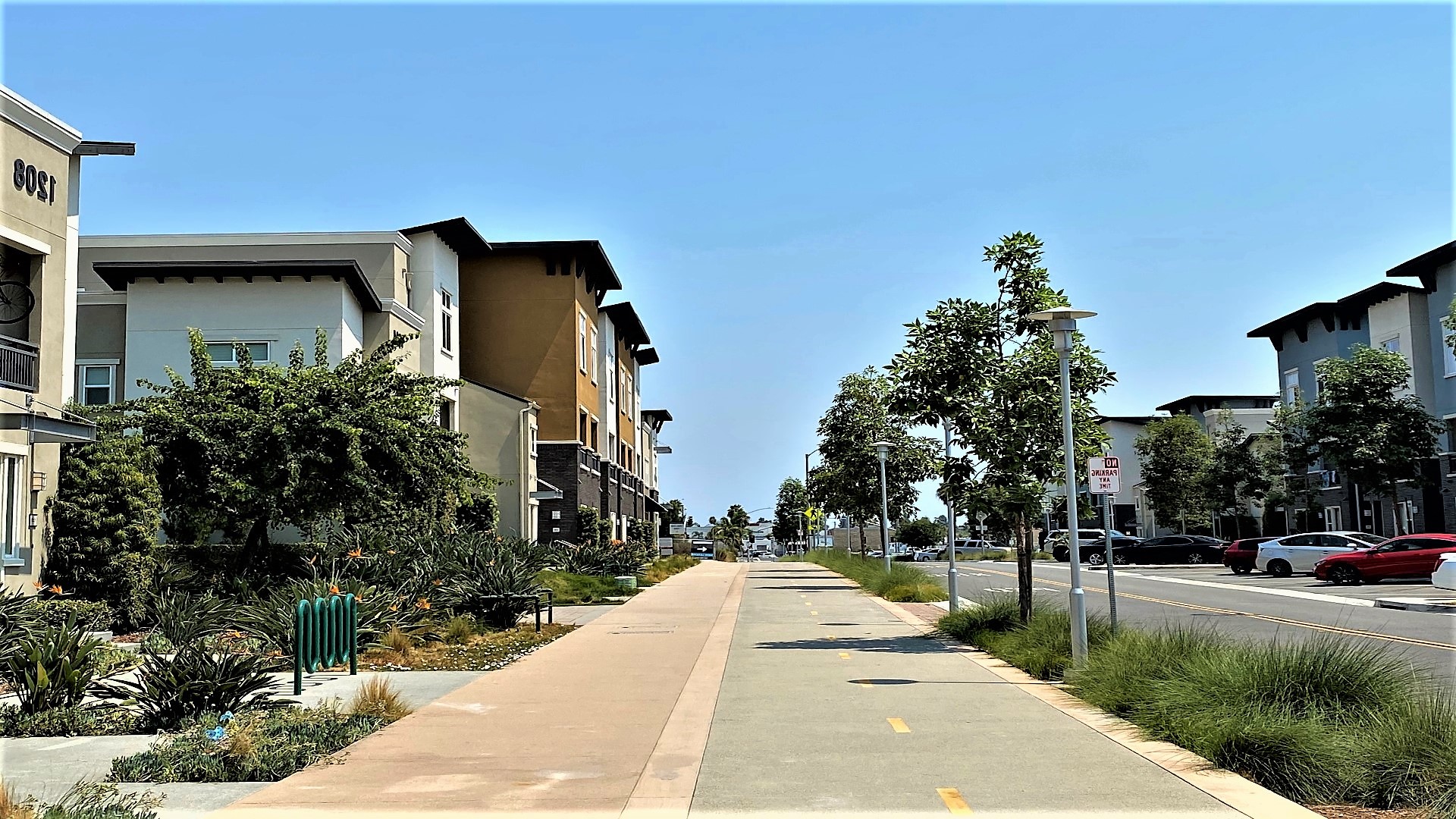 – Armorlite Drive received a holistic street makeover.
– Silva Cells were used as a stormwater quality BMP (best management practice) in order to comply with the Regional Water Quality Control Board.
Just 4 miles inland from the Pacific Ocean, and a 40-minute drive north from San Diego, San Marcos, California, is a vibrant, growing city that continues to benefit from its commitment to a green infrastructure. In 2020, the city's population topped 100,000.  Palomar College and California State University San Marcos call it home. The northern San Diego communities of Escondido, Oceanside, and San Marcos are connected by light rail transit, called the Sprinter, allowing for easy commuting and movement within the region for shopping, hiking, and eating out.
In San Marcos, between Palomar College's light rail stop and I-78, lies a community of apartment complexes, restaurants, public parks, and pedestrian-friendly paths. In 2015 the Armorlite Drive Smart Growth Improvement Project began, focused on this neighborhood. Now, in 2020, we are seeing the fruits of the project team's labor.
Designers at KTU + A Planning + Landscape Architecture and Michael Baker International (previously RBF Consulting, Carlsbad) set a goal of creating a more holistic street setting and improve the industrial backdrop from transport roads and rails. Armorlite runs perpendicular to and between Las Posas Road and Bingham Drive. The street design included 52 trees for its community members along with an 8-foot-wide bike lane, 10-foot wide sidewalks for outdoor cafes and restaurants, bike racks, and underground bioretention from 440 2x Silva Cells. In all, 8,800 cubic feet of soil was installed under the paving to support more than 50 new trees and to manage the street's stormwater. The designers specified Silva Cells in order to support the weight of the sidewalk while also providing adequate soil volume and managing stormwater beneath the paving for the live oak, Brisbane box, and crape myrtle trees.
Stormwater Application – underground bioretention
On the south side of Armorlite Drive, a 24" precast grate inlet catch basin captures water for inflow to the Silva Cell system via a 4" perforated PVC pipe that distributes water throughout the system while a 4"perforated PVC pipe functions as the underdrain within a 12" class 2 permeable base.
Silva Cells minimized infrastructure and maintenance costs while allowing runoff to filter through the soil, where it can be cleaned and cooled before entering the city's storm sewer or the nearby San Marcos Creek. The design was made to be able to handle a 100-year rain event (121mm/24 hours) and manages water quality, peak, and volume. During a given event, the underground bioretention system with San Diego County–approved biofiltration soils provided storage capacity of roughly 15,000 gallons as part of pore storage.
"We used Silva Cells as a stormwater quality BMP (best management practice) in order to comply with the Regional Water Quality Control Board storm drain requirements and to provide pollutant-control and flow-control functions. The best way to achieve this is through biofiltration, which is usually done with a bioretention area at the ground surface. With a roadway project like this, the surface area to do bioretention is hard to find. The underground Silva Cells were the perfect solution," says David Wiener of RBF Consulting, the engineering, planning, and consulting firm on the project. He continued, "We considered permeable pavement, bioretention areas, and proprietary filtration devices. Silva Cells made the most sense because they provide all the stormwater benefit that we need, don't take up surface area, and are great for the proposed trees."
The Benefits Realized
Once a nondescript street lined by warehouses and empty lots, Armorlite Drive has undergone a complete transformation and is now more livable, green, and pedestrian–friendly.
The enlarged tree canopy and street beautification have contributed to the local economy as well as providing shade for the community. There is well established research demonstrating the increased property values that street trees provide and the trees at Armorlite Drive are no exception.
The assistant manager of Marc Apartments, Amanda, said in summer of 2020, "The trees are beautiful to look at and provide a lot of shade. It gives it more of a communal feeling. We are right next to the industrial area, so it helps to partition between community and transit industry." The Marc Apartments hosts 500+ residents, and that is just one of four apartments that line the Armorlite Drive.
"Just two years after installation, in 2017, the project: Armorlite Drive Smart Growth won the Outstanding award from American Public Works Association. "
Close to 200ft3 of soil per tree, ample growing space, and irrigation have all contributed to significant growth in three years.
Notably, when facing east toward Bingam drive, the trees on the right side of the street do not appear as big as the trees on the left. There are two likely reasons for this.
The right side of Armorlite Drive is bordered by a public park, Innovation Park, and the leasing office for Marc apartments. The commercial places receive dedicated irrigation adjacent to the street trees. The dedicated irrigation and the support of Silva Cells have added to healthier and more significant growth.
The contractor, TriGroup, planted the trees in phases. The right side was planted earlier than the left, by a few months, allowing more time for those trees to mature.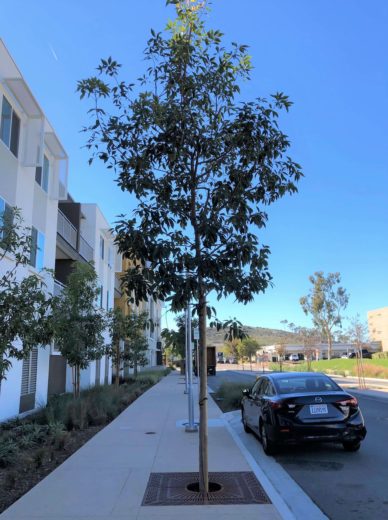 Though the community members who reap the benefits of Armorlite Drive's smart growth improvement cannot see the Silva Cells, or perhaps may not know of the healthy amount of soil volume and stormwater capture that is being managed by the Silva Cells, they are able to enjoy what they see and feel aboveground: more biodiversity, increased shade, a sense of place, and an overall greener, safer community that is at its core geared toward pedestrian safety and health.
The trees' health and viability will continue to flourish and be sustained for decades to come. This is only the beginning and we look forward to seeing the evolution of the trees in the seasons to come.
Installation Summary:
Number of Silva Cell: SC1 440 2x system
Amount of Soil volume per tree: 169 ft3 per tree
Amount of Root Barrier: 780 panels
Number of trees and type: 52 live oak, Brisbane box, and crape myrtle trees
Type of Project: Integrated trees stormwater
Project Designer: KTU+A Planning & Landscape Architecture
Project Contractor: Tri–Group Construction
Installation Date of Silva Cells: March 2016
Project timeline: 2016-2017
Download PDF version