Lakeshore Road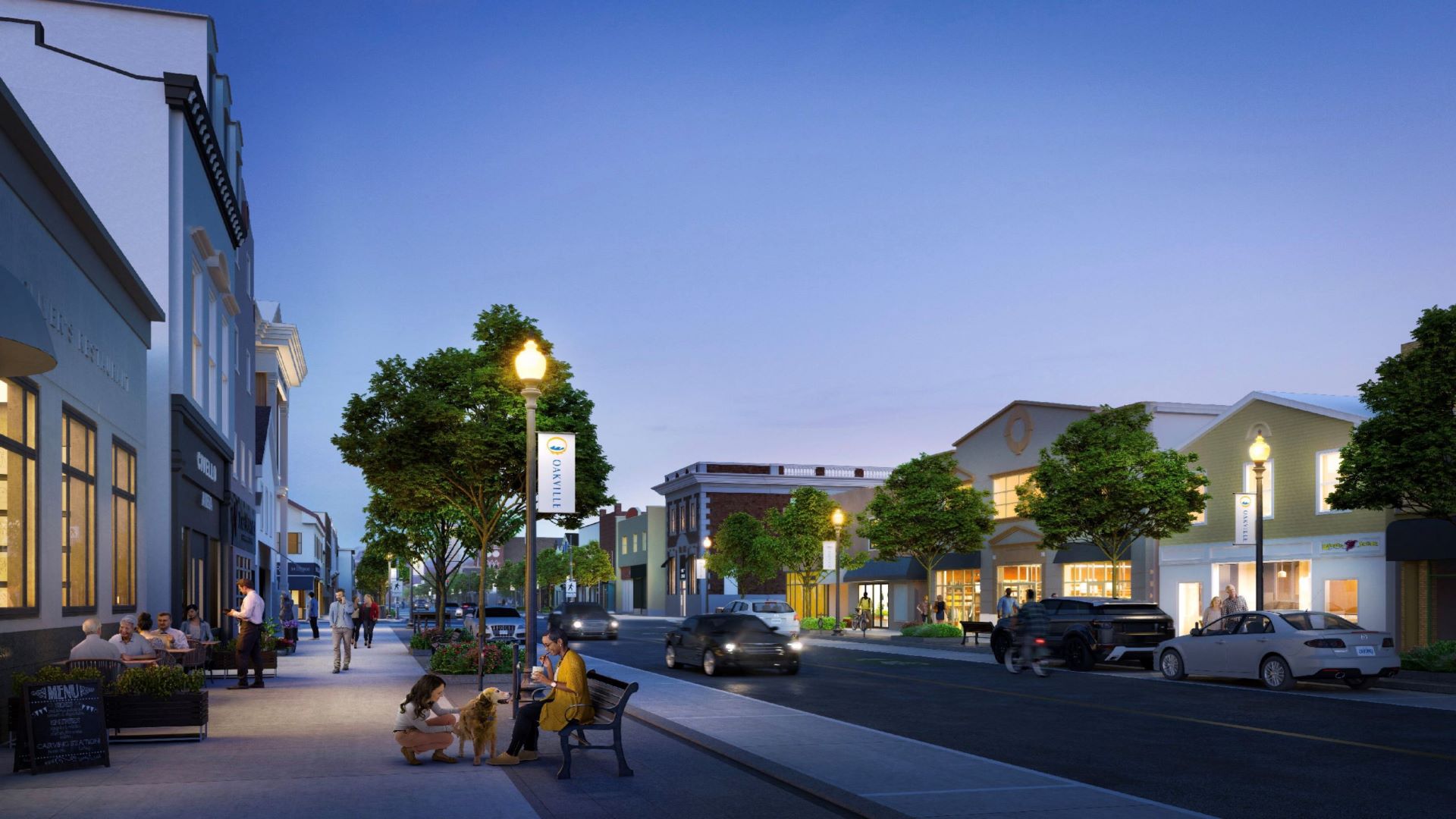 – The Lakeshore Road Reconstruction project includes a total of 1,633 DeepRoot Silva Cells, incorporating over 1,758m3 soil volume, 82 trees, a bike path , and an urban art aesthetic.
– 40% canopy coverage by 2027 is one of the greatest goals of this project. 
– 12 species of Oak now thrive in Oakville.
The Town of Oakville sits halfway between Toronto and Hamilton, along Lake Ontario's waterfront. Lakeshore Road was originally a First Nations trail, running along the shore of Lake Ontario. Over time, as European settlers arrived, the road became a central east/west artery through Oakville around which its downtown core developed. Fast-forward to 2020 and Lakeshore remains the downtown thoroughfare of Oakville, hosting restaurants, bars, fashion retail, coffee shops, and tech stores.
The Town of Oakville has long been a community with a passion for urban development and design that is sustainable and keeps the character of downtown. So, it is not surprising that the Mayor, Rob Burton, City Council, and the people of Oakville have raised the bar for advocating for their urban forest and increasing urban canopy with the recent redevelopment of Lakeshore Drive.
The Lakeshore Road project was first conceived as early as 2006. In 2008, the Urban Forest Management Plan(UFMP) was established to give "steps to providing a framework to achieve short-, medium and long-term goals for the urban forest over 20 years". The UFMP included a road map towards creating a minimum 40% canopy coverage by 2027.  The key mechanism to achieving this target was the implementation of a Street Tree Soil Volume Standard. In 2009, Oakville also passed into law an ordinance that trees shall be protected and treated as green infrastructure. See other recognitions of tree protection by Oakville from the city's website, here.
In a 2012 interview with DeepRoot, City Councilman Allan Elgar, noted what makes a large tree canopy possible: "It had become clear to many of us that Oakville's trees were not doing well. They might live 20 or 30 years, but they'd remain small and root-bound, and then they'd die. Once we learned about how much more we could be doing, it was obvious to us that we had to move in that direction." Oakville followed the already established soil volume standards in the Toronto Green Standard (30m3) per tree for street trees. By 2012 almost every other municipality in the Greater Toronto Area had instituted soil volume standards.  Adopting the soil volume standards and the UFMP became key design drivers for the Lakeshore Road upgrade.  In preparation, Oakville incorporated several studies, where research and public consultation helped identify broader opportunities to improve the city's forestry services, improve traffic, beautify streets and improve pedestrian and cycle opportunities in downtown Oakville.
Oakville incorporated electric and water utilities in the early 1900s. Back then, the population was just under 2,000 people, now it's 200,000. After a century of use, Oakville's underground infrastructure including pipes, sewers, and other utilities, were ready for an update. Cities throughout North America and the UK are all seeing similar patterns unfold within city planning and infrastructure departments. Oakville used the mandatory utility upgrade as an opportunity to also improve street tree canopy which creates a positive feedback loop of sustained human and environmental health for another century.
In 2013, a streetscape masterplan study for downtown Oakville (Lakeshore Road) was initiated. Colin Berman from the Landscape Architecture firm, Brook Mcllroy has been part of the project since 2013. When DeepRoot spoke with him in June of 2020 during the last phase of the project he said, "From the beginning sustainability and rejuvenation were the main points for the downtown project in Oakville. The project team sought to utilize green infrastructure wherever feasible."
Stormwater runoff is redirected through trench drains into the Silva Cells below the sidewalk, which are full of large volumes of lightly compacted soil.  The soil and stormwater will support a variety of native trees along Lakeshore. The tree pits also collect, pre-treat, detain and infiltrate stormwater before the surplus enters the municipal stormwater system.
The bridge over Sixteen Mile Creek, leading in to downtown Oakville (Between Sixteen Mile Creek and Navy St.) was part of the first phase of the project. Phase 2 began in May 2019. Construction from Navy St. to Dunn St. went from May 2019 to November of 2019. In Phase 2 1,224 – 3X Silva Cells were installed, and 44 trees were planted.
The project is about a kilometer long, running 8 blocks from the bridge to Allan St. The first (smallest phase) of three phases of construction began below ground, just after the Sixteen Mile Creek Bridge and before Navy St. in 2018.
Much of the urban and green infrastructure design aesthetic stems from Brook McIlroy. The central design focus was on urban forestry and urban, green infrastructure. 
"Extensive soil cells, a passive stormwater capture system to irrigate street trees, granite curbs and paving, EV charging stations, smart city technology and LED lighting. The design also incorporates a series of placemaking elements including bronze inlays depicting the native Oaks of Ontario, unique patterns for crosswalks, and patterned wraps for above-grade infrastructure"
-Brook McIlroy
The trench drains will allocate stormwater directly to the Silva Cells and root systems of the Oaks.
Oakville's topography and geography were considered during design and construction. Being bordered by Sixteen Mile Creek and Lake Ontario presents a vulnerability to flooding from a significant rain event, a 100-year flood. With climate change creating more frequent, unseasonal flooding, and more intense storms, the trench drains, connected to the Silva Cells, provided not only a solution for every day rain events but also provided excess capacity and resilience to the grey infrastructure.
In January 2020 the final phase, four blocks between Thomas St. to Allan St. of the downtown renovation began. In a January 7th article in Oakville News, Mayor and City Engineer assured the town (unbeknownst to them that a pandemic was on the horizon) that they would do everything they could to finish as quickly as possible, on schedule. Mayor Burton stated, "The council is committed to complete the project as soon as possible. We value this level of engagement and know this 20-million-dollar investment will contribute to the long-term health of our downtown." The Director of Engineering and Construction added, "The Lakeshore Road project is complex, involving multiple contractors working together to complete the work required by the Town, Halton Region, Union Gas, and Oakville Hydro and we look at every opportunity to move the project forward faster."
In February 2020 gas lines were replaced, followed by water main work, replacement of electrical infrastructure, and finally the Silva Cell installation.
The spring and summer have seen much progress, considering the pandemic's economic and delivery impact toward potential delays, the project is still scheduled to be complete in its original time of late fall, early winter.
In June 2021 a bounty of Oak's, Maples, Honeylocust, Kentucky Coffee, and American Elms above ground and brand-new infrastructure below ground.
Colin Berman noted,
"Throughout the design process, Brook McIlroy worked closely with the community to help everyone understand the benefit of a healthy urban tree canopy and green infrastructure, including the benefits of technology currently on the market such as Silva Cells. The need to update utilities – which allowed for relocations to make room for silva cells – was a huge driver in enabling this green infrastructure project." All of the project teams whether it was gas, hydro, electric, telecoms, had to be on the same page about the goals to achieve the result. Council and staff of the town have been huge in keeping the construction on schedule.
The Trees
The design was thoughtful in incorporating 6 different types of Oak trees to Oakville. Here is a full list of all 82 trees that will be part of Lakeshore Road very soon.
24 Oak Trees
(4) Quercus Alba: White Oak
(4) Quercus bicolor: Swamp White Oak
(4) Quercus Macrocarpa: Bur Oak
(4) Quercus Muehlenbergii: Chinquapin Oak
(4) Quercus Rubra: Red Oak
(4) Quercus Belutina: Black Oak
(6) Acer x Freemannii: Red Maple
(6) Acer Saccharum: Silver Maple
(24) Ginkgo Biloba: Maidenhair Tree
(13) Gleditsia triacanthos var. inermis: Thornless Honeylocust
(10) Gymnocladus dioicus: Kentucky Coffee Tree
(10) Ulmus Americana 'Valley Forge': American Elm
Installation Summary
Number of Silva Cells: 1,656 3X Silva Cells
Amount of Soil Volume: 21m3 (757ft3) per tree, 1,758m3 (62, 083ft3) total
Type of project: Integrated trees and stormwater
Root Barrier: UB 18-2, 650 panels
Municipal/gov: Oakville Council
Project Designer: Brook McIlroy
Project Contractor: CRCE Construction
Installation Date of Silva Cells: 2018-2020
Project timeline: 2013-2020