Camino Del Mar Streetscape Enhancement Project
The City of Del Mar in Southern California has installed 400 DeepRoot Silva Cells below the new sidewalks spanning 48 landscaping areas along a 7 block Streetscape project. The $6.8 million citywide project has been executed to improve both pedestrian and bicycle mobility through wider sidewalks, crosswalks, bike lanes, new areas for street furniture, and the planting of 85 new trees.
Silva Cells play an integral role in the sidewalks providing underground bioretention and a mechanism to both manage stormwater and promote healthy tree growth. Silva Cells were approved and listed within the County of San Diego Best Management Practice Design Manual (BMP DM) that became effective on January 1st, 2019.
Highlights
• Silva Cells captured over 20,000 gallons of stormwater from the streets and sidewalks while supporting load bearing surfaces above.
• In addition to the 20,000 gallons of stormwater captured, the Camino Del Mar project involved planting 85 new trees with underground bioretention offered by 400 Silva Cells.
• DeepRoot collaborated with our design partner Spurlock Landscape Architects, Michael Baker, the City of Del Mar Public Works Division, and the County of San Diego Department of Public Works.
• An innovative narrow grate drain system (see diagram below) was designed that acts as an inlet to allow stormwater runoff to flow to a collection point and distributed throughout the Silva Cell system via a distribution pipe configuration.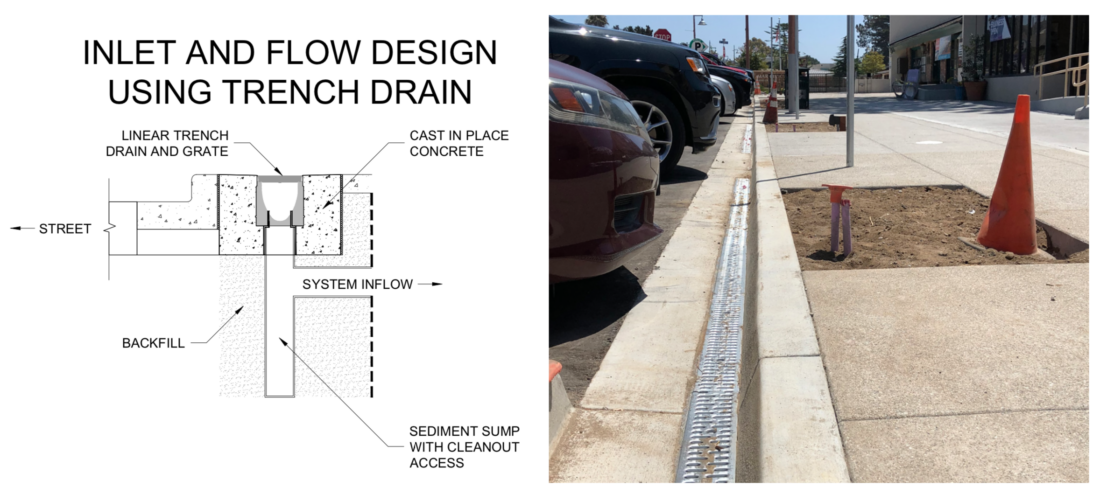 As part of the revitalization of the seven block commercial center of Del Mar, 85 new trees were installed using 400 Silva Cell (using both 3X and 1X models) offering underground bioretention along the Camino Del Mar Blvd. The Silva Cells were installed in a 5% slope to meet the site demands. Bioswale mix of sand (50 to 60%), fines (20 to 30%), and compost (20 to 30%), with a particle size
of 3/8 inch minus was used. These soils enable for water quality treatment followed by underground infiltration of treated runoff, so integrating a significant stormwater solution was critical for this coastal community. One of the primary goals was to ensure the new streetscape was extremely safe for all visitors and collect runoff from the sidewalks and medians away from the local businesses. Further- more, there was a strong desire to promote healthy tree growth to provide a beautiful urban environment.
Trench Drain System
A linear trench drain was a suitable inlet configuration for this project as sheet flow was expected from the drainage area (sidewalks). No pre-treatment was designed as part of this project. Together with Spurlock Landscape Architects, DeepRoot designed a trench drain inlet consisting of a long, narrow grate drain that allows for runoff from the sidewalks to flow to a collection point. From here it is distributed throughout the Silva Cell system via a distribution pipe configuration out to the municipal storm drain system.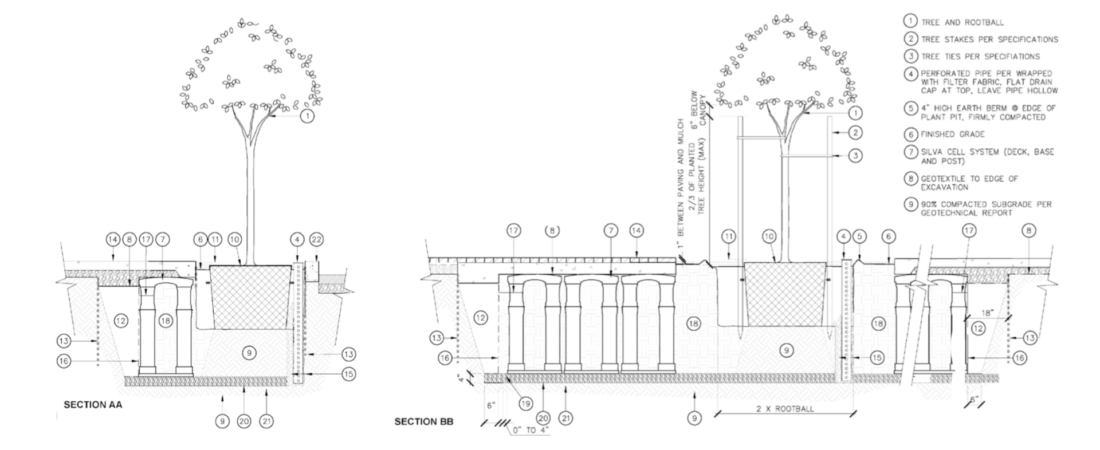 An overflow condition was also designed as part of the trench drain inlet system to avoid localized flooding and prevent pollutant loads from larger storms from entering the system. For the trench drain, sheet flow ponds above the grate recessed towards a low point to allow for overflow ponding. An overflow outlet connected directly to the storm drain was installed adjacent to the recessed trench drain to capture additional overflow.
Environmental Impact
The installation of the DeepRoot Silva Cell technology directly impacts and is approved by the California Regional Water Quality Control Board, and the Carlsbad Watershed Management Plan (WMA). The system directly supports the requirements set out by the WMA to manage urban runoff, pollutant abatement, and stormwater management.
Deeproot provided Camino Del Mar with new sidewalks providing underground bioretention and a mechanism to promote healthy tree growth.
If you would like more information about this project, please email us as [email protected].
For a PDF version of this case study, download it here.