Lisgar Park Urban Forest Transformation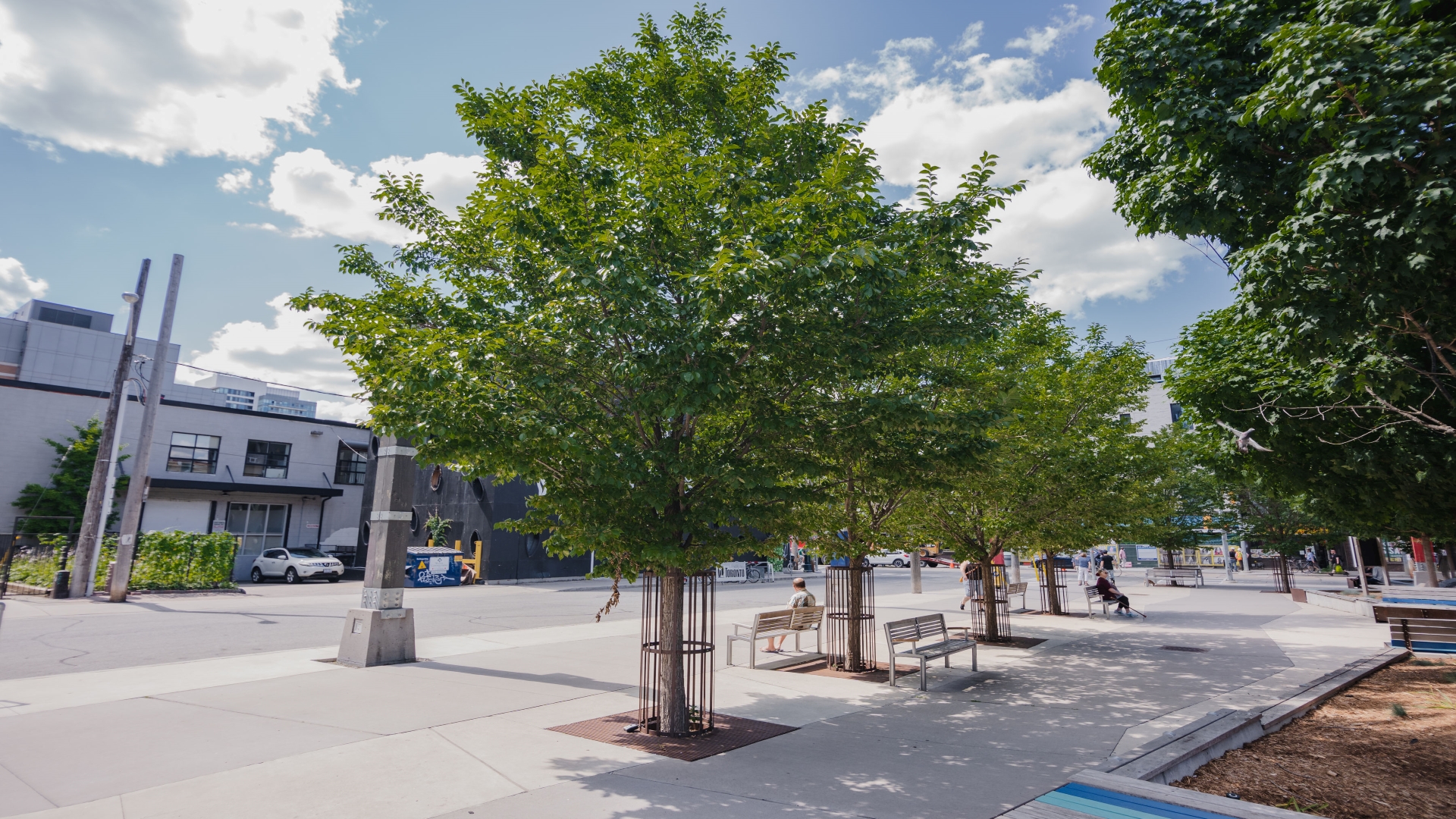 – In 2017, Toronto's Queen West neighborhood was witness to the renovation and redesign of a parking lot into an urban park replete with green infrastructure.
– The space now prioritizes community health and well-being with over 100 new trees. Thirteen of the trees are directly supported by Silva Cells.
The Vision
The designers, Victor Ford, wanted the park to reflect the industry and artistry of the neighborhood. The park now functions as a gathering spot for this rapidly densifying neighborhood. The designers implemented a large granular-surfaced area, three large wooden decks, and multiple landscaped "islands" surrounded by custom-designed benches. In addition to the new trees, a grid of vertical elements built from structural timbers, salvaged from a nearby demolition site, have lights, power hookups, attachment points for screens, scrims, lights, etc. for artistic performances or community events.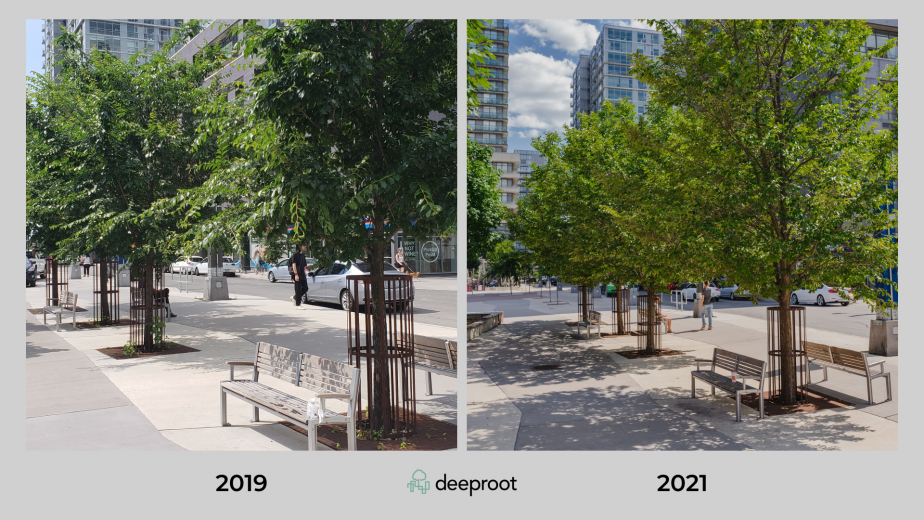 Silva Cells Work With Utilities
The addition of green infrastructure (trees and Silva Cells) is a vital part of the whole transformation at Lisgar Park. Notably, utilities did not have to be modified or amended for such a transformation to occur.  The geometry and flexibility of the Silva Cells allowed for utility conduits to be easily run through the Silva Cells.  DeepRoot's standard utility integration designs were used to incorporate light pole foundations and other vertical elements within the Silva Cell areas.
Functioning utilities and healthy tree canopies are possible thanks to the ability of the soil cell systems and utilities to co-exist harmoniously. This is an excellent example of engineers and landscape architects working together to improve the public realm.
Trees, Soil, and Transit
Though there are over 100 trees in this urban park, 87 are in open planters, making them not suited for Silva Cells. The 13 Valley Forge Elm and Maple Hybrid trees are each planted within 11.8 m3 (417ft3) of soil volume at their roots. Containing the soil specifically for the trees' roots has proved to strengthen them.  Silva Cells also help ensure tree roots grow deeper through the help of Root Barrier and geomembrane systems. These growth properties have both acute and long-term health and aesthetic impacts. The ability to manage stormwater and strengthen trees during high windstorms and floods is key to urban climate change
adaptation and resiliency.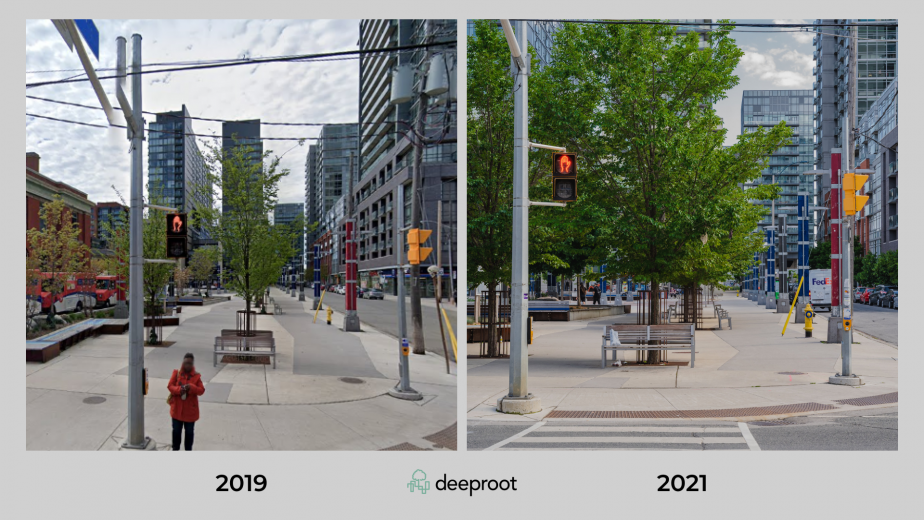 "The first batch of elms started quite large and really took off quickly." – Jeremy Craig, Victor Ford and Associates
The urban park, once crowded with cars, is now bustling with commuters and acts as a place to rest, play, gather, or find respite in the hot summer months. Just a block from the park are tram stations and bus stations. Within the park are Bike Share Toronto electric charging bikes for rental. Lisgar Park is a resilient and climate-ready urban park that within a few more years will be an urban forest oasis.
The growth of the trees in the past two years is impressive and encouraging. DeepRoot looks forward to seeing how they continue to expand the park's canopy and benefit visitors, commuters, and locals alike.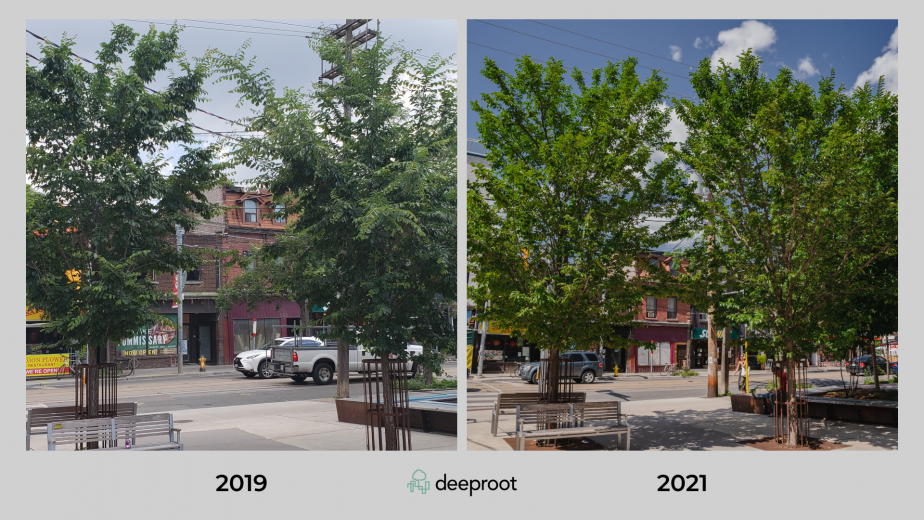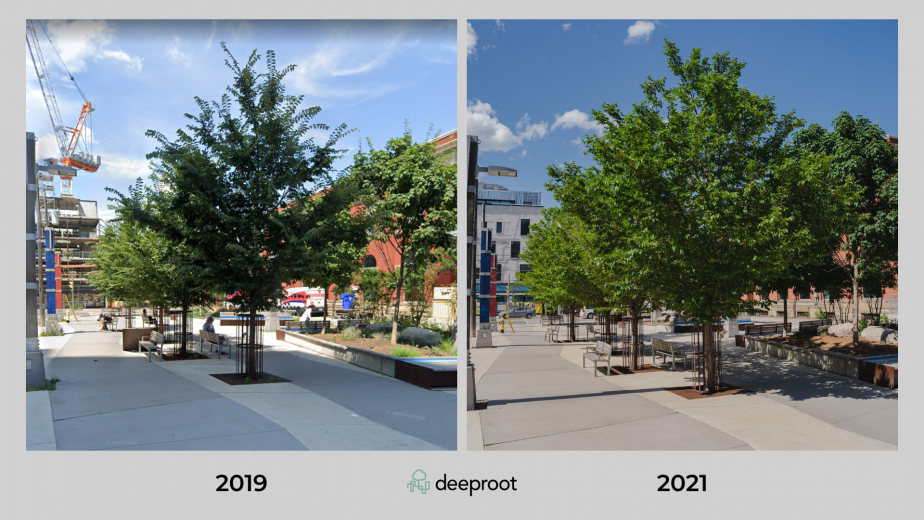 Installation Summary:
Number of Silva Cells: 222 2X
Amount of soil volume total 5,459 ft3 (154 m3)
Number of trees and type: 13 combined valley forge elm and maple Hybrid "highland park"
Type of project: Integrated trees and irrigation
Project designer: Victor Ford and Associates Inc.
Project contractor: Pine Valley Corporation
Installation date of Silva Cells: 2017 and 2019
Project timeline:  2017–2019