Revitalizing Toronto's Waterfront: A Decade of Canopy Transformation
– The Waterfront Toronto development consists of multiple green infrastructure projects across Toronto's waterfront. This case study highlights four projects where Silva Cells were used to achieve Waterfront Toronto's green infrastructure objectives.
– Sugar Beach trees have matured into an iconic, lush canopy that extends over the plaza. For those who wish to escape from the heat of the beach and relax in the cool shade and enjoy a stroll along the promenade. Sugar Beach is an enduring reminder of the city of Toronto's commitment to its urban forest.
– Dockside/Bayside Promenade features over 117 Red Maple trees that have shown stunning results.
– The tree performance at Sherbourne Common highlights some important fundamentals of planning for successful long-term growth.
– Queens Quay hosts 134 trees, and 47% of surface runoff is being diverted into Silva Cells, which are able to handle a on hundred year rain event.
The revitalization of Toronto's waterfront is the largest urban redevelopment project ever undertaken in North America, and one of the largest waterfront revitalization efforts anywhere. Waterfront Toronto is a joint venture by the federal, provincial, and city of Toronto governments.
DeepRoot is involved with contributing to two of Waterfront Toronto's ambitious goals: making the water's edge along Lake Ontario an accessible public amenity, and creating a more sustainably built environment through improving water quality, reducing flooding, and bringing a green presence to parks, streets, and other public areas.
DeepRoot's Silva Cell was used on all Public Realm sites in the Central Waterfront areas as well as along Queens Quay, the adjacent street. This entire area encapsulates dozens of phases of projects but in four commonly known places. These green spaces are: Sugar Beach, East Bayfront Dockside Bayside Promenade, Sherbourne Common, and Queens Quay. The construction of all of these projects started in 2009, 2010, and 2014. This phased-out approach shows the impression Silva Cells have had on the area throughout the past 12 years. Today the Waterfront in Toronto is still expanding its green infrastructure projects with Silva Cell.
These four projects alone include 354 trees and 11,000 2X Silva Cells.
Sugar Beach
The construction of Sugar Beach began in the fall of 2009, and the site officially opened in August 2010. Design firms Claude Cormier specified the Silva Cells at the Sugar Beach site in order to achieve the City of Toronto's soil volume standards for street trees. The City of Toronto's soil volume requirements are 530 ft3 (15m3) per tree (see: Toronto Green Standard). In order to realize their vision of large, mature trees and the associated canopy aesthetics, they needed to find a solution that would provide significant volumes of uncompacted soil for long-term tree growth. Twelve years later, Silva Cells have exceeded their needs.
There are 33 Maples at Sugar Beach, with a mix of Marmo, and Autumn Blaze. The designers opted for a two-layer deep Silva Cell system because of the high water table. The layer and amount of Silva Cells (1500 2X) created 2.5x the required amount of soil: Each of the trees has access to over 1,236 ft3 or (35 m3) of soil in the Silva Cells. There is 300 mm of aggregate cover on top of the Silva Cell decks, and there are sand-set pavers at the surface. Just two years after installation, in 2012, landscape architect Marc Hallé, with Claude Cormier, visited the trees and said,
"The trees at Sugar Beach—they look like they are on steroids—phenomenal growth that I have never seen before for an urban tree!"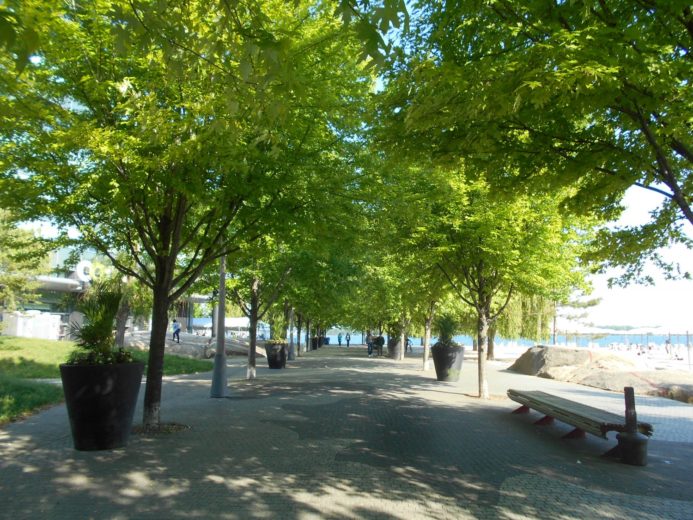 Installation Summary (Sugar Beach):
Amount of Silva Cells: 1500 2X
Total soil per tree: 1,236 ft2 (35 m3)
Installation date: Winter 2010
Installation type: 33 trees
Project designers: Claude Cormier
Owner: Waterfront Toronto
Contractor: UCC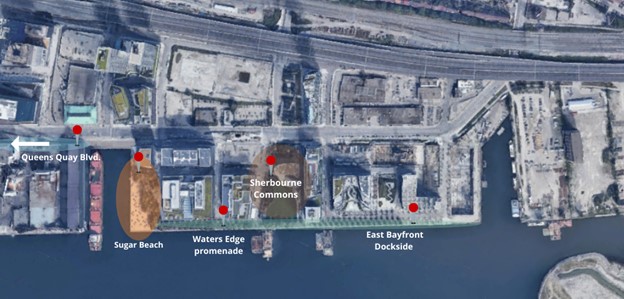 East Bayfront Dockside and Bayside Promenade
Just a year after Silva Cells were installed in Sugar Beach, the construction along the Bayside and Dockside promenade struck ground. Over 117 trees were planted alongside the Bayside and Dockside: 88 Red Maples were planted throughout the fall of 2010 and the other 29 in 2014. Like at Sugar Beach, the amount of soil volume exceeded the city's requirements. Each tree received 20 m3 or 706 ft3 of soil volume throughout the promenade. The trees have gone from just a few inches of ABH to close to a foot and created a shady canopy for pedestrians to enjoy the promenade on hot days. The results over the years are absolutely stunning. DTAH led the design for this portion of the waterfront project. The designers chose Silva Cells as the technology that would allow them to meet their design goals of 20 m3 of soil volume per tree under hardscape.
These trees have all exhibited strong color, new growth, and overall vigor from the outset, and barring unforeseen pests or damage, their expected outlook continues to be very positive.Figure 1could be header option
Installation Summary (East Bayfront Dockside and Bayside Promenade):
Number of Silva Cells: 3,240 2X Silva Cells
Amount of Soil volume per tree: 20m3
Number of trees and type: 117
Type of project: Trees with irrigation
Project designer: DTAH
Project contractor: CRCE (2010), UCC (2014)
Installation Date of Silva Cells: 2010, 2014
Sherbourne Common (Sherbourne Park): Lessons Learned
Sherbourne Common is a park that extends between Queens Quay Street and the Waterfront Promenade. It extends both sides up and down the promenade. Beech and Oak trees were planted at Sherbourne Common throughout spring, summer, and fall of 2010, and into spring 2011. Silva Cells run under the entire width of the pavement on both sides of the park.
Today, their leaves look healthy, indicating that we continue to see good growth and vigor in the future. Still, these trees have poor branch structure and other physical deficiencies that can have long-term effects on tree health. This was due to nursery plant stock/shock.
There are some lessons to be learned from the Sherbourne Common portion of the project. The tree performance on this site highlights some important fundamentals of planning for successful long-term growth:
Start with good nursery stock; poor quality stock can predispose trees to secondary problems such as pest infestations, slow growth, instability, and more.
Transplant at an appropriate time of year and make sure that trees are planted at the proper depth, with the root flare exposed.
Plan for adequate irrigation in the first three years; the water needs of young and transplanted trees are high until they are established.
Follow upto diagnose trees that are failing to thrive.
Installation Summary: (Sherbourne Common)
Number of Silva Cells: 713 2X Silva Cells
Amount of soil volume: 20m3
Number of trees and type: 70
Project designer: PFS
Project contractor: UCC
Installation date of Silva Cells: 2014
 Queens Quay Blvd: 134 Maples, Honey Locusts, Elms, and Lindens and Stormwater Management
In 2014, Queens Quay Blvd. received a green infrastructure revitalization. The street runs parallel to the water, separated by the waterfront projects and other promenades. The Queens Quay is Toronto's main waterfront street stretching over 1.7 km (1 m). The Silva Cell and tree planting is between Spadina Avenue and Bay Street.
Before the reconstruction, the street was defined by four lanes of vehicle traffic with narrow sidewalks and outdated public transit facilities. Dominated by delivery vehicles and used primarily as a loading zone and for the businesses and condominiums that line the street, it acted as a barrier to the city's waterfront. The revitalization of Queens Quay has been one of the most complex street reconstruction projects in Toronto's history and is a key element of the total waterfront transformation, creating an inviting, vibrant landmark and destination for the city.
Landscape architects West 8 and DTAH, in a joint venture, reenvisioned Queens Quay as a defining landscape that serves as a linear park connecting various parts of the city. A key element of the design is the 232 trees that line the north and south sides of the street and the Martin Goodman Trail, a multiuse recreational trail that for the first time is continuous along the full length of the city's waterfront. However, only 134 of the 232 trees, on the south side of the street, were installed in Silva Cells.
On the north side of the street, a mix of Maples, Honey Locusts, Elms, and Lindens are planted in continuous trenches with 1.2 m diameter openings, meeting the city's standard requirement of 15 m3 of soil per tree. The promenade trees on the south side of the street are London Plane trees arranged in two alternating rows with 1.5 m diameter openings, planted within wide continuous trenches. Silva Cells were used to allow the soil volume to span beneath the Martin Goodman Trail and were essential in meeting and exceeding the city's target soil volume of 30 m3 per tree.
The existing storm system on the street was surcharged and over capacity, and the new integrated system showed important positive impacts on the overall stormwater calculations for the site. On the south side of Queens Quay, surface runoff flowing from the Martin Goodman Trail and boulevard surfaces enters the Silva Cells via custom-designed catch basins that capture, store the first flush of runoff, and allow stormwater to enter the Silva Cells through a network of perforated pipes that passively irrigate the trees. In total, 47 percent of surface runoff is being diverted into the Silva Cells; the entire system was designed to handle a 100-year flood event.
In addition to the low-impact features of the site, landscape materials were selected to be sustainable, robust, durable, and timeless. The granite cobbles that pave the street with a maple leaf mosaic hail from Quebec, and the yellow Cedar for the custom wood street light poles is harvested sustainably in British Columbia. Wood benches line the promenade and add a splash of color with their bright red cast aluminum supports that also sport the abstracted maple leaf. The project as a whole comes together as a street that welcomes not only residents of the city, but also visitors from around the country and the world.
Installation Summary (Queens Quay)
Average soil volume per tree: 15 m3 (533 ft3)
Number of trees: 134
Tree Species: Maple, Honey locust, Elm, Linden, London Plane
Total Silva Cells: 5,400 2X
Installation type: Trees and Stormwater
Project site: Streetscape
Project designer: West 8 and DTAH
Contractors: Eastern Construction, Aldershot
Installation date: Spring 2014