Bothell Main Street Upgrade Includes 48 New Trees in 'Flex Space'
The pedestrian-friendly streetscape project embraced DeepRoot Silva Cells as a way to guarantee the health and vitality of the newly planted trees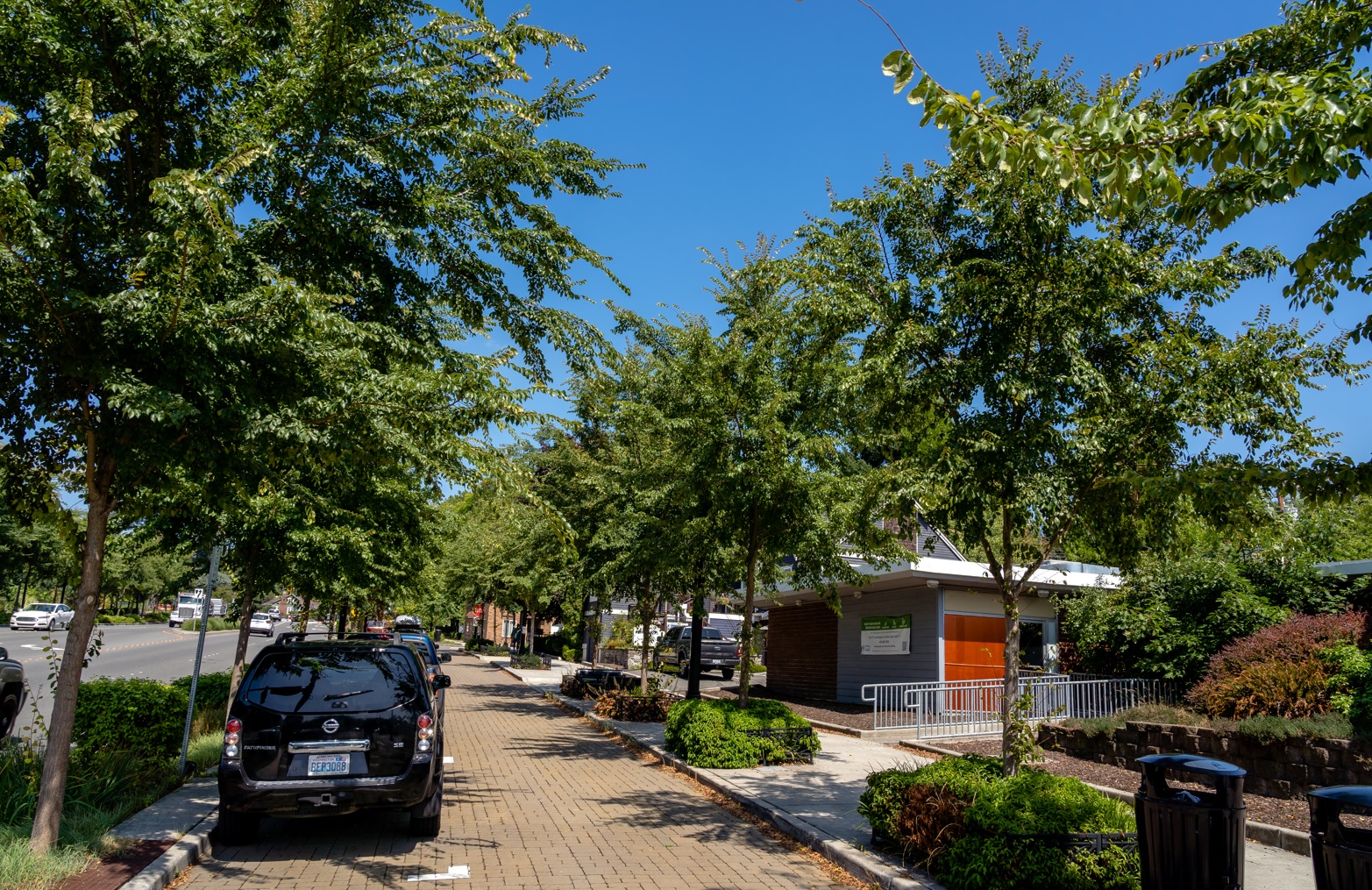 Overview
Located just outside Seattle, the town of Bothell, Washington, underwent a Main Street renovation in 2016 to the tune of $5.8 million. The five-block stretch spanning from 101st to 106th Avenues was given a facelift by Hough Beck & Baird Inc., with "flex space" — outdoor community areas that can be used for vehicle parking, pedestrian walking, or customer seating — being the project's top priority. Along this newly designed streetscape, 48 trees were also planted to complete the welcoming community ambiance, each one supported by the quality, uncompacted soil in the DeepRoot Silva Cell system.
Installation Summary
Number of Silva Cells: 732 (2x and 1x)
Amount of Soil Volume Per Tree: 352 ft3
Number of Trees: 48
Type of Project: Integrated Trees/Streetscape
Project Designer: Hough Beck & Baird Inc (HBB)
Project Contractor: Interwest Contruction
Installation Date of Silva Cells: September 2016
Project Timeline: 2016-2017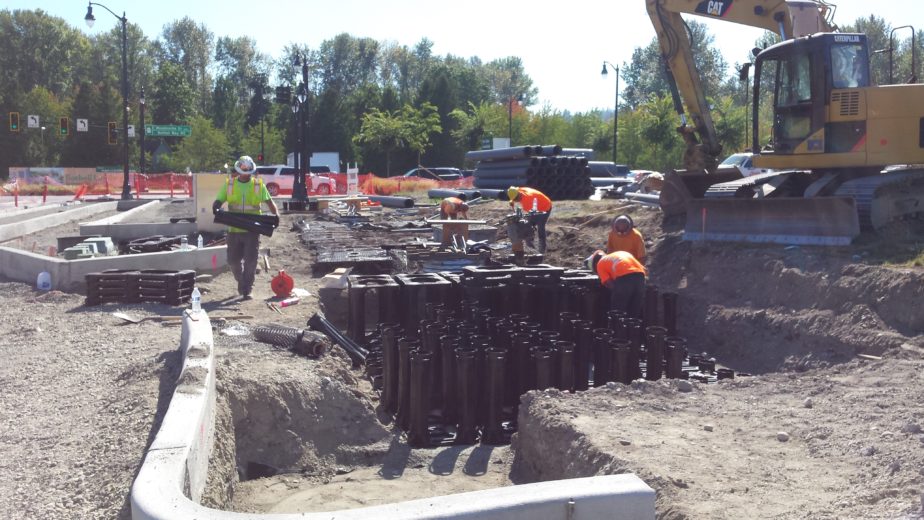 The Project
The Main Street in Bothell, Washington — located just miles north of Seattle and home to nearly 50,000 residents — broke ground on an upgrade initiative in 2016 with the purpose of making the area more community-focused and pedestrian-friendly. Taking inspiration from walkable European cities as well as Seattle's own Pike Place Market, the design team at Hough Beck & Baird got to work, strategizing how to utilize the space on Main Street more effectively.
Ultimately, project planners focused on creating "flex space" along the five-block stretch from 101st to 106th Avenues, roadway areas that can be used for multiple purposes: walking paths, bike lanes, vehicle parking, and retail zones. This meant wider streets, narrowing traffic lanes in favor of pedestrian-first flexibility.
Designers also wanted to incorporate a green infrastructure element: 48 new Frontier Elm trees would provide visitors with a shady respite from the hot summer sun, as well as inviting ambiance while walking or biking the street. To ensure the trees attained healthy maturity, adequate soil volume would be paramount, and project planners turned to the DeepRoot Silva Cell system.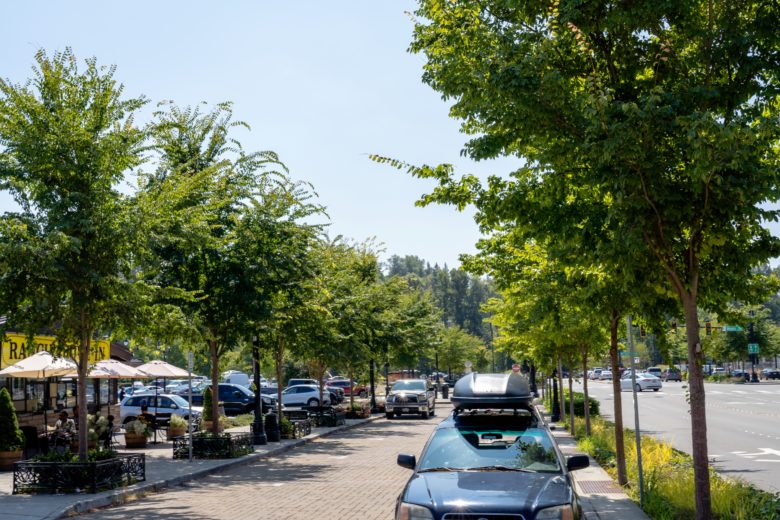 DeepRoot Silva Cell Success
The street trees were planted in different soil conditions comprising longitudinal bioswale planters along the roadway edge and 4'x6' planters within the sidewalks. Some of the project design features could have posed obstacles to the trees' growth potential, so HBB opted to use Silva Cells to guarantee their success.
"Since trees were planted in both continuous bioswale planters and within small concrete sidewalk tree planters, we were concerned that trees planted within sidewalk planters could display poor stunted growth compared to the bioswale trees that had adequate soil volumes," observed Jim Howard, principal at HBB. "To ensure all trees could equally reach their mature size, we specified Silva Cells to ensure adequate soil volumes for tree growth."
Ultimately, the trees were planted between parking spots in these flex zones. Bollards were installed in front of the trees to protect them from cars, though they're removable as needed. A total of 732 Silva Cells were used under the flexible zone and sidewalks to encourage healthy root development, while also preserving the pavement by preventing damage caused by the growing tree roots.
Contractor Interwest praised the Silva Cells for their smooth installation. "Prior to the Multiway Boulevard (Main Street) project, Interwest had limited experience in installing Silva Cells," notes Interwest project manager, Caleb Armstrong. "DeepRoot provided valuable information as we began to piece the system together. With their guidance, Interwest's crews were soon able to run with the installations to keep the project on track. Considering the value of the work placed over the top of the Silva Cells, Interwest gained an appreciate for the product's role in ensuring stability and quality of the roadway and pedestrian pathways for the long term, while also providing for healthier trees that have room to grow."
The new Main Street improvements support a thriving pedestrian-oriented environment in the heart of downtown Bothell. Main Street businesses can turn any of sixteen street parking spots (between 101st and 102nd Avenues) into safe, street-level outdoor dining or shopping opportunities. The urban design portion of the boulevard features large trees, thriving thanks to the Silva Cells, that provide locals with a shady green environment during their walks, bike trips, or retail experiences.
Additional Resources
For another project done by HBB in the Seattle area, check out this case study on the Denny Way Substation.