Camino Del Mar Streetscape Improvement Project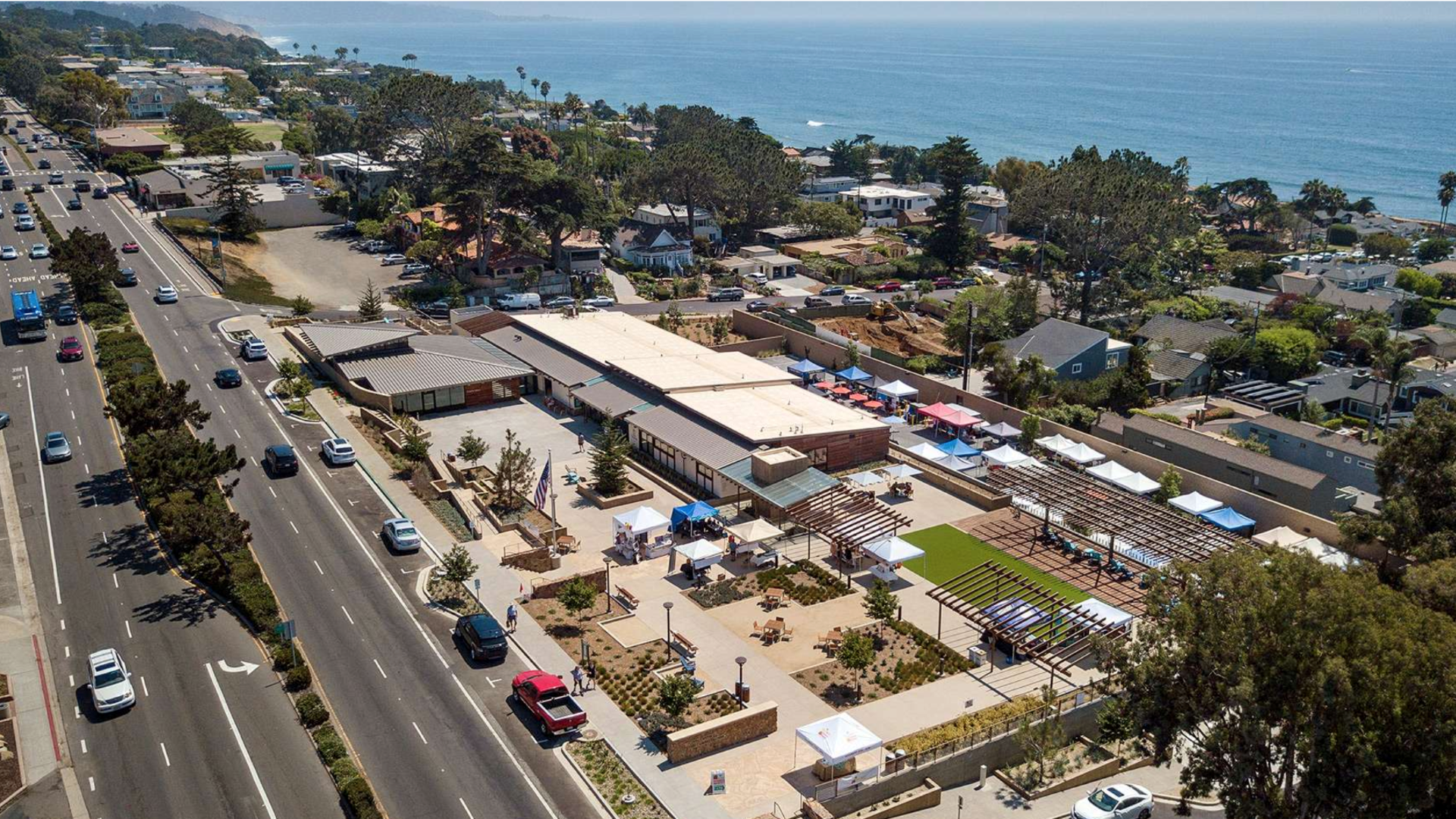 – In early 2019, 85 new trees were planted with Silva Cell along the Camino Del Mar Streetscape
– Silva Cells capture over 20,000 gallons of stormwater from the streets and sidewalks while supporting load-bearing surfaces above.
– An integrated solution to manage stormwater and promote healthy tree growth
– An innovative narrow grate drain system was designed that acts as an inlet to allow stormwater runoff to flow to a collection point and distributed throughout the Silva Cell system via a distribution pipe configuration.
The coastal suburb just north of San Diego, Del Mar, has finally received a long-awaited transformation to their Downtown. In 1996 the Downtown Streetscape Project was first envisioned as part of a citywide street and sidewalk improvement program. Finally, twenty-one years later, concepts and drafts were put together to get the outdated streetscape full of new trees, landscaping, street furniture, bicycle mobility, and widened pedestrian-centric sidewalks and street crossings.  Construction began at the end of 2018 and the City of Del Mar did everything it could to work with local businesses and residents by keeping a weekly public progress report. In week six, February 1, 2019, Silva Cells were the front and center of the Progress Report.
Deeproot collaborated with our design partner Spurlock Landscape Architects and the County of San Diego Department of Public Works to tackle the improvements to streets between 9th Street and Plaza St. 400 Deeproot Silva Cells®were installed below the new sidewalks and medians spanning 48 landscaping areas along the seven blocks of Camino del Mar.  The $6.8 million citywide project has improved both pedestrian and bicycle mobility through wider sidewalks, crosswalks, bike lanes, new areas for street furniture, and the planting of 85 new trees.
Deeproot Silva Cells played an integral role in the sidewalks and medians, providing underground bioretention and a mechanism to both manage stormwater and promote healthy tree growth.  The project is listed within the County of San Diego Best Management Practice Design Manual (BMP DM) that became effective on January 1st, 2019.
The city has some steep slopes so integrating a significant stormwater solution was critical for this coastal community.  One of the primary goals was to ensure the new streetscape was extremely safe for all visitors and collect runoff from the sidewalks and medians away from the local businesses.  Furthermore, there was a strong desire to promote healthy tree growth to provide a beautiful urban environment.
Trench Drain System
Together with Spurlock Landscape Architects, Deeproot designed a trench drain inlet consisting of a long, narrow grate drain that allows for runoff from the sidewalks and medians to flow to a collection point.  From here it is distributed throughout the Silva Cell system via a distribution pipe configuration out to the municipal storm drain system.
An overflow condition was also designed as part of the trench drain inlet system to avoid localized flooding and prevent pollutant loads from larger storms from entering the system. For the trench drain, sheet flow ponds above the grate recessed towards a low point to allow for overflow ponding. An overflow outlet connected directly to the storm drain was installed adjacent to the recessed trench drain to capture additional overflow.


Trees and Water
The installation of the Deeproot Silva Cell technology directly impacts and is approved by the California Regional Water Quality Control Board, and the Carlsbad Watershed Management Plan (WMA). The system directly supports the requirements set out by the WMA to manage urban runoff, pollutant abatement, and stormwater management.
Below is a list of species of trees used and their placement along Camino Del Mar. The designers wanted to have a diverse palette of trees to create identifiable zones within the streetscape and have seasonal displays of color.

Kathy Garcia, the previous Planning and Community Development Director of City of Del Mar for nearly a decade. In November 2020, a year after completion she said,
"What a transformation this was! Camino del Mar went from being almost 90% paved and having disjointed sidewalks to displaying fully accessible paths of travel with large areas of planting to mitigate stormwater runoff. This is how Complete Streets and Green Streets should work. Thank you, Silva Cells, for increasing our stormwater retention capacity and contributing to a healthy and vibrant Streetscape. Truly a collaboration for the benefit of the environment and the community"
Below are the latest before and after images of the project courtesy of DelMar.ca.us.
Installation Summary:
Number of Silva Cells: 400 2X
Amount of soil volume total: 9,836 ft3 (278 m3)
Number of trees and type: 85
Type of project: Integrated trees, Stormwater
Project designer: Spurlock Landscape Architects
Installation date of Silva Cells: 2019
Project timeline: 2018-2020