Unprecedented, weird, strange, and isolation are all words that have been on repeat for the last 8 weeks. For those of us who are not in the front line of the worldwide pandemic, we are working from home until further notice.
Fortunately, we're all hanging in there thanks to our housemates, family, dogs and cats, and of course our house plants and flora in our backyard. DeepRoot is full of employees with green thumbs and we are excited to share a few photos from our employees of their favorite trees, house plants, backyard plants, and even photos of our office orchids that are still doing okay!
Happy Spring!
Emma Taylor: Inside Sales, London
Emma has been preparing for stay at home orders for years, apparently. She has a huge apple tree, perfect for sitting under on a hot sunny day, enjoying a book, glass of gin, or eating one of the apples. During the coronavirus pandemic/quarantine/lockdown/stay at home, Emma and her partner have seen the blossoms come and go, and watch the leaves appear on the apple tree. In addition, Emma has a beautiful garden, where she's added 6 more trees (peace, hazel, pear, a bay tree, and two olive trees). All of her veggies and flowers have started out as seeds. She's had the hazel tree for 4 years, which she recently discovered has truffle spores at its root. Yum! Oh, and near Emma's chicken coop she has a 60+ year old tortoise, who she inherited from a friend.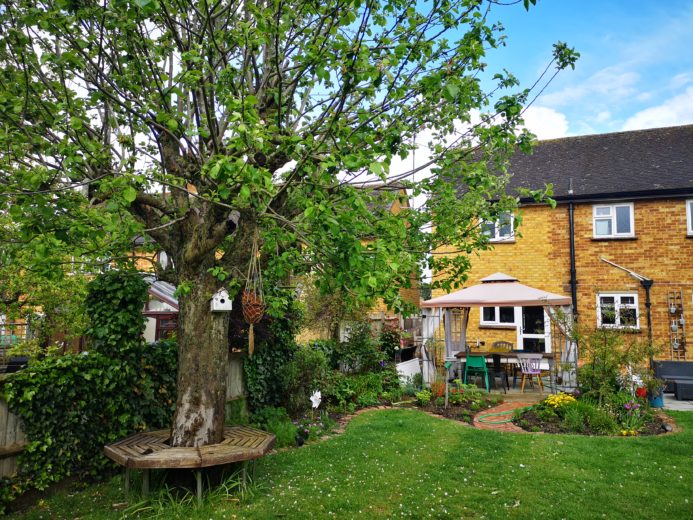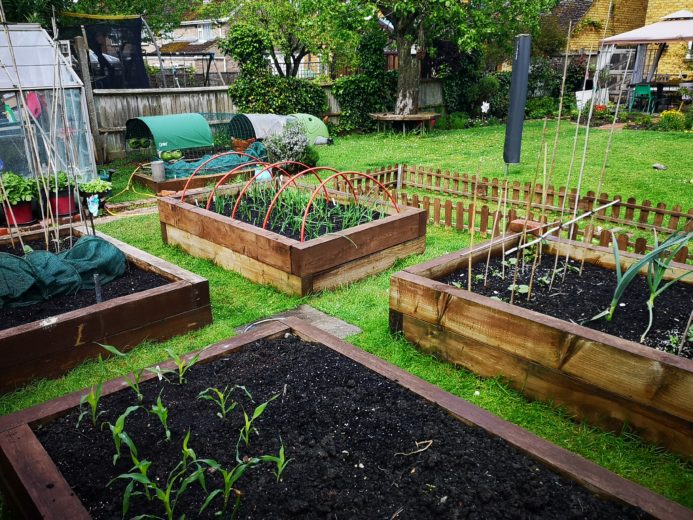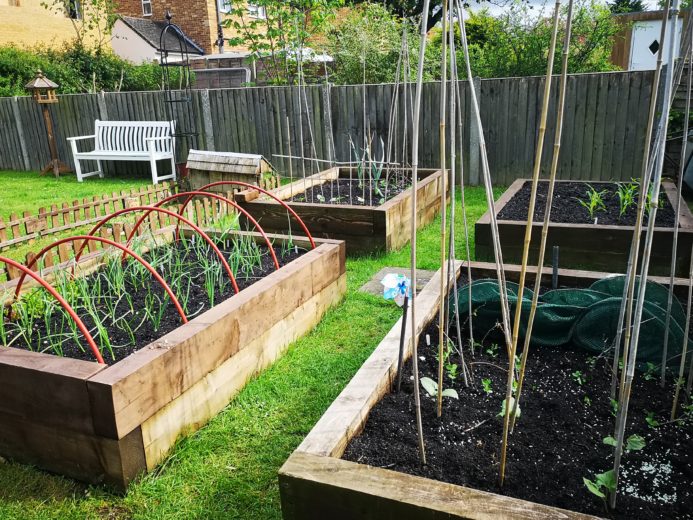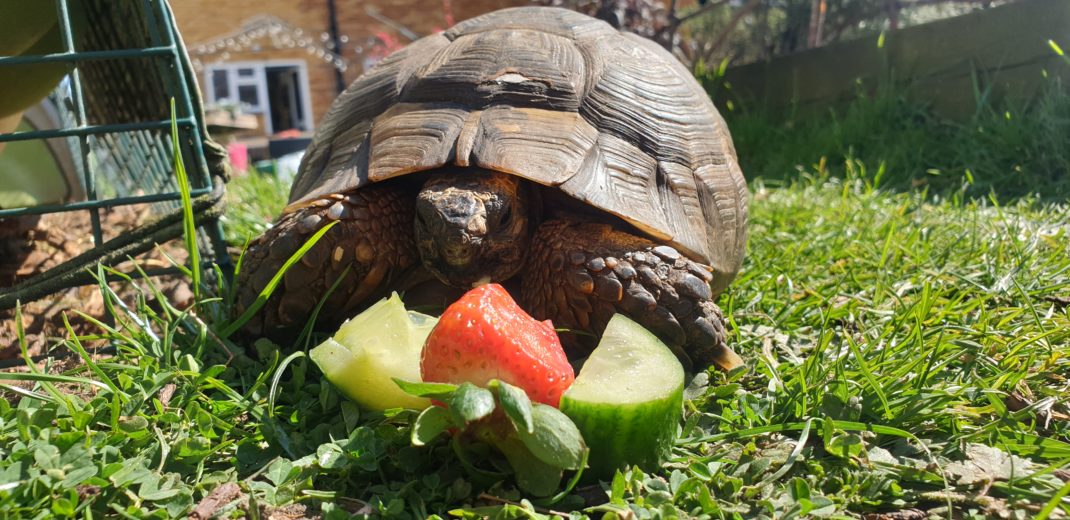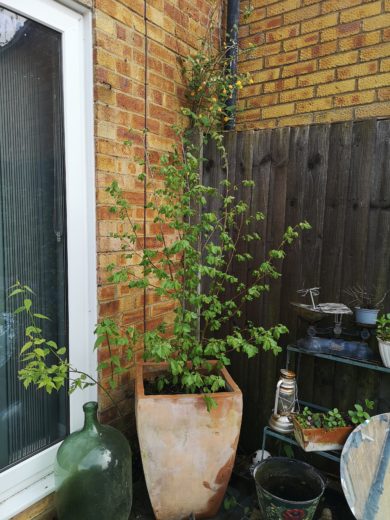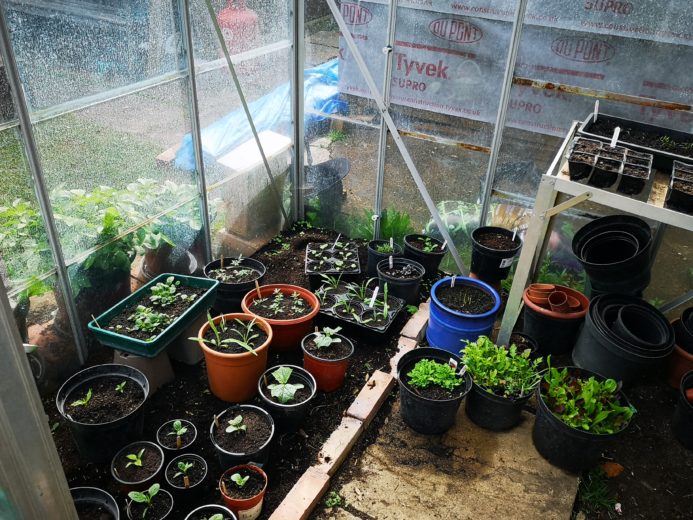 Al Key: East Coast Sales Manager- Vice President, Vermont/N.Y.
In 1990, Al moved into his 1840s farmhouse, in Vermont. The house was "a mess" (minus the hand-hewn beams and the new foundation). Included in the mess was a tri-partite apple tree. All three boughs had been cabled together to sustain the tree and its life. In 1990 two of the boughs were dangling from the third and the cables were rusted, so Al cut the bolts from the last remaining stem and pruned it. As time went on work, painting the house, or raising kids, were Al's new priority. This resulted in Blackberries, honeysuckle, moss, lichen, and other plants taking over the sad apple tree. Only a few apples were produced a year, which were sour, misshapen and worm eaten. Over the last two years, Al made time for the tree, removing the invasive species, tilling the earth around, and seeding the lawn. This spring, during shelter in place/quarantine, Al removed 2/3 of the canopy, keeping only the healthy wood. tree has yet to leaf out or flower this year, but with the time and effort spent, including fertilizing with Milorganite, it is sure to do better. The tree is now ready to weather the next portion of its life, and hopefully be a part of the place for years to come (image on the right). It's now decorated with Al's daughter's bird house that has been around for years. With a bit of luck, it will hang there for a very long time to come.
Al thinks the apple cultivar is likely a Braeburn, Empire, or Macintosh, but isn't certain.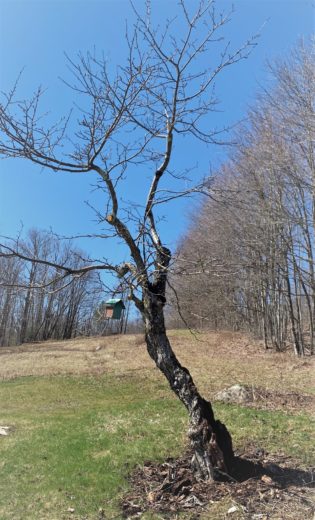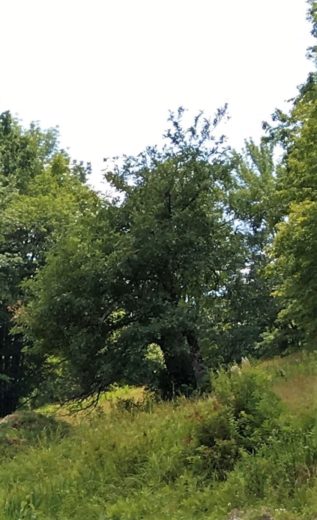 Marcelle Rhoads: Finance, San Francisco
Marcelle has taken advantage of the working from home by going on daily walks. She considers a "treat" to experience cherry blossoms in her neighborhood. These special blossoms are a symbolic flower of the spring, a time of renewal, and the fleeting nature of life. Their life is very short. After their beauty peaks around two weeks, the blossoms start to fall. This is a prominent reminder for Marcelle that everything has it's season, even these unprecedented times we find ourselves in shall pass. Reminding us to also to be in the present, in the here and the now, for the beauty of these blossoms won't last. And despite this brief pause in time when the world seems to have stopped, nature of which we are apart, goes on: growing, blooming, renewing.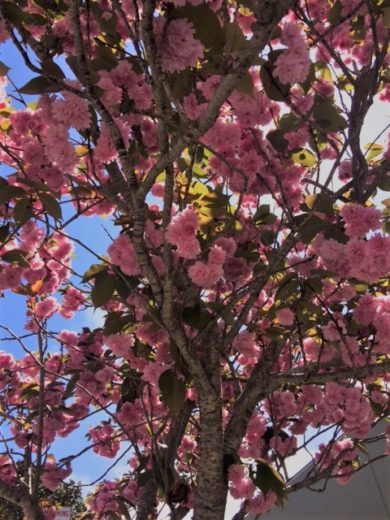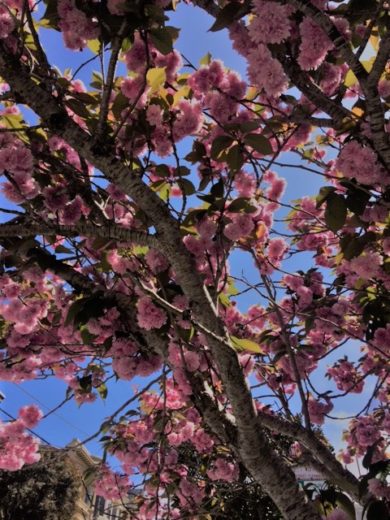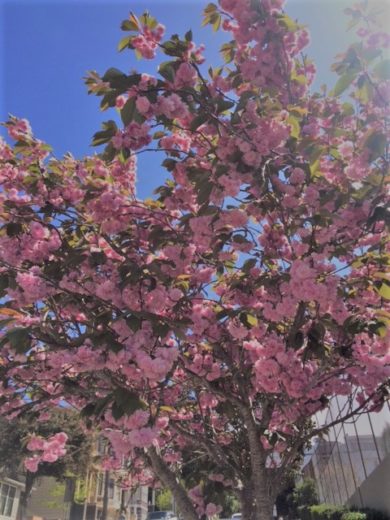 Ida Pai: Chief Financial Officer, San Francisco
Ida shares that she loves Seeing all the flowers blooming. To her they represent life, color, growth, and hope.
Life – comes and goes, and will return for a better show
Color – brightness and happiness
Growth – Things might slow down a bit, only to be prepared for the next challenge
Hope – There is always hope because we are part of nature
When Ida plants, she enjoys her "zen moment" and relaxes through the benefits of touching the soil. She is reminded that life can be very simple. Many of her plants have bloomed during COVID. Her roses and amaryllis started to bloom in mid-April. Ida has to go to the office and has managed to keep our orchids alive and well. Check out the pictures of them blooming while DeepRoot is away!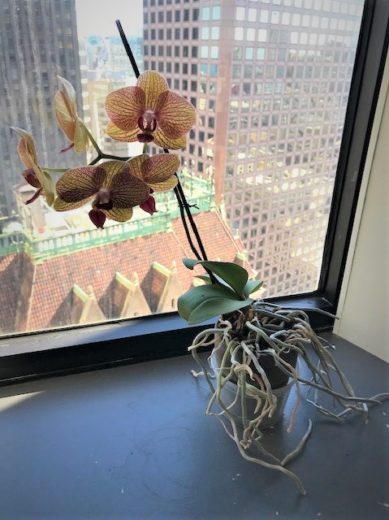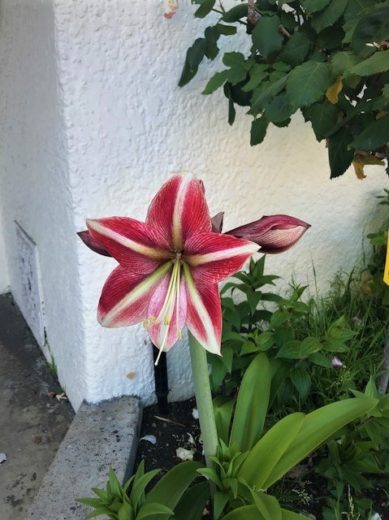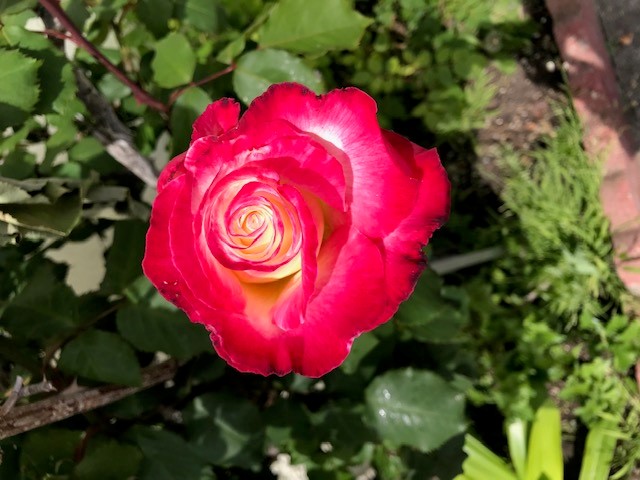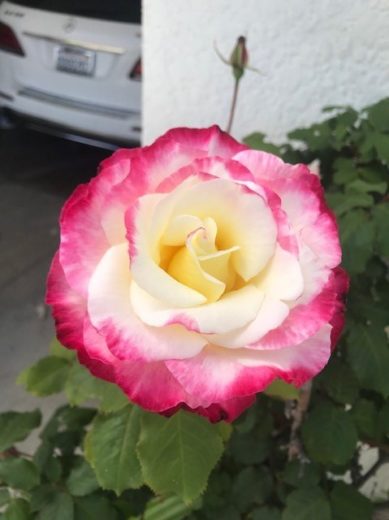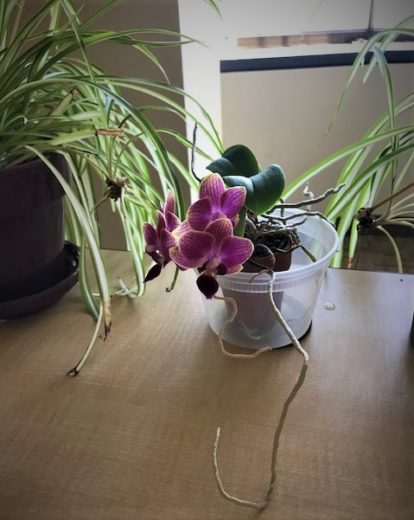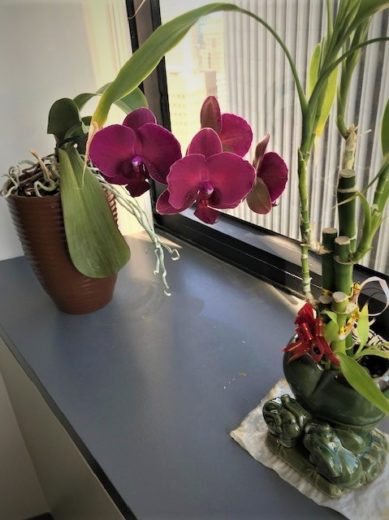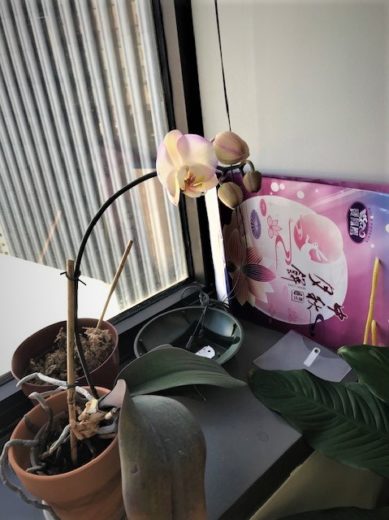 Mark Adamaley: Sales -Project Manager, Ontario
At the end of 2019 Mark and his moved to a subdivision in a construction zone. There is no sodded backyard or gardens around the home, but a dear friend and career mentor gave Mark an oregano plant just a few weeks ago. Oregano grows like a weed and spreads out horizontally. He is looking forward to transplanting into a larger vessel (ideally a plant bed) After that, vertical sprouts with tiny leaves and seeds will rise up. Just before it flowers, sprouts will be cut off and hung up to dry. When dry, these are then crushed and crumbled up and used to season meals. Mark's kids have also jumped onto the gardening band wagon. His son is planting beans and tomatoes, and his daughter is planting peppers.
We're all looking forward to seeing the backyard deck full of colorful edible plants!
Taylor Buechner: Inside Sales and Project Associate, Minneapolis
Taylor struggled with choosing a favorite plant to feature. Can you blame her? She has tons of beautiful house plants. The Jade plant toward the bottom-middle of the shelf is the oldest at 8 years old.
In Taylor's backyard garden the perennials are only just starting to come up so there isn't much to see yet outside, but the rhododendron and daffodils are blooming!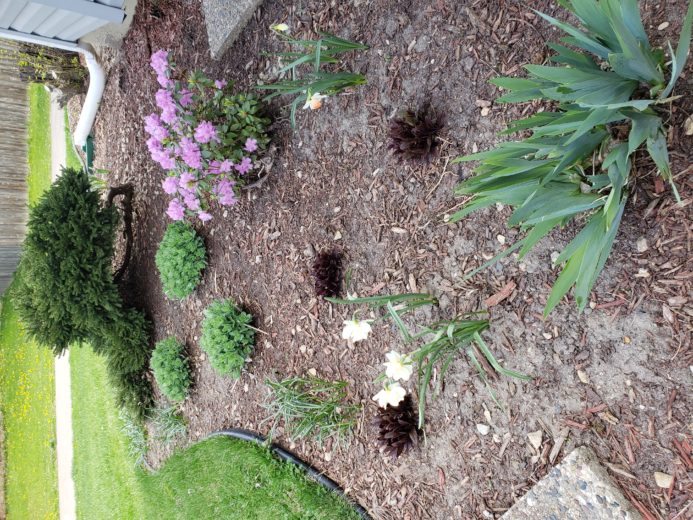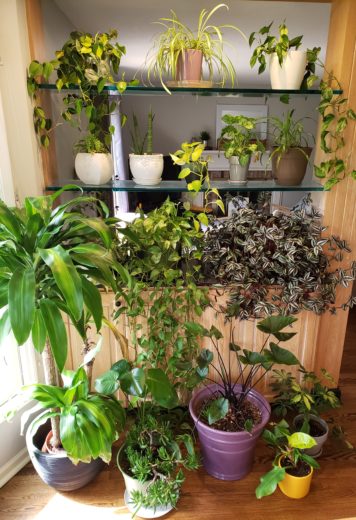 Graham Ray: Chief Executive Officer, San Francisco
Here is Graham's favorite "houseplant". It is a Live Oak tree, and the centerpiece of his house. Calming, relaxing, and cooling, Graham says there is nothing better than sitting underneath its majestic canopy on a hot summer day. As Graham and his family have been spending a lot more time at home there is an even greater appreciation for their favorite tree, especially its ability to bring nature closer to them, adding life and beauty to the family's every day activities.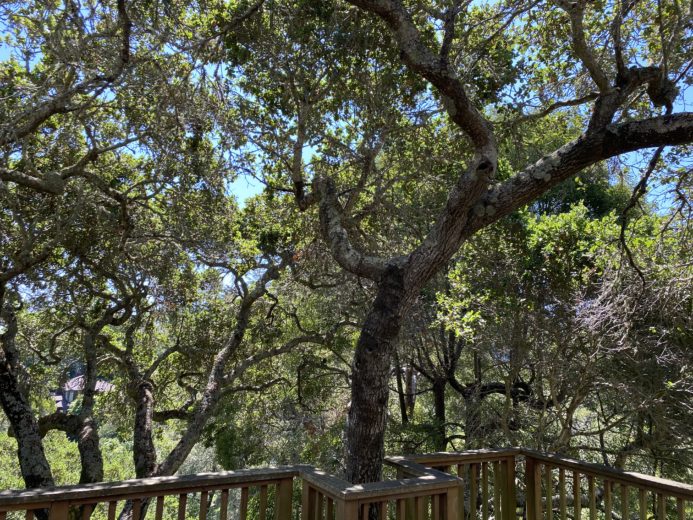 Shawn Freedberg, Director of Business Development: San Francisco
Shawn knows the photo below is not a houseplant. However, this is a grove of his favorite trees, the Coast Live Oak. This photo of Tilden Park in the rolling hills of the East Bay represents where Shawn goes to seek beauty in these challenging times. The park is a great resource, open to all, filled with these beautiful Coast Live Oak trees.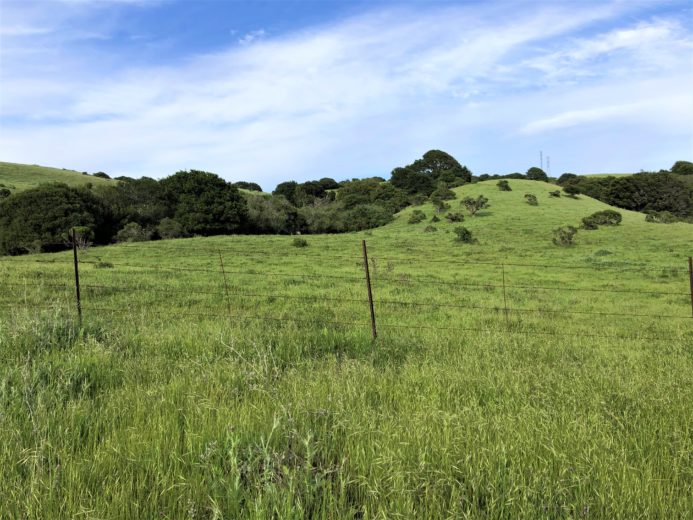 Rebecca Stevens, Director of Operations: San Francisco
As a person who lives in a small city apartment with no yard to access, Rebecca takes great joy in the beauty that San Francisco has to offer on daily walks. Here is a collage Rebecca created from her walks.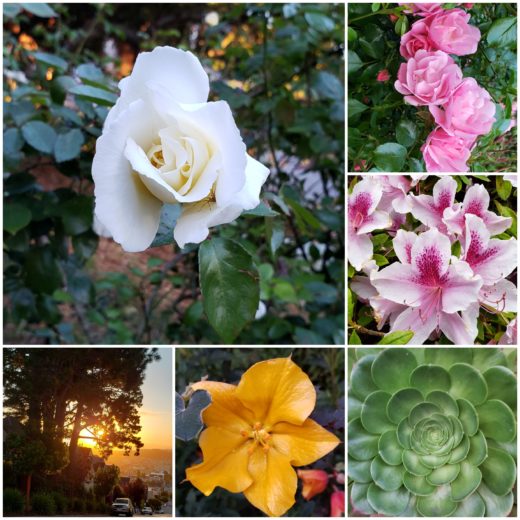 Nicole Peterson: Landscape Architecture and Engineer Technician, Minneapolis
It's hard to decide who's stealing the spotlight inside Nicole's house lately…it's a close tie between her cat and her fabulous but finicky maidenhair fern. These ferns are notoriously difficult and will die at the drop of a hat. Nicole is proud to say she's kept this one going for several years. It was tiny when she got it and now it's full and quite large (cat for scale). It hasn't grown much during quarantine but it likes having Nicole home, as it gets misted more often. Nicole has many native Minnesota plants and bulbs in her yard. The bulbs are a personal favorite as they add some instant color to the yard in early spring. Nicole gets joy and inspiration from seeing the bulbs bloom and emerge in the Minneapolis spring.
In Nicole's front yard she has a beautiful apple tree that has been there for about twenty years. It is JUST starting to bloom and smells incredible, according to Nicole. Everyone in the neighborhood loves to walk by and smell it in the spring. It's been a surprisingly robust street tree! If only you all could smell it! There are so many bees on it that if you stand underneath there is a deafening buzz.  See the difference from 05/01/20 to 05/12/20 in the apple tree bloom.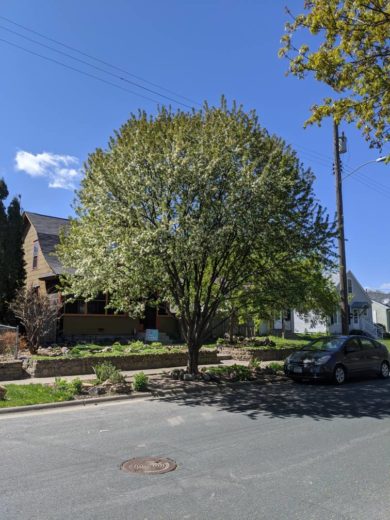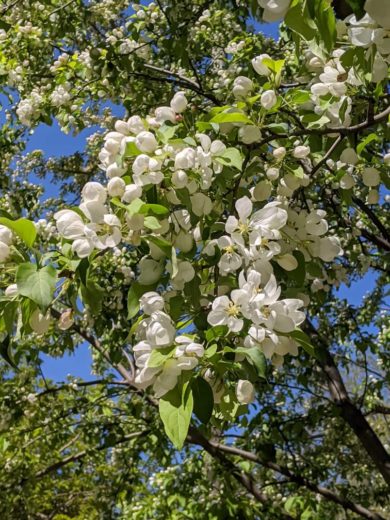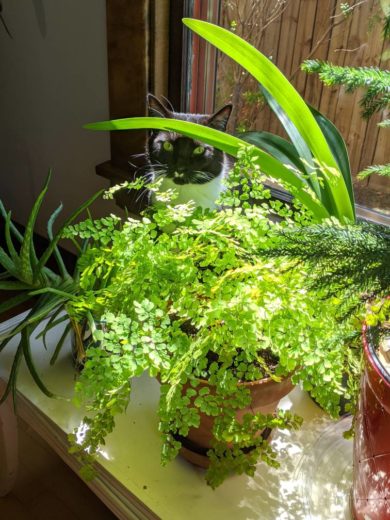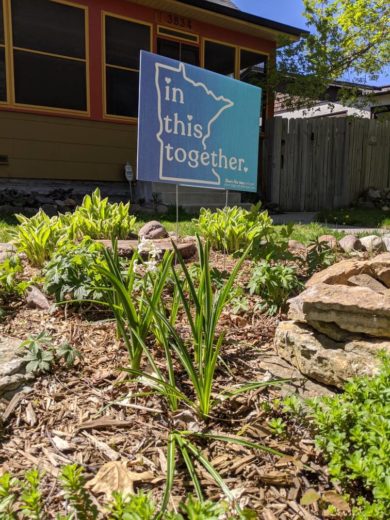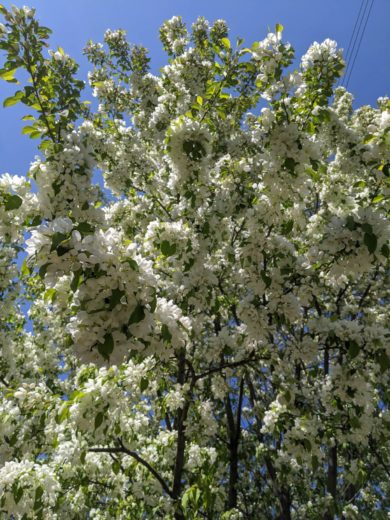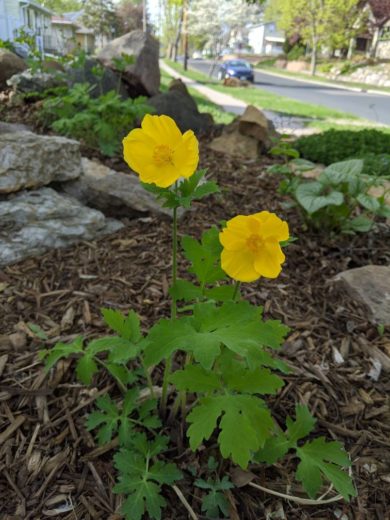 Dr. Chris Newton-Sales Project Manager, United Kingdom
When Chris started working from home 3 years ago, he bought the cactus in the window. It's grown double its height! Outside his house, Chris has a beautiful rose bush that blooms this time this every year. Chris appreciates its calm nature and influence in moments when he needs to clear his head.  A big congrats to Chris and his wife, (bring out the champagne) as they just found out they are going to have a baby!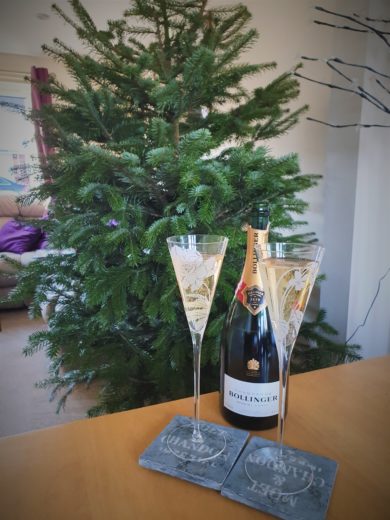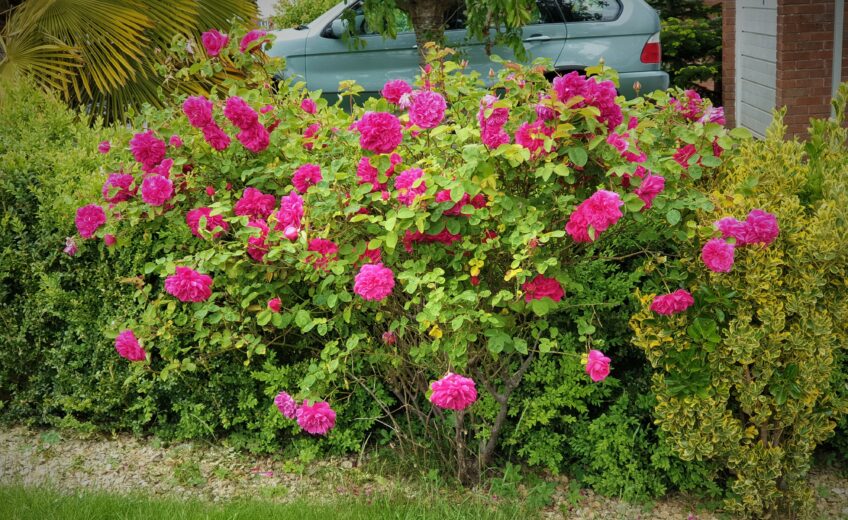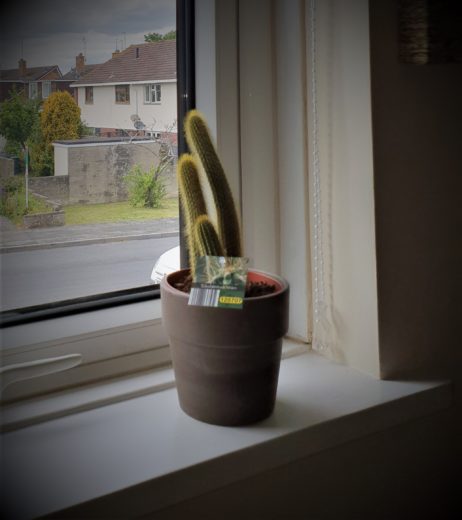 Rachel Roberts Sales-Northwest, San Francisco
Rachel has utilized her balcony space. There is not much direct sunlight, but Rachel's 3 Moro Blood Oranges have done well in the last 6 months, since she got them. She admires that they blossom even though they are not in direct sunlight.
Rachel would love to know if any of you are blood orange experts and can tell us how long it takes for fruit to begin to show. She the difference from April to May in the blossoms, below!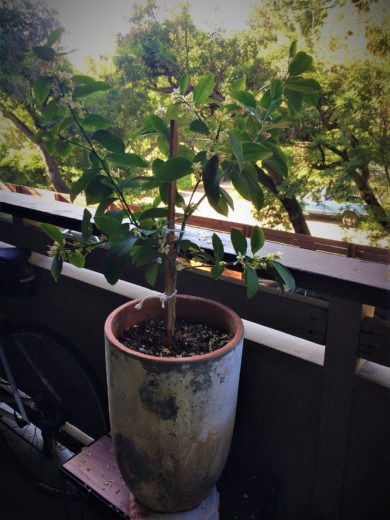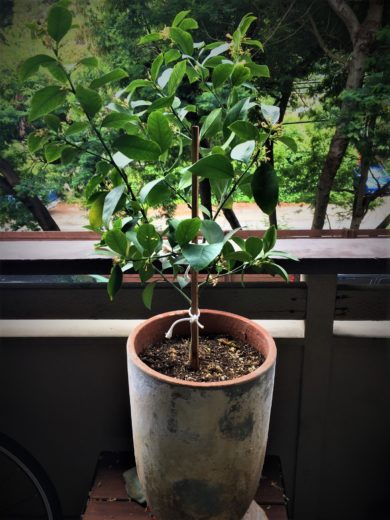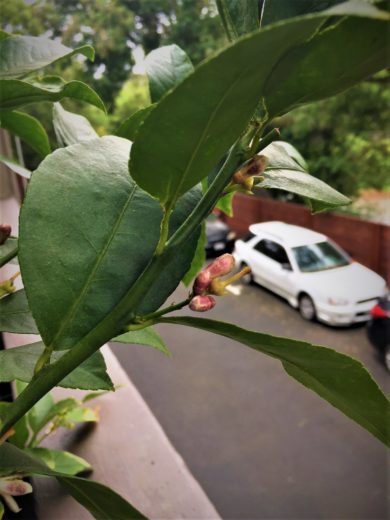 Mike James: Sales Canada Project Manager, Vancouver
Mike has a lot of passion and knowledge about trees and plants in his neighborhood in Vancouver, BC. He has a beautiful neighborhood with access to local parks and street trees. The hornbeams on the street provide shade on hot days, and in the winter block wind and rain. However, hornbeams drop a lot of branches and twigs, they are arguably high maintenance trees. Gardens are ubiquitous in Vancouver. Mike said, "Plant to the curb" should be Vancouver's motto as every public boulevard gets appropriated by adjacent landowners as an extension of their own gardens. People can still "chill" at this park but need to stay 6 ft apart.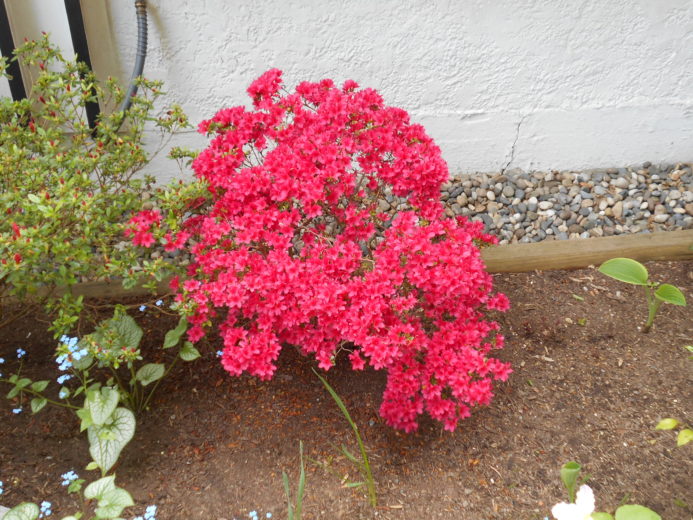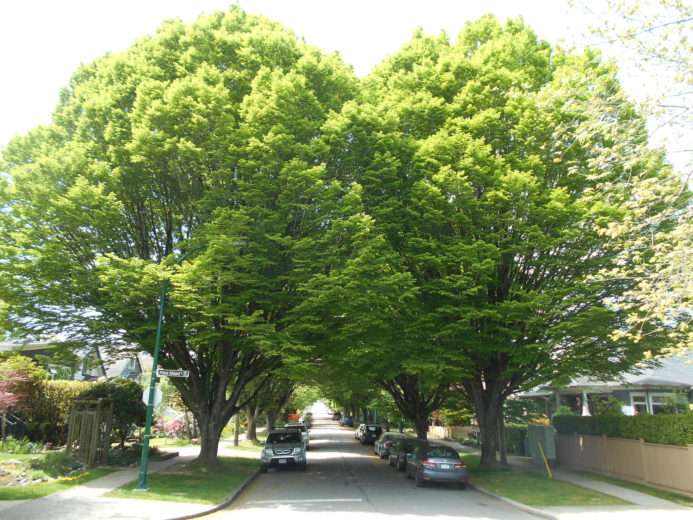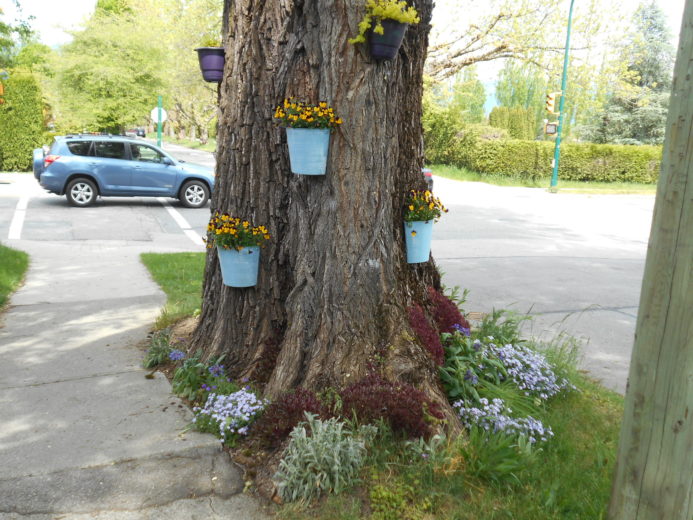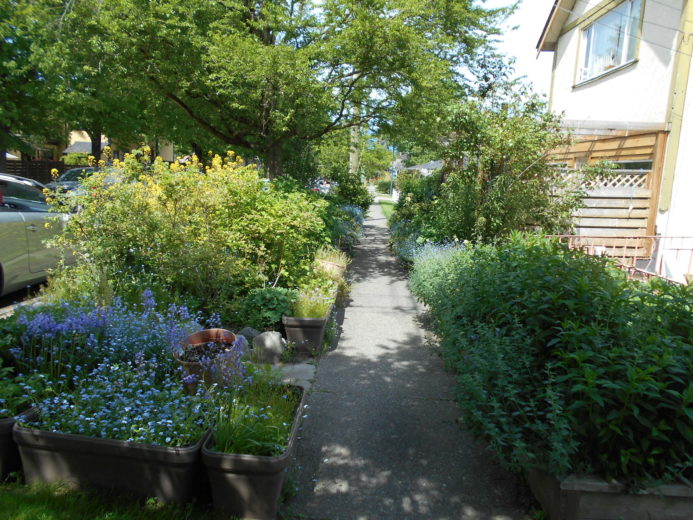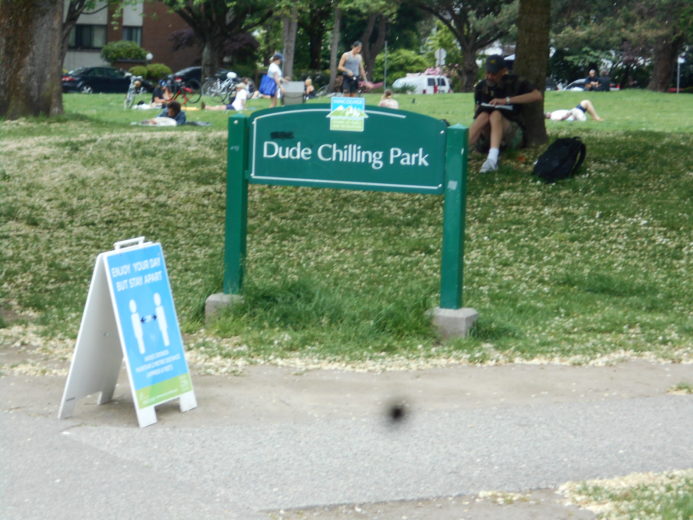 Kala Hunter: Content Manager & IT Coordinator, San Francisco
Personally, In the last 8 weeks I've seen a dramatic shift in my attentiveness to my house plants, backyard trees, and all-around love for the natural environment, grow with great enthusiasm, and eagerness. We've added a plant to our shower, and it is doing well, likely thanks to the humidity. New leaves have sprouted in the last few weeks. The fern in our living room, and my favorite striped baby to the right of my work from home desk station are getting a lot of love and attention lately. My roommates and I recently added new flowers to our backyard deck as well as herbs, peppers, and zucchinis. Our cat is guarding them with all his strength.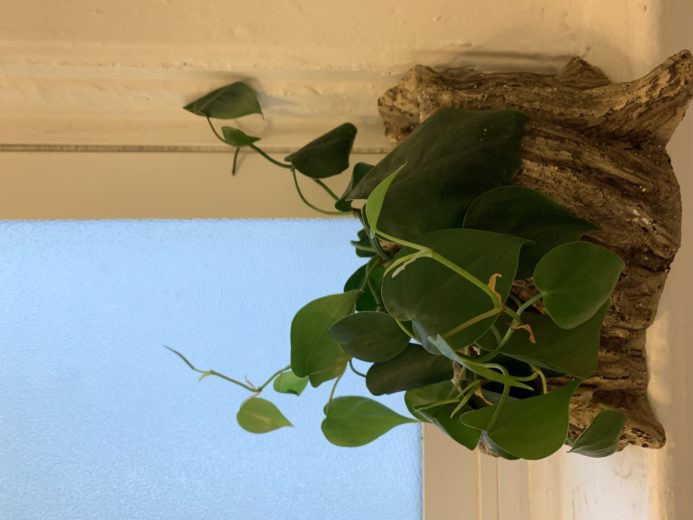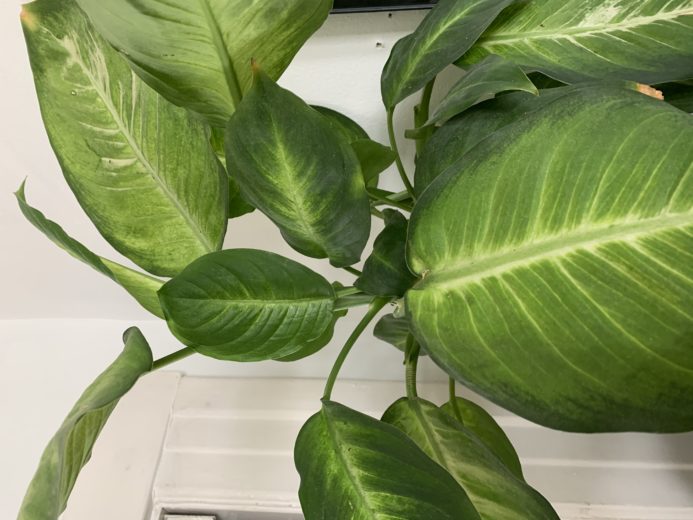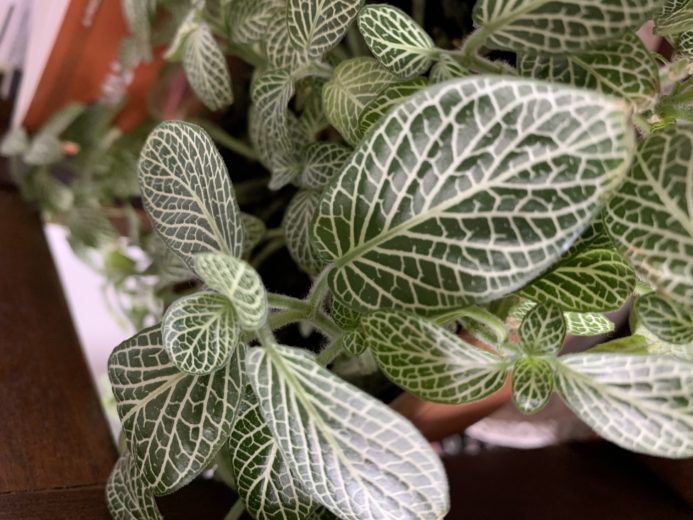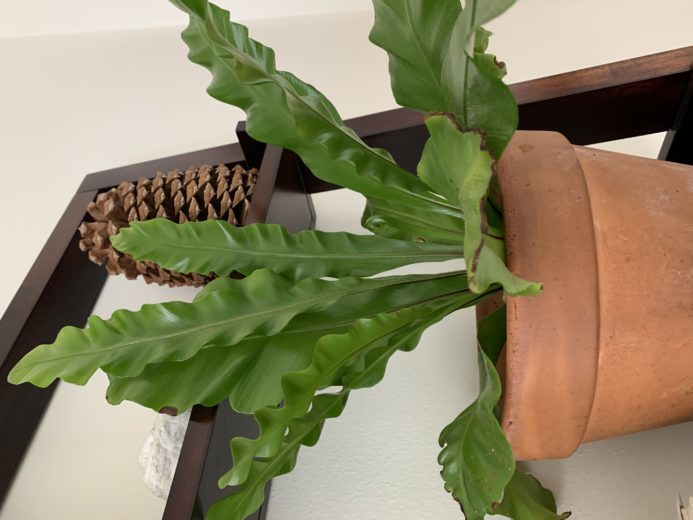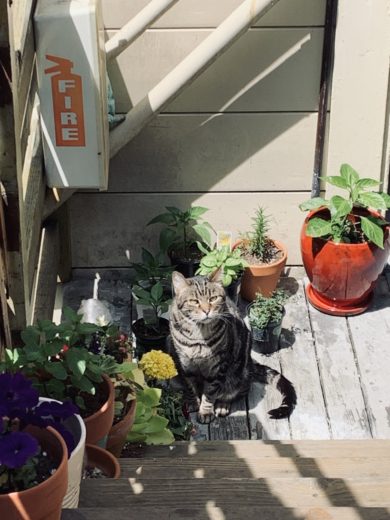 These plants, trees, and great green growth are our own infrastructure that is holding all of us up, and keeping us from falling apart. They are certainly giving us inspiration, and keeping all of us deeply rooted in a new, evolving, world.
Happy Spring from all of us at DeepRoot! Stay safe and healthy.