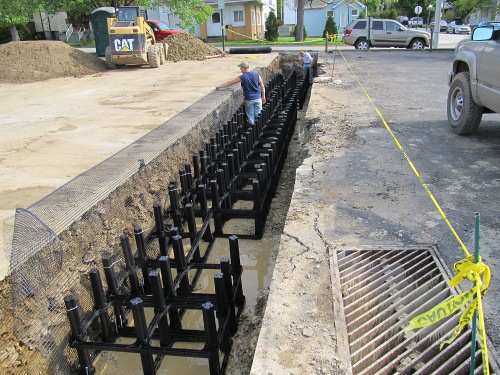 This week I interviewed Kathy Hamilton, a landscape architect with the Westmoreland Conservation District in Greensburg, PA. Kathy worked on the design of two recent integrated tree-and-stormwater Silva Cell projects, Vandergrift Streetscape and Pioneer Way Parking Lot. They are great examples of smaller-scale Silva Cell installations that have been implemented by regular communities. I talked with Kathy about this and more. Interview has been edited and condensed.
How did you find out about the Silva Cell?
We first learned about the Silva Cell at the ASLA tradeshow in 2009. One of our focuses is to help aging communities with stormwater management problems — some of our infrastructure is 150 to 175 years old. Whenever possible we like to promote stormwater retrofit practices. Our efforts are focused on solutions that mitigate flooding and CSO overflow problems.
How did you decide what projects you wanted to use it on?
Pennsylvania has grant programs in our county, and we received a grant a few years ago that was divvied up among different groups. The money came from state's Dept. of Environmental Protection and they wanted the money to go to environmentally conscious projects. Everyone in Pennsylvania is mandated to reduce CSO overflows, and Vandergrift received a $75,000 grant to implement some new ideas for managing this problem. They went through three different possible projects before settling on using the Silva Cell. It was easy to see why using the Silva Cell for street tree growth and stormwater management was valuable. It was also the solution that was the least disruptive to the surrounding area.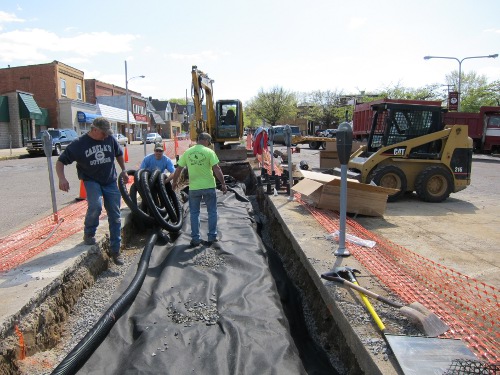 Briefly describe the two projects where you utilized the Silva Cell.
Both Vandergrift (which was a streetscape project) and Scottdale (which was a parking lot project) are communities with combined sewers and CSO problems. Both communities have people behind them looking for ways to ameliorate these problems and improve water quality. Both projects are designed to manage stormwater in the area, to provide underground retention and infiltration, and improve water quality in the watershed.
The Vandergrift-streetscape project occurred in an old historic district. It was a very easy installation where we used native soils. We did put in an underdrain, but just for future connections.
The Scottdale-Pioneer Way Parking Lot was a little trickier because they have a lot of clay in their soils. This made trees an even more critical part of the functioning of the system. There is also an underdrain in this system, and in this case it connects to the stormwater system. The parking lot is paved in porous concrete; water flows across the parking lot and in to the porous pavement, with an inlet in case drainage doesn't happen fast enough.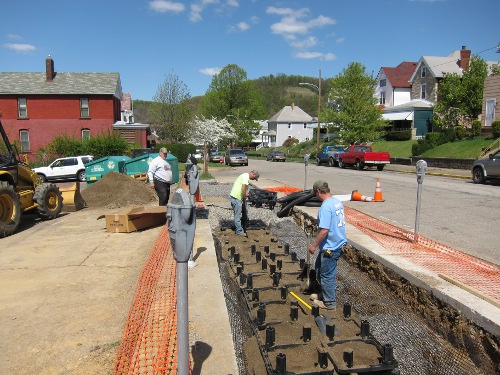 Was getting buy-in from everyone involved in the process difficult? How did you overcome objections?
In Vandergrift, everything is a little tricky! This project was more of a demonstration than anything — in terms of stormwater, the system only gathers what falls on that sidewalk. Still, using the Silva Cell meant that the urban fabric from a usability perspective really didn't have to change, and in the end that was an advantage.
The Scottdale project was a little bit easier. This parking lot had been a problem for a long time, so everyone were eager for solutions. We're all very excited that we were able to design and implement a tremendously functional system designed to handle a two-year storm.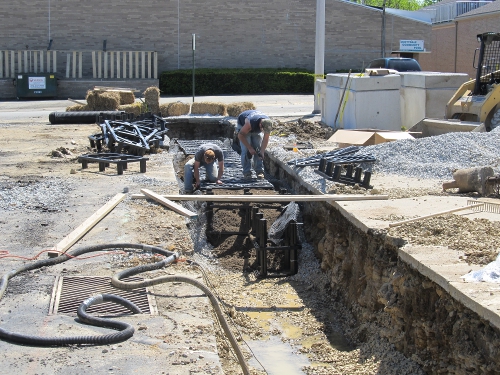 What are your goals for these two sites?
We're very happy with these two sites and expect they'll function just how they were designed — to help us minimize CSO and water quality problems while nourishing large tree growth. In general, we would just like to continue to do more projects like these. Everything Westmoreland is involved in is a demonstration for what other areas can do.
What would you tell other municipalities who are considering using the Silva Cell on their trees?
On-site stormwater management is a challenge and a mandate in many, many different communities. For places that struggle with flooding and CSO overflows, the Silva Cell is an obvious tool to reduce the amount of runoff from a site and improve water quality. We are also seeing more and more stormwater utility fees implemented. Looking at new solutions that address these issues is an imperative, even in small communities like ours.
Vandergrift Streetscape and Pioneer Way Parking Lot were both designed by Westmoreland Conservation District. Vandergrift was installed by Bruce Construction, and Pioneer Way Parking Lot was installed by Suter & Son Landscaping.